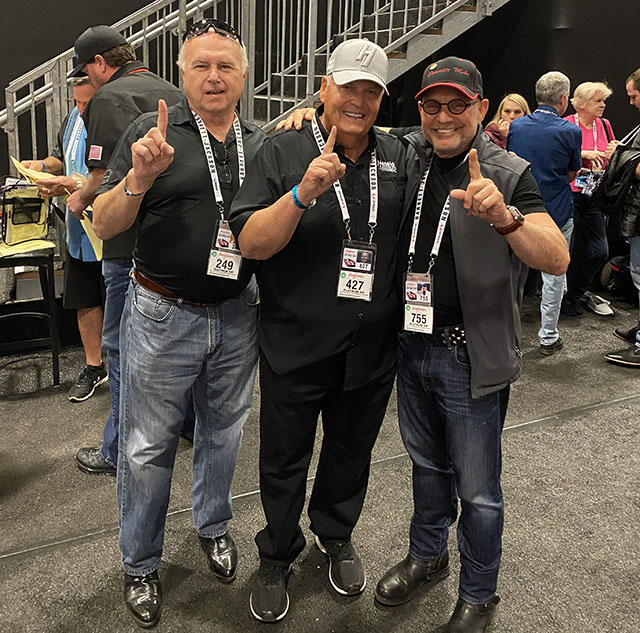 2020 Arizona Auction Week Results
January 24, 2020
Rick Hendricks, Corvette Mike, and Chuck Ungurean
Celebrating the number one Vin 2020 Corvette being sold. Number 1, In more ways than One!!
It was a good set of auctions in Scottsdale this last week, beating estimates with $244.1 million in sales reported so far.
There was a total of 8 different auctions this year with 3,867 cars for sale. Of these 2,994 cars or 77% found new homes!
Here are the totals by auction:
BARRETT-JACKSON: 1,908 out of 1,909 cars sold for a total of $137.1M
GOODING & COMPANY: 122 out of 137 cars sold for a total of $35.8M
RM SOTHEBY'S: 128 out of 143 cars sold for a total of $30.3M
LEAKE AUCTIONS: 357 out of 674 cars sold for a total of $16.6M
BONHAMS: 88 out of 108 cars sold for a total of $8.4M
RUSSO AND STEELE: 251 out of 513 cars sold for a total of $8.0M
WORLDWIDE: 42 out of 55 cars sold for a total of $6.1M
MAG AUCTIONS: 98 out of 326 cars sold for a total of $1.7M
Top 10 Sales:
2020 Chevrolet Corvette Stingray Coupe sold for $3,000,000
2021 Lexus LC 500 Convertible sold for $2,000,000
2017 Ford GT Coupe sold for $1,485,000
2017 Ford GT Coupe sold for $1,182,500
1969 Chevrolet Camaro COPO Sport Coupe sold for $1,094,500
2019 McLaren Senna Coupe sold for $946,000
1963 Aston Martin DB5 Saloon sold for $660,000
1974 Ford Bronco Custom SUV sold for $650,000
2020 Chevrolet Camaro COPO John Force Drag Car sold for $600,000
2003 Saleen S7 Coupe sold for $467,500
Just in
2020 C8 VIN #1 Sells for $3,000,000!
The first 2020 Chevrolet Corvette C8 just pulled in $3 million at this year's Barrett-Jackson Scottsdale sale, purchased by Rick Hendrick of Hendrick Motorsports, one of the most successful teams in NASCAR. This sets the record for the highest price paid for a charity car at a Barrett-Jackson auction.
---
Inbound NOW!
1964 Fuel Injected Corvette Convertible
frame-off restoration
National Top Flight
NCRS Performance Verified
Bloomington Gold
The very correct, meticulous restoration speaks for itself!  From its chassis to its optional hardtop, this is a '64 that will make you stop and want a closer look!
ESTATE SALE
Priced to sell at: $94,900
Trades accepted. Excellent financing.
---
Featured Car of the Week
Last Year Design and Southern California Owned
What Mike likes about this SUV:
"I have enjoyed owning the last year of Land Rovers LR4 for many years. No longer are they produced and this is the last year of production 2016. Similar to the Mercedes G wagon the LR4's square box design stands out amongst all of the aerodynamic cars built today. This particular car is like new and was driven by myself. It is an excellent condition and it's just been serviced by Land Rover and ready for its new owner. Someone out there must be looking for a great sport utility with a unique design and has an interesting Corvette or Muscle Cars to trade-in. Don't let this one slip away!!!"
Check out our great financing options.
Happy Throttling!
Apex • Exit • Accelerate!!
CM V8tro
This was the last year for the LR4 and examples in pristine condition like this one are very near impossible to find. This is a one (lady from Newport Beach) owner who traded it in on a new Audi.  It's as clean as can be and has been Corvette Mike's personal mode of transport since we got it in.
Corris Gray Metallic w/Black interior, 3.0 liter/340hp Supercharged V-6. 8-speed automatic transmission.
Trades maybe?
Financing yes!!!
Thrill rides no!!!
---
Upcoming events:
Corvette Expo in the Smokies
March 20-21, 2020
The LeConte Center, Pigeon Forge, Tennessee
Bloomington Gold
June 25-27, 2020
Indianapolis Motor Speedway
Have a special event coming up? Let us know and we will let others know.
—————————————————————————————————-
Corvette From The Inside
Signed by Author
Dave McLellan
Corvette Chief Engineer 1975-1992
Price: $25!
Other books and artwork available.
Real Kelsey Hayes Knock offs and Bolt-Ons for sale.
Tires, repro wheels, and caps.
Call for pricing.
Discounted Parts Table Items
Pictures Available Upon Request.
1956-1962 Corvette Hardtops – Priced from $4,888.
1963-1967 Corvette Hardtops – Priced from $2,000.
1968-1975 Used convertible top assembly. Good condition.
1957 Corvette Fuel Injection Unit – taken off of a '57 Corvette engine, completely rebuilt and is ready to use. Part #7014520. Price $5,500 OBO (make us an offer).
1969 L88 Holley 4bbl carburetor – Completely rebuilt (by Jerry Luck) and ready to install. 3955205 R4296 932. Price: $4,500 $3,500.
One pair of factory aluminum cylinder heads for big-block Chevy. Pt.#3919842. These heads were original equipment on '68 & '69 L88 and L89 engines. Both heads in excellent condition. $4,500 $3,900 for the pair.
Artwork by Sam Wagner. 1960 corvette with Mickey Mouse, 45″ x 30 Framed.
Priced at $3,000
---
Auctions
More Coming Soon
Cars on eBay at Auction Pricing
1953 Frame Off Restored Convertible
1963 Tuxedo Black Fuel Injected Split Window Coupe
1996 Sebring Silver Corvette LT-4 Collector Edition Convertible
2007 Chevrolet Corvette Z06
2013 Ford Mustang Boss 302 with 1,300 miles
2013 White Porsche Cayenne S, Automatic, AWD
2016 Land Rover LR4 HSE, with 34k Miles, AWD
2017 Yellow C7 Corvette Z51 Coupe, Automatic
Comic of the Week