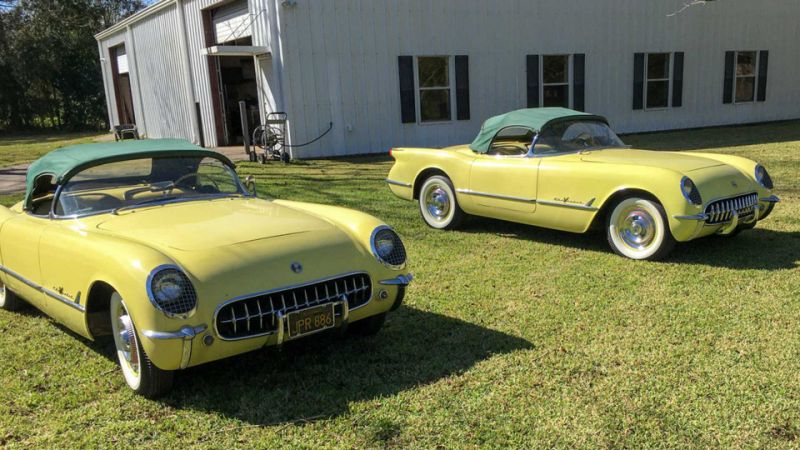 Are These Consecutive-VIN '55 Corvettes The Perfect Package Deal?
February 15, 2020
These Corvettes twins were separated at birth, reunited nine months later and they've been together ever since!
When it comes to low-volume vehicles, VIN sequencing is a big deal. What you see here is perhaps the most incredible one-two punch for Corvette collectors representing the last two 1955 Corvettes ever produced with the 699th and 700th cars to roll off the assembly line. The 1955 model year was the final year for the original C1 Corvette body style with canted headlights and pronounced rear tailfins, and these two identical, consecutive-VIN Corvettes are currently being sold together through Corvette Mike.
The back story behind these two cars is just as intriguing as the cars themselves. As the story goes, the owner of these cars first purchased the 699th of the 700 Corvettes built for the 1955 model year, and then later that year, his brother-in-law purchased number 700 from the same dealership in Los Angeles. After the owner of no. 700 joined the Navy in 1959, the owner of no. 699 bought the Corvette. This owner kept the cars until he passed away in 1991, and then they were left to his daughter's. After 61 years in the same family, both cars were sold to the current owner in 2016.
The consecutive VIN and combined ownership are cool and all, but the most unique part of these Corvettes is the Harvest Gold with green soft top and yellow interior. Despite such a well-documented history, these Corvettes haven't exactly lived a pampered life, which is shown by some patina in the paint. There was considerable wear and deterioration inside the cars, but the current owner had the interiors refurbished. Except for these repairs, both Corvettes are remarkably original including the 195-horsepower V8 and optional three-speed manual.
Pricing has not been announced for this duo, and while they are available to purchase separately, we think it would be a shame for these twins to be broken up. Contact Corvette Mike for more information and availability for these original, matching and consecutive-VIN Corvettes or any of the Corvettes (and non-Corvettes) they currently have listed for sale.
More From Corvette Mike…