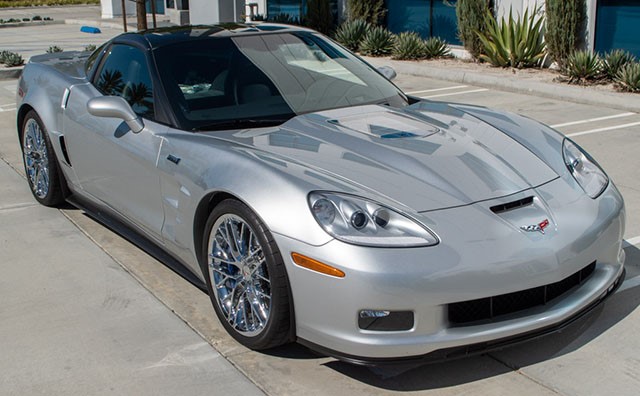 No C8 Convertible for 2020?
April 17, 2020


Our team continues to meet and discuss how we are going to move ahead with the COVID-19 outbreak. Per California law, we have decided to remain open for business to serve our valued customers.
Kai Spande Interview
Kai Spande, the Corvette assembly plant manager, did a live Q&A at the Corvette Museum taking questions from the public. One of the questions asked was if the 2020 C8 convertible the caller had on order would be produced as a 2020 or get pushed to the next model year. The answer, which was the answer to a lot of the questions, was that it all depended on when the plant could reopen.
The problem, as Kai put it, is that it is not just getting the factory workers back on the line, but also getting parts from the 400 suppliers, some of which are in Mexico, which has shut down all non-essential manufacturing. On the critical parts, it just takes one supplier to stop the entire line.
Kai also said that GM will be deliberate with getting the workers back on the line, "We're going to take a very, very structured approach to retraining our employees."
From February 3, when the first 2020 Corvette came off the line, to March 20, when GM shut down the Bowling Green plant, Bowling Green workers built 2,695 cars. GM has also informed dealers that some of the sold-out production allocations for the 2020 model year might not get built. The automaker said it will work with dealers to convert some 2020 cars into 2021 model-year orders.
Coming Soon!
2011 ZR1 – 1 of only 48 
Blade Silver w/Ebony interior, 6.2L 638hp Supercharged V8, 6-speed manual transmission. This beautiful and rare (1 of only 48 built in this color) ZR-1 came to us from a local Southern California owner. It's a loaded 3LZ with chrome aluminum wheels and the whole car shimmers in the sunlight! It's traveled only 10,974 miles since new and is in pristine condition throughout!  Comes with all books, manuals & spare key fob.
Trades accepted. Excellent financing.
---
Featured Car of the Week
Estate Sale 9,200 Mile 35th Anniversary
McLellan Mark of Excellence Awarded!
What Mike likes about this Corvette:
"New for 1988 was the 35th Anniversary Corvette. 
A mere 10 years later than the 1978 Silver Anniversary 25th Anniversary, all of a sudden Corvette is in his mid-thirties. The Z01 option package was a whopping $4795.00 over the base price of $29,480.00. This stunning white on white coupe only version offered with a blacked-out roof panel and halo was the most expensive production Corvette at nearly $35,000. Excluding the Callaway B2k option version built-in Old Lyme Connecticut.
Corvette for 1988 was quite a handsome fellow. A Sean Connery type fit for the casino or the Governor's Ball. 1988 also marked the end of the era for the Doug Nash 4 plus 3 transmission. It was a bit clumsy and long-waisted but they finally got all the bugs worked out. I am still very fond of the '88 35th Anniversary Corvette and with only 2,050 ever made they have the real appeal of the true collectors. This prime example is being offered out of a local estate. We feel the asking price is very fair based on the low miles, the Awards and the condition, but heck, you can always make an offer!  
Keep sane during these days of family bonding and maybe a trip to our showroom is just what the doctor ordered!!  Bring your mask, gloves and hand sanitizer. We'll provide sanitizing wipes!!  Safe travels."
Check out our great financing options.  
Happy Throttling!
Apex • Exit • Accelerate!!
CM V8tro
This outstanding 35th came out of a collection of only the finest cars. It was owned by a local client of ours who decided that an '88 in this kind of condition deserved to be shown to those that would appreciate it! So it was taken through the N.C.R.S. judging process and was awarded multiple Top Flights. But for this collector, it was not enough and went for, and got, the Performance Verification and the top prize of the McLellan Mark of Excellence Award! This is the equivalent of the Zora Arkus-Duntov Mark of Excellence Award, but for later model Corvettes.
Arctic White w/White interior, L98 350/245hp. 4+3 Speed Manual transmission.
Priced to Sell: $22,500
Trades maybe?
 Financing yes!!!
Thrill rides no!!!
---
Upcoming events:
Bloomington Gold
June 25-27, 2020 (maybe postponed)
Indianapolis Motor Speedway
San Marino Motor Classic
Lacy Park, San Marino, CA
August 23, 2020
9th Annual Queen City Corvette Show
With Bloomington Gold Charlotte
October 3, 2020
Hendrick Motorsports, Charlotte, NC
Have a special event coming up? Let us know and we will let others know.
—————————————————————————————————-
Corvette From The Inside
Signed by Author
Dave McLellan
Corvette Chief Engineer 1975-1992
Price: $25!
Other books and artwork available.
Real Kelsey Hayes Knock offs and Bolt-Ons for sale.
Tires, repro wheels, and caps.
Call for pricing.
Complete Corvette New Collection from Volume 1 Issue 1. Starting in 1957.
Priced at $3,250
We have many duplicate issues so, if you are missing one, or a few, from your personal collection, we have individual issues starting at $20 each based on availability and rarity of the volume.
Discounted Parts Table Items
Pictures Available Upon Request.
1956-1962 Corvette Hardtops – Priced from $4,888.
1963-1967 Corvette Hardtops – Priced from $2,000.
1968-1975 Used convertible top assembly. Good condition.
1957 Corvette Fuel Injection Unit – taken off of a '57 Corvette engine, completely rebuilt and is ready to use. Part #7014520. Price $5,500 OBO (make us an offer).
1969 L88 Holley 4bbl carburetor – Completely rebuilt (by Jerry Luck) and ready to install. 3955205 R4296 932. Price: $4,500 $3,500.
One pair of factory aluminum cylinder heads for big-block Chevy. Pt.#3919842. These heads were original equipment on '68 & '69 L88 and L89 engines. Both heads in excellent condition. $4,500 $3,900 for the pair.
---
Auctions
1995 Chevrolet Corvette 6-Speed
1982 Chevrolet Corvette (6,899 miles!)
1962 Chevrolet Trucks C10 Stepside
1966 Chevrolet Corvette L36 427/390hp
2002 Chrysler rowler Base
More Coming Soon
Cars on eBay at Auction Pricing
1955 Polo White V8 Roadster
1957 Polo White Fuel Injected Corvette Convertible
2002 Silver Chrysler Prowler
2011 Chevrolet Corvette ZR-1
2013 White Porsche Cayenne S, Automatic, AWD
2016 Land Rover LR4 HSE, with 34k Miles, AWD
Comic of the Week