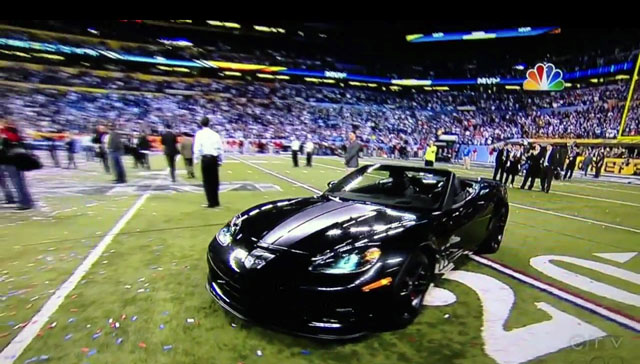 Eli Manning Auctions Personal MVP C6 GS For COVID-19 Relief
May 10, 2020
Our team continues to meet and discuss how we are going to move ahead with the COVID-19 outbreak. Per California law, we have decided to remain open for business to serve our valued customers.
Manning's Super Bowl MVP Grand Sport auctioned for Covid-19 relief
The former New York Giants quarterback Eli Manning recently accepted the All In Challenge to raise money for COVID-19 relief. The NFL superstar offered up the Grand Sport Convertible he was given in 2012 as recognition for earning the MVP award in Super Bowl XLVI. Not only would the high bidder get this special car, but Eli would also personally deliver it to the new owner, hang out with them, and then would take them out for lunch!
The auction ended April 28th and was a huge success with Manning's Super Bowl MVP Grand Sport bringing in a whopping $140,000 for the charity.
The ALL IN Challenge is a digital fundraising organization that provides food to those in need, including children, the elderly, and frontline heroes. Along with Eli Manning, there are a lot of other celebrities donating one of a kind items and experiences.
---
We buy used cars!
2020 Corvettes wanted top dollar paid
Top money paid for the right cars.  Submit today.
Cream puff inventory needed!
Lemons need not apply.
Consignments Net YOU More!!
You get the $$$ and we do all the work for you!!!
Garage too full?
Have one or more cars to sell?
Same day cash! Running or not!!!
For approved collections, Mike will visit personally.Sales@CorvetteMike.Com
---
Inbound
2007 ROLLS-ROYCE PHANTOM!
Silver with Tan interior 6.8L V12, automatic transmission.
This stunning Phantom was sold new right here in So. CA. It spent some time in FL., but eventually made its way back here to CA. It's in excellent condition throughout with only 19k miles. It comes with 24″ Chrome Wheels and recent service.
Priced to Sell: $109,328!
Trades accepted. Excellent financing.
---
Featured Car of the Week
2020 2LT Z51!
Only 251 Miles!
"I've had the pleasure now for a few days to sit behind the wheel of this "Orange County appropriate" Sebring Orange C8 Corvette.
It's the 4th one now for us in a brief time span.  Thank goodness for the connections I've made over the years and networking we do to bring you these scarce mid engines.
This one has been fun and the attention it gets is remarkable.  The sparkle in the paint is so cheerful and pleasing to look at.  And the color does the body lines justice.  So much pop!!!  I can't take it anywhere without wonderful remarks and praise.  All total I must have put close to 1,000 miles collectively on all 4.  The performance is on par with any exotic I have driven but with little or no attitude and nowhere near the price.  That's the beautiful thing about the Chevrolet C8 Corvette, it is 100% American and I'm proud to say I'm Corvette Mike.  If you happen to have one for sale let me know, we have buyers waiting for certain colors and options.  We are the source and we will go to great lengths to bring them to you.  Well, I'm off to find another one what color would you like?"
Check out our great financing options.
Happy Throttling!
Apex • Exit • Accelerate!!
CM V8tro
Priced to Sell: $115,328
Trades maybe?
Financing yes!!!
Thrill rides no!!!
---
Upcoming events:
Bloomington Gold
September 2020
Indianapolis Motor Speedway
San Marino Motor Classic (postponed to 2021)
Lacy Park, San Marino, CA
9th Annual Queen City Corvette Show
With Bloomington Gold Charlotte
October 3, 2020
Hendrick Motorsports, Charlotte, NC
Have a special event coming up? Let us know and we will let others know.
---
Corvette From The Inside
Signed by Author
Dave McLellan
Corvette Chief Engineer 1975-1992
Price: $25!
Other books and artwork available.
Real Kelsey Hayes Knock offs and Bolt-Ons for sale.
Tires, repro wheels, and caps.
Call for pricing.
Complete Corvette New Collection from Volume 1 Issue 1. Starting in 1957.
Priced at $3,250
We have many duplicate issues so, if you are missing one, or a few, from your personal collection, we have individual issues starting at $20 each based on availability and rarity of the volume.
Discounted Parts Table Items
Pictures Available Upon Request.
1956-1962 Corvette Hardtops – Priced from $4,888.
1963-1967 Corvette Hardtops – Priced from $2,000.
1968-1975 Used convertible top assembly. Good condition.
---
Auctions
320-Mile 1990 Chevrolet Corvette ZR1
More Coming Soon
More Coming Soon
Cars on eBay at Auction Pricing
1955 Polo White V8 Roadster
1957 Polo White Fuel Injected Corvette Convertible
1963 Daytona Blue Corvette Split Window Coupe
1965 Rally Red Corvette 396 Convertible
2002 Silver Chrysler Prowler
2011 Chevrolet Corvette ZR-1
2013 White Porsche Cayenne S, Automatic, AWD
2016 Land Rover LR4 HSE, with 34k Miles, AWD
2018 Audi Q7 Premium Plus 3.0T Quattro
2020 Sebring Orange Corvette 2LT Z51
---
Comic of the Week