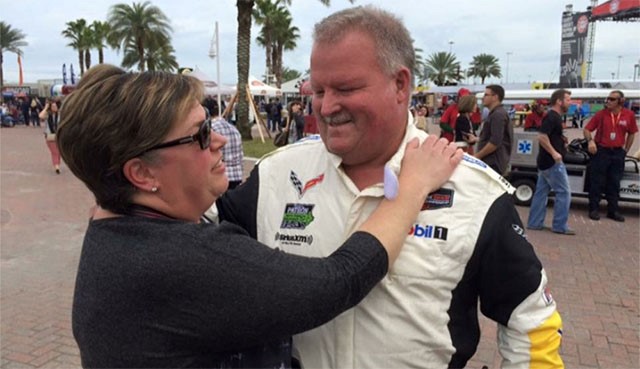 Corvette Racing Crew Chief Dan Binks Retires
May 29, 2020
Our team continues to meet and discuss how we are going to move ahead with the COVID-19 outbreak. Per California law, we have decided to remain open for business to serve our valued customers.
After 38 Years Corvette Crew Chief Retires
Corvette Racing crew chief Dan Binks has decided it was time to retire from the General Motors factory team after 38 years. He first joined the Pratt & Miller crew in 2002 and has been instrumental in the team's success.
According to Racer, Binks helped Corvette Racing reduce its pit stop times considerably and helped set "new standards for success by an American factory team" on the global motorsports stage.
Binks will remain in the automotive industry in a way, with plans to run an automotive performance and restorations shop in his retirement. He will also continue to work to support the non-profit Camp Anokijig, a children's camp in Plymouth, Wisconsin that he went to as a boy. Corvette Racing has held fundraisers for the camp in the past and raised more than $25,000 for the non-profit at last year's IMSA round at Road America..
Inbound
1967 Rally Red w/Black interior 454/390hp, 4-speed!
We also know that with the values of documented, award-winning examples in the six-figure stratosphere, these beasts tend to be out of reach for the average Corvette buyer.  So, what happens when you decide to build an awesome, correct looking, but not #'s matching example to drive and enjoy?  You get what is presented here!  A beautifully restored '67 that you could drive anywhere and have a real blast doing it!
Price: $TBD

Trades accepted. Excellent financing.
---
Featured Car of the Week
2016 Shelby Mustang GT350 Coupe
What Mike likes about this Mustang:
"Over the years we have had fun polluting the showroom floor with these fun-spirited driving Ford Mustangs!
Not so true we enjoy our brethren of the big three and have fun with these high-performance Ford products. This car belongs to a good friend and client from Northern California who bought this car new and has enjoyed every mile in it. When he decided it was time to sell, I usually get the phone call! This car will be priced to sell, and you can start enjoying it from the moment you receive it in your driveway!
So, let's get it on the truck heading your way enjoy!"
Check out our great financing options.
Happy Throttling!
Apex • Exit • Accelerate!!
CM V8tro
One owner, CA. car with only 2,800 miles!  Collector owned and meticulously maintained since new! Wimbledon White w/Blue stripes & Black interior.
5.2L/526-hp DOHC 32-valve V-8, 6-spd. manual transmission.
Price: $48,888.88Trades maybe?
Financing yes!!!
Thrill rides no!!!
---
Upcoming events:

Bloomington Gold
September 11-12, 2020
Indianapolis Motor Speedway

Corvette Funfest
September 18-19, 2020
Effingham, IL
9th Annual Queen City Corvette Show
With Bloomington Gold Charlotte
October 3, 2020
Hendrick Motorsports, Charlotte, NC
Texas Regional NCRS Event
October 22nd thru 24th
Frisco, Texas
Have a special event coming up? Let us know and we will let others know.
—————————————————————————————————-
Corvette From The Inside
Signed by Author
Dave McLellan
Corvette Chief Engineer 1975-1992
Price: $25!
Other books and artwork available.
Real Kelsey Hayes Knock offs and Bolt-Ons for sale.
Tires, repro wheels, and caps.
Call for pricing.
Complete Corvette New Collection from Volume 1 Issue 1. Starting in 1957.
Priced at $3,250
We have many duplicate issues so, if you are missing one, or a few, from your personal collection, we have individual issues starting at $20 each based on availability and rarity of the volume.
Discounted Parts Table Items
Pictures Available Upon Request.
1956-1962 Corvette Hardtops – Priced from $4,888.
1963-1967 Corvette Hardtops – Priced from $2,000.
1968-1975 Used convertible top assembly. Good condition.
1969 L88 Holley 4bbl carburetor – Completely rebuilt (by Jerry Luck) and ready to install. 3955205 R4296 932. Price: $4,500 $3,500.
---
Auctions
1978 Chevrolet Corvette L82 350/220 Pace Car Edition 4-Speed
More Coming Soon
More Coming Soon
Cars on eBay at Auction Pricing
1955 Polo White V8 Roadster
1957 Polo White Fuel Injected Corvette Convertible
1963 Daytona Blue Corvette Split Window Coupe
1965 Rally Red Corvette 396 Convertible
2002 Silver Chrysler Prowler
2011 Chevrolet Corvette ZR-1
2013 White Porsche Cayenne S, Automatic, AWD
2016 Land Rover LR4 HSE, with 34k Miles, AWD
2020 Sebring Orange Corvette 2LT Z51
---
Comic of the Week