JD Power Awards C7 "Lowest Depreciation"
November 27, 2020
Last week, we shared the award the 2021 C8 received from Car & Driver. We have all known that the Corvette has been the benchmark for bang-for-the-buck performance sports car, but on top of the relative low cost of entry, your investment does not drop in value like a rock.
This week America's favorite sports car got even more recognition, as JD Power has just published their annual estimated depreciation values for used cars. The 2017 C7 Corvette clutched number one spot for the "lowest depreciation" in the Midsize Premium Sporty Car category. The C7 boldly outshined other competitors, including the Porsche 911 and the Nissan GT-R.
"Our transaction database shows which models have the lowest depreciation costs, hence providing consumers with a key component in the total cost of ownership of the vehicle they plan to purchase or sell," said the general manager of vehicle valuations at J.D. Power, John Banks.
J.D. Power evaluated over 592,000 vehicle transactions, dividing the wholesale price vs. original price tag, thereby concluding how much it depreciated in the first 3 years after it first sold. Knowing these cars hold their value is excellent news for both current Corvette owners and prospective buyers.
This isn't the first time Corvette has been given an award for its value retention. In January, the 2020 Stingray took first place in the top 10 cars for Kelly Blue Book's "Best Resale Value Award Winners".
Once again, this shows that the Corvette is an excellent investment for car enthusiasts.
Inbound now
2019 Torch Red ZR-1
One Owner and clean Carfax
3ZR, High Wing, Automatic and Only 5,900 miles on the odometer.
Priced for you at: $149,900
---
Weekly Special
1999 Bentley Azure Convertible
just 20k Miles on the Odometer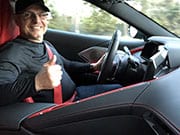 What Mike likes about this Bentley:
"Even though they call me Corvette Mike I am truly a lover of all great automobiles! Take for instance this 1999 Bentley Azure convertible! This vehicle was bought brand new over 20 years ago and still looks like the day it left the show room floor. Like most of the cars that I have enjoyed selling during my 40-year career, I appreciate cars that have been cared for meticulously by fastidious owners that are truly car crazy!
It makes all the difference in the world when you are a true car fanatic as to how the car will look 20, 30 or 40 years later!! And let's face it that is the prime reason that collector cars from years gone by appreciate so rapidly and continually it's strictly a matter of how they were cared for and the mileage being kept very low. This example which is in the true English tradition of color combination has only 20,000 original miles. And it looks it and drives like it!
We have priced this car similar to other examples that have nearly twice the mileage and not cared for as well as this one. One of only 150 cars built that year this will be one of those cars that escalates in price over the years.
So basically this is a bloody good deal and one you can enjoy your hot dog with in the back with gray Poupon mustard!
Happy Thanksgiving to all you Car guys and gals!"
Corvette Mike V8tro.
Check out our great financing options.  
Happy Throttling!
Apex • Exit • Accelerate!!
CM V8tro
One of only 150 Azures built in '99, this outstanding, low miles example came out of the collection of one of the most distinguished families in the U.S.  It's been expertly cared for and features a very fitting and beautiful color combination of British Racing Green and Magnolia interior.
Power came from the company's stalwart 6.75-litre V8, featuring a single, intercooler Garrett turbocharger and rated in the region of 360hp – Rolls-Royce and Bentley did not yet give official power numbers at the time of the Azure's introduction. By the time production began in earnest, a new engine management system from Zytek meant a slight power increase to  385hp at 4,000 rpm.  Power was routed to the rear wheels via a modified, GM sourced, four-speed 4L80-E automatic transmission. With a 0-100 km/h (62 mph) acceleration time of 6.5 seconds and a top speed of 150 mph, the Azure was very fast for a car of its size, weight.
Priced for you at: $59,900!
Trades maybe?
 Financing yes!!!
Thrill rides no!!!
Would you like to see your prime collector car example featured here?
___________________________________________________________
orvette From The Inside
Signed by Author
Dave McLellan
Corvette Chief Engineer 1975-1992
Price: $25!
Other books and artwork available.
Real Kelsey Hayes Knock offs and Bolt-Ons for sale.
Tires, repro wheels, and caps.
Call for pricing.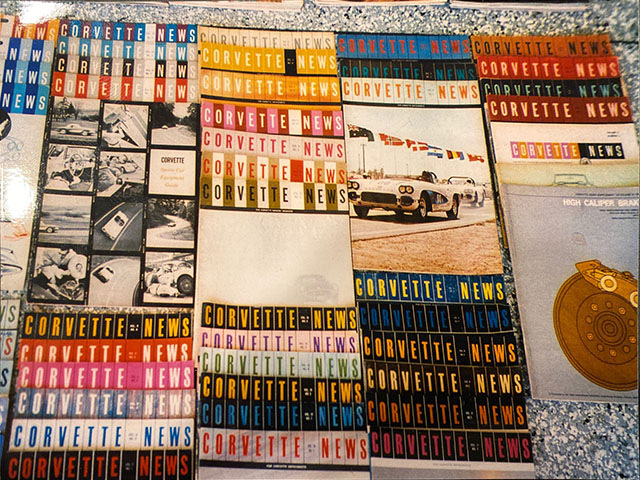 Complete Corvette News Collection from Volume 1 Issue 1. Starting in 1957.
Priced at $3,250
We have many duplicate issues so, if you are missing one, or a few, from your personal collection, we have individual issues starting at $20 each based on availability and rarity of the volume.
Discounted Parts Table Items
Pictures Available Upon Request.
1956-1962 Corvette Hardtops – Priced from $4,888.
1963-1967 Corvette Hardtops – Priced from $2,000.
1968-1975 Used convertible top assembly. Good condition.
1969 L88 Holley 4bbl carburetor – Completely rebuilt (by Jerry Luck) and ready to install. 3955205 R4296 932. Price: $4,500 $3,500.
---
Auctions
More Coming Soon
More Coming Soon
More Coming Soon

Cars on eBay at Auction Pricing
1962 Ford Thunderbird M-Code Landau Hardtop
1967 Marina Blue Corvette L71 Coupe, Frame Off Restored
2020 Yellow Corvette Coupe with 2LT & Z51
---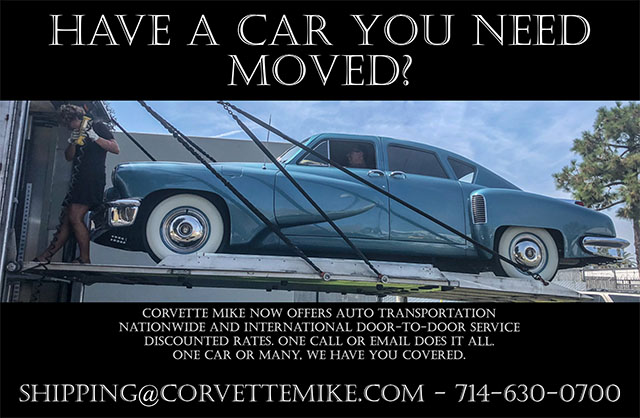 Comic of the Week