C8 Z06 May Be Delayed Again
June 20, 2021
Since the C8 was first announced in 2019, rumors immediately started flowing about the future C8's variants that would be coming down the road.
The first performance/Track Ready variant that was expected to hit the market was the Z06. All the rumors suggested it would be announced along with the 2022 market year C8, and with vehicles arriving in the second half of 2022, but we may have to wait a bit longer for it.
According to GM Authority, the Z06 has been delayed until the 2023 model year. The report does not say whether this delay will push back the other variants, but that seems likely, as Chevy is very unlikely to want to announce two different high performance model options during the same model year; something GM has never done in its history.
The other variants we expect are the E-Ray (base C8 with all-wheel drive hybrid components), the Corvette ZR1 (a twin turbo Z06), and the Zora (a 1,000hp ZR1 with E-Ray's all-wheel drive electric components)!
---
Corvette Racing Building Fourth
Corvette C8.R Chassis For Le Mans

Copyright: © 2020 Barry Cantrell
According to Sportscar365, the Michigan-based team is currently in the process of building an additional Corvette C8.R chassis in order to compartmentalize its IMSA and FIA WEC programs. The No. 4 Corvette C8.R that won its class in last weekend's IMSA round at Detroit will become the No. 64 car for Le Mans, while the No. 63 car that raced at the FIA WEC 6H of Spa season opener last month will remain in Europe for Le Mans in August.
---
Win a Red Mist C8 Corvette Convertible
and Racing Prize Package!
The International Motor Racing Research Center (IMRRC) is a charitable organization in Watkins Glen, NY. that collects, shares, and preserves the history of motorsports. To help support that mission, they are offering an opportunity to win a new 2021 Corvette Convertible in beautiful Red Mist Metallic. The winner of the Corvette will also receive a racing prize package with a complimentary overnight stay when you take delivery, plus two 2022 memberships to the Jack Daniels Club at Watkins Glen race track to watch IMSA, NASCAR, and other races, plus a two-day Owners School course at Ron Fellows Performance Driving School at Spring Mountain.
Thundering Thursday readers get 25% MORE ENTRIES on donations of $25 or more.
Click Here to get your tickets today!
---
Corvette Mike Concierge Service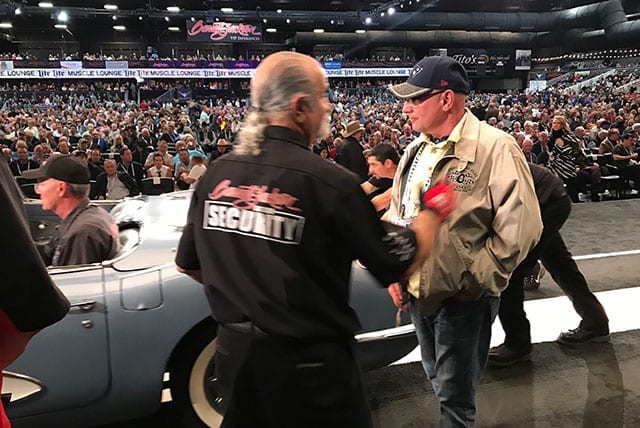 Want help buying a car at the upcoming auctions?
Corvette Mike is available, and will be at the Barrett Jackson auction on
6/17/2021 – 6/19/2021 at the Las Vegas Convention Center
---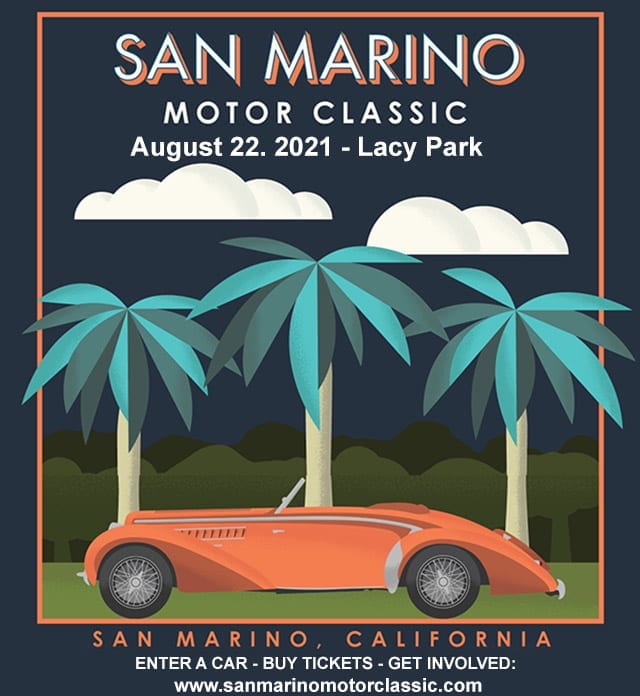 This years show will highlight 1953-1973 Corvettes.
---
Owner's Corner

Jeff M.'s 1965 and 2021
White or red? I've had the award winning '65 327/350HP Factory A/C convertible (one of about 160), since Corvette Mike did the pre-buy inspection for me 32 years ago. And it's still serviced there. It was previously owned in the mid 80's by actor Scott Baio, and I have ownership information back to the second owner with a pictures from 1966. It's promised to my son. I took delivery of the 2021 Torch Red C8 Convertible in February after waiting a year and a half for it. It replaced a C7 convertible. Which replaced a 2003 convertible, which replaced a 40th anniversary convertible I sold to Corvette Mike. And so it goes.
Jeff M.
Want to be our next Corvette Owner highlighted?
Send Troy@CorvetteMike.Com an email.
---
We are looking for Low Mileage Cars
Any year C2 Coupe with 327 and any Transmission
2015-2019 Z06 Coupe
2010-2019 Grand Sport Coupe
2019 ZR1 Coupe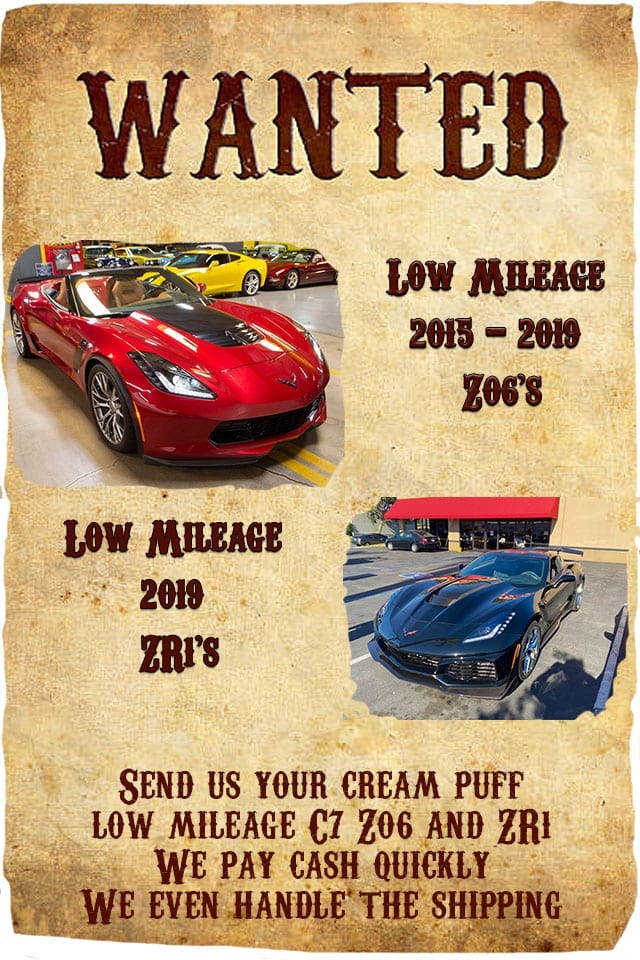 ---
Coming Soon
1967 with factory a/C!
L68 427/400hp, 4-Speed manual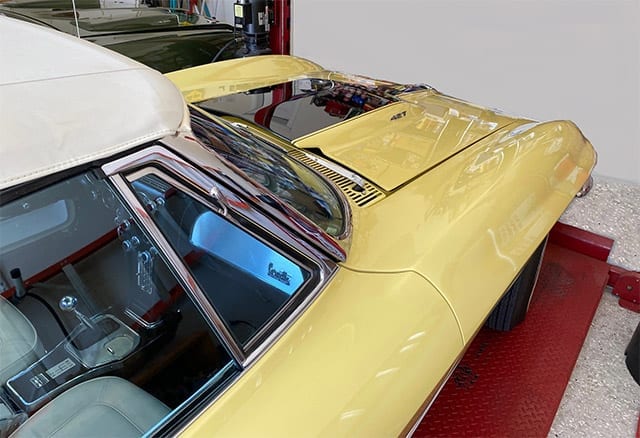 Last judged at Arizona regional NCRS event in 2018. Judging sheets go with car. The car was also in Laughlin at the NCRS regional in 2017! Judging sheets with car as well! Car purchased new at Madison's Chevrolet in Scottsdale, Arizona per NCRS documents that come with car!
Call With Your Offer
---
Weekly Special
2017 Z06 3LT Convertible
Loaded with MSRP of $103,310!
400 Miles – carbon ceramic brakes – 8-speed!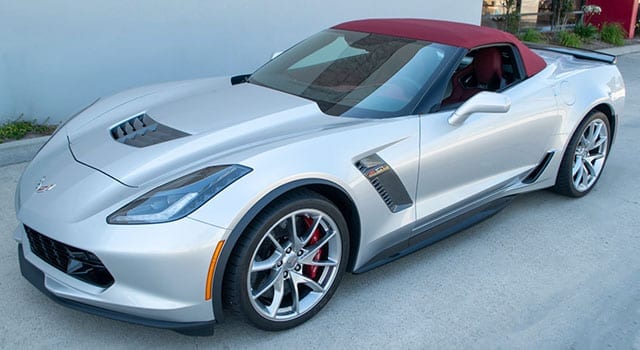 What Mike Likes about this Corvette:

"From an amazing collection of all things on 4 wheels and big engines. Including really BIG ENGINES with aluminum heads from 1967, 1968 and 1969!!
So this artist rendering of blade silver trimmed with spice colored top and chairs makes you want to jump up and down with joy!!  But please buckle up while seated and hang on because the G Force acceleration will surely pull your cheeks back to touch your ears!  Ever heard that one before?  Not likely unless you are accustomed to cars with 650 plus horsepower. Not for the faint of heart mind you.  I've driven this beast and I'm here to tell you the surgery was painless pulling my cheeks back forward.  I left the grin from ear to ear in place.
Now everyone knows I drive a Z06.
Any takers for the silver bullet before she heads to BaT??"
Corvette Mike V8tro / CM V8tro
Check out our great financing options.  
Happy Throttling!
Apex • Exit • Accelerate!!
Trades maybe?
 Financing yes!!!
Thrill rides no!!!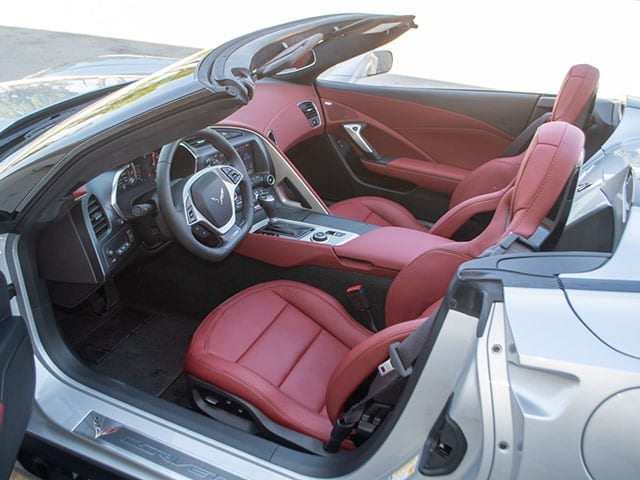 Blade Silver with  Spice Red Design Package interior and soft top.
This has to be one of the sharpest Z06 Convertibles we've ever seen!  And not only does it have a beautiful and unusual color combination, it also happens to be loaded with options!  And it only has just a bit over 400 miles on the odometer!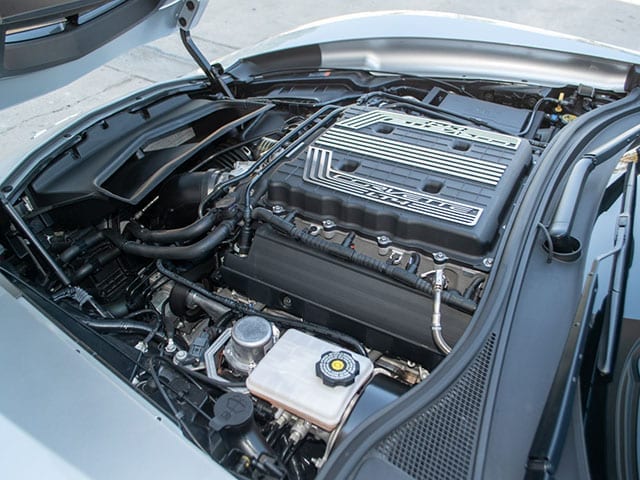 6.2L/650hp Supercharged V8, 8-Speed paddle-shift automatic transaxle,
Ceramic brake rotors, Competition Sport seats.
Would you like to see your prime collector car example featured for sale here?
Click Here to send an email.
We buy and consign.
---
DISCOUNTED PARTS TABLE ITEMS
Pictures Available Upon Request.
1956-1962 Corvette Hardtops – Priced from $4,888.
1963-1967 Corvette Hardtops – Priced from $2,000.
1968-1975 Used convertible top assembly. Good condition.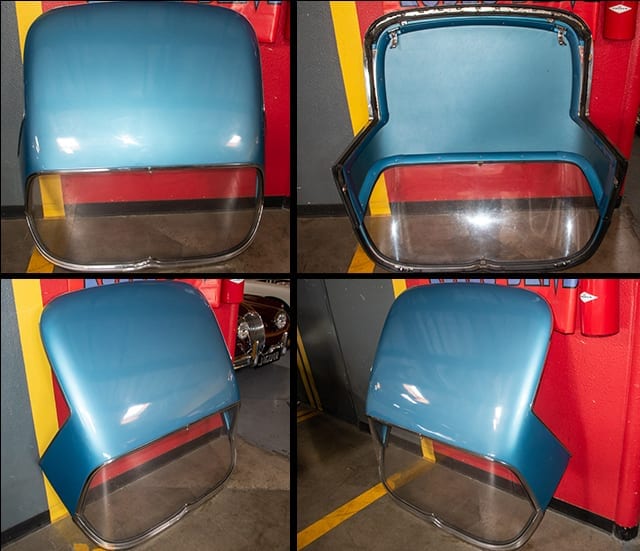 Fully restored 1963 through 1967 factory hardtop restored by Nabers Brothers back years ago and has been in the crate ever since; uncrated just this week. This was restored specifically for 1966 Nassau blue 427 convertible. Very hard to duplicate and very expensive to restore. On sale this week for $5000!
---
Auctions

561-Mile 1993 ZR1 40th Anniversary Coupe
4,300-Mile 2017 Grand Sport Coupe 3LT Z07
More Coming Soon
More Coming Soon


More Coming Soon


Cars on eBay at Auction Pricing
1958 Imperial Maroon Jaguar XK150 Drophead
1965 Rally Red 396 Convertible
1969 Fathom Green L71 427/435HP Coupe
1969 Matador Red COPO Chevelle Hardtop
2004 LeMans Blue Commemorative Edition ZO6
2003 Pewter Hummer With Super Low Miles
2008 Black Factory Indy 500 Pace Car
2016 Chevrolet Corvette Z06 3LZ
---
Comic of the Week