Pebble Beach's Car Auctions Show Red-Hot Market
August 22, 2021
Picture from Mike Vietro
Above Car pictured with 640 Miles sold at Mecum for $605,000
Available 1-Owner, 3,900 Miles, 2006 Ford GT Heritage for $525,000.
After a year hiatus the auctions during Monterey Car Week were as strong as ever. With results from only 4 of the 5 auctions, the total sales are already at $343 Million Dollars. This number should go up as pending sales get finalized and the official numbers are released.
The total of $343 million across three days of sales is an increase of 37% over 2019. The high sales numbers were even more impressive, considering that 25% fewer cars were offered than in 2019. A higher-than-normal sell-through rate of 80%, compared to 59% in 2019, contributed to that result, but so did the number of very high-quality cars offered.
"The collector car market has weathered the pandemic and then some," said Brian Rabold, vice president of automotive intelligence for Hagerty, in his auction report. "We forecast 2021 will be the best year ever for auctions."
The sales numbers we can find so far are:
    Gooding & Co. reported sales of $107 million.
    Mecum reported sales of $57.4 Million with 80% of all cars sold.
    RM Sotheby's reported sales of $148.5 Million with 90% of cars sold.
    Bonhams did $35 Million in sales
Official numbers for Russo have not been released as of this date.
---
Enter to Win a 600-hp 2021 Z51 Coupe
and a 1961 LS3 Restomod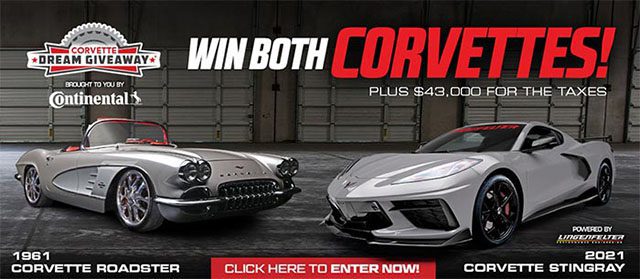 The 2021 Corvette Dream Giveaway is underway and it's your chance to win a 2021 Corvette Z51 Coupe and a LS3-powered 1961 Corvette Restomod, along with a check for $43,000 to pay the taxes. The loaded 3LT C8 Corvette will have 600-horsepower thanks to Lingenfelter Performance Engineering. Finished in Silver Flare with Red interior, it has an MSRP greater than $93,000. The '61 restomod is also finished in Silver and Red, features 525 horsepower, and a 6-speed manual transmission.
Your contributions help fuel a variety of children and veterans charities and you'll receive 50% more entries with donations of $25 or more! Get your tickets today by clicking Here!
---
Corvette Mike Concierge Service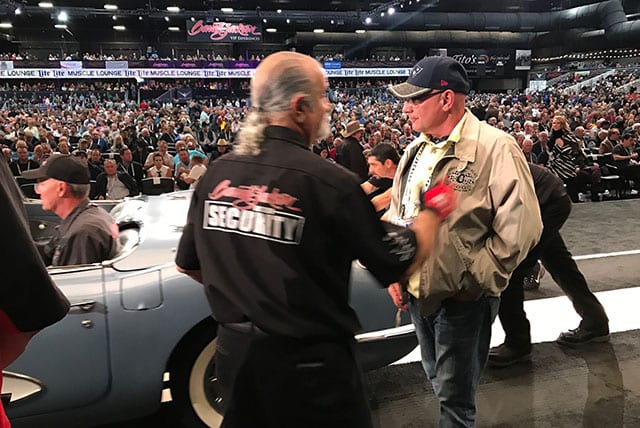 Want help buying a car at an upcoming auction?
Corvette Mike is available, Just Click Here to email him.
---
Owners' Corner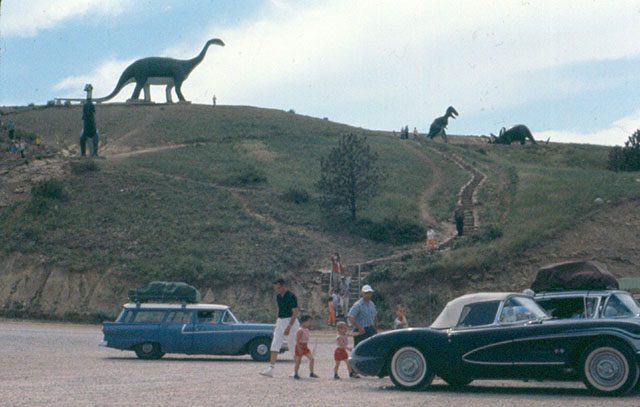 David and Joyce O. 1962
I purchased my 1st Corvette E57S106070 in Oct 1960 after graduating from college and working for 4 months for a down payment. I was its 3rd owner and drove it as a 2nd car for 9 years. We drove it to the Seattle Worlds Fair in 1962 for a late honeymoon. I won many trophies drag racing and at car shows. It had a 1960 engine, 4.56 gears with 4 speed. The scallops were done by Mandy Holder of Springfield IL who learned from George Barris.
David and Joyce O.
---
Want to be our next Corvette Owner highlighted?
Send a picture of your car and a short story to Troy@CorvetteMike.Com.
---
We are looking for Low Mileage Cars
Any year C2 Coupe with 327 and any Transmission
2015-2019 Z06 Coupe
2010-2019 Grand Sport Coupe
2019 ZR1 Coupe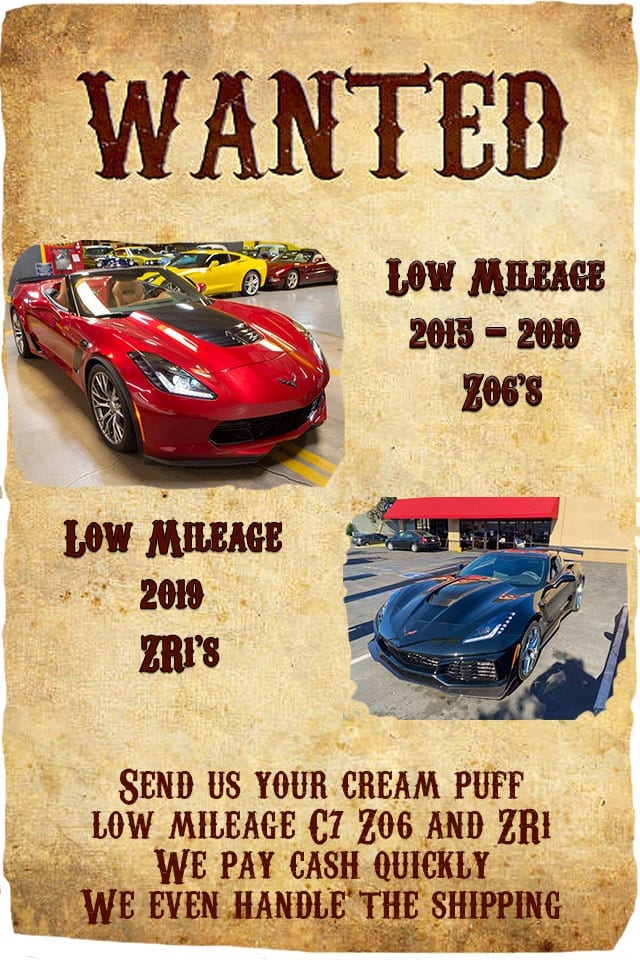 ---
Coming Soon
2017 Platinum Edition CAYENNE
With only 23k miles!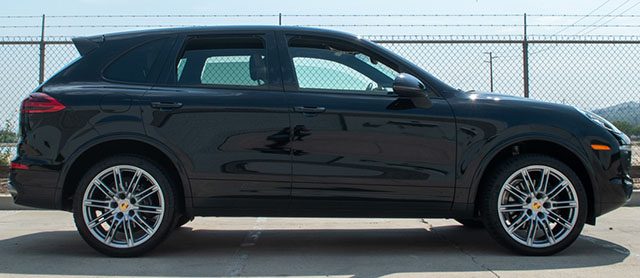 Black w/Tan interior, 3.0L /300hp V6, 8-speed paddle-shift automatic transaxle 4WD.
This Platinum Edition Porsche Cayenne just arrived from a local S. CA. owner, who purchased it brand new. It's in pristine condition throughout with only 23k miles on the odometer!
Special Coming Soon Priced at $49,900
---
Weekly Special
1967 L68 Convertible
rare '67 with factory air conditioning!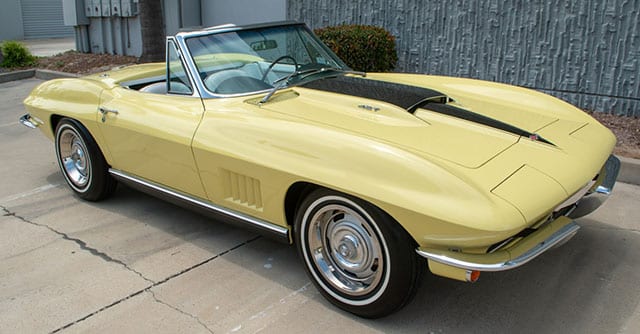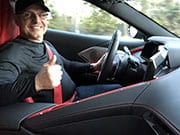 What Mike Likes about this Corvette:

"We have all heard the rumors regarding the 1967 production of the Chevrolet Corvette!
The year that shouldn't have been!
What would have happened if 1966 was the last true Stingray Corvette production year. Would we have had the iconic three deuces, AKA Tri-power carburetor configuration? 427/400 or 427/435?
So many factors lead up to what makes a Corvette or any other car for that matter collectible? 
We all know the one most important ingredient in collectability; it's typically the last year it was offered during factory production!
When you add it all up, the 1967 427/400 L68 Corvette has all the key components to make it one of the most collectible of the 1967 Corvettes.
What are they:
Rarest of the 427 production engines. Excluding the 20 L88's. Only 2101 produced.
Only Tri-power engine offered in the 1963-1967 era.
Last year of the era.
Only hydraulic camshaft 427 converted at the factory from a 390 hp version to a 400 Hp.
Only Tri-power engine offered with factory air conditioning.
The combination of factory air conditioning and the 427/400 Tri-power engine makes it the second rarest offered in 1967 of approximately 200 Corvettes ever built.
Take all these factors and the great styling for the 1967 Corvette, add to it the 427 stinger hood, and you have all the ingredients for
WHAT MIKE LIKES!  
Side bonus; in one of my most favorite color combinations.
Let's go for a ride!!"
Corvette Mike V8tro / CM V8tro
Check out our great financing options.  
Happy Throttling!
Apex • Exit • Accelerate!!
Trades – maybe?
 Financing – yes!!!
Thrill rides – no!!!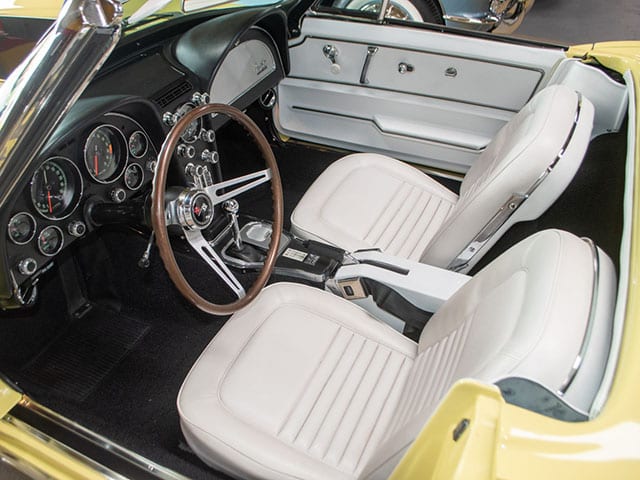 The car has been completely frame-off restored and comes with a huge binder full of info, including; owner history, photos, restoration receipts and more. It's also an N.C.R.S. Top Flight Award winner!
This is an original West Coast car sold out of Madison's Chevrolet in Scottsdale, AZ.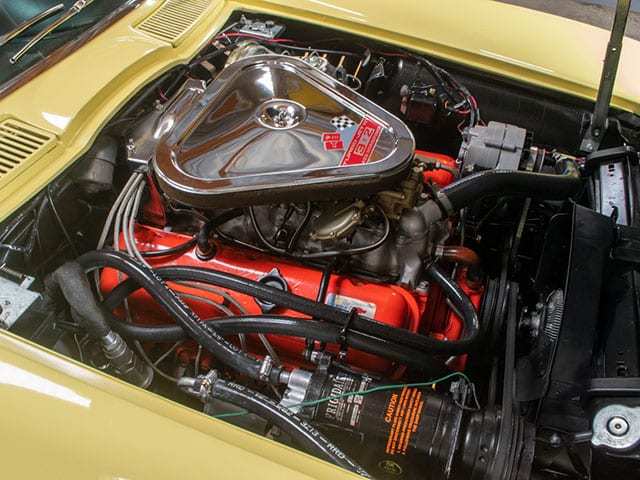 The car has been completely frame-off restored and comes with a huge binder full of info, including; owner history, photos, restoration receipts and more. It's also an N.C.R.S. Top Flight Award winner!
This is an original West Coast car sold out of Madison's Chevrolet in Scottsdale, AZ.
---
Would you like to see your prime collector car example featured for sale here?
Click Here to send an email.
We buy and consign.
---
DISCOUNTED PARTS TABLE ITEMS
Pictures Available Upon Request.
1956-1962 Corvette Hardtops – Priced from $4,888.
1963-1967 Corvette Hardtops – Priced from $2,000.
1968-1975 Used convertible top assembly. Good condition.
Fully restored 1963 through 1967 factory hardtop restored by Nabers Brothers back years ago and has been in the crate ever since. This was restored specifically for 1966 Nassau blue 427 convertible. Very hard to duplicate and very expensive to restore. On sale this week for $4,750!
---
Auctions

1958 Chevrolet Corvette 283/245 4-Speed

More Coming Soon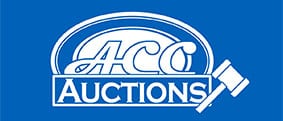 More Coming Soon

More Coming Soon
---
Comic of the Week