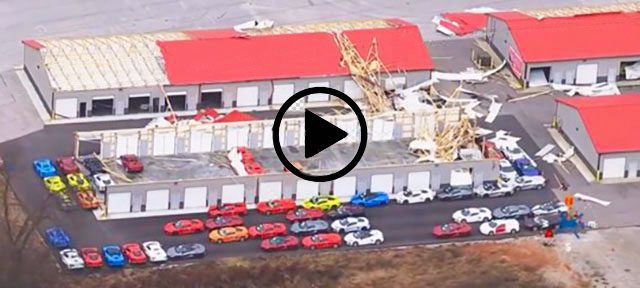 Tornado Closes Corvette Assembly Plant
December 16, 2021
Tornado Closes Corvette Assembly Plant
NCM Motorsports Park closed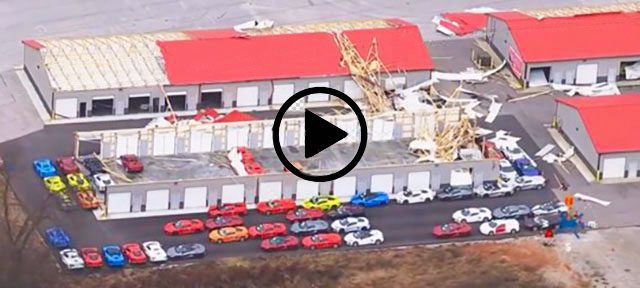 Picture courtesy of Corvette Blogger.
As I am sure you already know, a number of tornadoes swept through portions of six states in the Midwest and Southern U.S. over the weekend. One of the twisters landed in Kentucky and traversed over 200 miles on the ground, killing more than 50 people. The storms also made their presence felt at the Corvette Action Center and the GM Bowling Green Assembly Plant that builds the Chevrolet Corvette. All the plant employees are safe at both locations, but the damage is bad enough to the assembly plant to stop production for at least a week. The National Corvette Museum did not suffer any reported damage and is open as normal. The damage to the NCM Motorsports Park is substantial and will be closed for an unknown period at this time.
The plant and museum appear to have fared better compared to the wider Bowling Green area.
---
Final Days to Win This 2021 Corvette Convertible and Racing Prize Package!
The International Motor Racing Research Center (IMRRC) will be giving away this Red Mist 2021 Corvette Stingray Convertible on December 21st and there are just a few days remaining to get your tickets. The winner of the Corvette will also receive a racing prize package with a complimentary overnight stay when you take delivery, plus two 2022 memberships to the Jack Daniels Club at Watkins Glen race track to watch IMSA, NASCAR, and other races, plus a two-day Corvette Owners School course at the Ron Fellows Performance Driving School at Spring Mountain. Help the IMRRC's mission to collect, share, and preserve the history of Motorsports. The deadline to enter is December 21st so make a donation today.
Thundering Thursday readers get 25% more tickets with donation amounts beginning at $25. so get your tickets today!
---
Corvette Mike Concierge Service
Want help buying a car at an upcoming auction?
Corvette Mike is available! Simply CLICK HERE to email him!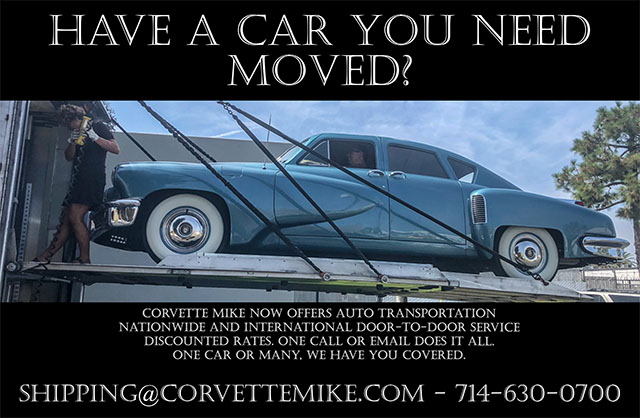 ---
Owners' Corner
Jack M.'s restored 1969 Corvette
I am presently doing a frame off on the 62 Vette I have had since 1976 and have completed the restoration of my 69 convertible, which I bought new. My driver is a 2014 coupe.
Jack M.
---
Year End Blowout
1996 GRAND SPORT CONVERTIBLE
Only 19k miles and in beautiful condition!
Admiral Blue w/Black interior, LT-4 350/330hp, 6-speed manual.
We acquired this beautiful Convertible from the original owner who only drove it 19k miles since new. It's in show condition throughout and is a high scoring N.C.R.S. Top Flight Award winner! The car has even been on display at the National Corvette Museum in Bowling Green! It comes with all books, manuals, Window Sticker, Build Sheet and more!
Christmas Blow Out Special: $49,900!
---
2006 CHEVROLET SSR PICK UP
Last and best year for the SSR!

---
Coming Soon
2022 C8 Convertible
Loaded 3LT, Z51, with 4 Delivery Miles!
Arctic White with Natural Dipped Interior.
This 3LT 2022 C8 Convertible is absolutely loaded with all the 3LT options plus the Z51 Performance Package, High Performance Tires, Z51 Rear Spoiler, Z51 Performance Brakes, Performance Exhaust, Front Lift, Magnetic Ride, Carbon Fiber Interior Trim, Trident Spoke Wheels, Body Color Exterior Accents, and More!
Special Christmas Price: $125,888
---
Would you like to see your prime collector car example featured Here for sale?
Click Here to send an email.
We buy and consign.
---
DISCOUNTED PARTS TABLE ITEMS
1966 Wheels, Tires, and Hubcaps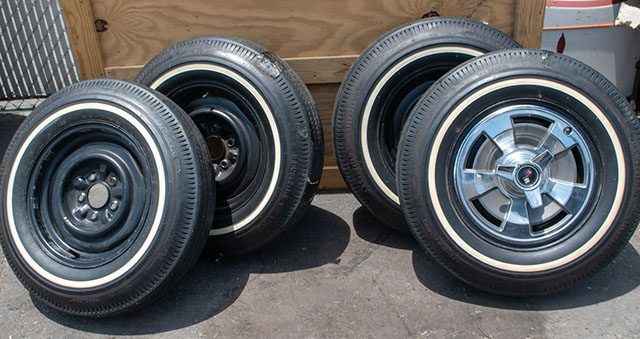 Call For Pricing
Pictures for the following Available Upon Request.
1961-1962 Corvette Hardtops – Priced from $4,888.
1963-1967 Corvette Hardtops – Priced from $2,000.
1968-1975 Used convertible top assembly in good condition. $Call
---
Auctions
No Reserve: Chevrolet Corvette C2 Removable Hardtop
More Coming Soon

More Coming Soon


More Coming Soon

---
Comic of the Week