GM Preps Tornado Damaged C8's To Be Crushed
December 30, 2021
WE'RE BUYING 2023 Z06 Orders
And Other DREAM CARS!
Friends, as you all know, we don't fuss with auctions or shuffle cars from other dealers. Our cars come from you.
So, if you are thinning out your collection, let us know!
Click here to email us about your C8 Z06 Order or other car(s).
---
GM Preps Tornado Damaged C8's To Be Crushed
Picture courtesy of Kornel J Werner.
As many of you know by now, on December 11th, 2021, a tornado hit the GM Bowling Green assembly facility damaging over 120 C8 Corvettes. Although visually these C8 Corvette Stingray units may look okay, other than being only partially assembled, it's likely that moisture got into critical electronics and other components. Rather than spend the time to evaluate and repair each and every damaged car, GM is taking the safer path and sending all of these vehicles to the crusher.
While the loss of all these C8's will hit the buyers waiting for their C8 to be delivered, they can rest assured that GM is spending the time and money to make sure, when they get their new C8, it will be the great car they waited a long time to get. It is also important to remember that no GM employees were hurt when the tornado damaged the roof and caused a small fire to break out.
---
Last Days to Win a 560-hp 2021 Corvette Stingray
and a 1961 Restomod!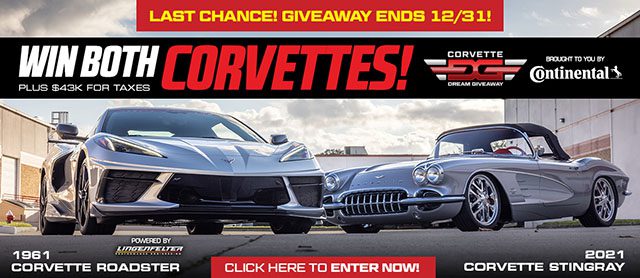 The 2021 Corvette Dream Giveaway is ending on Friday and this is your LAST CHANCE to get in your entries to win a 2021 Corvette Z51 Coupe and a LS3-powered 1961 Corvette Restomod, along with a check for $43,000 to pay the taxes. The loaded 3LT C8 Corvette will have 560-horsepower thanks to Lingenfelter Performance Engineering. Finished in Silver Flare with Red interior, it has an MSRP greater than $93,000. The '61 restomod is also finished in Silver and Red and it features 525 horsepower and a 6-speed manual transmission.
Your contributions help fuel a variety of children and veterans charities and you'll receive DOUBLE ENTRIES with donations of $25 or more by Clicking Here!
---
Corvette Mike Concierge Service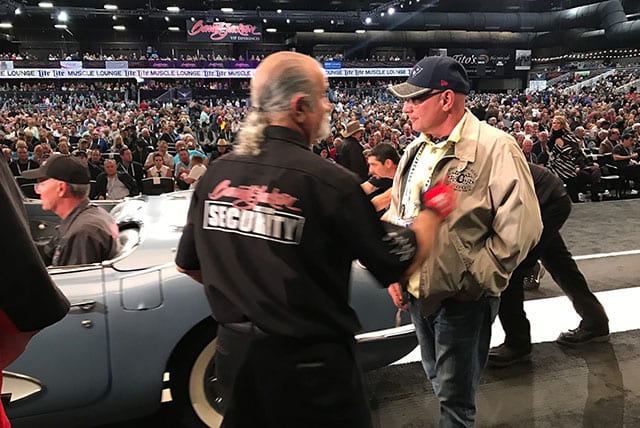 Want help buying a car at an upcoming auction?
Corvette Mike is available! Simply CLICK HERE to email him!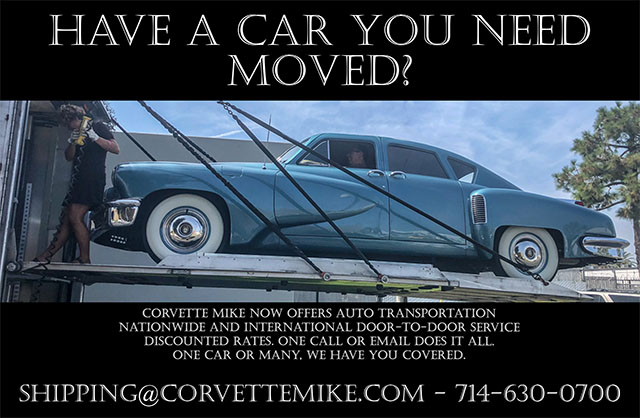 ---
Owners' Corner
Jim D. and the Cowtown Vettes Corvette Club of Fort Worth, TX
It was a chilly day in Dallas-Fort Worth, but given the holiday season, we all know how important it is to give back and keep those less fortunate in our thoughts, especially kids anticipating a visit from Santa. To help visions of sugar plums (and maybe a Corvette) dance in their heads, the Cowtown Vettes Corvette Club of Fort Worth, TX. gathered for breakfast at the local Cracker Barrel where the fireplace was thankfully roaring. We then loaded up our Vettes and headed out on a short run to the U.S. Marines Toys for Tots drop location. It was a beehive of activity, but the "buzz" (bad pun) among the volunteers when they saw 20 Corvettes in line with toys was terrific. The smiles were everywhere and more than a few volunteers who unloaded our cache of toys snapped selfies with their favorite car.
Jim D.
---
Coming Soon
2018 SC757 Callaway Z06 Z07 Convertible
Only 3,947 Miles and Loaded with options!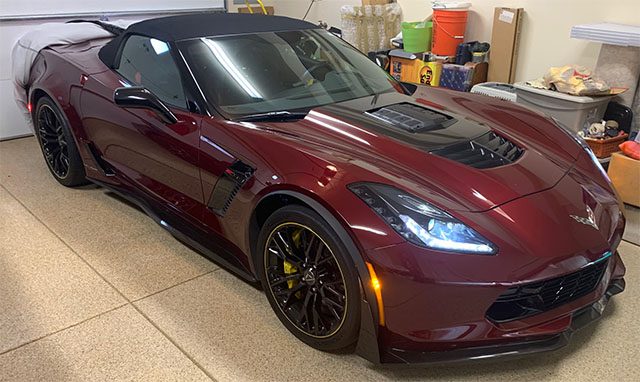 Long Beach Red with Jet Black interior. SC757 6.2L/376/757hp
This very cool, very low mile, loaded Callaway!
Listed below are the Callaway features:
Callaway GenThree™ Supercharger with TripleCooled™ Intercooler System
Callaway Carbon Engine Covers with SC757 Emblems
Callaway High Flow Intake System
Callaway Embroidered Floor Mats
Callaway Door Sill Panels
Exterior and Interior Callaway Badging
Callaway Under-hood Plaque with Vehicle Identification Number
Callaway Key Fobs
Then add to that impressive list:
3ZR Premium Equipment Group
ZO7 Ultimate Performance Package
Visible Carbon Fiber Ground Effects Package
Competition Sport seats
Visible Carbon Fiber hood insert
8-spd. paddle-shift automatic transaxle
Black aluminum ZO6 wheels w/Yellow stripe
Carbon Fiber interior Package
Long Beach Red Metallic exterior paint
Custom Yellow brake calipers
Red seat belts
Custom Yellow seat stitching
Carbon Fiber wheel centers w/Crossed Flags logo
Chrome badge Package
Carbon Flash painted mirrors
And more!
Special End Of Year Price: $104,888!
---
2022 C8 Convertible
Loaded 3LT, Z51, with 4 Delivery Miles!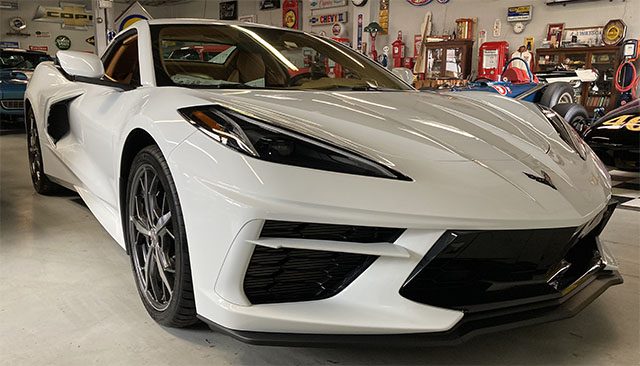 Arctic White with Natural Dipped Interior.
This 3LT 2022 C8 Convertible is absolutely loaded with all the 3LT options. Additionally, it has the Z51 Performance Package, High-Performance Tires, Z51 Rear Spoiler, Z51 Performance Brakes, Performance Exhaust, Front Lift, Magnetic Ride, Carbon Fiber Interior Trim, Trident Spoke Wheels, Body Color Exterior Accents, and more!
Special End Of Year Price: $125,888
---
Would you like to see your prime collector car example featured Here for sale?
Click Here to send an email.
We buy and consign.
DISCOUNTED PARTS TABLE ITEMS
1966 Wheels, Tires, and Hubcaps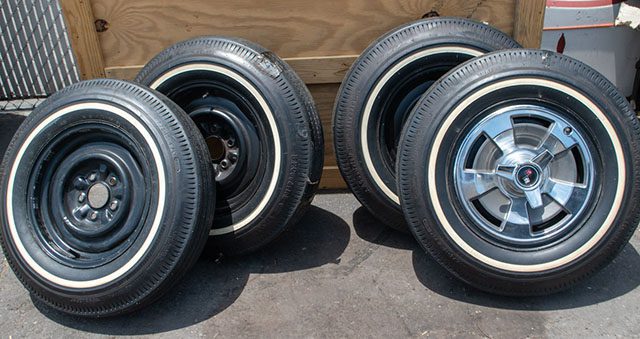 Call For Pricing
Pictures for the following Available Upon Request.
1961-1962 Corvette Hardtops – Priced from $4,888.
1963-1967 Corvette Hardtops – Priced from $2,000.
1968-1975 Used convertible top assembly in good condition. $Call
---
Auctions


More Coming Soon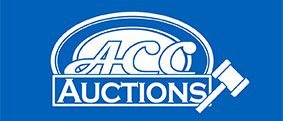 More Coming Soon

More Coming Soon
---
Comic of the Week