Pebble Beach auctions presented by gooding & company
August 13, 2022
An Unmatched Tradition of Automotive Excellence
Auctions: Friday, August 19 at 5:00 pm & Saturday, August 20, at 11:00 am
Location: Parc du Concours, Corner of Stevenson Drive and Portola Road
Viewings: Begin on Wednesday, August 17 at 10:00 am and continue daily through the Auctions
Admittance: $40, admits one to all events; $100, catalog and admits two to all events
Bidder Registration: $200 includes a catalogue, admission for two to the viewing and auction with two reserved seats, subject to availability.
For event details, a complete catalog, or to register to bid click here.
The Following Star Cars Top The List of Featured Lots to Watch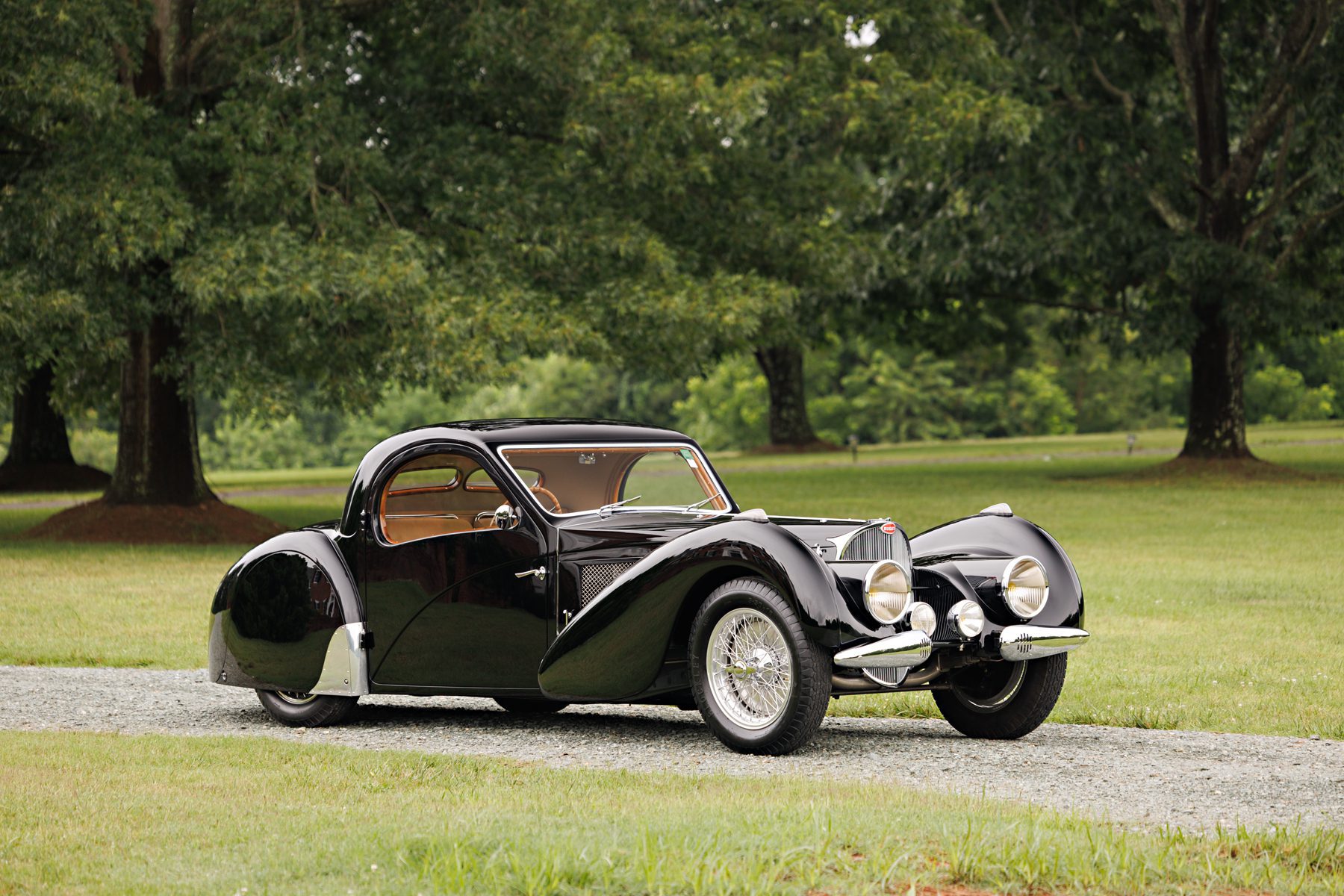 The undisputed star car of Gooding & Company's 2022 Pebble Beach Auctions, this 1937 Bugatti Type 57SC Atalante has been housed in the world's finest European and American collections, including those of George W. Huguely, Jr. and Ray Scherr. Today, this 57SC Atalante stands as one of the most important Bugattis ever built, and is one of only two examples fitted with a supercharger by the Bugatti factory. A true objet d'art, this exclusive sporting Bugatti of unrivaled beauty, rarity, and sophistication is among the uppermost echelon of collectible automobiles.
This genuine example of the 4 1/2 Litre Supercharged model was built in July 1930, and came equipped with an original "smooth case" Amherst Villiers Mk IV supercharger.  Following an extensive, five-year restoration by R.C. Moss, SM3913 debuted at the 2019 Pebble Beach Concours d'Elegance, where it was selected as First in Class from a field of significant 4 1/2 Litres. Despite its 90-year-old design, this "Blower" Bentley possesses an enduring and timeless appeal, and is undoubtedly one of the finest and most desirable of all vintage Bentleys.
Gooding & Company is proud to present one of the most historically significant Eight Litres in existence, built to order for Bentley Chairman Woolf Barnato's personal use. Built on a short-wheelbase chassis, numbered YR5095, this example is one of just 35 Eight Litres specified with a shorter 12′ chassis. Among the grandest of all classic Bentleys, this gleaming, concours-quality example is one of as few as 15 Eight Litres that have survived with their coachwork intact, and of those, none can compete with the elegant Vanden Plas Sports Tourer, custom-built for Woolf Barnato himself, as presented here.
The 1950 Ferrari 166 MM Berlinetta Le Mans presented here, chassis 0066 M, is the last of just five 166 MM chassis originally fashioned with Touring's Berlinetta Le Mans coachwork. Since its completion, 0066 M has led an extraordinary existence, competing in European rallies and Italian hillclimbs with its first owners, and in the US, 0066 M has been a fixture in the collections of notable enthusiasts during which time it has been meticulously cared for. This rare competition Berlinetta, which has remarkably survived the past seven decades, presents the chance of a lifetime to acquire an important piece of early Ferrari history at auction.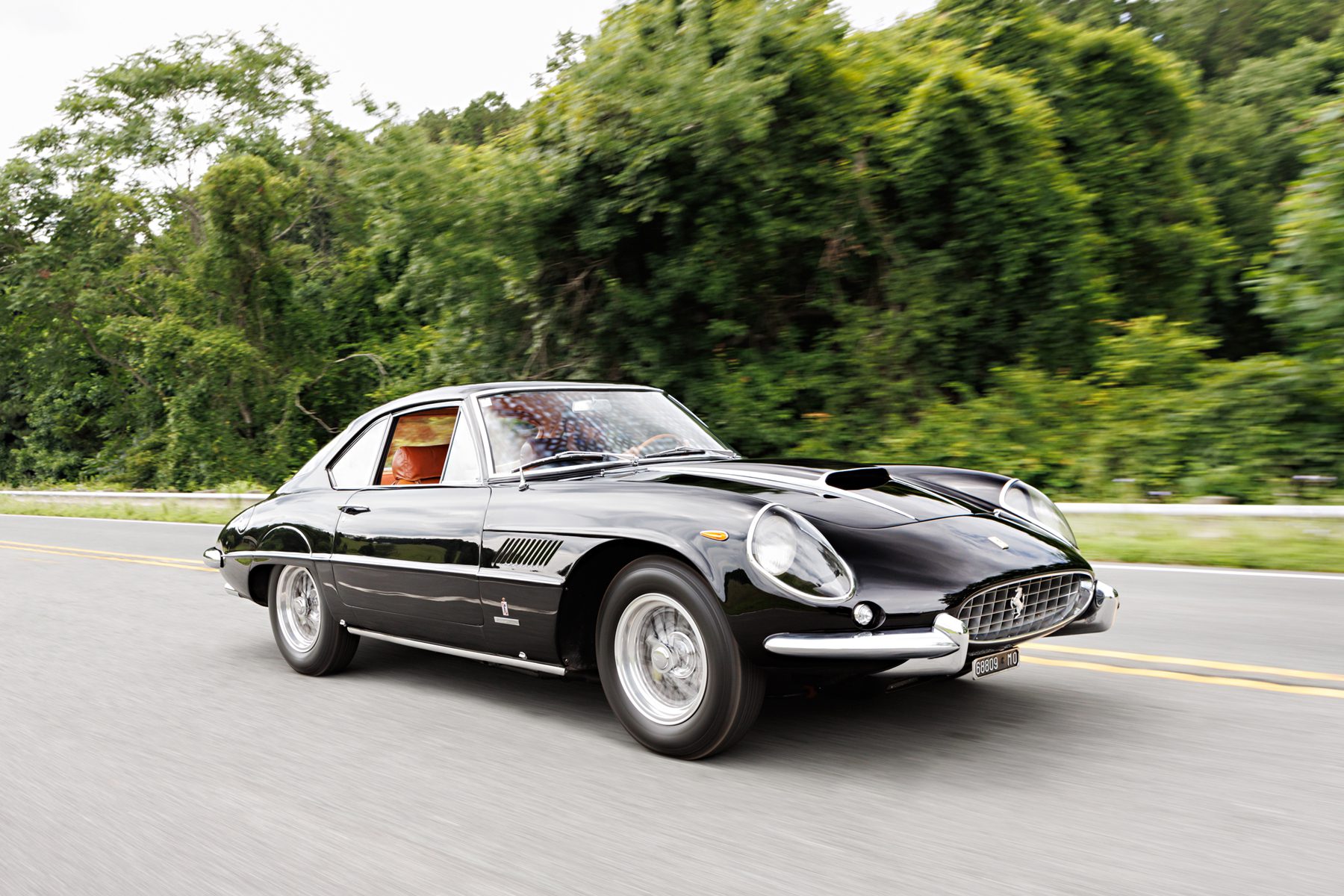 This Ferrari 400 Superamerica Series I Coupé Aerodinamico, chassis 2809 SA, was special ordered for Count Giovanni Volpi di Misurata, and one of the first examples to wear the new Coupé Aerodinamico body style, which was inspired by Pininfarina's sensational Superfast II show car. Today, 2809 SA remains in well-preserved, largely unrestored condition, possessing an irreplaceable patina and showing less than 24,000 Km at the time of cataloging. Sensational in both appearance and history, this utterly unique 400 Superamerica is sure to captivate any collector with a reverence for preservation-quality Ferraris.
One of the most beautiful and successful of all the Porsche Spyders is the 718 RSK, a competition thoroughbred that took the racing world by storm in 1958 when it won its class at the 12 Hours of Sebring and 24 Hours of Le Mans. The pinnacle of collectible Porsches of the 1950s and 1960s, the RSK officially cemented its legacy in the world of motor sport when it won the 1959 Targa Florio outright, leading Porsche's 1-2-3 sweep at the legendary Sicilian event. Chassis 718-024, presented here, was sold new to famed American racing driver and Le Mans winner Ed Hugus, who raced the RSK at the 1959 24 Hours of Le Mans in its distinctive "Lucybelle III" livery. Beyond its Le Mans history and outstanding provenance, what really makes this RSK an extraordinary example is its exceptional, award-winning restoration, with a level and detail that is utterly unmatched, performed by Mark Allin and the team at Rare Drive, Inc. The project was approached with immense attention to detail, and extensive research was done to ensure that the car presented exactly as it raced at Le Mans in 1959. Indeed, the restoration team did just that. Back in 1959, when the RSK was first delivered to Ed Hugus at Le Mans, it was finished in silver with beige upholstery. As he did with all of his other competition cars of the time, Hugus quickly repainted the car white with blue stripes, the traditional American racing colors, and had "Lucybelle III" written across the front fender, along with a small red heart painted on the tail. Since completion of the restoration process in 2021, chassis 718-024 has been selectively shown at the Pebble Beach Concours d'Elegance and the Audrain Newport Concours d'Elegance, where it was awarded First in Class. Today, the RSK presents in pristine, show-quality condition, and as a true time machine back to a pivotal moment in 1959, is undoubtedly one of the finest restored Porsche Spyders ever presented at auction.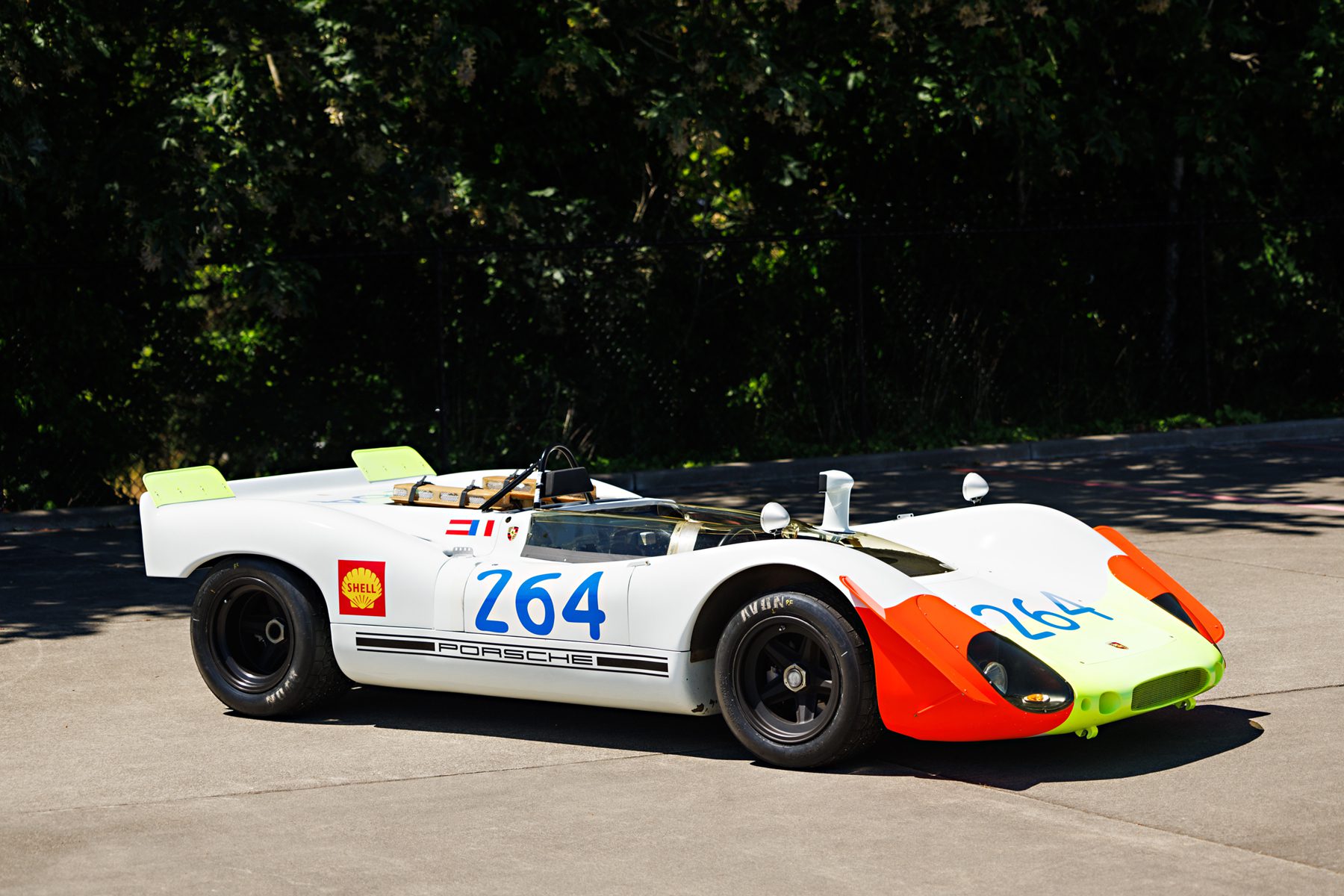 The Porsche 908/02 offered here, chassis 010, was completed in 1969, and shortly thereafter began its accomplished racing career with the BOAC 6 Hours race at Brands Hatch in the UK. This very rare factory "works" 908/02 was raced by Porsche at the 1969 Brands Hatch 6 Hours, Targa Florio, and the Nürburgring 1000 Km. In privateer hands, it also competed at the 24 Hours of Le Mans four times. Having had just a handful of owners since new, chassis 010 underwent an exacting restoration from 2011 to 2015, during which it was brought back to the vibrant day-glow livery and "works" specification from its time at the 1969 Targa Florio.
The elegant and breathtaking Mercedes-Benz 540 K was built in extremely limited quantities. Of these, an even rarer number of cars were distinguished as Sport Cabriolet A models, and the 1937 production year example presented here is just one of twelve known 540 K Sport Cabriolets extant.  An accomplished tour and show veteran that has been the recipient of multiple concours awards at the Pebble Beach Concours d'Elegance and a Best of Show at the Palos Verdes Concours d'Elegance, this Classic Era Mercedes-Benz is surely among the most desirable of all 540 K models.
This 1999 Ferrari 333 SP, chassis 025, was delivered new to Fredy Lienhard, the Swiss gentleman racer who owned LISTA, the Swiss-based cabinet manufacturer and major motor sport sponsor. Chassis 025 was prepared and run by Kevin Doran, who entered the car under Doran-Lista Racing. As an incredibly important late 1990s sports car, and an outstanding example of the last endurance racing car built by Ferrari, this 333 SP proves an exceptional opportunity for collectors passionate about motor sport history.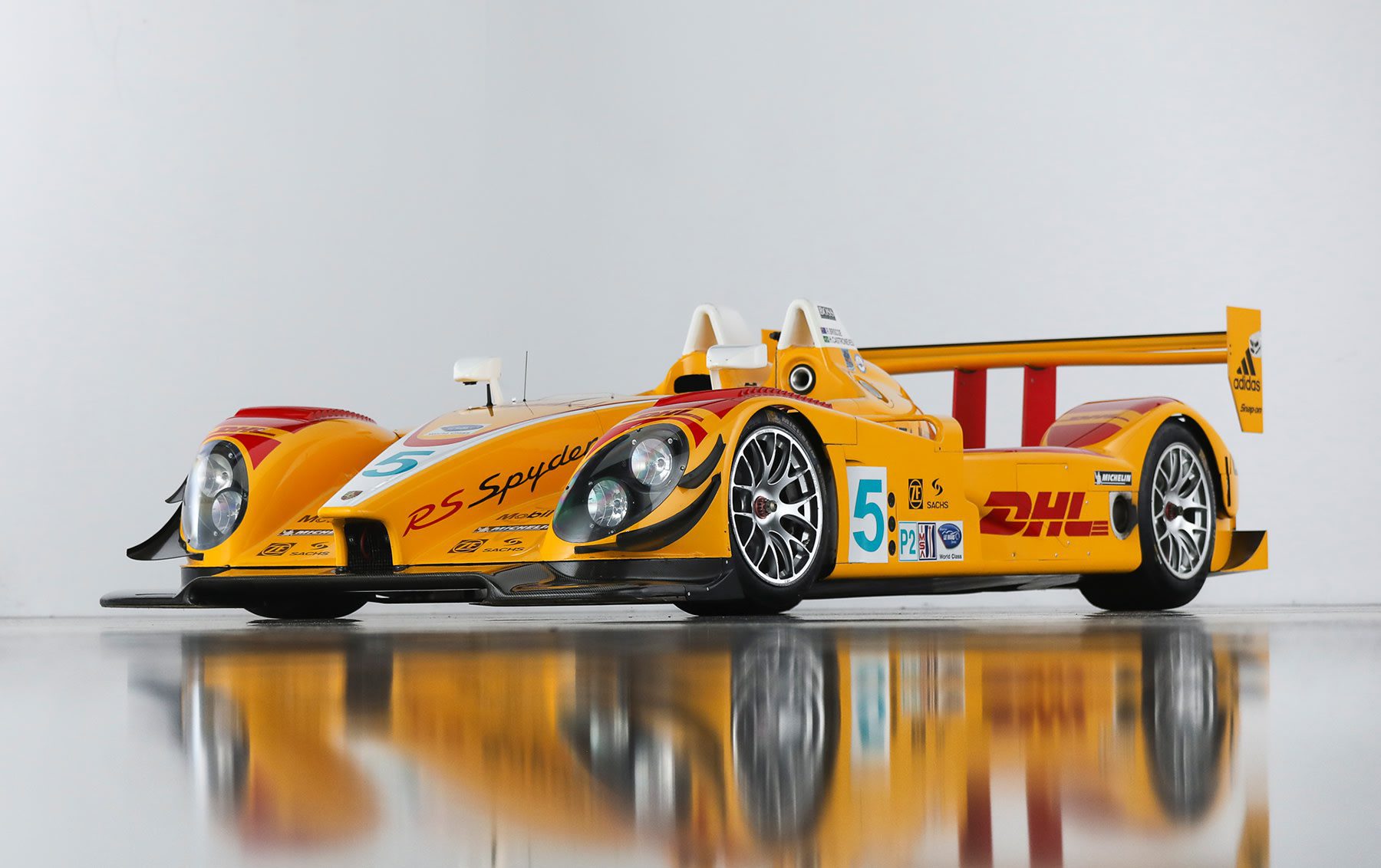 The RS Spyder offered here, chassis 9R6.702, is the second of six updated Evo-specification examples built for the 2007 racing season, and is one of just 17 RS Spyders built between 2005 and 2008. In March 2007, 9R6.702 made its official debut at the 12 Hours of Sebring, and was driven by Sascha Maassen, Ryan Briscoe, Emmanuel Collard, and Hélio Castroneves. Never before offered for public sale, 9R6.702 represents a unique opportunity to acquire one of the most important examples of a historically significant, state-of-the-art Porsche prototype racing car.
A Pair of 2007 Porsche 997 GT3 RS 3.6 models
A low-mileage pair of 997 GT3 RS 3.6 models finished in contrasting black and orange color schemes.