Stunning Dual-Ghia Selling On Bring A Trailer
August 19, 2022
This incredible car is a high performance vehicle from some unlikely sources.
When you first see this car many of us might wonder what exactly it is because of its wild style and unique design. The front fascia is something akin to that of the Thunderbird while the rear fins remind us of a classic Cadillac from the 1950s and early '60s. Of course, this is wildly different from what the car actually is as the body was designed by an Italian company, Ghia, dedicated to style and aerodynamic performance while the engine was provided by the Dual Motors company of Detroit, Michigan. So what exactly is this stunning vehicle which seems to have roots in multiple automotive cultures?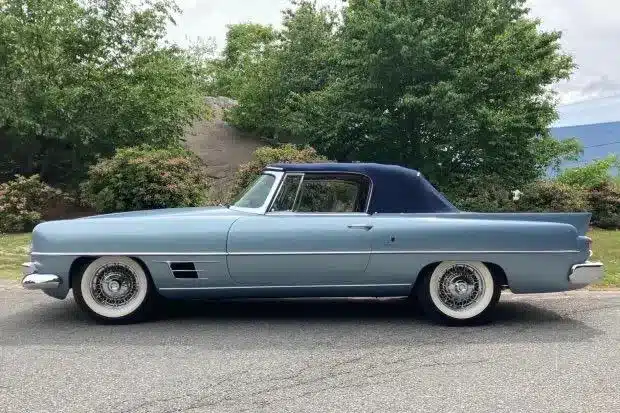 First of all, the powerful V8 engine under the hood is a wild piece of automotive artwork that we certainly didn't expect to see in this car. Powering the wheels of this classic sports car is a 315 cubic inch Dodge V8 which is the perfect thing to make a ton of power with relatively low displacement. On top of that, the transferring of that power was a greatly thought-through aspect of this vehicle's build process. That's why it sports a two-speed PowerFlite automatic transmission which you might expect from a racer at the dragstrip rather than a road-going cruiser. Of course, the performance is far more than the car's body indicates but that certainly isn't a bad thing as it portrays even more than raw racing ability.
Luxury was obviously a big influence on this Italian-made sports car which is clear from looking at the exterior. Every body-line was crafted to resemble a smooth yet boastful vehicle nearly synonymous with the iconic 1960s style. This also extends to the interior which offers a stripped-down version of something you might expect in a vintage Lamborghini, Ferrari, or Maserati. All of this adds up to a great classic cruiser with all of the passion of an Italian automobile with the power and performance capability of an American model. That's why you should consider this Dual-Ghia Convertible for your next automotive purchase.
This amazing Dual-Ghia is being sold by Corvette Mike in Anaheim. Corvette Mike has an inside track to list your car on Bring A Trailer. Visit https://corvettemike.com to learn more about their consignment process and see their other great vehicles for sale.