Dealers are starting to get C8 Z06s
November 10, 2022
Z06's are rolling off
the trucks!!

According to Corvette Blogger, Z06's are rolling off the trucks at Ciocca Corvette of Atlantic City! Jeff Duda of Zipity's Garage captured the big moment.
Once the Corvettes were off the truck and lined up in front of the showroom, Jeff gave us one of his hallmark dealer walkthroughs.
First up is an Elkhart Lake Blue Z07 with the 3LZ Blue interior. Next is a 70th Anniversary Convertible in White Pearl without a Z07 package. It does, however, have the Carbon Flash Metallic level 3 spoiler. Check it out! Another White Pearl 70th Anniversary Edition Coupe wears the Z07 package. With the two cars together, you can see the difference in look; Black mirrors vs. White body-color mirrors and the Carbon Flash A-Pillers on the Convertible next to the White pillars on the Coupe. Another contrast is an Arctic White Convertible parked next to the White Pearl 70th Anniversary Edition. A Black Z07 70th Anniversary Edition Convertible rounds out the delivery.
---
If you are on the hunt for a
70th Anniversary Stingray,
We know of one available for sale!
---
CF1 Roadster
Kindigit Designs & Corvette Mike Collaboration
Kindigit Designs of Bitchin Rides and Corvette Mike have collaborated to bring you the Koolest of Bitchin Rides — a series dedicated to the ultimate resto-mods. The last of a true breed of combustion engines purpose-built by Lingenfelter, developing enough horsepower to rip the steel cords right off these Michelins.
This combination of a very limited, select edition of carbon fiber bodies mated to Roadster Shop chassis culminated into something very special. The first, from scratch, retro look 1953 Corvette Roadster with all the trick goodies of modern-day Sportage transportation with a flare to dare you not to stare.
This CF1 is already SOLD, though you can custom build
and reserve yours today! Talk to us, baby!!
Call 714-630-0700 or email: Troy@CorvetteMike.Com
---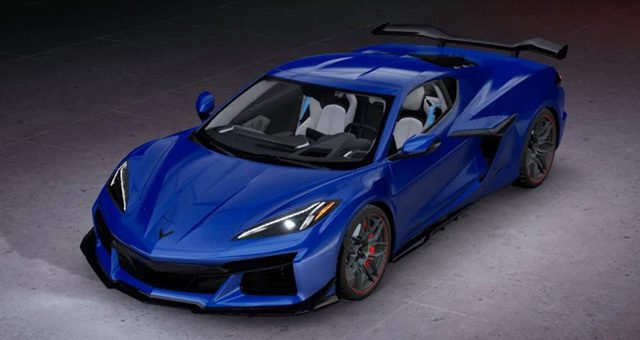 The Chip Miller Amyloidosis Foundation just launched its 2023 fundraising campaign! The Grand Prize is an Elkhart Lake Blue 2023 Z06 Coupe with the Z07 Performance Package, Carbon Flash Metallic ground effects, and a high wing spoiler. Inside is a 3LZ trim package featuring Sky Cool Gray interior and GT2 seats. The car rides on aluminum Spider design wheels in Satin Graphite with a Red Stripe. Your donation of $25 or more helps to raise awareness for Amyloidosis, the disease which claimed the life of Corvette enthusiast Chip Miller in 2004.
Thundering Thursday readers receive 30% Bonus Entries with ticket packages starting at $25.  Get your tickets today by Clicking Here.
---
Want to share your story in our
Corvette Owners' Corner and get a
chance to win
a limited-edition Corvette Mike hat?

Every entry will receive a limited-edition
Corvette Mike Keychain.
Send a short story and picture of your car to Troy@CorvetteMike.Com.
Want to buy a hat? Click here to see our Apparel Store.
Owners' Corner October Limited-Edition Hat Drawing
Winner: Barry J.
---
This Weeks Owners' Corner

Fred S.'s 1960, 1971, 2014 Corvettes

I bought my first Corvette in November 1966. I knew a guy who knew a guy who was upside down in a 1960 Corvette. I arranged a meeting and it was love at first sight. It was a silver FI 4-speed with a black interior and two tops. I followed  him to his bank and paid off the loan and drove the car home. The rest is history. I had been working for two years before marriage and living at home, not paying rent, so, saved pretty much all I made barbering. I had saved enough to pay cash for my first Corvette, around $2,400 as I recall.
I've titled 11 Corvettes, frame on restoring four, a 1958, two 1960's and a 1971.  I've never had a C2 or C5 series Corvette although they are awesome cars. I've owned my restored '71 for 36 years and have promised it to my son to keep for his son.
Here is a list of Corvettes I've owned since the first in 1966: A 1958,(2) 1960's, a 1961, a 1970, (2) 1971's, a 1975, a 1976, a 2006, and a 2014.
I am 78 years old and have lived in Wichita, KS all my adult life. I have owned at least one Corvette continuously since my first one in 1966 when I was 22 years old to the present. I currently own the 1971 C3 LI coupe  T-Top with two tops in Graphite with a black interior and a 2014  C7 3 LT Laguna Blue coupe with black interior.
My favorite Corvettes are the ones I'm driving. They all have their advantages. Each generation better than the previous one. The C1's for their awesome styling but lack of good suspension and modern components. I think that is why there are more resto rods in vintage Corvettes now to marry the two; styling and drivability.
My next Corvette will be a C8 when the price is right.
Fred S.
---
We buy used cars!
2023 Corvettes wanted!
Top money paid for the right cars!
Submit your car today!
Cream puff inventory needed!
Lemons need not apply.
---
Specials
1981 Coupe
Time capsule with only 8k original miles!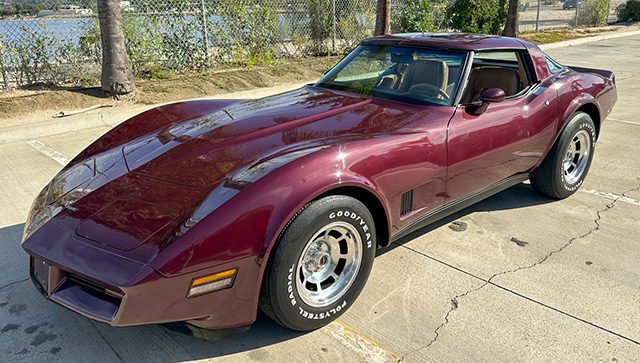 Maroon Metallic w/Camel interior, 350/190hp, 3-speed automatic.
"Time capsule" is the phrase that comes to mind with this pristine '81. It's all original down to the Goodyear Polysteel Radial tires! And with only a bit over 8k miles on the odometer, it's hardly even broken in! This beautiful survivor has numerous awards including the N.C.R.S. National Top Flight Award with a score of 98.6, as well as the prestigious N.C.R.S. 4-Star Bowtie Award! It comes with the owner's kit, original keys with knock-outs, paperwork, service receipts, ownership history, and a clean Carfax documenting the miles. Options include: aluminum wheels, leather seats, raised white letter radial tires, cruise control, AM/FM stereo w/8-track & power antenna, and the AC blows cold! It even comes with a custom embroidered car cover! This is definitely an '81 that doesn't come along every day! Don't miss the opportunity to put it in your garage!
---
1967 L71 CONVERTIBLE
In our Anaheim Showroom and ready to be viewed!
Tuxedo Black with Lite Blue interior, 427/435hp, 4-Speed
This 1967 L71 was originally Marina Blue w/Blue interior before the owner restored the car. He decided that Tuxedo Black with a Blue Stinger was the only way to go. So, that is what he did. Under the hood is a N.O.M. L71 427/435hp big block backed up by a 4-speed manual transmission. Inside the control room, things are spartan. Even the fairly standard am/fm radio is missing, as it was a radio delete car. Outside, there's a side exhaust system and a set of Bolt On Wheels wrapped in red line radial tires. Cosmetically, it's in show condition. Mechanically, it runs like the beast it is! While not a candidate for N.C.R.S. or Bloomington judging, it's still every bit as fun to experience as one that is!
---
1967 Black 435 Wanted!
If you have a Black L71 427/435, we have Cash!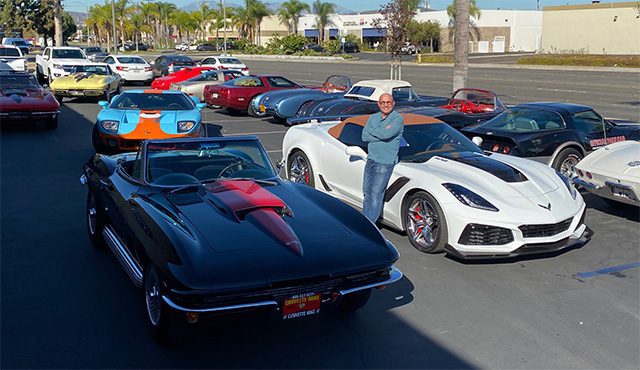 Email me to talk about any cars you want to sell: Troy@CorvetteMike.Com!
---
Click Here to send an email!
We buy and consign
---
Auctions

No Reserve: Corvette C2 Removable Hardtop
22k-Mile 2008 Bentley Continental GTC
1983 Porsche 928S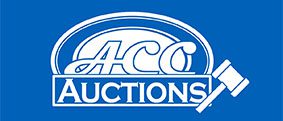 More coming soon.
More coming soon.
---
Comic of the Week
An expert is one who knows more and more about less and less.
Formula for success: rise early, work hard, strike oil.
You can't have everything. Where would you put it?