The last V8 Dodge
March 24, 2023
The last V8 Dodge Challenger SRT Demon 170 is an important car. Not just for Dodge and muscle car enthusiasts, but also for Corvette owners.  As the Challenger SRT Demon and the Corvette are both American icons with a rich history of performance and speed. They are two of the most well-known and beloved sports cars in the world.  And they have been in competition with each other for decades.
But now Dodge is saying goodbye to the V8-powered cars for good and going with turbocharged V6's for their gas lineup and all-electric on the other side.
Dodge's V8 is going out with a bang, though. For the last year of production, the two-door Dodge Challenger SRT Demon 170 coupe is powered by a 6.2-liter supercharged V8 that's rated at 900 hp when running on 91 octane gasoline and an astonishing 1,025 hp using even higher octane E85 fuel.
The folks at Dodge had some fun with the naming of the 170, as that is the alcohol rating of E85 gas. With all this alcohol in the tank, Dodge is claiming it's the quickest production car in the world with a certified 0 to 60 mph in 1.66 seconds and a quarter-mile time of 8.9 seconds at 151 mph!
Pricing for the Demon 170 has been set at an appropriately evil $96,666, not including destination charges and fees. Each will come with a serialized Demon-branded decanter and whiskey glass set as another tip of the hat to its E85-burning capability. But if you want one, you better get your order in quickly, as only 3,000 will be produced, assuming there are no supply chain issues.
---
SOLD – SOLD – SOLD1969 L88 WITH 19K ORIGINAL MILES

Rare Survivor Lemans Blue 1969 L88 Convertible finds a new home back east.
It was a collaboration of effort to assist the new buyer. Many minds were sought to add their expertise to this happy ending!!
Click Here for even more information and award history.
Do you have a great classic collectible that needs a loving new home? We have the team to handle the task. No matter the price or the rarity. We make dreams come true!
Call 714-630-0700 or email: Troy@CorvetteMike.Com
---
Win Two Corvettes and $48,500 for Taxes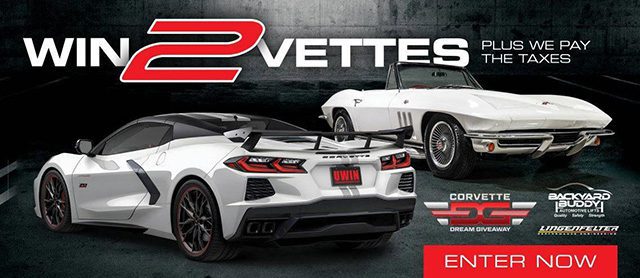 The Corvette Dream Giveaway has awarded their two Corvettes from last year's sweepstakes and now the 2023 Giveaway is here!  One lucky winner will take home the keys to a 2023 Corvette Stingray Convertible 70th Anniversary Edition in White Pearl Tricoat, an Ermine White 1965 Corvette Sting Ray Convertible, and a check for $48,500 to pay the winner's taxes. All this can be yours when you make a small donation that supports a number of veterans and children's charities.
Thundering Thursday subscribers receive DOUBLE ENTRIES when you make a donation of $25 or more by Clicking Here. This really is a Corvette Dream Giveaway.
---
This Week's Owners' Corner
Send your story today!
I have been in love with Corvettes from their beginning. "Back in the Day" my first was a 1968 roadster, followed by a 1968 coupe and finally, a 1966 mid-year roadster, then our 3 boys came along.
25 years later, I began my quest to get back into a mid-year. My plan was to find one Corvette at a time that I would like for myself, make it look and run great, and put it up for sale. When sold, I would keep repeating the process until I could find a 1963-1967 that I could afford.
My dream was to find a red roadster with black trim and side exhausts, which I fortunately did! After 5 fun years with my 65, the phrase "so many Corvettes and so little time" brought me to decide to move into a car that my wife and I could travel comfortably with and hopefully drive part or all of the famous Route 66. Enter the beautiful Black 99 Roadster Automatic, which led me to a sweet 2002 Electron Blue 6-Speed Coupe. Then the 2015 Z51 came into my life. All along the idea of owning a new mid-engine Stingray was kept popping into my head. Last year, my dream came true and took delivery of my 2023 C8.
Along the way, I have met so many wonderful and interesting individuals who have the same passion for Corvettes. Their continued friendship has been the most rewarding part of my journey.
About 40 years ago, I realized that one of my fellow teachers, Dave DiEugenio, was also a Corvette owner. We started taking rides together and gradually met new friends along the way. Our group grew to become the "Corvette Buddies". We meet every Friday for breakfast at a local diner. We don't have an actual club, just good friends. Each week we also get together for a "Hot Dog Run", which is a cruise in our Corvettes to a designated event, a park or just a ride through the South Jersey Pine Barrens, then we stop along the way for lunch and lots of laughs.
That's my story and I'm sticking to it.
Andy K.
---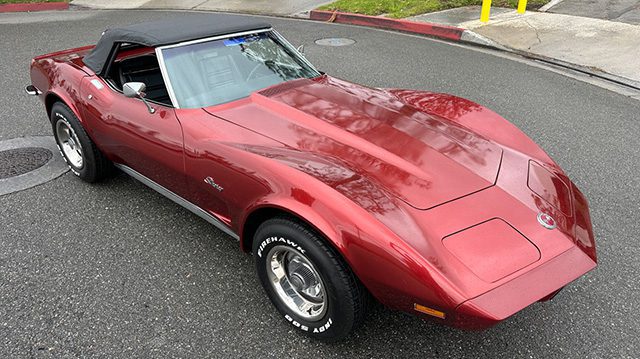 Burgandy w/Black interior, 350ci, 4-speed manual.
This '73 has undergone a spruce up over the years, starting with a repaint in Burgundy metallic (originally Elkhart Green). The interior was then refurbished with new seats and carpeting. The engine has been refurbished with rebuilt heads and seals. New shocks, brakes, and front bushings have also been installed. Options include A/C, P/B, P/S, both hard and soft tops, and rally wheels wrapped in radial tires. A great running and looking Shark!
---
1962 360hp Fuelie
Stunning and last of the C1's!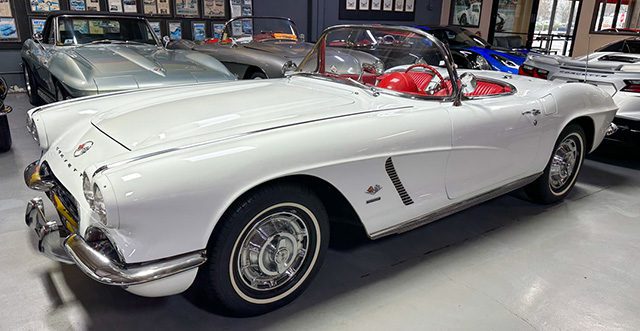 Ermine White w/Red interior, 327/360hp, 4-speed manual.
The very sharp '62 offered here is equipped with the top dog, #'s matching, 360hp "Fuelie" engine, mated up to a Hurst-shifted 4-speed manual transmission. The car has been nicely restored with very shiny paint in the classic combo of White with Red interior and a newer Black vinyl soft top. It is riding on radial tires for a much better grip on the road! This is a Corvette that you can take to Cars and Coffee on a Saturday morning, then take a leisurely (or not) ride up the coast or winding back road. Wherever you end up going, you'll have a blast getting there in this cool '62!
Conservatively Priced at: $99,900!
---
If you have a Red 1959, we have Cash!

Click Here or email me to talk about your 1959 for sale: Troy@CorvetteMike.Com!
---
CF1 Roadster
Kindigit Designs & Corvette Mike Collaboration
Render your dream car right here!!! ✍️

Kindigit Designs of Bitchin Rides and Corvette Mike have collaborated to bring you the Koolest of Bitchin Rides — a series dedicated to the ultimate resto-mods. The last of a true breed of combustion engines purpose-built by Lingenfelter, developing enough horsepower to rip the steel cords right off these Michelins.
This combination of a very limited, select edition of carbon fiber bodies mated to Roadster Shop chassis culminated into something very special. The first, from scratch, retro look 1953 Corvette Roadster with all the trick goodies of modern-day Sportage transportation with a flare to dare you not to stare.
This CF1 is already SOLD, though you can custom build
and reserve yours today! Talk to us, baby!!
Call 714-630-0700 or email: Troy@CorvetteMike.Com
---
1967 Black 435
&
Red 1959 Wanted!
If you have a 1967 Black L71 427/435
and/or
a Red/Red or Red/Black 1959, we have Cash!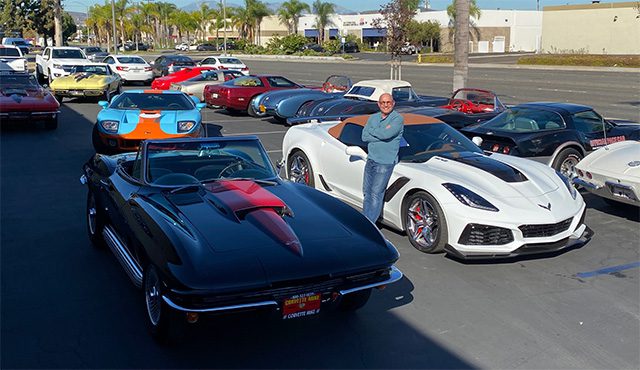 Email me to talk about any cars you want to sell: Troy@CorvetteMike.Com!
---
Want some Corvette Mike Swag?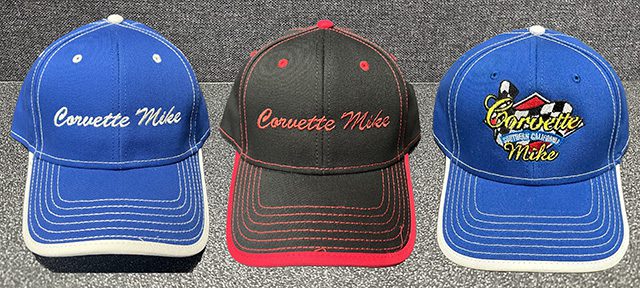 Click here to see our Apparel Store.
---
Comic of the Week