NCCC Competition Bans E-Ray From All Events
April 27, 2023
The National Council of Corvette Clubs misunderstanding of lithium-ion, leads them to ban "Electric Vehicles/Hybrids using lithium type battery packs" from all events. The new rule also says that "they should be parked 30 feet minimum from structures or other vehicles." (section 1.8 subsection 1 item 14). This applies to events including "Speed Events" (autocross, drag racing, time trials on road course racetracks, and matching times precise acceleration tests), "Funkhana" (an autocross event with goofy challenges), road rallies, fuel economy challenges, and concourse car shows. That means the E-Ray isn't just banned from track days, it's banned from events driven on public roads and parking lot car shows if the event is sanctioned by the NCCC.
This new rule means that if you buy an E-Ray, ZR-1, or Zora, not only will you be banned from participating in any NCCC events, you can't even park near anybody or anything else at the event. This also means your, friends, family, and spectators with a lithium-ion battery onboard must follow the same rules.
The National Council of Corvette Clubs has not posted a reason for the ban, nor is any further instruction about what to do if too many EVs and hybrids show up to an event and can't park 30 feet from any other car or object. It also does not talk about the battery size, so if a car uses a lightweight lithium-ion 12-volt battery replacement, they fall under this rule.
A search turned up no evidence of any accident involving an EV or hybrid at a NCCC-sanctioned event that might've motivated this rule change. The NCCC website's insurance page, insurance FAQs, and Blanket Certificate of Liability Insurance form make no mention of lithium-ion batteries.
---
Mike wins PEOPLE'S CHOICE AWARD at the La Jolla Concours d'Elegance
This Last weekend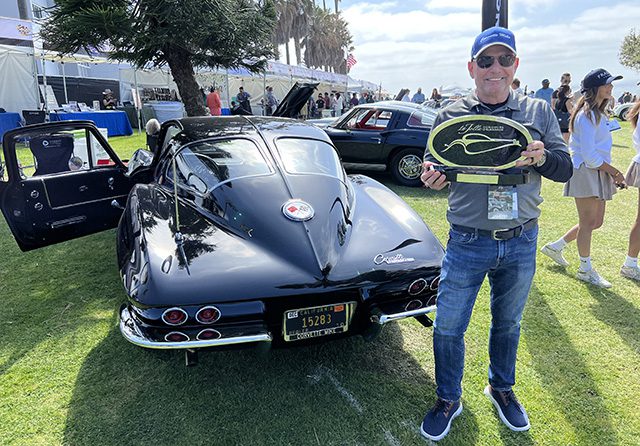 Corvette Mike's personal 1963 Duntov Mark of Excellence Award Winning Split Window Coupe adds one more award to the long list of awards! The latest is the People's Choice Award from last weekend's La Jolla Concours d'Elegance in La Jolla CA. Thanks also go out to Chad (Corvette Mike's service manager) for all his hard work getting it ready for yet another great showing.
---
Win a 2023 Corvette Z06 70th Anniversary Edition with Z07 Plus $25K Cash for Taxes

The National Sprint Car Hall of Fame and Museum will be giving one lucky winner the opportunity to bring home a 2023 Corvette Z06 70th Anniversary Coupe with the Z07 Performance Package plus $25,000 cash to pay for the taxes. This 2023 Z06 has the exclusive 70th Anniversary White Pearl Metallic exterior with Ceramic leather GT2 seats. The car is powered by the naturally aspirated 670-hp LT6 that revs up to 8,600 rpm! Your donations help to support and promote the non-profit National Sprint Car Hall of Fame and their mission of promoting sprint car racing.
Ticket packages start at just $25 and Thundering Thursday readers get 25% Bonus Entries. Enter today to win the most anticipated Corvette ever by Clicking Here.
---
This Week's Owners' Corner
Send your story today!

Mike and Nancy M's 1997 Corvette. 
It was early 1998. My parents recently passed and had bequeathed me a large sum of money. We built our dream house and then my dear wife said it was time for me to buy a Corvette. The C5 had just been introduced. I was in love and none were available at any dealer within driving distance from Bakersfield. We got in touch with Mike Vietro and his salesman whose name I forget now (darn). They had a lead on a C5 direct from the Corvette Museum display area. They offered it to us at a great price better than any dealer and we took delivery not long thereafter. Very few miles, perfect condition torch red. Besides the car, they gave the newbies two Corvette Mike shirts which lasted us for years. It was the best car buying experience ever. They maintained the Vette for us, Borla exhausts, a K&N air filter, a bra for the front. The 'Vette became our family car. Sadly, we put over 60,000 miles on it in 3 years so sold it to get some money out of it. We also installed custom black sheepskins sewn to fit the interior perfectly. I have recommended Corvette Mike to any and all Corvette lovers.
Best,
Mike and Nancy M.
---
1959 frame-on restoration
Powerglide automatic!

Red w/Black interior, 283/245hp (N.O.M.).
This very sharp '59 has undergone a frame-on restoration, which included a new paint job in Rally Red w/White coves, new Black leather seats, leather wrapped steering wheel, (rare) power windows, front disc brake conversion with a dual master cylinder, whitewall radial tires and a rebuilt, dual quad small block engine backed up by a Powerglide automatic transmission. The result is a great driver with lots of punch that you could take anywhere!
Conservatively Priced at: $79,900
---
1982 C3 Coupe
Time capsule with under 7k original miles!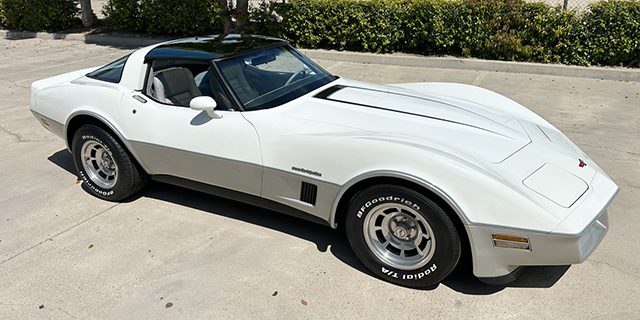 White/Charcoal w/Silver Gray interior, 350/200hp, 4-speed automatic.
We've had many nice '82's come through our showroom over the decades, but this N.C.R.S. Top Flight Award Winner is one of the very nicest! From the great color combination to the very low miles (6,900) to it's amazing originality, this is one '82 that would qualify for "Time Capsule" status! Other than tires, fluids and normal maintenance items, this Shark is just as it left Bowling Green in '82. And it's pristine!
Documentation includes Owner's Kit, Window Sticker and Top Flight Cert and Ribbon.  This is one for the collectors.
Conservatively Priced at: $39,900!

---
CF1 Roadster
Kindigit Designs & Corvette Mike Collaboration
Render your dream car right here!!! ✍️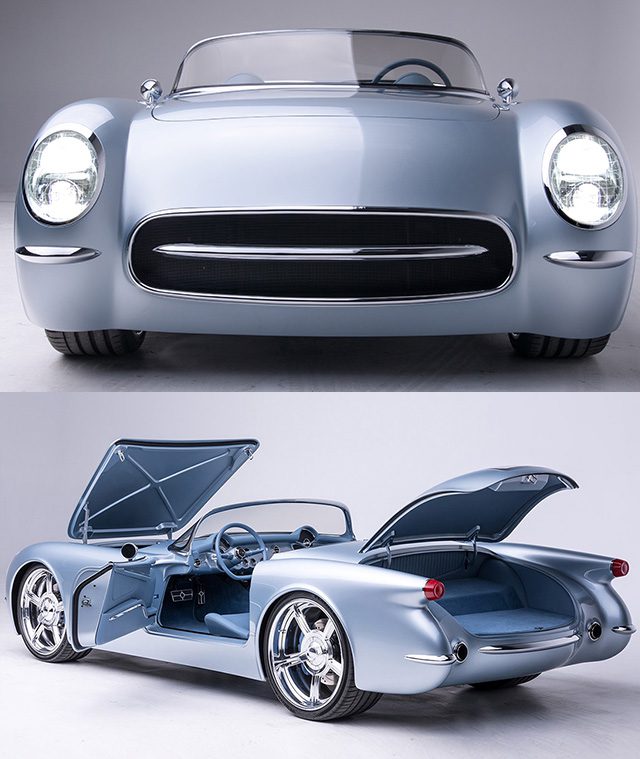 Kindigit Designs of Bitchin Rides and Corvette Mike have collaborated to bring you the Koolest of Bitchin Rides — a series dedicated to the ultimate resto-mods. The last of a true breed of combustion engines purpose-built by Lingenfelter, developing enough horsepower to rip the steel cords right off these Michelins.
This combination of a very limited, select edition of carbon fiber bodies mated to Roadster Shop chassis culminated into something very special. The first, from scratch, retro look 1953 Corvette Roadster with all the trick goodies of modern-day Sportage transportation with a flare to dare you not to stare.
This CF1 is already SOLD, though you can custom build
and reserve yours today! Talk to us, baby!!
Call 714-630-0700 or email: Troy@CorvetteMike.Com
---
1967 Black 435
&
Red 1959 Wanted!
If you have a 1967 Black L71 427/435
and/or
a Red/Red or Red/Black 1959, we have Cash!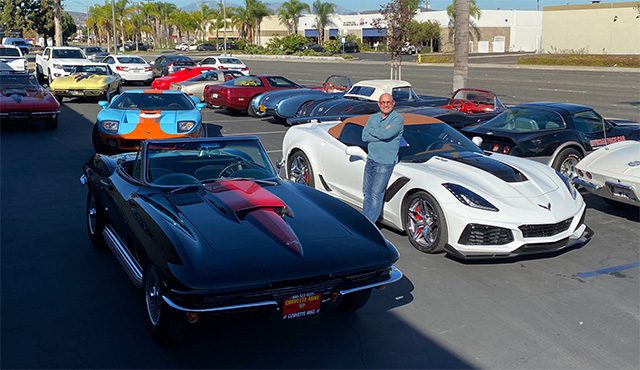 Email me to talk about any cars you want to sell: Troy@CorvetteMike.Com!
---
Would you like to see your prime collector car featured for sale in our weekly email?
Click Here to send an email to Troy@CorvetteMike.com!
We buy and consign!
---
Want some Corvette Mike Swag?

Click here to see our Apparel Store.
---
Comic of the Week