Another person gets trapped in Corvette
September 28, 2023
Person Gets Trapped in Corvette

Page 35 of the Corvette Owners Manual
A Florida man was at a gas station in his C7 Corvette convertible and got stuck in his car when the electric door release didn't work. Instead of using the manual door release, he used his cell phone to call the police to get help freeing himself from inside the car. He obviously didn't know about the manual door release located on the floor next to both the driver and passenger doors.
Eventually, Florida firefighters showed up, and before taking extreme measures, they tried to jump the car but broke the passenger window to free the man.
A TikTok video shows the moment a man from Davenport, Florida, had firefighters shatter the passenger window and free the man from the car rather than pull on the manual door release.
Sadly, people don't know that there is a manual override to open the door if the battery dies or there is another electrical issue. This door release is between the seat and the door on the passenger and driver's sides of all Corvettes with electronic doors.
---
You Can Still Win One Of The Lost Corvettes! This 1969 ZL-1 Tribute Z06!

You can win one of the original Lost Corvettes from the Peter Max/VH1 Collection! The previous winner of this Daytona Yellow 1969 ZL-1 Tribute Corvette Coupe opted for the cash prize instead of taking the keys, so it's being offered once again to help the Soldiers for the Truth Foundation, whose mission is to assist veterans cope with PTSD which is responsible for so many military suicides. When you make a donation to the Soldiers for the Truth, you are automatically entered to win this fabulous ZL-1 Tribute Corvette, or, you can also opt for the cash prize of $50,000! The Corvette features a Summit Racing 454-cubic inch engine constructed to look like the rare ZL-1 427 engine, and it has 550 hp!
The contest runs through end of December, so start collecting your tickets today! Thundering Thursday readers can receive 30% bonus tickets with packages starting at just $25 by Clicking Here.
---
Want to share your story in our Corvette Owner's Corner and get a chance to win a limited-edition Corvette Mike hat?
Every entry will receive a limited-edition Corvette Mike Keychain.
Send a short story and picture of your car to Troy@CorvetteMike.com.
Want to buy a hat?
We also have shirts for sale!
Click here to see our Apparel Store.
Send your story today and get a keychain!

Bill M.'s C8 
I am the former owner of dealerships in PA and NJ, purchased first Vette upon retirement in 2005, repeated every two years since then. Have a great day!!
Bill M. 
---
New Fuelie Inventory!
Very Original Example

Venetian Red w/Beige interior, 283/283hp Fuelie, 4-speed manual
This 1957 Chevrolet Corvette is powered by a fuel-injected 283ci V8 paired with a four-speed manual transmission and is finished in red over red vinyl and matching red coves. Equipment includes a white convertible soft top, windshield washers, seat belts, a heater, and an AM radio.
Priced to move: $109,900 $89,900
---
1963 FUEL INJECTED CONVERTIBLE!
Great running and driving car!

Daytona Blue w/Saddle interior, 327/360hp, fuel injected, 4-speed
The '63 featured here is a car that we've known about for years. The last two owners have been clients of ours and the car was serviced here at Corvette Mike. There has been extensive service over the last several years, which included a rebuild of the F.I. unit, brake service, tune-up, rear main seal, fluid service, exhaust system, and more. The car is in great mechanical condition and is an excellent driver. Exterior wise, the paint does have some checking and cracking, but it is shiny. The interior is in great condition and has leather seats. Other options include power windows, aluminum knock off wheels with white wall radial tires, and a Tan soft top.
Click Here for more information!
---
1965 FUEL INJECTED CONVERTIBLE!
Beautiful, Restored Fuelie!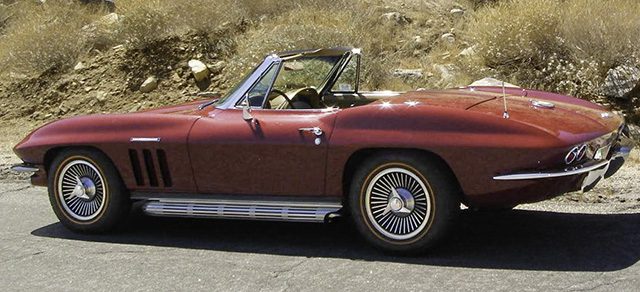 Milano Maroon w/Saddle interior, L84 327/375hp F.I. 4-speed
This stunning Milano Maroon example featured here was lovingly restored and cared for by its previous owners. Extensive records were kept (3 binders full) of its restoration and care over the decades. The Milano Maroon exterior is perfectly complemented by the rich looking Saddle interior. And it also happens to be a fantastic driver! And driving it is where all the fun takes place!
Options include am/fm radio, power windows, telescoping steering column, side exhaust and aluminum knock off wheels.
---
Hi, I am Troy!
Email me to talk about any cars you want to sell:
We love a great car story.
Troy@CorvetteMike.Com!
We buy and consign!
Want Some Corvette Mike Swag?
---
Comic of the Week
---
Some random thoughts
I'm sick of following my dreams, man. I'm just going to ask where they're going and hook up with 'em later.
"Gentlemen, you can't fight in here. This is the war room." – Dr. Strangelove.
My mother always used to say: The older you get, the better you get, unless you're a banana.