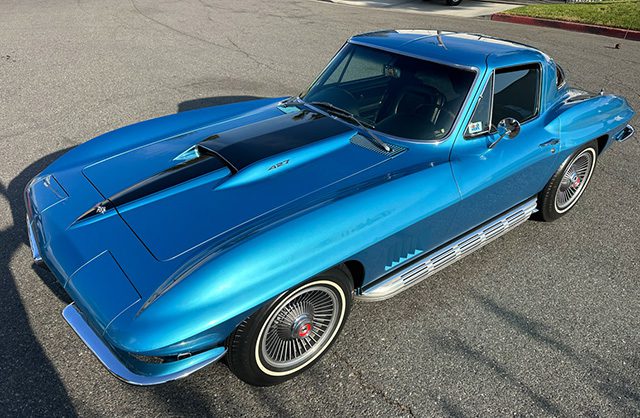 1967 Corvette L89 Coupe
November 9, 2023
1967 L89 Coupe
Alloy Heads 1 of 16
restored by Nabers Fame!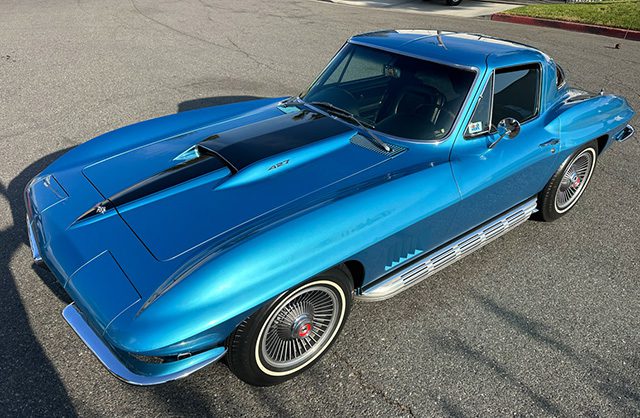 This impressive ultra-rare 1967 L89 coupe is currently on its way back to Corvette Mike in Anaheim, CA.
RPO L89 added aluminum cylinder heads to the already potent L71 427/435hp engine. The lightweight cylinder heads took roughly 75lbs off the front of the car resulting in a lower center of gravity, better rear weight bias, and an improved overall power to weight ratio. Horsepower was listed at 435 which was the same as the more widely known 435hp L71 engine, though the L89's aluminum heads had larger exhaust valves yielding more airflow. Estimated horsepower for L89's is in the neighborhood of 500. In the end, just 16 L89 Corvettes were produced in St. Louis for the 1967 model year. That's rarer than a seven-figure 1967 L88!
This award-winning Sting Ray was built on the last day of 1967 production just 32 cars from the end of the C2 generation. It was initially delivered to Cochran and Celli Chevrolet on July 28th, 1967, to Donald Stankovsky of Berkeley, CA.
Being a California car makes it 1 of 2 such L89's with the K19 smog equipment. Of those, this is the only one known to exist today. From there it visited several caretakers before being acquired by Chris Marcom's Southwest Corvette Collection in Frederick, Oklahoma. In November of 1987 it made its way to the famous Naber Brothers in Houston, Texas for a comprehensive body-off restoration. Most recently, the car spent the last 29 years with well-known collector Larry Martin before Corvette Mike's June 2023 acquisition. As you read this, this amazing C2 in en route back to southern California for the first time since the mid 1970's.
Built on the last day of 1967 production, July 11, 1967, just 32 cars from the end of the C2 generation. Many consider this car to be the best 1967 L89 out there, Ask Mike and he'll tell you "it's best 1967 Corvette period", given it's top level restoration and the fact that it's recent validation of its tank sticker by NCRS and it's original engine power plant puts it in a league, well with The ex-Ries Stradivari violin from 1693, all alone!
---
A Kindigit Designs & Corvette Mike Collaboration
The two year wait is over!
Kindigit Designs of Bitchin Rides and Corvette Mike have collaborated to bring you the Coolest of Bitchin Rides — a series dedicated to the ultimate resto-mods. The last of a true breed of combustion engines purpose-built by Lingenfelter, developing enough horsepower to rip the steel cords right off these Michelins.
This combination of a very limited, select edition of carbon fiber bodies mated to Roadster Shop chassis culminated into something very special. The first, from scratch, retro look 1953 Corvette Roadster with all the trick goodies of modern-day Sportage transportation with a flare to dare you not to stare.
Call us to get one for your collection!
---
Win a Corvette Z06 Convertible with Z07 and $25K Cash!
The National Sprint Car Hall of Fame and Museum in Knoxville, Iowa recently awarded a 2023 Corvette Z06 and now the racing venue is back with their new grand prize for their next giveaway and it's another Z06! When you make a donation of $25 or more to the National Sprint Car Hall of Fame and Museum, you are automatically entered to win this Torch Red Corvette Z06 Convertible with Z07 Performance Package plus $25K cash.
Thundering Thursday subscribers can score an extra 20% more entries. Start collecting yours today by Clicking Here.
---
Want to share your story in our Corvette Owner's Corner and get a chance to win a limited-edition Corvette Mike hat?

Every entry will receive a limited-edition Corvette Mike Keychain.
Send a short story and picture of your car to Troy@CorvetteMike.com.
Want to buy a hat?
We also have shirts for sale!
Click here to see our Apparel Store.
Send your story today and get a keychain!

Charlie G's Collection Cave
From the time I was a little boy I had a fascination with cars. I used to line my models up on the living room floor and imagine one day having a collection of real cars. I loved going to the car dealerships with my parents or grandparents. I still remember the day my grandparents bought a 1957 black and white Chevy Bel Air at Reedman's in Langhorne, PA. A Corvette on the showroom floor caught my eye that day and I remember thinking…someday maybe I own one of those.
As the years went by I moved to Orange County, CA to start a roofing business in 1984. I bought my first Corvette in 1986 and have had twelve of them over the years including many purchased from Corvette Mike. I got the NCRS bug for a while and even took my 1969 Monza Red big block to Illinois in 1989 to earn a Bloomington Gold with Corvette Mike's guidance and help.
Owning a business afforded me the opportunity to buy Corvettes (and some other cool cars, too) but the long hours running my business meant that my cars didn't get driven and enjoyed much. What a shame!
When I retired two years ago part of my plan was to spend more time pursuing my car hobby. I built a man cave of sorts and I now have 16 cars in my collection including a Corvette from each of the eight generations, several old Cadillacs and Buicks from the 1950s, some newer Cadillac V Series cars, a Dodge Challenger Hellcat Red Eye (my token Mopar) and even a 1937 Ford Woodie wagon.
A friend of mine always says, "Life is short, don't postpone your happiness!" I'm trying to take his advice!
Happy Motoring!
Charlie G.
---
Just Arrived!
With Only 7,732 Miles


Bright Red w/Red interior, LT5 350/375hp, Twin Cam V8, 6-speed manual
This beautiful example has only managed to rack up 7,732 miles since it was purchased new form Ray Dennison Chevrolet in Pekin, IL. It's been in collector hands and well cared for its entire life.
ZR-1's all came loaded with just about every option from the factory. The only two items not included as standard equipment were electronic climate control and both painted and clear roof panels, both of which this particular has.
It comes with all books, manuals, spare keys, and the very coveted and hard to come by "Pizza Box"!
---
Lemans Blue with Black leather interior, LS6 405 HP, 6-Speed Manual
This beautiful Commemorative Edition ZO6 presented here is in pristine condition throughout, having traveled only 2,083 miles since it rolled out of Bowling Green! There were only 2,025 Commemorative Editions built in '04, and we think this is one of the nicest on the market!
Comes with books, manuals, spare keys, window sticker, and more.
---
With Only 6,806 Miles!


Smokin Asphalt/Ricochet Silver with Black leather, LS2 400 HP, 6-Speed Automatic
This retractable hard top Pickup Roadster was built and displayed at the '05 San Diego Auto Show and is in show condition with only 6,806 miles.
The car features the following factory options:
Two tone paint scheme in Smokin' Asphalt over Ricochet Silver
3SS Package
Heated seats w/driver side memory
Auto dimming inside rearview mirror
Auto dimming driver's side outside rearview mirror
Bright chrome auxiliary gauge Package
Delco/Bose Premium sound system
Satin Chrome running boards
Additional options include
Cargo compartment trim
Bright chrome wheels
Halo lighting
Towing Package
---
See all the cars we have for sale
by clicking here!
Hi, I am Troy!
Email me to talk about any cars you want to sell:
We love a great car story.
Troy@CorvetteMike.Com!
We buy and consign!
Want Some Corvette Mike Swag?
---
Comic of the Week
---
Some Random Thoughts
If you want to kill any idea in the world, get a committee working on it.
A life spent making mistakes is not only more honorable, but more useful than a life spent doing nothing.
Another belief of mine; that everyone else my age is an adult, whereas I am merely in disguise.
Testimonials
Just a quick story on my experience dealing with Mike of Corvette Mike out of California. I took my 1967 Corvette to the Mecum March 2023 auction in Scottsdale. It fell short of the reserve by 60K. Quite a disappointment because it is a rare 67 435hp Corvette and a numerous award winner. Anyway, I decided I would keep it because I was not going to let it go for the high bid price at Mecum. A few months later Mike called me up and asked if I still had it and if so, would I sell it? I said yes but need to get my price. To my utter amazement 3 days later he sent me a huge deposit and sent a transport out to get it and finalized the entire deal in 10 days. I could not be happier. The point of my experience with Corvette or sports car buyers and sellers is to do yourself a favor and at least call him first before you do anything. He has tremendous connections.
Dr. Barry B
 
I am a life time Vette owner. From 63 to my current 2022 Stingray. I've had service provided by lots of shops and Corvette Mikes is at the top. Plus they have a great inventory of for sale Corvettes!
Steve K.
Extremely helpful and best Corvette place in OC. Had a 90s Corvette and they treated me like I owned a brand new one. No judgment here which I really respect.
Cora D.