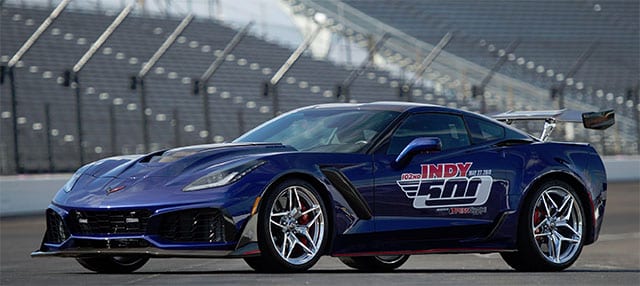 ZR1 Sunday
May 24, 2018
This Sunday is the 102nd running of the Indianapolis 500. We have no idea which one of the 33 drivers will win this year, but we know who will be out front just before the race starts, that will be the 2019 ZR1 driven by Indiana Pacers NBA star Victor Oladipo.
This is the first time that the pace car will have more horsepower (755hp) than the racecars do (550 – 700 horsepower, depending on boost levels), but it will be restricted to pacing and safety duties, no racing this time out.
Another record is that this will be Corvettes 15th time pacing at Indy; that is more than 10 percent of the time. Chevrolet itself has 29 pace car notches on its belt, extending all the way back to 1948.
—————————————————————————————–

Going to Bloomington Gold? Need transport for your car from Southern California? We have a half filled enclosed truck, contact us for Special Rates.

———————————————————————————

For our loyal customers:

Consignments Net you Way More!!

Garage too full? Have a car to sell?

You get the $$$ and we do all the work for you.

———————————————————————————

Part of Mike's most recent 8 car Collection Purchase


Have a collection to sell? We have cash. 
———————————————————————————-
1957 Corvette Fuel Injection Unit for sale

This F.I. unit was taken off of a '57 Corvette engine.  It has been completely rebuilt and is ready to be installed.  What is needed is the distributor and air cleaner unit (not included).
The numbers are as follows: Serial # 2102. Part #7014520.  Air Meter #7014521A.  Fuel Meter #7014522 which is a mid-1957 fitment for either a 250hp or 283hp engine.
Price: $8,500 or Best Offer

1968 Chevy Custom Pickup Truck


Over $200,000 invested in this show-stopping '68 Custom Pickup. It has been the recipient of a no-expense-spared custom restoration that was completed about 3 years ago.

Viper Red w/Black Leather interior, power windows with trick switch/handles and a $20k custom audio system with twin JL Audio amps under the seats and a 13″ JL Audio Sub-Woofer in the back.

376/375rwhp, 4-speed automatic transmission.
Stock #: 6008 – Price: $69,900 $62,900*
*For Emailed Cutomers Only, Good until 5/29/18 only
Cars Listed on eBay at Auction Pricing
1957 Ford Thunderbird
1967 Marlboro Maroon, 327/300hp, PB, PS, AC
1967 Marina Blue, L68 427/400hp, 4-spd
1967 Jewel Blue, 327/300hp, 4-spd
1968 Red Chevy Custom Pickup
1969 White Camaro Resto Mod
1982 White/Silver Corvette Coupe, 6,800 Miles!
2015 Silver Automatic
2016 Yellow Automatic
2016 Land Rover LR4 HSE Silver Edition