2020 CORVETTE C8 Z51 VS. 2019 CORVETTE C7 Z51
October 17, 2019
Well, the media blackout on the 2020 C8 Corvette has been lifted and the reviews are coming in.
Car and Driver decided the best way to tell people about the new C8 was to compare it directly with the outgoing C7. GM was happy to provide them with two comparable cars, the C8 with Z51 and 3LT trim along with a 2019 C7 with Z51 and also in 3LT trim. Both cars also came with adaptive dampers, and eight-speed automatics. Both had additional wheel camber dialed in as recommended in their owner's manuals for track use and came with Corvette-developed Michelin summer tires.
According to pure engineering theory, and with all other things being equal, a mid-engine car's superior weight distribution should enable it to lap a racetrack quicker than a front-engine car. But not all things are equal, as the C8 has 35 more horses and 10 lb-ft of torque, but it also weighs 203-lb more, basically removing the increased power advantage.
Engineering theory was proven accurate, as after about a dozen rounds battling Grattan's 2.2 miles of heaving, the C8 turned a best lap of 1:26.1 and the C7 a 1:27.0. A roughly one-second difference might not sound like much, but consider that after just a half-dozen laps, the C8 would cross the finish line as the C7 pulls onto Grattan's straight.
Reviewers pointed out that the lap times don't remotely convey how much easier it is to go fast in the C8. It cuts more cleanly into turns, and its rear tires are more planted exiting them; the C7's tail is nervous and twitchy by comparison. Indeed, the C8 feels as approachable on the track as it does on the road.
Some specs:
0-60 in 2.8 seconds (base C7 is 3.9 seconds and the C7 Z06 is 3.0 seconds).
1/4 mile in 11.2 seconds at 122 mph (base C7 12.3 seconds and the Z06 11.1 seconds).
Just In – Tentative Labor Contract Agreement
GM, UAW agree on tentative labor contract that could end a month-long strike by 48,000 workers.
Details of the proposed four-year deal were not disclosed. However, the union's members with GM are expected to receive raises of 3% to 4% or lump-sum bonuses each year as part of the accord. The deal also will include the addition or retention of 9,000 hourly U.S. jobs and a "clear path" for temporary workers with three or more years to become full-time employees, according to two people briefed on the pact.
Inbound NOW!
2004 Black Corvette Coupe
This two owner, local So. CA. Corvette is in excellent condition, having been driven only 21k miles since new!  Options include the Preferred Equipment Group, Polished Aluminum Wheels, 12 Disc CD Changer and body side moldings.  Additional equipment includes: Borla exhaust & X-pipe, F.A.S.T. intake, Diablo Tuner Programmer AFE Magnum Force Intake and more!!
Priced at: $21,900
Trades accepted. Excellent financing.
---
Featured Car of the Week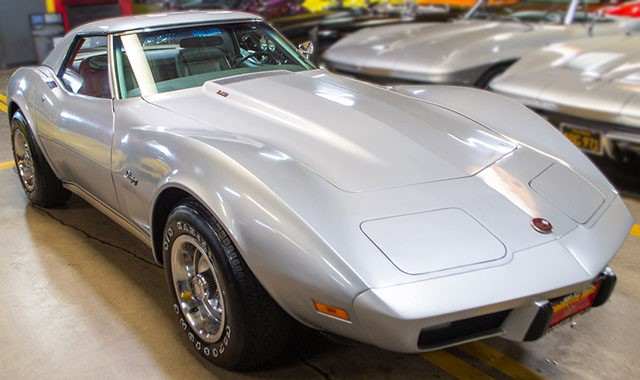 1975 L82 Convertible with Both Tops
What Mike likes about this car:
"In 1975 I was 20 years old and serving a 13-month tour at the Marine Corps Air Station in Iwakuni Japan. I was in charge of indoctrinating every Marine that entered the country in Japanese law and the do's and don'ts to stay healthy and alive in a foreign land. 
Let's just say I would rather be back in America eyeballing the last official convertible that Chevrolet produced as a Corvette. However my country comes first and it wasn't until 1976 that I got to touchdown on the tarmac at El Toro Marine base in Southern California. All the rage was about the 1975 Corvette being the last official convertible to be produced. While in Indianapolis last year I got the phone call to visit the widow and was able to purchase this amazing untouched original benchmark quality 1975 Corvette convertible. With 98% original paint, excluding the bumpers, this car is exactly the way it left the factory in 1975. The striking color combination makes it extremely sought after and could be the pride and joy of any true Corvette purist's collection.  The cars of the 70s are now the most sought-after Corvettes. Don't miss out on this incredible find. 
Check out our great financing options. "
Happy Throttling!
Apex • Exit • Accelerate!!
CM V8tro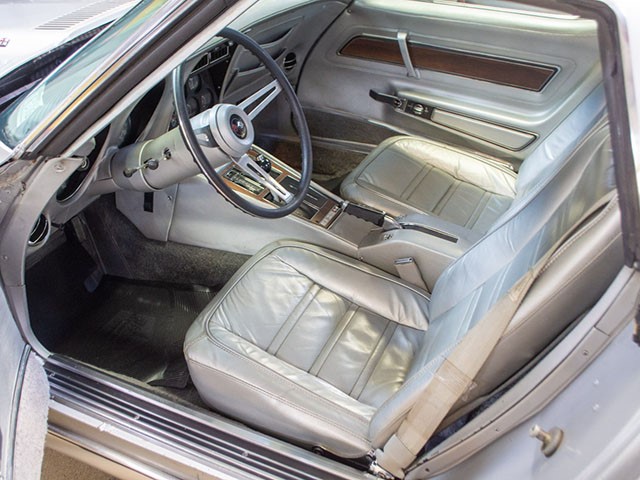 The original owner must have felt that it was worth keeping the miles low on his Silver '75 Convertible, because he only drove it 11k miles since new!  When we acquired the car from his widow, it had been carefully stored for a number of years.  So, we brought the car into our service department and gave the proverbial once-over!  That included complete fluid service, suspension lube, brake pads, master cylinder, tune up, front shocks, thermostat, fuel system service and more.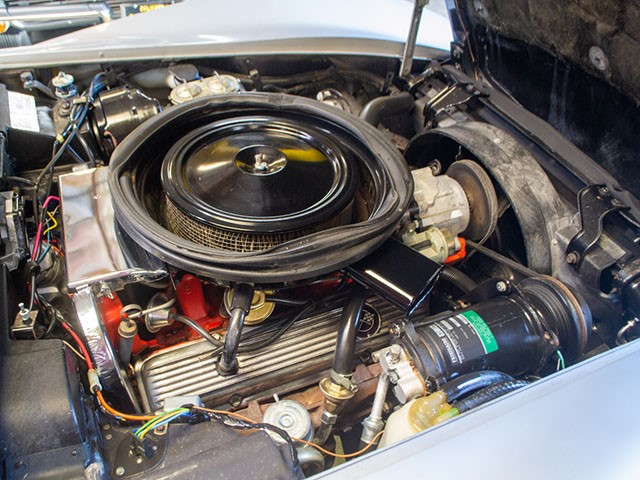 It's optioned with the higher performance L82 small block engine, Turbo 400 automatic transmission, am/fm stereo, power brakes, power steering, power windows, air conditioning, Custom interior w/leather seats, tilt/tele steering column, both hard and soft tops and more!
Trades maybe?
Financing yes!!!
Thrill rides no!!!
---
Upcoming events:
Las Vegas Concours d'Elegance
October 25-28, 2019
Las Vegas, Nevada

Vettes for Veterans
November  9th
The Shoppes at Carlsbad Mall
2525 El Camino Real, Carlsbad, CA
The Muscle Car & Corvette Nationals
November 23 & 24, 2019
Donald E. Stephens Convention Center
5555 N. River Rd, Rosemont, IL. 60018
Have a special event coming up? Let us know and we will let others know.
---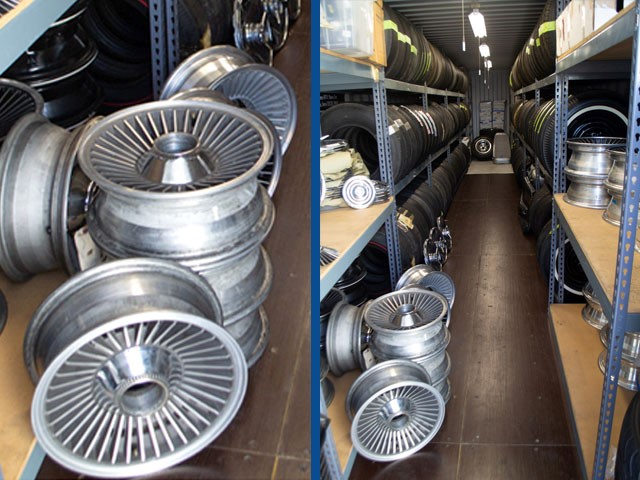 Real Kelsey Hayes Knock offs and Bolt-Ons for sale.
Tires, repro wheels and caps.
Call for pricing.
Discounted Parts Table Items
Pictures Available Upon Request.
1956-1962 Corvette Hardtops – Priced from $4,888.
1963-1967 Corvette Hardtops – Priced from $2,000.
1968-1975 Used convertible top assembly. Good condition.
1957 Corvette Fuel Injection Unit – taken off of a '57 Corvette engine, completely rebuilt and is ready to use. Part #7014520. Price $5,500 OBO (make us an offer).
More Coming Soon!

Cars Listed on eBay at Auction Pricing
1953 Frame Off Restored Roadster
1964 Satin Silver Corvette Convertible
1967 Camaro Indy 500 Pace Car Convertible
1967 Rally Red, Red Int, L71 427/435hp 4-Speed
1982 Corvette T-Top Coupe, 9k Miles.
2011 Supersonic Blue ZR1 w/3ZR
2013 White Porsche Cayenne S, Automatic, AWD
2015 Crystal Red Corvette ZO6 3LZ Convertible One owner, CA Car
2017 Yellow C7 Corvette Z51 Coupe, Automatic
Comic of the Week