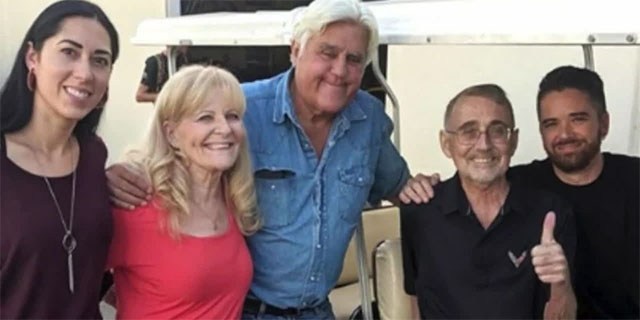 Chevrolet & Jay Leno Surprise Corvette Superfan Fighting Cancer?
October 31, 2019
Colby Webb's dad Larry was diagnosed in May with bile duct cancer and is being cared for by hospice in the Phoenix Valley. "Watching your dad fade away sucks," Colby Webb said.
"My dad will tell you: The Corvette, that's the heart of America," the Colby said. "It's American muscle, Americans want a Corvette."
Larry passed along his love for the Vette to his son and constantly brought up the car's new C8 design, asking "When is this Corvette going to come out?" With a release date of January 2020, it did not look good for Larry being able to see and ride in the car before his passing. So, being a loving son, Colby called GM to see if there was any way for his dad to be able to see and sit in the C8. The reply was an immediate agreement to deliver the car to a nearby dealership.
Video from that day shows a thrilled Larry Webb checking out the inside and outside of his dream car while surrounded by those he loved most. As a tribute, he also posted the video on Reddit, getting thousands of views. But that was not the end of this story.
As it turns out, Jay Leno heard about Larry and contacted Colby. Within days, they were on a private plane flying to Burbank. "We get him off the plane, there's Jay, he looks at my wife and goes, 'That's Jay Leno!'" Colby Webb said.
All of it was arranged in secret and Leno had a prototype Corvette ready to go. They took it for a spin together then stopped by Leno's garage for a tour of his collection.
"Jay Leno is one of the nicest people, and his crew, everybody was just nicest people ever," Colby Webb said. "They took care of everything. I think it will be one of the last things he thinks about."
General Motors Strike is Over
The longest auto workers' strike in 50 years is officially over, as General Motors employees voted overwhelmingly in favor of a deal struck by the United Auto Workers union and company executives. Nearly 48,000 workers who were on strike have returned to work.
---
We buy used cars!
Cream puff inventory needed!
Lemons need not apply.Consignments Net YOU More!!
You get the $$$ and we do all the work for you!!!
Garage too full?
Have one or more cars to sell?
Same day cash! Running or not!!!
For approved collections, Mike will visit personally.
Click Here to submit your car!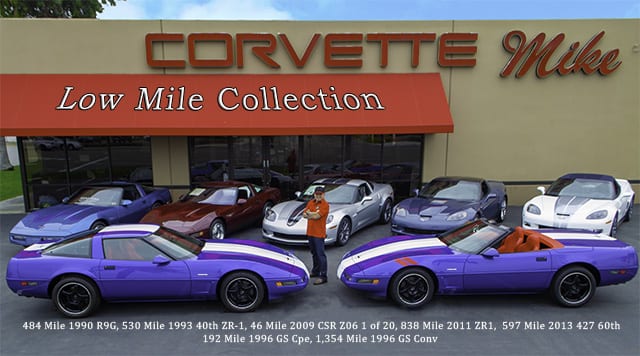 ---
Inbound NOW!
2015 Porsche 911 Carrera 4S Cabriolet

This very sharp 4S Cabriolet came to us from a collector client of ours. It's in showroom condition throughout and has been driven only 18,950 miles. This is also a Porsche Certified Pre-Owned Car!
Priced today at $99,900 $89,500
Trades accepted. Excellent financing.
---
Featured Car of the Week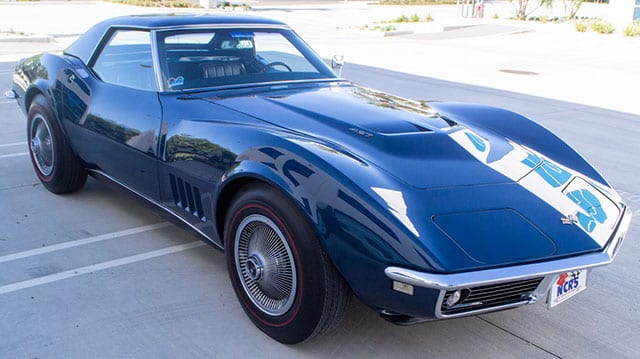 What Mike likes about this car:
"I have thoroughly examined this car from top to bottom and inside out. It is an absolutely stunning original example all the way down to its original ball joints. The repaint is spectacular with the exception of two small stress crack areas which are typical for 1968 Corvettes. The interior is spectacular including its original leather seats. The chassis is dry, clean and worthy of 100 point inspection. I have driven this car and it is wonderful! This is the type of car you would see on the Chevrolet dealer's show room in 1970. Do not miss out on this exceptional example! The new proud owner will have something that nobody else has and will have huge bragging rights!"
Check out our great financing options.
Happy Throttling!
Apex • Exit • Accelerate!!
CM V8tro
This International Blue with Black interior Convertible comes with a hard top and is powered by an L71 427/435hp big block, mated to a 4-speed manual transmission. It is one of the most beautiful, original and heavily documented '68's we've ever had! Other than one repaint, the car is original and stunning! There are 31k original miles on the odometer, and looking at it, it's very easy to believe that the car has been babied since it rolled off the assembly line in St. Louis over 50 years ago!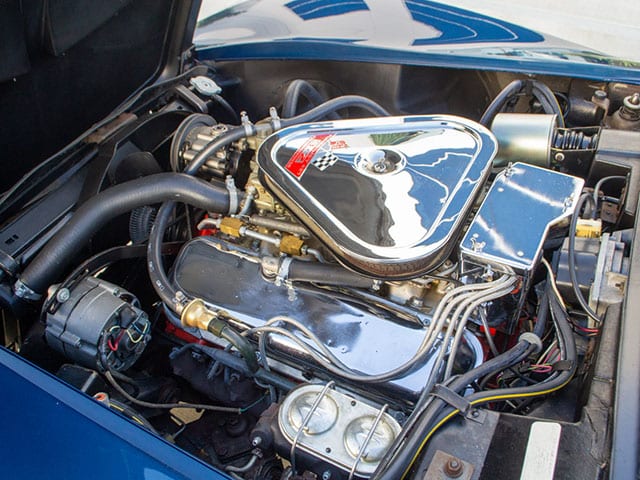 It's a multiple N.C.R.S. Top Flight and Bloomington Survior Award recipient. The documentation is copious and includes the Protect-O-Plate, Tank Sticker, Dealer Order Copy, Shipper, Dealer P.D.I., copies of past titles and registrations, Awards, Judging Sheets and more!
Priced at: $97,500 $89,888*
*for immediate sale through 5pm PST Nov 4th
Trades maybe?
Financing yes!!!
Thrill rides no!!!
---
Upcoming events:
Vettes for Veterans
November  9th
The Shoppes at Carlsbad Mall
2525 El Camino Real, Carlsbad, CA
The Muscle Car & Corvette Nationals
November 23 & 24, 2019
Donald E. Stephens Convention Center
5555 N. River Rd, Rosemont, IL. 60018
Have a special event coming up? Let us know and we will let others know.
---
Corvette From The Inside
Signed by Author
Dave McLellan
Corvette Chief Engineer 1975-1992
Price: $25!
Other books and artwork available.

Real Kelsey Hayes Knock offs and Bolt-Ons for sale.
Tires, repro wheels and caps.
Call for pricing.
Discounted Parts Table Items
Pictures Available Upon Request.
1956-1962 Corvette Hardtops – Priced from $4,888.
1963-1967 Corvette Hardtops – Priced from $2,000.
1968-1975 Used convertible top assembly. Good condition.
1957 Corvette Fuel Injection Unit – taken off of a '57 Corvette engine, completely rebuilt and is ready to use. Part #7014520. Price $5,500 OBO (make us an offer).

1969 L88 Holley 4bbl carburetor – Completely rebuilt (by Jerry Luck) and ready to install. 3955205 R4296 932. Price: $4,500 $3,500.


1962 Generator – Price: Make Offer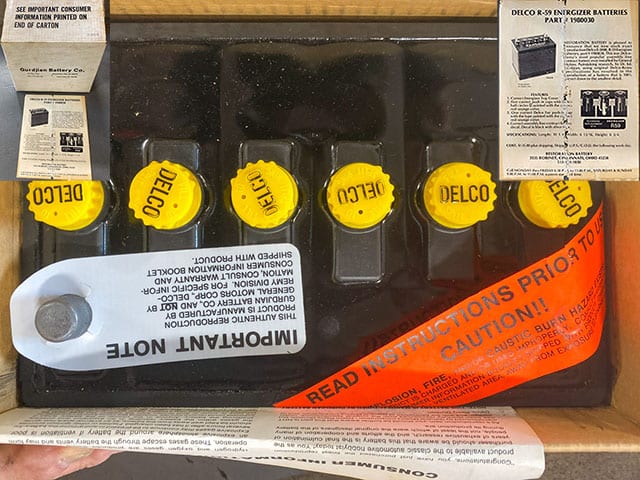 Restoration Battery – Price: Make Offer
---

Cars on Bring A Trailer 355-Mile 1981 DeLorean DMC-12 5-Speed.

NEW All Collector Cars Auctions
1966 Chevrolet Corvette L36
1968 Chevrolet Camaro SS350
1975 Chevrolet Corvette L82
2017 Corvette Z51 Coupe

Cars on eBay at Auction Pricing
1953 Frame Off Restored Roadster
1964 Satin Silver Corvette Convertible
1967 Camaro Indy 500 Pace Car Convertible
1982 Corvette T-Top Coupe, 9k Miles
1996 Sebring Silver Corvette LT-4 Collector Edition Convertible
2004 Chevrolet Corvette with super low miles and in excellent shape
2011 Supersonic Blue ZR1 w/3ZR
2013 White Porsche Cayenne S, Automatic, AWD
2017 Yellow C7 Corvette Z51 Coupe, Automatic