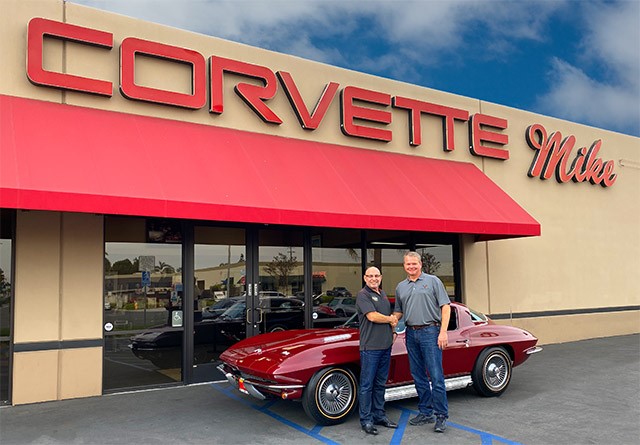 Corvette Mike SoCal welcomes Corvette assembly plant manager Kai Spande! Welcome and Congratulations!
November 22, 2019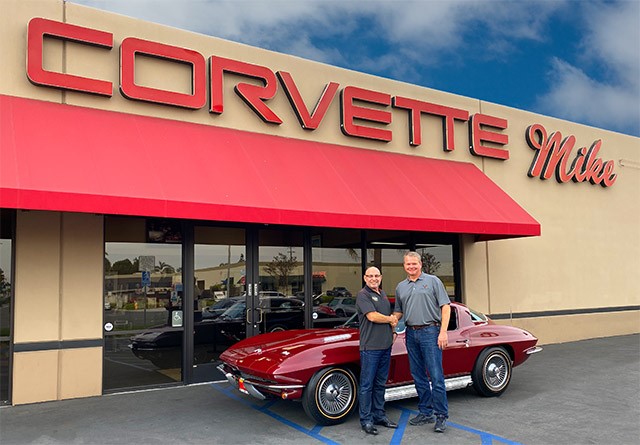 Over the decades, Corvette Mike has sold vehicles to folks in just about every walk of life. From farmers to corporate business people. And being in Southern California, it isn't unusual for actors, musicians and the like to walk through our doors to purchase the Corvette or muscle car of their dreams. But even with "celebrities" of every industry coming in from time to time, there are occasions when even we are surprised by who contacts us. And recently was just one of those occasions, the Plant Manager, Corvette Assembly Plant at General Motors, Kai Spande.
So, who does the Corvette Plant Manager call when he gets the urge to buy a mid-year Corvette? Well, Corvette Mike of course! Kai expressed an interest in a beautiful Milano Maroon L72 big block Coupe that we had for sale. Mike shared the details of the car (frame-off restored, factory side exhaust system, factory K-H knock off wheels with Gold line tires and a Bloomington Gold Award winner!) with Kai and it was decided that a trip from Bowling Green to Anaheim was in order. So, the following week, Kai arrived with his wife Kaci and sister Kris (who's a local O.C. resident) at our shop to meet Mike and check it out. After an inspection, Kai and Mike took the '66 for a spin around town. Upon returning, and with a smile on both of their faces that only a big block C2 can cause, the paperwork was signed, shipping of the '66 back to Bowling Green got booked and a new friendship was formed!
Many thanks and congratulations to Kai and Kaci! Happy motoring through the green hills of KY.!
---
Just in

C8 wins MotorTrend Car of the Year Award
MotorTrend named the redesigned 'Vette as its 2020 Car of the Year on Monday. The mid-engine Corvette was the standout among cars because of its quiet interior, sleek interior design, rideability and everyday attainability, MotorTrend said.
The C8 was up against 33 competitors like the Audi A8, BMW Z4, 3, 7 and 8 series, Mercedes A Series and AMG GT, Porsche 911 Carrera S, Subaru Legacy, Tesla Model 3 and Toyota Supra.
---
Inbound NOW!

2004 Thunderbird Pacific Coast Edition
This T-Bird comes to us from a good customer and is in better than new condition with just 500 miles on it. This is also a limited edition with just 1,000 examples made for worldwide distribution. This Pacific Coast Edition Roadster is #564.
Priced today at $35,900
Trades accepted. Excellent financing.
---
Featured Car of the Week
2014 1-Owner & 900 Original Miles
What Mike likes about this car:
"How fondly I remember the release of the C7 Corvette and the excitement it drew! A totally redesigned Corvette with technology that had never been seen thus far!
The redesign was cutting edge and the platform proved to be a world-class winner on both the street and the track. Here we present a car we sold new to a friend and customer from the state of Georgia with less than 1,000 original miles. The color combination is sporty yet conservative which allows this car to be driven aggressively and also looks smartly appropriate in front of any Ritz Carlton hotel. Your car, sir!!!
Check out our great financing options.
Happy Throttling!
Apex • Exit • Accelerate!!
CM V8tro"
3LT Package, full Gray Napa leather interior, including dash and door panels, NAV, Bose 10 speaker audio system and more.
6.2L V8, 460hp mated to 6-spd. Paddle-Shifted automatic transaxle with Dual-Mode exhaust system.
Priced at: $45,900*
*for immediate sale through 5pm PST Nov 25th
Trades maybe?
Financing yes!!!
Thrill rides no!!!
---
Upcoming events:
The Muscle Car & Corvette Nationals
November 23 & 24, 2019
Donald E. Stephens Convention Center
5555 N. River Rd, Rosemont, IL. 60018
Have a special event coming up? Let us know and we will let others know.
Corvette From The Inside
Signed by Author
Dave McLellan
Corvette Chief Engineer 1975-1992
Price: $25!
Other books and artwork available.
---

Real Kelsey Hayes Knock offs and Bolt-Ons for sale.
Tires, repro wheels and caps.
Call for pricing.
---
Discounted Parts Table Items
Pictures Available Upon Request.
1956-1962 Corvette Hardtops – Priced from $4,888.
1963-1967 Corvette Hardtops – Priced from $2,000.
1968-1975 Used convertible top assembly. Good condition.
1957 Corvette Fuel Injection Unit – taken off of a '57 Corvette engine, completely rebuilt and is ready to use. Part #7014520. Price $5,500 OBO (make us an offer).

1969 L88 Holley 4bbl carburetor – Completely rebuilt (by Jerry Luck) and ready to install. 3955205 R4296 932. Price: $4,500 $3,500.
1962 Generator – Price: Make Offer
Restoration Battery – Price: Make Offer
Cars on Bring A Trailer
NEW All Collector Cars Auctions
Cars on eBay at Auction Pricing
1963 Frame Off Restored Split Window
1963 Tuxedo Black Fuel Injected Split Window Coupe
1982 Corvette T-Top Coupe, 9k Miles
1996 Sebring Silver Corvette LT-4 Collector Edition Convertible
2004 Chevrolet Corvette with super low miles and in excellent shape
2011 Supersonic Blue ZR1 w/3ZR
2013 White Porsche Cayenne S, Automatic, AWD
2017 Yellow C7 Corvette Z51 Coupe, Automatic