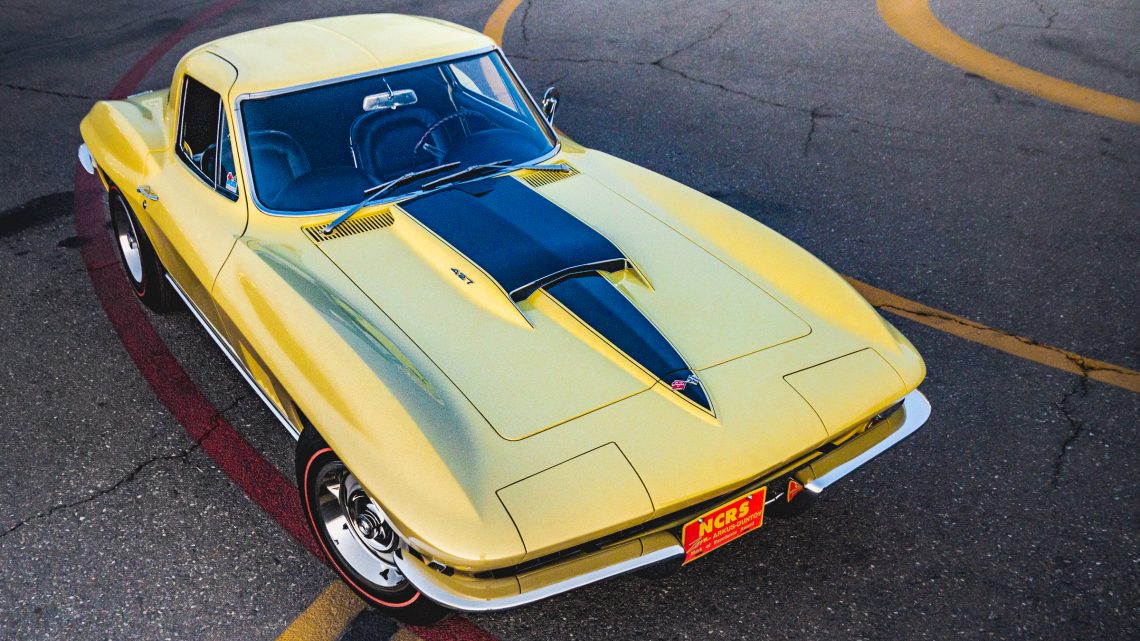 The Rarest of the Rare is Officially for Sale!
December 5, 2019
THE RAREST OF THE RARE IS OFFICIALLY FOR SALE
It's the Only 1967 L88 Corvette to Win the Duntov Mark of Excellence, Triple Diamond and Bloomington Gold Awards, and It's Still Titled from July 1967
Price: $3.95 Million
PHOTOS:https://www.dropbox.com/sh/e9ptjup8s3hr1tu/AAA55-6su9J-p7h45Er8pQIFa?dl=0
Anaheim, CA–Last month, Corvette Mike, the leading preowned Corvette and classic car dealership for more than 38 years, announced that he had acquired the holy grail of all Corvettes in 2018: the only 1967 L88 Coupe with its original engine. Now, Mike and his partners are offering the L88 for sale at $3.95 million.
After lengthy discussions and a bit of old fashion arm twisting, Mike convinced his two partners, who are the majority stakeholders, to enter the car into the frenzied collector car market to find the only guy that has everything in his collection except the pinnacle of all Corvette Stingrays. There is no other! Exclusivity has its bragging rights!!!
"We plan on auctioning the L88 next year but my partners and I thought we'd like to give all enthusiasts a chance to buy it, not just those who attend the auction," said Corvette Mike Vietro, Founder and Owner of Corvette Mike, the only recognized brand with three locations coast to coast.
This 1967 Sunfire Yellow L88 Corvette Coupe is a two-time Bloomington Gold and Triple Diamond Award winner and also the recipient of the Duntov Mark of Excellence. It achieved this remarkable and difficult-to-accomplish feat in just 13 months while under the care of Corvette Mike Vietro. It underwent a full frame-off restoration with each component, nut and bolt sourced from the original car or from NOS suppliers. In fact, the meticulous 10-year restoration process included the craftsmen performing the build scouring the country to find the exact components that were on the car when it rolled out of the factory.
Additionally, this L88 comes with an impressive list of original factory documentation, including original sales contract, Corvette order copy (tank sticker), video interview of the original owner, CCAS certificates on the trim tag, VIN and engine, which authenticates them as factory original, and the original owner Nevada title dated July 18, 1967. This car has never been titled again since new.
Of the 20 L88's produced in 1967, roughly half still exist. The purpose and goal of these cars were one thing; go very fast on the race track and win! And they certainly did! Although some L88's were driven on the street, most saw track duty of some sort. And most were raced hard and put away wet. The thought of an L88 surviving with its original engine still under the hood would seem next to impossible more than 50 years later. But, believe it or not, some do (three to be exact, two of which are convertibles) survive with their born with 427. This ultra-rare Coupe is one of them.
So, what's a '67 L88 Corvette made of? Starting off with a special ultra-high-performance 427ci big block engine, Chevrolet added a heavy duty M22 "Rock Crusher" 4-spd. manual transmission, K66 transistorized ignition, J56 Heavy duty disc brakes, J50 power brakes, F41 heavy duty suspension, C48 heater delete, and to top it off, a cowl induction L88 hood. Additional options were available, but most buyers chose to keep their L88 's pure, unadulterated race cars, as they were meant to be!
The Corvette L88 option was the result of years of developmental work that resulted in what was essentially a factory racing package that could be ordered directly from Chevrolet for a brand-new street Corvette. With 500+ hp, it was one of the most powerful cars from an OEM in stock form at the time. This package was only available from '67-'69 and only 216 L-88s were ever built; 20 in '67, 80 in '68 and 116 in '69. This engine was so powerful, that it took very little preparation to get it racetrack ready. And race it did! L88s competed and were successful in respected domestic and international races, such as the 24 Hours of Le Mans, 12 Hours of Sebring, 24 Hours of Daytona and many others. These racing victories with the L-88 option package, made the Corvette an instant legend. The L-88 name and champion became interchangeable designations.
"This L88 represents the pinnacle of Corvette collecting," said Vietro,. "No other Corvette in the world can claim such rarity. We are honored to now own this car. It's been a dream of mine for decades." Having bought and sold more 1967-1969 L88s than any other collector in a 39-year span, Mike Vietro knows L88s and their whereabouts better than any other enthusiast out there.
For more information and to read about the history of the 1967 Sunfire Yellow L88 Corvette Coupe, please visit https://corvettemike.com/used-corvettes-for-sale/1967-sunfire-yellow-l88-corvette-coupe/
The last 1967 L88 Corvette Coupe to be sold was at Barrett-Jackson in 2014 for $3.85 million.
About Corvette Mike
Corvette Mike has been a leading preowned and classic car dealership for more than 38 years, with locations in Southern California, Chicago and Boston. Founder and Owner Mike Vietro in one of the nation's most quoted Corvette authorities and is a much sought-after speaker. He has been featured in more than 20 magazines and newspapers, including Road & Track, Autoweek, Motor Trend, Vette and Corvette Fever. He has been on television, radio, and in print interviews for more than 20 years. Corvette Mike is headquartered in Anaheim, CA just outside Los Angeles but sells Corvettes and classics all over the world. For more information, please visit www.corvettemike.com
INQUIRIES:
Jarrod Holland – Publicity Factory – (910) 431-3322