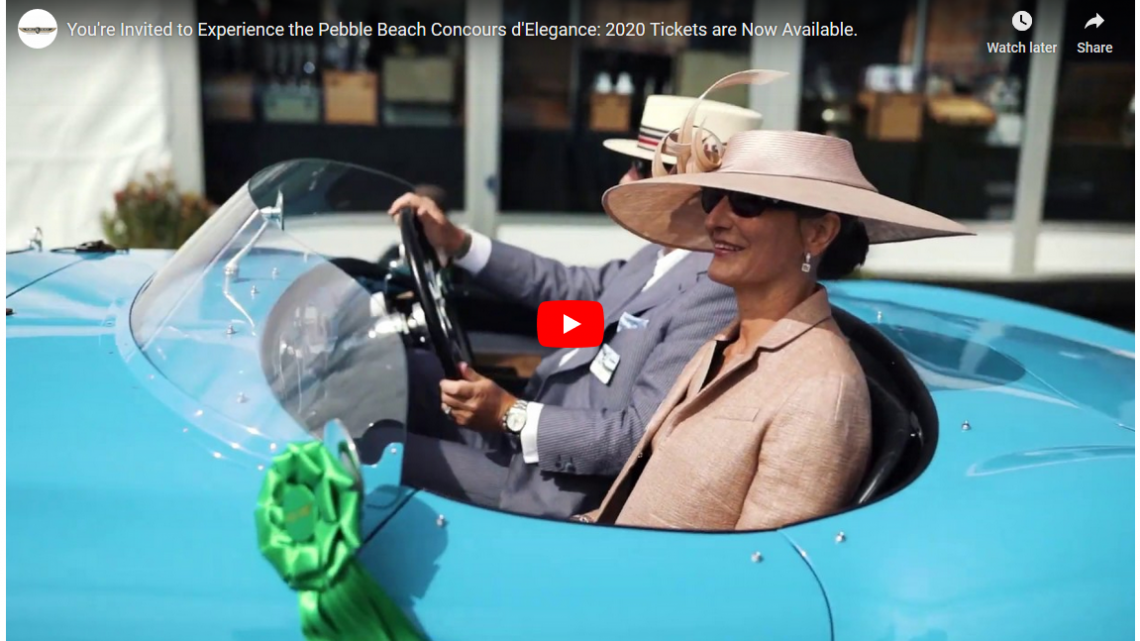 2020 Tickets Now Available!
December 6, 2019
1950–2020: AN UNMATCHED TRADITION OF AUTOMOTIVE EXCELLENCE We Invite You to Join Us at Our 70th Anniversary Celebration
The 70th Pebble Beach Concours d'Elegance takes place Sunday, August 16, on the famed 18th fairway of Pebble Beach Golf Links. Purchase your tickets today.
2020 General Admission Tickets
Make a memory at the Concours. Stroll through the show field, visit manufacturer displays, bring or purchase a tasty meal and enjoy an al fresco lunch at our Café Seating & Picnic Area.
2020 Club d'Elegance Tickets 
Attend the Concours and enjoy respite at the Club d'Elegance, located in an elegant tent at Parc du Concours, a short shuttle ride away from the show field. Limited availability.
2020 The Venue Above the Concept Lawn
The Venue Above the Concept Lawn enjoys the very best view of the automotive industry's latest concepts. Not only will you enjoy great cars while walking the show field, but you'll get a sweeping overview of all the concept cars while enjoying a gourmet luncheon buffet and hosted beverage service inside The Venue, located above the Concept Lawn at The Lodge. Very limited availability.
2020 Patrons Patio at the Winners Circle
Hear the roar of the engines, feel the heat of the steam. Get right next to the action with a seat at our outdoor Patrons Patio, located adjacent to the Awards Ramp. This VIP luxury full-immersion experience allows you to sit back and relax as each of the newly awarded winners parade before you as they exit the ramp. Very limited availability.
2020 Chairman's Hospitality at The Lodge
The ultimate VIP experience, Chairman's Hospitality at The Lodge offers seating at the Chairman's Suite inside The Lodge at Pebble Beach. From the comfort of your seat, enjoy a panorama of the show field and a direct overview of all the winners driving up to the ramp. You won't want to miss the spectacular view of the Best of Show presentation when the winner is announced! Very limited availability.