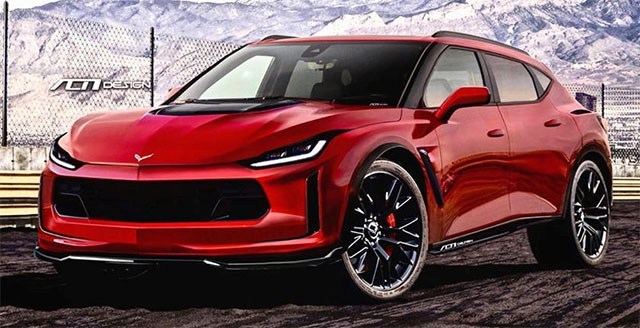 Corvette Price and SUV?
December 6, 2019
There has been a lot of press lately about the base C8 Corvette selling for less money than it takes Chevrolet to produce, and possibly using the Corvette brand name on an SUV. In a Motor Trend article, Mary Barra, the chairman and CEO of General Motors, talks about these subjects.
When Barra was asked if a low starting price of the C8 could be maintained or if the price is likely to jump, she said "What I think is really important is Chevrolet is a home for Corvette and Chevrolet is American, and it's value, it's ingenuity," Barra said. "I think all of that is captured." Corvette, despite being an iconic sports car, "represents all that Chevrolet means, and part of that is, I think, that it is obtainable. So, I think we will work really hard to make sure that we always live true to the Chevrolet brand, which is American, it's value, it's ingenuity."
What about making Corvette its own brand or a subbrand like Ford is doing with Mustang? "I think you have to be really careful because you have to understand what makes the brand the brand," Barra told us. "So, I'm not going to say never, but I think if General Motors were to ever do anything, we would assess it very, very carefully." "Corvette means something so special to so many people, "Barra continued "It must be managed carefully because it is so important to its long-term success that it lives up to the name."
Just in

Hennessey planning a 1,200 HP 2020 C8
Hennessey has designs on giving the 2020 Chevrolet Corvette a 1,200-horsepower upgrade, called the HPE1200. Hennessey claims it's going to make this massive amount of power with specially built twin-turbo LT2 V8 engines. The engines will have upgraded internals such as forged aluminum pistons, forged steel connecting rods and other unspecified upgrades. To handle the power, Hennessey says it's going to "incorporate an upgraded and fortified factory dual-clutch automatic transmission and a full Brembo brake system" among other chassis upgrades.
Inbound NOW!
2013 Mustang Boss 302 Laguna Seca Edition
This one's "in the wrapper" with only 1,250 miles!  5.0L 444hp V8, 6-spd. manual transmission.  Only about 18% of all the '12-'13 Boss 302's built were Laguna Seca Editions, making them quite rare and very sought-after.
Priced today at $44,900 OBO
Trades accepted. Excellent financing.
What Mike likes about this car:
"This 1958 Corvette is reminiscent of days long ago. It was probably back in 1969 when a friend in the neighborhood was all excited and told us about the 1958 turquoise Corvette he bought and paid $650 for. We all went to the garage and saw what had been sitting for years and was somewhat of a shambles of a car; totally deteriorating. It didn't matter to us; we were just as excited as we helped push it out of the garage to air up the tires. I remember it had one of those old chrome chain steering wheels with the chrome horn cap. You could barely steer the car. But it didn't matter to us; it was a Corvette and we knew someone who had one!! That's where the daydreaming started about owning one for myself. Fast forward 50 years later and look where we are today. It costs more to restore the radio than the whole car cost back then. Gas was also $.29 cents a gallon.
This '58 will make someone very excited. And the tires are all aired up!!"
Check out our great financing options.
Happy Throttling!
Apex • Exit • Accelerate!!
CM V8tro
We really lucked out with this one!  Coming from a very discriminating collector in the mid-west, this absolutely stunning '58 has undergone an extensive nut and bolt frame-off restoration by a renown restorer.  The rare Regal Turquoise paint glows in the sun and it's perfectly complemented by contrasting White coves and soft top along with a beautiful Charcoal interior.
It's powered by a 283 with a single Carter carb for rock solid reliability and a 4-spd. (the original 3-spd. comes with) for excellent drivability!  The car is a dream to drive.
 Trades maybe?
Financing yes!!!
Thrill rides no!!!
Bloomington Gold
June 25-27, 2020
Indianapolis Motor Speedway
Have a special event coming up? Let us know and we will let others know.
—————————————————————————————————-
Corvette From The Inside
Signed by Author
Dave McLellan
Corvette Chief Engineer 1975-1992
Price: $25!
Other books and artwork available.
Real Kelsey Hayes Knock offs and Bolt-Ons for sale.
Tires, repro wheels and caps.
Call for pricing.
Discounted Parts Table Items
Pictures Available Upon Request.
1956-1962 Corvette Hardtops – Priced from $4,888.
1963-1967 Corvette Hardtops – Priced from $2,000.
1968-1975 Used convertible top assembly. Good condition.
1957 Corvette Fuel Injection Unit – taken off of a '57 Corvette engine, completely rebuilt and is ready to use. Part #7014520. Price $5,500 OBO (make us an offer).
1969 L88 Holley 4bbl carburetor – Completely rebuilt (by Jerry Luck) and ready to install. 3955205 R4296 932. Price: $4,500 $3,500.
Complete Corvette New Collection from Volume 1 Issue 1. Starting in 1958.
One pair of factory aluminum cylinder heads for big block Chevy. Pt.#3919842. These heads were original equipment on '68 & '69 L88 and L89 engines. Both heads in excellent condition. $4,500 for the pair.