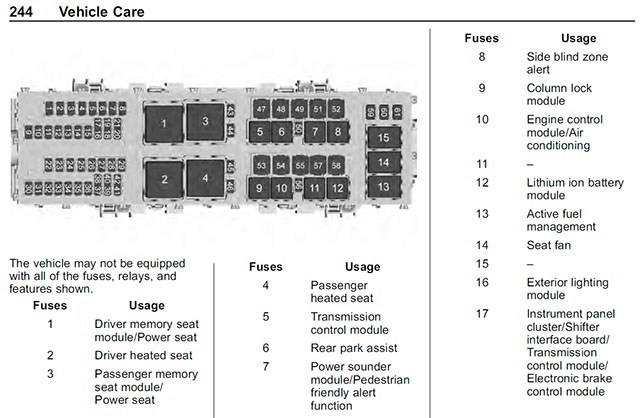 2020 Owner's Manual Suggests Hybrid C8 Coming
March 6, 2020
The official owner's manual for the 2020 C8 has just been released on the web and references a Lithium-Ion battery module, something found only if you have a hybrid car.
This information can be found on page 244 of the owner's manual and also shows another interesting item, a power sounder module. This module is also known as a pedestrian-friendly alert function; soon to be a federal government mandate for all cars that operate on battery power under a certain speed. This system emits a sound to alert pedestrians of the vehicle since some hybrids make no noise and EVs are silent all the time. This feature could mean a hybrid variant of the new Corvette will include an electric-only driving mode, or just be part of the GM backbone architecture and future-proofing.
Obviously, we can't say for certain what the Corvette team has up its sleeve, and Chevy isn't commenting, but it's looking more likely than ever we'll have an electrified model in the future.
Inbound NOW!
2016 DODGE CHALLENGER R/T Scat Pack Shaker!
Red w/Black interior, 392/485hp, 6-spd. manual transmission. This one-owner Challenger features the Shaker Package, which includes a functional hood scoop flat-black filler cap, glossy black grille, and rear spoiler. Other options include; heated and cooled leather sport seats up front and a heated, leather-wrapped, and power-adjusted steering wheel.
Only 18k miles!
Trades accepted. Excellent financing.
---
Featured Car of the Week
10,853 Original Miles!
What Mike likes about this Corvette:
"I have seen many Vettes over the 38 plus years, but this is one of the rarest 1967 L71's I have ever had the pleasure to offer for sale. Pristinely preserved with only 10,853 miles, the original interior and hand-rubbed Rally Red lacquer paint. Spectacular attention has been given to this L71 including a detailed engine compartment and chassis. It is also sitting on original 1967 Black Wall tires.
If you miss this opportunity to buy a virtually new one of a kind 67 435 Coupe, you will go to your grave kicking yourself in the pants for not stepping up to the plate on March 5, 2020 and owning the very best money can buy.  Because after all "We Sell the Best and Service the Rest"!!!
What are you waiting for? Christmas????
Do you want to own the Best?? "
Check out our great financing options.
Happy Throttling!
Apex • Exit • Accelerate!!
CM V8tro
Stunning, to say the least, this rare and extremely desirable 435 Coupe is indeed in a world of its own and quite possibly the only one of its color combo to exist with such low miles. Rare, Gorgeous, Desirable, how many more adjectives can describe this beauty?
This N.C.R.S. Top Flight, collector owned '67 is believed to have clocked only 10k original miles since new. It comes with a binder full of original docs, awards, Tank Sticker, Order Copy and Shipper.
Optioned with a #'s matching L71 engine, Power Brakes, M21 4-Speed, Tinted Windshield, AM/FM radio, Transistor Ignition, F41 Suspension, and Posi 3.70 Rear End.
Trades maybe?
 Financing yes!!!
Thrill rides no!!!
---
Upcoming events:
2020 Amelia Island Concours d'Elegance
Cars of Harley Earl
March 5-8, 2020
The Ritz-Carlton, Amelia Island, Florida
Corvette Expo in the Smokies
March 20-21, 2020
The LeConte Center, Pigeon Forge, Tennessee
Bloomington Gold
June 25-27, 2020
Indianapolis Motor Speedway
9th Annual Queen City Corvette Show
With Bloomington Gold Charlotte
October 3, 2020
Hendrick Motorsports, Charlotte, NC
Have a special event coming up? Let us know and we will let others know.
—————————————————————————————————-
Corvette From The Inside
Signed by Author
Dave McLellan
Corvette Chief Engineer 1975-1992
Price: $25!
Other books and artwork available.
Real Kelsey Hayes Knock offs and Bolt-Ons for sale.
Tires, repro wheels, and caps.
Call for pricing.
Discounted Parts Table Items
Pictures Available Upon Request.
1956-1962 Corvette Hardtops – Priced from $4,888.
1963-1967 Corvette Hardtops – Priced from $2,000.
1968-1975 Used convertible top assembly. Good condition.
1957 Corvette Fuel Injection Unit – taken off of a '57 Corvette engine, completely rebuilt and is ready to use. Part #7014520. Price $5,500 OBO (make us an offer).
1969 L88 Holley 4bbl carburetor – Completely rebuilt (by Jerry Luck) and ready to install. 3955205 R4296 932. Price: $4,500 $3,500.
One pair of factory aluminum cylinder heads for big-block Chevy. Pt.#3919842. These heads were original equipment on '68 & '69 L88 and L89 engines. Both heads in excellent condition. $4,500 $3,900 for the pair.
---
Auctions
Cars on eBay at Auction Pricing
1955 Polo White V8 Roadster
2002 Silver Chrysler Prowler
2013 Ford Mustang Boss 302 with 1,300 miles
2013 White Porsche Cayenne S, Automatic, AWD
2016 Land Rover LR4 HSE, with 34k Miles, AWD
---
Comic of the Week