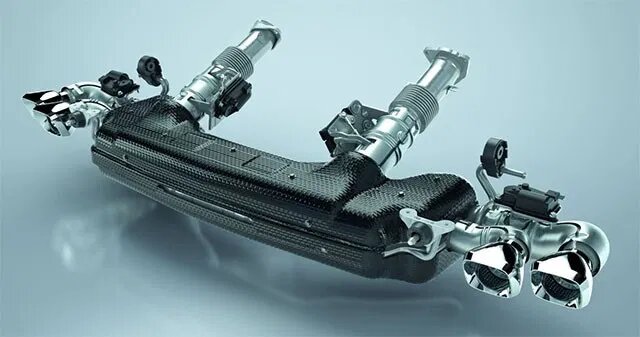 GM Shuts Down and C8 Hi-Tech Exhaust
March 20, 2020
Our team met this morning to discuss how we are going to move ahead in this situation with the COVID-19 outbreak. We have decided to remain open for business to help our valued customers.
Detroit automakers Ford, General Motors, FCA agree to close all US plants.
General Motors confirmed Wednesday it will begin a "systematic orderly suspension of manufacturing operations in North America due to market conditions and to deep clean facilities and continue to protect people."
Its suspension of production will last until at least March 30, the company said. After that, production status will be evaluated week-to-week.
"GM and the UAW have always put the health and safety of the people entering GM plants first," said GM CEO Mary Barra. "We have been taking extraordinary precautions around the world to keep our plant environments safe and recent developments in North America make it clear this is the right thing to do now."
GM will suspend operations in a cadence to ensure an orderly production halt, with each facility receiving specific instructions from manufacturing leadership.
The engineering genius of the C8's exhaust
We have all heard how Hi-Tech the C8 Corvette is with the new mid-engine design, but who thinks about the exhaust? That would be the Corvette development team and Tenneco, Inc.
Tenneco, Inc. was tasked with providing the exhaust, from the catalytic converter back, for the C8 Corvette Stingray. The plus and minus of a mid-engine design are that the overall length of the exhaust system is much shorter. The shorter the overall length of the exhaust system, the less power is lost expelling the used gasses. However, it has less time to cool off, so it's hotter when it reaches the muffler and exhaust tips.
The standard C8 exhaust unit is equipped with two newly developed valves with enhanced heat resistance designed to work in concert with the vehicle's Active Fuel Management system to support the engine's cylinder deactivation function for optimum efficiency and lower emissions. That means one valve per exhaust bank to limit exhaust flow when operated in four-cylinder mode. While the engine does not need backpressure, exhaust tubing can be too large for an application. When only four cylinders are firing, the exhaust velocity can slow down in a large tube, lowering efficiency. It's counterintuitive but closing down the exhaust can actually improve exhaust gas velocity and flow.
On the Z51 equipped performance exhaust, two more valves allow the engine's spent gasses to take a less restrictive path through the muffler to the outboard pair of exhaust tips, freeing up an additional five horsepower.
In addition to the valves, the muffler is covered in multiple layers of heat shielding. The first layer appears to be fiber-based, while the outer layer looks to be a thin metallic sheet that's been diamond-pleated to add rigidity. The insulation there is critical since the muffler is directly below the C8's trunk.
Inbound NOW!

2020 3LT C8 Corvette!
Shadow Gray Metallic with Moreno Red interior.
Loaded with 3LT Trim Level, GT2 Bucket Seats, Z51 Performance Package, Magnetic Ride Control, Carbon Fiber Interior Trim, Front Lift with Memory, 19" Front, 20" Rear Trident Spoke Wheels, Transparent Roof Panel, Engine Appearance Package, Edge Red Brake Calipers
Priced to sell at: $115,900
Trades accepted. Excellent financing.
---
Featured Car of the Week
2005 Ford GT
Only 7,400 miles
What Mike likes about this Ford GT:
"When the Ford GT came out in 2005 it was truly an automotive design concept that was executed as close as the Ford designers could achieve yet it still captured the 60's look of the GT40.  Brilliantly sculptured even down to the clumsy doors that's so many of us have whacked our heads on as we get in and out of the car!
The market reacted well, and even though they dipped slightly after they first came out, they have been a very sought after collectible. With just the right number of units built this car has maintained its value extremely well over the course of the last 15 years.
This particular GT belongs to a good friend and client and it is offered here for sale as we sold his previous midnight blue one which now resides comfortably in Southern California. In pristine condition, it is ready for its new caretaker to continue to be enjoyed and appreciated."
Check out our great financing options.
Happy Throttling!
Apex • Exit • Accelerate!!
CM V8tro
Centennial White with Black Interior.
It comes with All 4 Options and shows and drives perfect with no stories or surprises.
ALL Recalls are done and 4 new tires have been installed.
Buy It Now for: $269,000
Trades maybe?
Financing yes!!!
Thrill rides no!!!
---
Upcoming events:
Corvette Expo in the Smokies
March 20-21, 2020
The LeConte Center, Pigeon Forge, Tennessee
Bloomington Gold
June 25-27, 2020
Indianapolis Motor Speedway
9th Annual Queen City Corvette Show
With Bloomington Gold Charlotte
October 3, 2020
Hendrick Motorsports, Charlotte, NC
Have a special event coming up? Let us know and we will let others know.
—————————————————————————————————-
Corvette From The Inside
Signed by Author
Dave McLellan
Corvette Chief Engineer 1975-1992
Price: $25!
Other books and artwork available.
Real Kelsey Hayes Knock offs and Bolt-Ons for sale.
Tires, repro wheels, and caps.
Call for pricing.
Discounted Parts Table Items
Pictures Available Upon Request.
1956-1962 Corvette Hardtops – Priced from $4,888.
1963-1967 Corvette Hardtops – Priced from $2,000.
1968-1975 Used convertible top assembly. Good condition.
1957 Corvette Fuel Injection Unit – taken off of a '57 Corvette engine, completely rebuilt and is ready to use. Part #7014520. Price $5,500 OBO (make us an offer).
1969 L88 Holley 4bbl carburetor – Completely rebuilt (by Jerry Luck) and ready to install. 3955205 R4296 932. Price: $4,500 $3,500.
One pair of factory aluminum cylinder heads for big-block Chevy. Pt.#3919842. These heads were original equipment on '68 & '69 L88 and L89 engines. Both heads in excellent condition. $4,500 $3,900 for the pair.
---
Auctions
More Coming Soon
2013 Ford Mustang Boss 302 Laguna Seca Edition
1982 Chevrolet Corvette (6,899 miles!)
1962 Chevrolet Trucks C10 Stepside
1966 Chevrolet Corvette L36 427/390hp
2002 Chrysler Prowler Base
More Coming Soon
Cars on eBay at Auction Pricing
1955 Polo White V8 Roadster
1957 Polo White Fuel Injected Corvette Convertible
2002 Silver Chrysler Prowler
2007 Chevrolet Corvette Z06
2007 Carrara White Porsche 911 Carrera Cabriolet, 21k miles
2013 White Porsche Cayenne S, Automatic, AWD
2016 Land Rover LR4 HSE, with 34k Miles, AWD
---
Comic of the Week