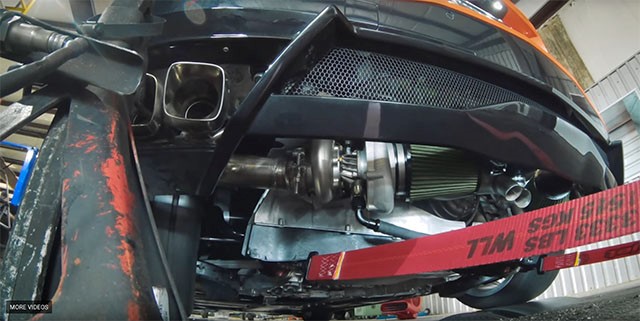 Hennessey's Twin-Turbo C8
March 27, 2020
Our team met this morning to discuss how we are going to move ahead with the COVID-19 outbreak. Per California law, we have decided to remain open for business to serve our valued customers.
Hennessey has installed Twin-Turbos on a C8
Hennessey Performance, the Texas-based tuner known for revving up GM and other automobiles, has already taken delivery of a C8 and installed a set of turbos as a proof of concept.
Hennessey unveiled its latest build in a teaser video showing the in-process C8 going through first stage testing, while attached to a dyno at the shop. The numbers they sow are 643.1hp and 570.1 torque. These are not bad numbers considering GM has not opened up the computer yet to 3rd party programming.
This is just the start for Hennessey's modifications, as the company promised enthusiasts they'd be able to boost the figure up to a staggering 1,200 horsepower at the crank. That's well more than the stock 495 horses in the Z51.
Just a side note, GM is rumored to be producing a ZR1 variant that will likely feature a twin-turbocharged flat-plane-crank V8 producing in excess of 800hp, and a Hybrid that will have over 1,000hp on tap. But who wants to wait when you can get 1,200hp now!
Hennessey has not announced pricing information yet, but the upgrade could cost up to $35,000 or more.
C8 Screw Gouges Door?
We have only heard of one incident so far, but the customer had a screw gouge the paint on his door. The screw comes from the wheel well near the front fender of the door. Apparently, one of the screws holding in the inner liner for the wheel well stuck out far enough to not just scratch the paint but gouge it down to the fiberglass.
Inbound NOW!
1965 White Fuelie!
Bloomington Gold and
N.C.R.S. Top Flight Award winner!
1965 Ermine White Corvette Fuel Injected Convertible. 327/375hp, 4-spd. manual transmission. This was the last and best year for mechanical fuel injection in a Corvette! The beautiful and rare (1 of only 771 built) example presented here has been frame-off restored and features a #'s matching L84 F.I. engine, both hard and soft tops, knock-off wheels with Goldwall tires, Teak/Tele steering wheel, and AM/FM radio.
Estate Sale: $110,000
ESTATE SALE! ALL OFFERS PRESENTED TO FAMILY!!
Trades accepted. Excellent financing.
---
Featured Car of the Week
What Mike likes about this Corvette:
"I was just opening the doors to Corvette Mike in early '82 just before the C4 was introduced; the first all-new Corvette design in 14 years. And just like forming Corvette Mike changed my life, the new design was a game-changer for Chevrolet! Here was an American sports car that could finally compete with everything Europe and Japan had to offer, at a relatively affordable price!
I like this 1995 as it benefited from changes Chevy made over the years and a lower profile. There is just something to be said about sitting in the cockpit of Corvette and manually shifting through the gears!!!
We just took this one trade and are accepting all reasonable offers to get your mind off the virus and on the road. Life goes on this will be over soon but the enjoyment of owning a Corvette is Life Altering and everlasting!!!"
Check out our great financing options.
Happy Throttling!
Apex • Exit • Accelerate!!
CM V8tro
We just got this '95 in on trade for a ZR-1 and we have to say, it's one of the nicer examples we've seen in quite a while.  This former show car has been well cared for and looks it!  It's been serviced and is ready for Spring cruising!
For those of us that feel that the only way to shift a transmission is manually, you're in luck, as this is one of the rare, less than 25% in '95, 6-Speed manuals produced.  It mates perfectly to the LT1 engine and is a blast to drive!  Options include; electronic climate control, Delco/Bose Gold Series CD audio system, dual power seats and tinted windows (added).
Trades maybe?
Financing yes!!!
Thrill rides no!!!
---
Upcoming events:
Bloomington Gold
June 25-27, 2020
Indianapolis Motor Speedway
9th Annual Queen City Corvette Show
With Bloomington Gold Charlotte
October 3, 2020
Hendrick Motorsports, Charlotte, NC
Have a special event coming up? Let us know and we will let others know.
—————————————————————————————————-
Corvette From The Inside
Signed by Author
Dave McLellan
Corvette Chief Engineer 1975-1992
Price: $25!
Other books and artwork available.
Real Kelsey Hayes Knock offs and Bolt-Ons for sale.
Tires, repro wheels, and caps.
Call for pricing.
Discounted Parts Table Items
Pictures Available Upon Request.
1956-1962 Corvette Hardtops – Priced from $4,888.
1963-1967 Corvette Hardtops – Priced from $2,000.
1968-1975 Used convertible top assembly. Good condition.
1957 Corvette Fuel Injection Unit – taken off of a '57 Corvette engine, completely rebuilt and is ready to use. Part #7014520. Price $5,500 OBO (make us an offer).
1969 L88 Holley 4bbl carburetor – Completely rebuilt (by Jerry Luck) and ready to install. 3955205 R4296 932. Price: $4,500 $3,500.
One pair of factory aluminum cylinder heads for big-block Chevy. Pt.#3919842. These heads were original equipment on '68 & '69 L88 and L89 engines. Both heads in excellent condition. $4,500 $3,900 for the pair.
---
Auctions
More Coming Soon
2013 Ford Mustang Boss 302 Laguna Seca Edition
1982 Chevrolet Corvette (6,899 miles!)
1962 Chevrolet Trucks C10 Stepside
1966 Chevrolet Corvette L36 427/390hp
2002 Chrysler Prowler Base
More Coming Soon
Cars on eBay at Auction Pricing
1955 Polo White V8 Roadster
1957 Polo White Fuel Injected Corvette Convertible
2002 Silver Chrysler Prowler
2007 Chevrolet Corvette Z06
2007 Carrara White Porsche 911 Carrera Cabriolet, 21k miles
2013 White Porsche Cayenne S, Automatic, AWD
2016 Land Rover LR4 HSE, with 34k Miles, AWD
Comic of the Week