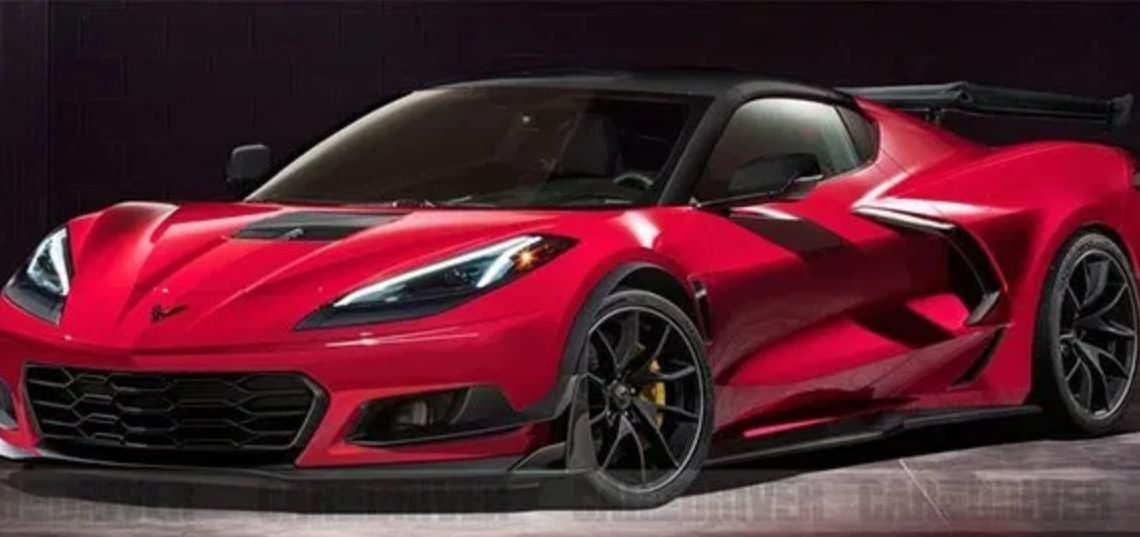 Next C8 to Get Active Aero?
June 12, 2020
C8 Z06 rumored To Get Massive Tires & Active Aero
According to a newly leaked GM document, the Next C8 performance iteration, the Z06, will be coming out in 2022! Like all past Z06's, this one will be track-ready, but still suitable for getting milk at the local store, but hopefully with a curvy road to get you there.
On top of the normally aspirated, flat-plane crank, 5.5-liter DOHC V8 we have talked about in the past (with 650 horsepower and 600 pound-feet of torque), it will be getting 20-inch wheels in front, and 21-inch wheels in back, both with Michelin Pilot Sport Cup 2 R tires (275/30 front and massive 345/25 on the back). It is not clear if these tires will be stock, or an upgraded tire on a package like the Z07 was on the C7's.
To save weight, the C8 Z06 may even come with a carbon fiber wheel option, but again, this is just a rumor.
To help push these tires down on the ground at speed, and while not slowing you down on the straightaways, Chevrolet maybe adding the active aerodynamic features GM has applied for patents on. This could include adjustable wings, splitters, and even side flaps.
On a side note, Chevrolet has announced they will have a right-hand drive ready to ship to the rest of the world in 2021!
Inbound now
1990 Red ZR-1
1990 Corvette ZR-1.  Bright Red w/Saddle interior, 350/375hp Twin Cam LT5 V8.  This former celebrity-owned, So. CA. ZR-1 has been in only two collections since new!  It's "in the wrapper" with only 425 original miles and comes with all docs including the coveted "Pizza Box".  Just fully serviced and ready to go onto its next caretaker!
The owner is testing the waters and looking for offers.
Send us your bids.
---
Weekly Special Corvette
1967 Big Block Convertible
Frame-off restored, nicely optioned.
What Mike likes about this Corvette:
"All the look without the critics. Take this one to the NCRS Concours judging class and get a trophy without all the fuss and muss about the grommets, gadgets, fasteners, and washers.
You'll be smiling while they are swearing and sweating. Ahhh! Everyone will be green with Envy. And when the meets over. Jump in. Turn the key and burn rubber all the way out the parking lot. No trailer needed!!
Matching numbers?  Huh?  What's that???"
Check out our great financing options.
Happy Throttling!
Apex • Exit • Accelerate!!
CM V8tro
Rally Red w/Black interior. It is believed that this beautiful '67 started life with an L71 427/435hp big block under its hood, but since it has been replaced with a 454 crate motor when it went through an extensive, frame-off restoration a number of years back, the original engine was long gone. However, during the resto, a replacement "crate big block" was dropped between the fenders.
As beautiful as this restored mid-year is, it's no "trailer queen". It was built to drive. As it should be. Options include; power brakes, power steering, smaller diameter, padded steering wheel (the original comes with), leather headrest seats, side exhaust, and Bolt-on wheels wrapped in Red-Line radial tires. This is a car that you will want to drive, no matter where you live!
Price: $85,000
Trades maybe?
Financing yes!!!
Thrill rides no!!!
---
Upcoming events:
Corvette Expo In The Smokies
August 7-8
The Leconte Center
Pigeon Forge, Tennessee
Bloomington Gold
September 11-12, 2020

Corvette Funfest
September 18-19, 2020
Effingham, IL
Cruisin Brea Car Show
Sunday, September 27, 2020, 10 a.m.-4 p.m.
Brea Downtown, Birch Street, Brea, CA
2020 SCC/NCRS Fall Meet
October 9-10, 2020
Corvette Mike, Anaheim, CA
9th Annual Queen City Corvette Show
With Bloomington Gold Charlotte
October 3, 2020
Hendrick Motorsports, Charlotte, NC
Texas Regional NCRS Event
October 22nd thru 24th
Frisco, Texas
Have a special event coming up? Let us know and we will let others know.
—————————————————————————————————-
Corvette From The Inside
Signed by Author
Dave McLellan
Corvette Chief Engineer 1975-1992
Price: $25!
Other books and artwork available.
Real Kelsey Hayes Knock offs and Bolt-Ons for sale.
Tires, repro wheels, and caps.
Call for pricing.
Complete Corvette New Collection from Volume 1 Issue 1. Starting in 1957.
Priced at $3,250
We have many duplicate issues so, if you are missing one, or a few, from your personal collection, we have individual issues starting at $20 each based on availability and rarity of the volume.
Discounted Parts Table Items
Pictures Available Upon Request.
1956-1962 Corvette Hardtops – Priced from $4,888.
1963-1967 Corvette Hardtops – Priced from $2,000.
1968-1975 Used convertible top assembly. Good condition.
1969 L88 Holley 4bbl carburetor – Completely rebuilt (by Jerry Luck) and ready to install. 3955205 R4296 932. Price: $4,500 $3,500.
---
Auctions
More Coming Soon

More Coming Soon
Cars on eBay at Auction Pricing
1955 Polo White V8 Roadster
1957 Polo White Fuel Injected Corvette Convertible
1963 Daytona Blue Corvette Split Window Coupe
1965 Rally Red Corvette 396 Convertible
2002 Silver Chrysler Prowler
2011 Chevrolet Corvette ZR-1
2013 White Porsche Cayenne S, Automatic, AWD
---
Comic of the Week