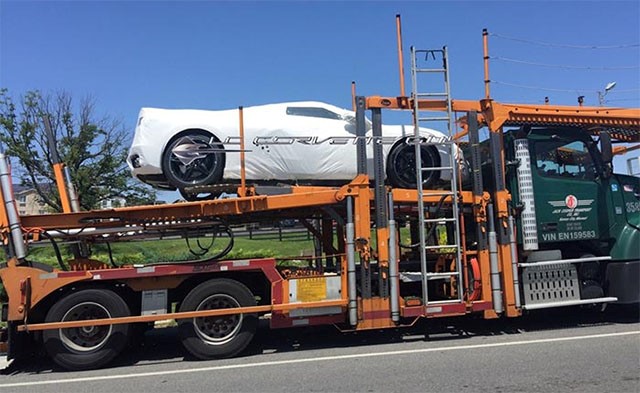 Let the Shipping Continue
June 19, 2020
Let the Shipping Continue
Word has come out that the Corvette factory has begun shipping C8's again! Trucks were spotted leaving the factory loaded with C8's all wrapped up and on their way to their new owners.
According to Kevin Kelly, a GM spokesperson, "We are not going to build all of the 2020 orders." They will only be building the orders they have inhouse and will be working with the dealers and customers that had orders for the 2020, that the factory had not accepted yet, and offer them spots for the 2021.
"We've had an enormous demand for this vehicle and we had that work stoppage and we have suppliers trying to come up to speed too," Kelly said. "The plant is still coming up from COVID. We still haven't brought up the second shift yet, so we're still ramping up." He did not specify when GM would add that second shift.
The factory is scheduled to start taking orders for the 2021's in late July and start building them in November, so if you did not get your order accepted by the factory, you have a bit of a wait in front of you.
There were 20,181 C8 Corvette orders through May 1, Kelly went on to say. GM sold only 3,820 Corvettes during the first quarter of this year, with most of them being C8's.
There is good news for our Canadian brothers though, C8's are crossing the border without issue, despite measures by both US and Canadian governments to stop unnecessary travel. It may take some time for them to get to Canada though, as they are traveling by train to Ontario.
Inbound now
1967 Elkhart Blue 2-Top Convertible
Price: $85,000.
---
Weekly Special Corvette
The '75 Corvette was a milestone, in that it was the last year for the Convertible. Federal government safety standards were making it difficult for automakers to build them, so by '76, there wasn't a Convertible being manufactured by any of the Big Three. However, by the mid 80's', those standards were loosened a bit, so, in '86 the Corvette Convertible returned to a very welcoming buying public! But, back in '75, we all thought the ragtop was gone for good. As a result, the '75 Corvette Convertible became a much sought-after and rare collector's item, with only 4,629 units built. And it still is to this day!
This beautiful example came out of an estate collection belonging to a former client of ours. It's been extensively restored, but still retains much of its original interior, in excellent condition. The correct Bright Yellow exterior is striking and features a Black vinyl-covered hardtop, as well as its soft top.
The matching #'s L48 engine has been slightly "tweaked" and has excellent power.  It's mated to a silky smooth shifting Turbo 400 3-spd. automatic transmission.  It's equipped with air-conditioning (not currently functioning), p/b, p/s, p/w, tilt/tele steering column, both tops and aluminum YJ8 wheels, that add just the right touch of class. And to top things off, it's an N.C.R.S. Top Flight Award winner!
Trades maybe?
Financing yes!!!
Thrill rides no!!!
---
Upcoming events:
Corvette Expo In The Smokies
August 7-8
The Leconte Center
Pigeon Forge, Tennessee
Bloomington Gold
September 11-12, 2020
Lucas Oil Stadium, Indianapolis, IL

Corvette Funfest
September 18-19, 2020
Effingham, IL
Cruisin Brea Car Show
Sunday, September 27, 2020, 10 a.m.-4 p.m.
Brea Downtown, Birch Street, Brea, CA
2020 SCC/NCRS Fall Meet
October 9-10, 2020
Corvette Mike, Anaheim, CA
9th Annual Queen City Corvette Show
With Bloomington Gold Charlotte
October 3, 2020
Hendrick Motorsports, Charlotte, NC
Texas Regional NCRS Event
October 22nd thru 24th
Frisco, Texas
Have a special event coming up? Let us know and we will let others know.
—————————————————————————————————-
Corvette From The Inside
Signed by Author
Dave McLellan
Corvette Chief Engineer 1975-1992
Price: $25!
Other books and artwork available.
Real Kelsey Hayes Knock offs and Bolt-Ons for sale.
Tires, repro wheels, and caps.
Call for pricing
Complete Corvette New Collection from Volume 1 Issue 1. Starting in 1957.
Priced at $3,250
We have many duplicate issues so, if you are missing one, or a few, from your personal collection, we have individual issues starting at $20 each based on availability and rarity of the volume.
Discounted Parts Table Items
Pictures Available Upon Request.
1956-1962 Corvette Hardtops – Priced from $4,888.
1963-1967 Corvette Hardtops – Priced from $2,000.
1968-1975 Used convertible top assembly. Good condition.
1969 L88 Holley 4bbl carburetor – Completely rebuilt (by Jerry Luck) and ready to install. 3955205 R4296 932. Price: $4,500 $3,500.
---
Auctions
1957 Chevrolet Corvette 283/283 Fuelie 4-Speed
32k-Mile 2000 Chevrolet Corvette Fixed Roof Coupe 6-Speed
More Coming Soon
More Coming Soon
Cars on eBay at Auction Pricing
1955 Polo White V8 Roadster
1957 Polo White Fuel Injected Corvette Convertible
1963 Daytona Blue Corvette Split Window Coupe
1965 Rally Red Corvette 396 Convertible
2002 Silver Chrysler Prowler
2011 Chevrolet Corvette ZR-1
2013 White Porsche Cayenne S, Automatic, AWD
---
Comic of the Week