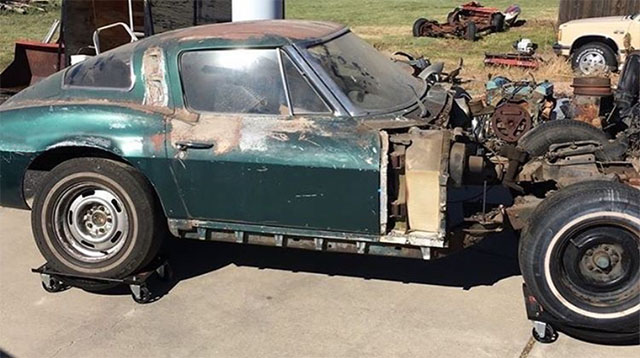 Junk Yard Rescue
July 3, 2020
1963 SWC Z06 rescued from Junk Yard
A 1963 Corvette Z06 Split Window Coupe has been found rotting away in a scrapyard. It was apparently junk to the one person who put it there in 1971, and to all the people that walked by it over the years.
As they only made 199 Z06's in 1963. And as the split rear window was a one year only design, this find is arguably one of the most desirable Classic Corvettes there is. On top of being a Z06, it was also equiped with the 36.5-gallon (Tanker) fuel tank.
It's hard to imagine why anyone would just discard such a rare classic, considering how few were made. The most obvious answer was the owner did not really know what he had on his hands; even in 1971, a SWC Z06 Tanker was a special car. What's even more remarkable is that the 'Vette remained in the junkyard for almost 50 years.
It is reported that this SWC is now going through a full restoration to bring it back to its original glory. A process that will take years, but the finished product should be something special to see..
Inbound now
1967 Elkhart
This beautiful example has been completely frame-off restored and features a matching #'s L79 327/350hp engine, M20 4-spd transmission and a 3.55 Posi rear end.  Other options include; Tinted windshield, Telescopic steering column, Vinyl covered hard top, Black soft top, am/fm radio, Power steering, and Off-road exhaust.  It's also a N.C.R.S. Top Flight Award winner!
Price: $85,000
---
Weekly Special Corvette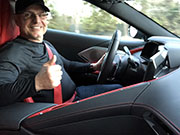 What Mike likes about this Corvette:
"The legendary Thunderbird had many different designs over its production run. Each generation had a nickname. The two-seater '55-'57's were designated the "Classic Bird". When the cars grew a back seat in '58-'60, they were called "Square Birds". And from '61-'63, they were called "Bullet Birds", because their rounded front ends and tapered rear ends made them resemble a bullet! Next to the first gen cars, these are my favorites. They had it all! Sportiness, lots of power and a degree of luxury to pull it all together!"
Check out our great financing options.
Happy Throttling!
Apex • Exit • Accelerate!!
CM V8tro
This fully restored '63 T-bird is one of the rarest ever produced!  Believed to be one of only 10 M-Code Landau Hardtops built, this beauty was the perfect combination of luxury and performance!  The M-Codes were powered by a (conservatively rated) 340hp 390ci big block with 3 Holley 2bbl carbs sitting atop a factory aluminum intake manifold and automatic transmission.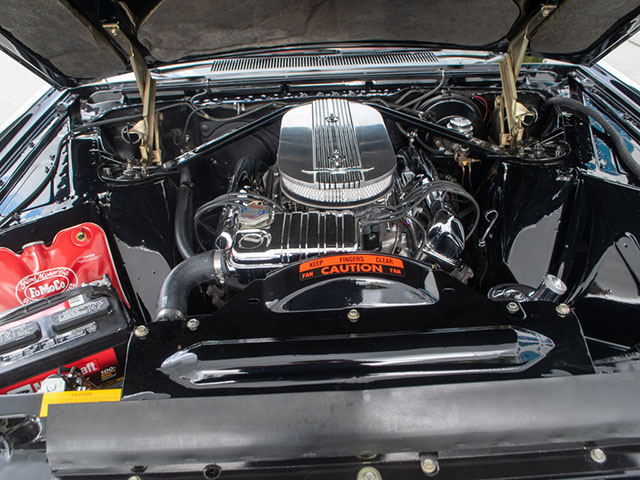 This beautiful, rust-free, matching #'s example has been fully restored and still has all of its original body panels.  The interior and trunk were fully stripped out, lined with hush-mat, insulated and fully refurbished.  The heater core was replaced, all stainless steel and brightwork was refinished and buffed, and bumpers re-chromed.
The Trim Plate shows a special rear gear ratio.
Price: $55,900!
Trades maybe?
Financing yes!!!
Thrill rides no!!!
---
Upcoming events:



Corvette Expo In The Smokies
August 7-8
The Leconte Center
Pigeon Forge, Tennessee
Bloomington Gold
September 11-12, 2020
Lucas Oil Stadium, Indianapolis, IL

Corvette Funfest
September 18-19, 2020
Effingham, IL
Cruisin Brea Car Show
Sunday, September 27, 2020, 10 a.m.-4 p.m.
Brea Downtown, Birch Street, Brea, CA
2020 SCC/NCRS Fall Meet
October 9-10, 2020
Corvette Mike, Anaheim, CA
9th Annual Queen City Corvette Show
With Bloomington Gold Charlotte
October 3, 2020
Hendrick Motorsports, Charlotte, NC
Texas Regional NCRS Event
October 22nd thru 24th
Frisco, Texas
Have a special event coming up? Let us know and we will let others know.
—————————————————————————————————-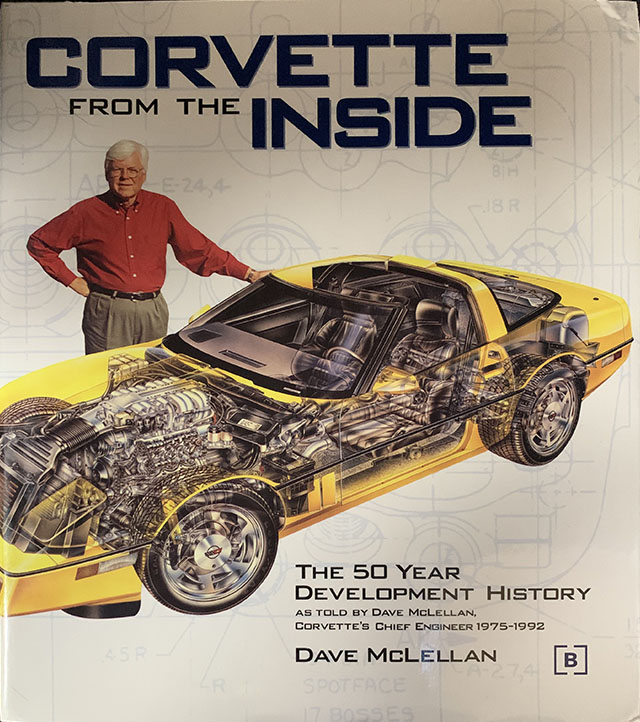 Corvette From The Inside
Signed by Author
Dave McLellan
Corvette Chief Engineer 1975-1992
Price: $25!
Other books and artwork available.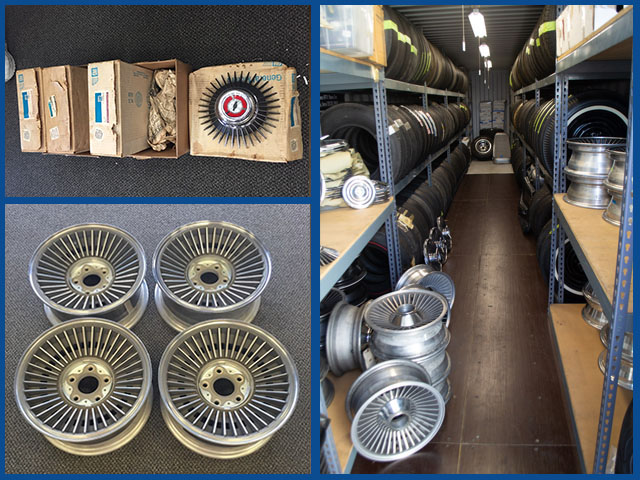 Real Kelsey Hayes Knock offs and Bolt-Ons for sale.
Tires, repro wheels, and caps.
Call for pricing.
Complete Corvette New Collection from Volume 1 Issue 1. Starting in 1957.
Priced at $3,250
We have many duplicate issues so, if you are missing one, or a few, from your personal collection, we have individual issues starting at $20 each based on availability and rarity of the volume.
Discounted Parts Table Items
Pictures Available Upon Request.
1956-1962 Corvette Hardtops – Priced from $4,888.
1963-1967 Corvette Hardtops – Priced from $2,000.
1968-1975 Used convertible top assembly. Good condition.
1969 L88 Holley 4bbl carburetor – Completely rebuilt (by Jerry Luck) and ready to install. 3955205 R4296 932. Price: $4,500 $3,500.
---
Auctions
1990 Turquoise Corvette Convertible
More Coming Soon
More Coming Soon
Cars on eBay at Auction Pricing
1955 Polo White V8 Roadster
1957 Polo White Fuel Injected Corvette Convertible
1963 Daytona Blue Corvette Split Window Coupe
1965 Rally Red Corvette 396 Convertible
2002 Silver Chrysler Prowler
2005 Beaver Laguna IV RV
2011 Chevrolet Corvette ZR-1
2013 White Porsche Cayenne S, Automatic, AWD
---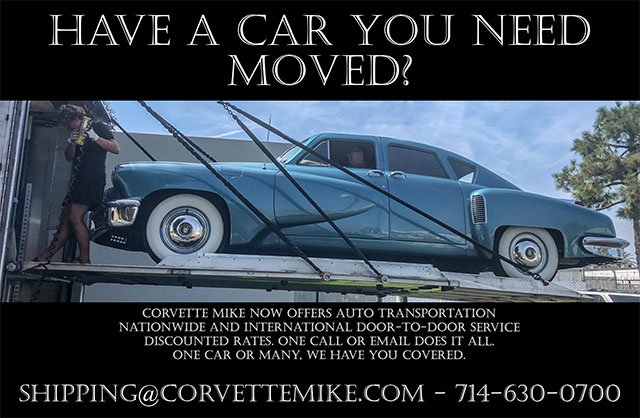 Comic of the Week