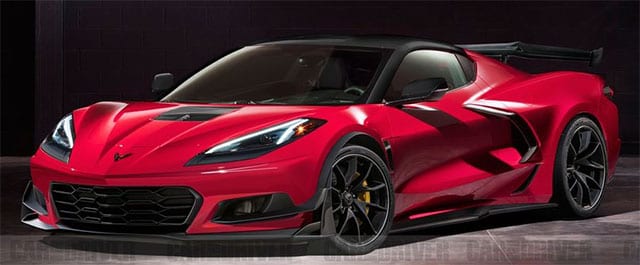 C8 Z06, Twin-Cam, Twin-Turbo, Flat-Plane?
August 28, 2020

new rumor from Motortrend
2022 C8 Z06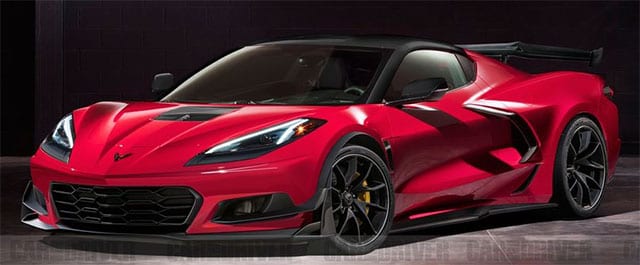 Just like the C8 was a major change from the C7, the report from Motortrend says the 2022 (or maybe 2023) Z06 will be sporting a 4.2 liter (give or take), 650hp, dual-overhead cam, flat-plane crank, twin Turbo, V8. An upgraded eight-speed dual-clutch automatic gearbox, revised suspension and a set of sticky summer tires, wider at the rear will be added to control the extra HP.
The Z06 will also go on a diet and feature a number of lightweight materials, such as the exhaust, rear wing, front splitter, and even its wheels. Specifically, the 2022 Corvette Z06 will offer buyers the option to equip it with a set of carbon-fiber wheels..
Frunk Issue Fixed With Over The Air Update
The C8 uses General Motors 'new Global B electric architecture, which enables over-the-air software updates, among a smattering of other advantages. Thanks to this system, owners will not be required to bring their vehicle into the dealership to fix the front trunk issues; as long as the owner opted in to this option.
GM said one of the issues was caused when the owner would accidently hit the Frunk button twice in succession quickly to pop the hood. The remedy Chevy came up with is that you now must hit the button once quickly and then a second time for a longer duration to pop the hood. In addition, the C8 will limit top speed to 26mph if the hood is not fully closed and give more/louder
Second Shift Re-Training Underway
 A new report says that total production has topped 8,500 C8's and that the second shift is getting ready to get going. The report from Corvette Blogger says that the convertibles are now being built, and that adding the more complex convertible slowed down the line, which is currently working 10-hour shifts. It also says that sources with inside the factory information have said that the second shift of workers is currently being trained alongside day shift workers as their original training was pre-pandemic shutdown. No start date was given, but expect it as soon as next week.
Inbound now
1969 Camaro SS 396, 4-Speed
fresh meticulously restored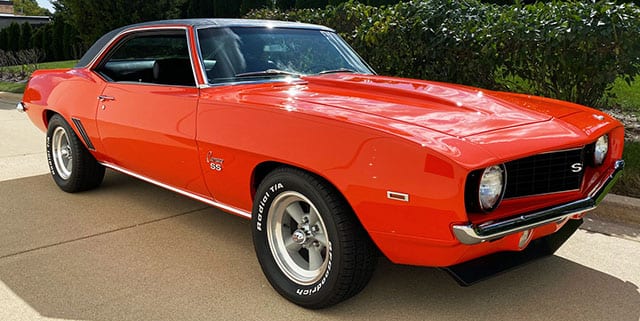 Hugger Orange 1969 Camaro SS Coupe with Black vinyl top and interior.
It has the very desirable aluminum head L-89 375 horsepower 396 cubic inch V8 (NOM) with M-21 close ratio 4 speed transmission and a 3.73 posi rear-end.
The flawless Hugger Orange paint covers an ultra straight body. There are no disappointments with this restoration. Every detail is perfect. The car has the full SS interior with the Strato bucket seats floor console with the gauge package and Hurst shifter.
It also has power brakes with front discs, power steering and American Racing Torq Thrust wheels. This Camaro will impress the judges at any car show!
Price: $58,900
---
Weekly Special
1962  Frame-off restored 327/340HP, 4-Speed
Three Time Top Flight Award winner!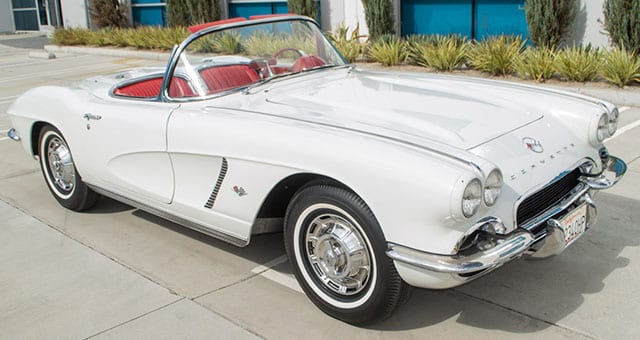 What Mike likes about this Corvette:
"Back in March 1979 I held my first all Corvette Auto Show in Buena Park California at the Holiday Inn off Beach Boulevard and the 91 freeway. I had a White with Red '62 to represent the last of the era of the solid axle Corvettes. The owner was a good friend of mine and a Corvette aficionado. His license plate read Route 66.  His name was Wayne McCartney and he was a rather tall, slender fellow, mild-mannered and a pleasure to talk to. I fondly remember him.  I haven't been in touch for quite some time and I hope he is still with us! Anyways, that's what I like about this Ermine White with Red '62.  It reminds me of my first Corvette show and my good friend Wayne.
White with Red has always been a favorite of mine and the feeling is mutual amongst most Corvette collectors. Probably because it dates back to the first Corvette to ever roll off the assembly line in June 1953. Those were produced in Flint Michigan, only in the color scheme of Polo White with Red interior. Back in the day, they used to say that real Corvettes have trunks. Well, the 1962 Corvette is the last year that a Corvette technically had a trunk pre-dating the 1999 Fixed Roof Coupe."
Check out our great financing options.
Happy Throttling!
Apex • Exit • Accelerate!!
CM V8tro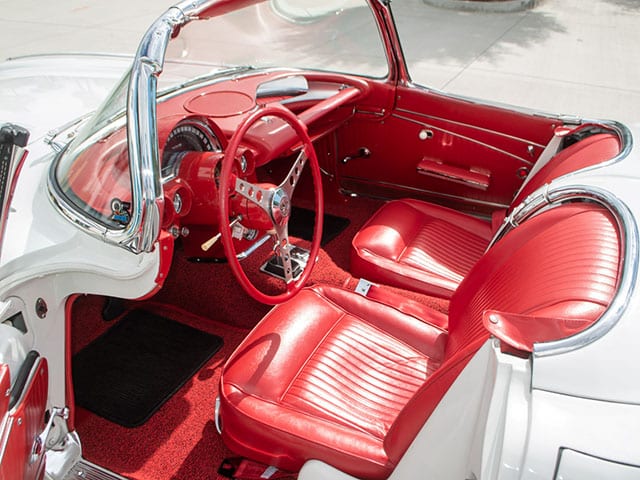 This outstanding '62 came to us from a collector up in Northern CA. The car had been very correctly frame-off restored back in the '90's, and has been very well cared for and maintained since, always stored indoors and still looks fresh.
The classic Ermine White exterior perfectly complements the Red interior and Black dated soft top. It rolls on correct looking bias ply Whitewall tires with bright spinner wheel covers. The car has won three N.C.R.S. Top Flight Awards; Chapter, Regional and National, as well as a second place class win at the Palo Alto Concours!.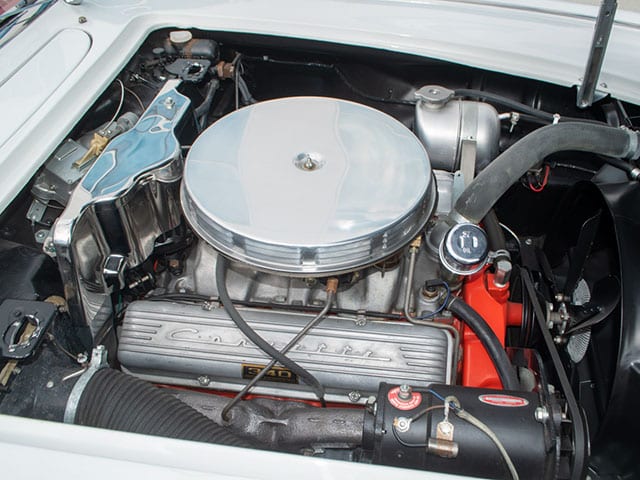 It's equipped with the optional #'s matching 327/340hp engine mated to a Borg Warner T-10 4-spd transmission. Comes with the Owner's Kit, a full set of '62 shop manuals and car cover. This is a great looking, running and driving Solid Axle Corvette that you can enjoy for years to come!
Priced to sell at $79,900
Trades maybe?
Financing yes!!!
Thrill rides no!!!
---
Corvette From The Inside
Signed by Author
Dave McLellan
Corvette Chief Engineer 1975-1992
Price: $25!
Other books and artwork available.
Real Kelsey Hayes Knock offs and Bolt-Ons for sale.
Tires, repro wheels, and caps.
Call for pricing.
Complete Corvette News Collection from Volume 1 Issue 1. Starting in 1957.
Priced at $3,250
We have many duplicate issues so, if you are missing one, or a few, from your personal collection, we have individual issues starting at $20 each based on availability and rarity of the volume.
Discounted Parts Table Items
Pictures Available Upon Request.
1956-1962 Corvette Hardtops – Priced from $4,888.
1963-1967 Corvette Hardtops – Priced from $2,000.
1968-1975 Used convertible top assembly. Good condition.
1969 L88 Holley 4bbl carburetor – Completely rebuilt (by Jerry Luck) and ready to install. 3955205 R4296 932. Price: $4,500 $3,500.
---
Auctions
More Coming Soon
More Coming Soon

More Coming Soon
Cars on eBay at Auction Pricing
1955 Polo White V8 Roadster
1957 Polo White Fuel Injected Corvette Convertible
1962 Ford Thunderbird M-Code Landau Hardtop
1963 Ford Thunderbird M-Code Landau Hardtop
1963 Daytona Blue Corvette Split Window Coupe
1964 Ermine White Corvette Convertible Automatic, well documented
1967 Black/Black Chevelle Convertible Resto-Mod
1988 Arctic White Corvette 35th Anniversary Coupe

---
Comic of the Week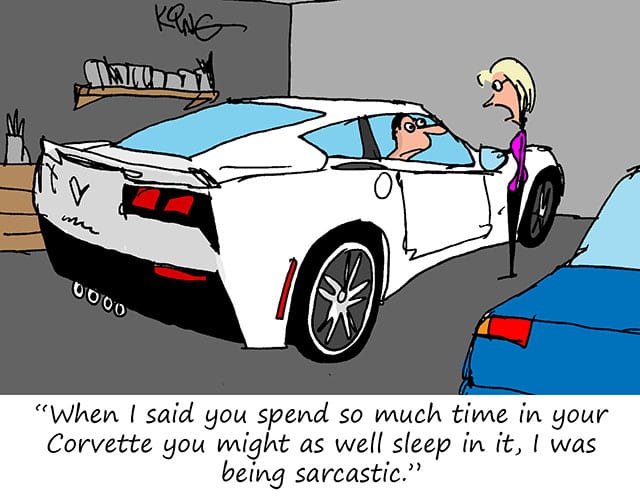 some random thoughts
The fridge is a perfect example of what's inside is what matters.
Dear optimist, pessimist, and realist, while you guys were arguing about the glass of water, I drank it. Sincerely, the opportunist.
Common sense is not so common.