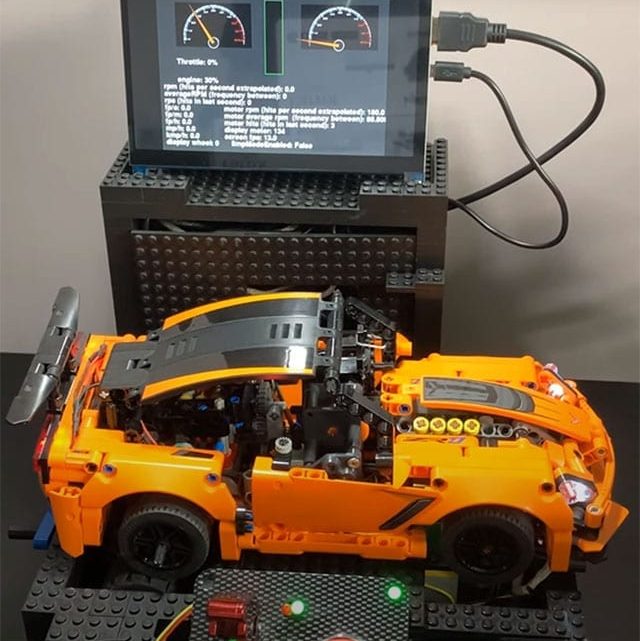 Electric Lego Corvette ZR1
September 18, 2020
Lego engineering at its finest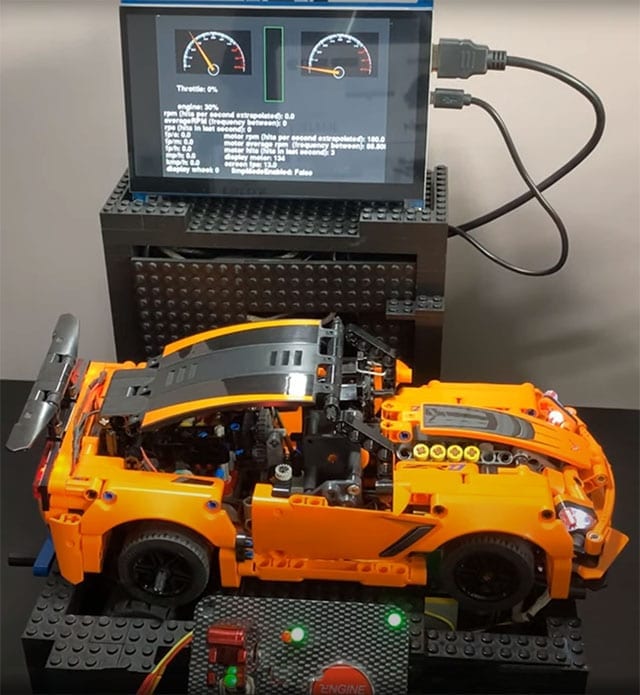 Back in 2019, Lego added the Chevrolet Corvette ZR1 to its lineup, we knew people would turn it into an awesome work of art. But we never imagined one automotive enthusiast would take the stock Lego model to a completely new level.
The guy from the video above bought a 2019 Corvette ZR1 from Lego and added a fully functional electric powertrain consisting of a small DC electric motor and a four-speed manual gearbox. Yes, you can row your own gears on a Lego car.
In the video, the creator details what he's done so far and demonstrates how the ignition of the car and its transmission work. Yes, you read that right – you must actually turn on the engine of the little ZR1, a process that's accompanied by the roaring sound recorded by a real Corvette-sourced V8.
The best part is you can monitor the powertrain's behavior thanks to wheel-mounted sensors and special software. There's an instrument cluster that provides information about the car but, unfortunately, it's not an actual dyno and we don't get to see the powertrain's output.
Inbound now
1973 Trans Am SD-455
Very rare T/A with excellent docs!
This awesome example has been collector owned and features a correct (dated 11/72), but not original SD 455 engine (replaced under warranty back in '74) with all the correct components, M20 4-spd. manual transmission, and Safe-T-Track rear end with 3.42 gears.
Priced under $129,900
---
Weekly Special
What Mike likes about this Corvette:
"You get it, that early 283 CI rumble that only the fuel injected 283 Hp can develop. That's the first tell tail sign you are breathing the fumes of '57 Corvette as it whizzes by you on the boulevard. Ahhh that sound, that exhaust note, that sweet smell of burning 103 Octane Sunoco!!  Remember those days?  Well you can relive them behind the wheel of this pinnacle icon.
The styling cues of the '57 Corvette are unique to only 2 years of the C1 Corvette. That makes it very special indeed. A carry over of the '56 Corvette, yes everything was grand and wonderful in America in 1957. That itself is reason enough to add this beauty to your stable and enjoy a piece of 50's Americana!!  Until we meet again on the byways and highways. I'm happy to share my passion for Corvettes with all of you!"
Check out our great financing options.
Happy Throttling!
Apex • Exit • Accelerate!!
CM V8tro
This rare and beautiful N.C.R.S. Top Flight Award winner has undergone an extensive and correct frame-up restoration and features both a 4-speed and the correct,high-performance 283/283hp fuel-injected engine.
The classic color combination of Ermine White w/Silver coves, Beige soft top and Red interior looks fantastic and perfectly captures the era. The driving experience is as you would expect with a hi-horse engine in a relatively light car. In two words . . . a blast! The car starts right up and has that familiar rumble to the exhaust.
Trades maybe?
Financing yes!!!
Thrill rides no!!!
---
Corvette From The Inside
Signed by Author
Dave McLellan
Corvette Chief Engineer 1975-1992
Price: $25!
Other books and artwork available.
Real Kelsey Hayes Knock offs and Bolt-Ons for sale.
Tires, repro wheels, and caps.
Call for pricing.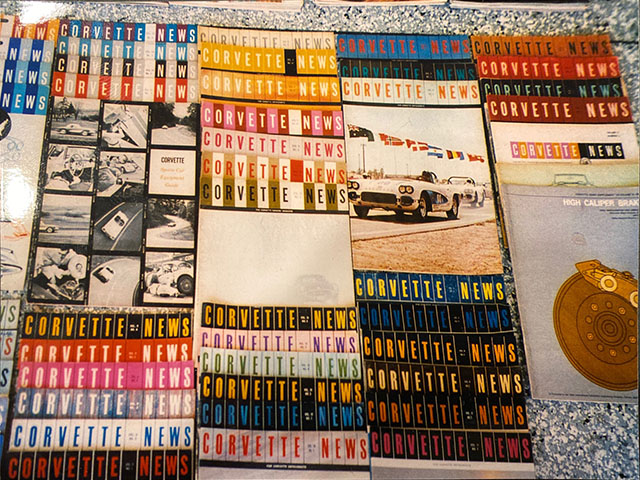 Complete Corvette News Collection from Volume 1 Issue 1. Starting in 1957.
Priced at $3,250
We have many duplicate issues so, if you are missing one, or a few, from your personal collection, we have individual issues starting at $20 each based on availability and rarity of the volume.
Discounted Parts Table Items
Pictures Available Upon Request.
1956-1962 Corvette Hardtops – Priced from $4,888.
1963-1967 Corvette Hardtops – Priced from $2,000.
1968-1975 Used convertible top assembly. Good condition.
1969 L88 Holley 4bbl carburetor – Completely rebuilt (by Jerry Luck) and ready to install. 3955205 R4296 932. Price: $4,500 $3,500.
---
Auctions

1964 Chevrolet Corvette Convertible 327/250
1969 Chevrolet Corvette L71 427/435 4-Speed
1975 Chevrolet Corvette Convertible


More Coming Soon
More Coming Soon

Cars on eBay at Auction Pricing
1955 Polo White V8 Roadster
1957 Polo White Fuel Injected Corvette Convertible
1962 Ford Thunderbird M-Code Landau Hardtop
1963 Ford Thunderbird M-Code Landau Hardtop
1963 Daytona Blue Corvette Split Window Coupe
1967 Black/Black Chevelle Convertible Resto-Mod
---
Comic of the Week