C8RR Rebody Kit for the C8 Coupe
October 23, 2020
C8RR Rebody Kit for the C8 Coupe

As great looking as the C8 Coupe is, people are always going to want to tweak it to make it fit more to their idea of perfect. Competition Carbon is a company with a reputation of such tweaking and has unveiled a wild body kit for the C8 Corvette Coupe.
The wide body kit is known as the C8RR and transforms the looks with a custom bumper crafted with the factory headlights replaced with a couple of small light units in the center of the new bumper and LED daytime running lights just above the front air intakes. An aggressive new hood, flared front and rear wheel arches, bespoke side skirts, a distinctive rear diffuser, and to top it off, tailpipes that exit out of the decklid. Just to finish off the look, a carbon fiber roof scoop, that works both when the roof is in place and removed.
To save weight, the entire kit is made from carbon fiber and looks to be functional also, improving airflow to the engine.
There's no word on how much this kit will cost, but Competition Carbon expects to start production in the summer of 2021.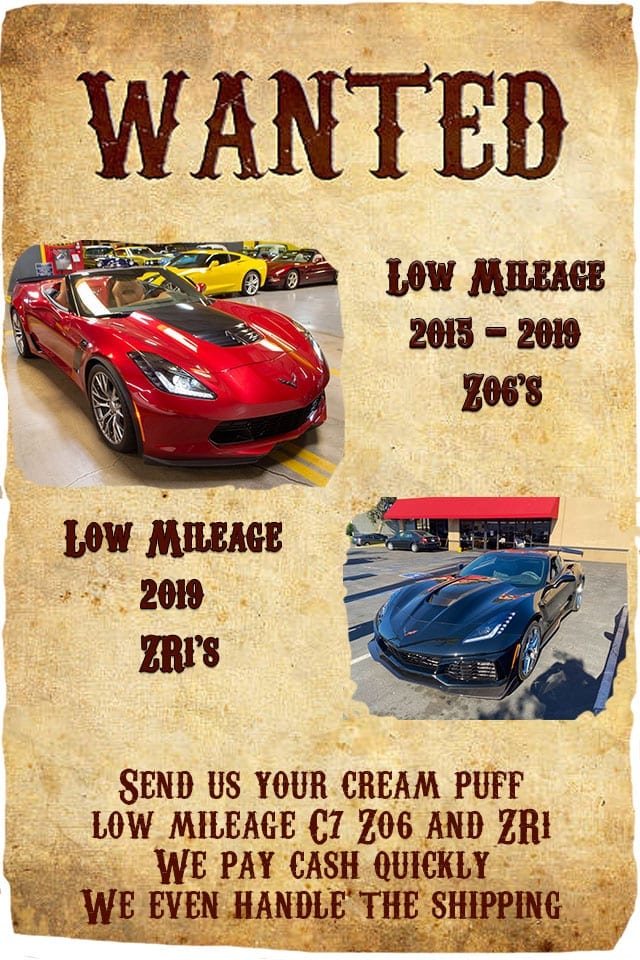 Inbound now
2020 Z51 Performance Package
Health Forces Sale
68 Mile Tourch Red and Jet Black Interior C8.
It is in new condition and ready for a new home.
Z51 Performance Package
Magnetic Ride Control
Full Factory Warranty and more.
Priced to sell at: $89,900
---
Weekly Special
"50" VIN and initially Sold to GM!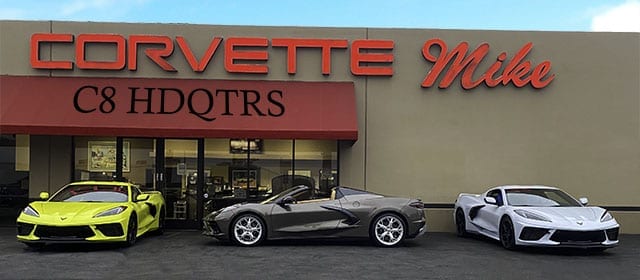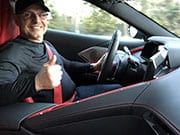 What Mike likes about this Corvette:
"Rarity in numbers!!! That's what I like and what I have sold for nearly 40 years. 
"The rarer the better" for instance, this particular C8 Convertible is one of the very first to be built. It has the Sequential Vin starting with "50". Not "51". In the years to come these will be the most collectible.  Why?  Rarity in numbers. If you are a true collector, you know this already. Like an Indian head nickel.  Can we predict the future, yes if you pay attention to the past!  Why are the Hemi Cuda convertibles worth millions of dollars. Or the 1967 Corvette L88?  Sheer numbers both are one of twenty or less.  That's how these very first, EVER, mid engine Corvettes will be viewed in the future. And let's face it, by 2035 everything will be electric anyways. 
So, talk about streamlining appreciation. The US Congress is doing that for us. 
Bottom line: this is the only preproduction first year mid engine Corvette you will ever have a chance to bid on in your lifetime as a new model year.  
That's history in the making! Good luck.
Corvette Mike V8tro."
Check out our great financing options.  
Happy Throttling!
Apex • Exit • Accelerate!!
CM V8tro
The long awaited C8 Convertible is finally here! And as expected, it's spectacular in all aspects! To say that Chevrolet hit a home run would be an understatement! A grand slam might be a more appropriate description!
Zeus Bronze w/Natural interior, 6.2L V8, 8-spd. dual clutch Paddle-Shift automatic.
Comes equipped with 3LT, Carbon Fiber Interior, Trident 5-Spoke Wheels, Carbon Flash Painted Roof Panel, Performance Exhaust!
Trades maybe?
 Financing yes!!!
Thrill rides no!!!
Would you like to see your prime collector car example featured here?
---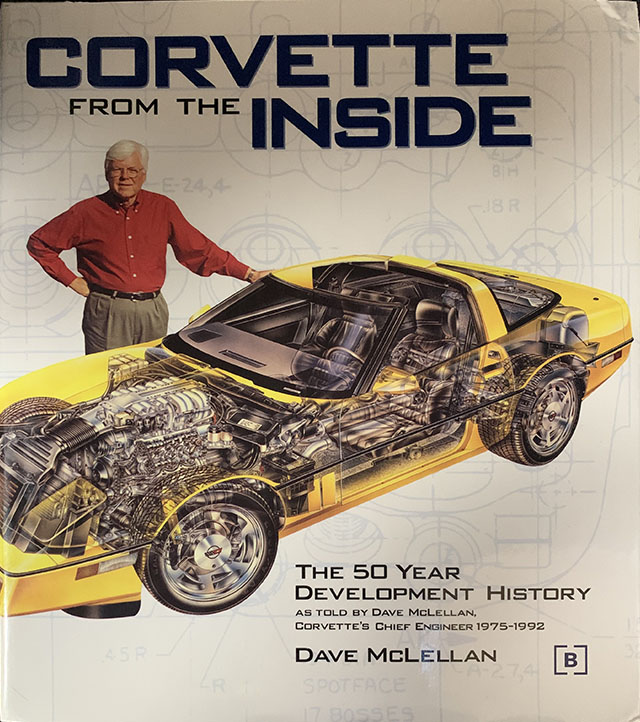 Corvette From The Inside
Signed by Author
Dave McLellan
Corvette Chief Engineer 1975-1992
Price: $25!
Other books and artwork available.
Real Kelsey Hayes Knock offs and Bolt-Ons for sale.
Tires, repro wheels, and caps.
Call for pricing.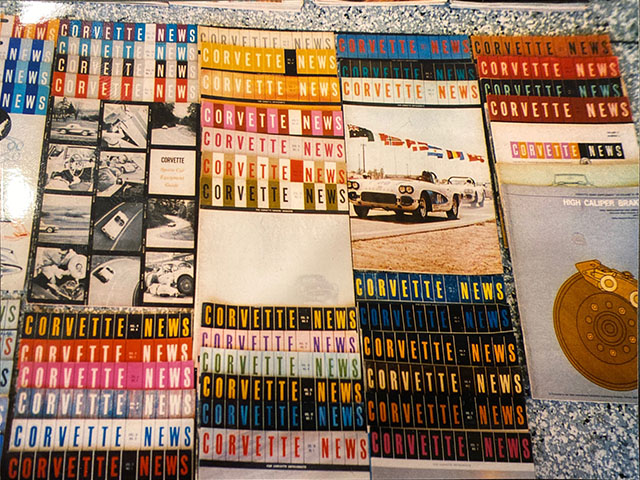 Complete Corvette News Collection from Volume 1 Issue 1. Starting in 1957.
Priced at $3,250
We have many duplicate issues so, if you are missing one, or a few, from your personal collection, we have individual issues starting at $20 each based on availability and rarity of the volume.
Discounted Parts Table Items
Pictures Available Upon Request.
1956-1962 Corvette Hardtops – Priced from $4,888.
1963-1967 Corvette Hardtops – Priced from $2,000.
1968-1975 Used convertible top assembly. Good condition.
1969 L88 Holley 4bbl carburetor – Completely rebuilt (by Jerry Luck) and ready to install. 3955205 R4296 932. Price: $4,500 $3,500.
---
Auctions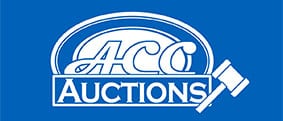 More Coming Soon
More Coming Soon
Cars on eBay at Auction Pricing
1955 Polo White V8 Roadster
1957 Polo White Fuel Injected Corvette Convertible
1962 Ford Thunderbird M-Code Landau Hardtop
1965 Rally Red Corvette Convertible. CBS and NBC TV Car.
1967 Marina Blue Corvette L71 Coupe, Frame Off Restored
1976 Black Pontiac Trans Am in a rare color combination
---
Comic of the Week