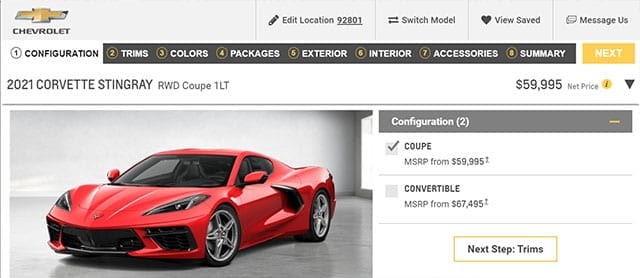 Build & Price Configurator For 2021 C8
October 30, 2020
Build & Price Configurator For 2021 C8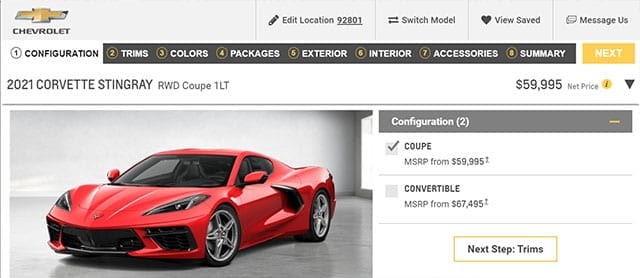 Chevrolet released the visualizer for the 2021 C8 last month for customers to play with. The website didn't have the pricing, so speccing your future C8 would leave you drooling and wanting for the price.
Well we have great news, the pricing has now been added and you can now build and price the 2021 Corvette to your heart's content.
Even though you can now spec out your new C8, you will still need to wait a while before your vehicle can be ordered, built and delivered. According to reports, the current waiting list is a whopping 18-months! This is due to the 2020 manufacturing issues, shutdowns, and demand.
Inbound now
1967 400hp
NCRS Duntov 99.1!
Factory AC
Lots of factory paperwork in a large binder
Duntov Mark of Excellence Award Winner in 2017
Great ownership history
Top Flight with score of 98.9
Bloomington Gold
MCACN Triple Diamond
NCRS Duntov 99.1!
Call for Pricing
---
Weekly Special
Z51 & Magnetic Ride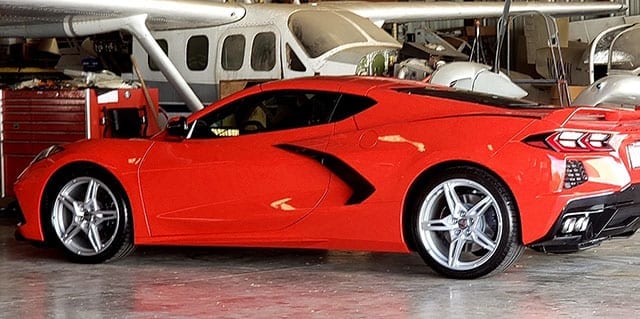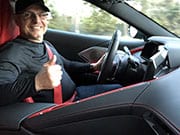 What Mike likes about this Corvette:
"I was a very good friend of Zora Duntov and his wife Elvie!  
They were even my guest at the famous Club 33 at Disneyland during the national convention in Anaheim in 1991 or 1992. I do not recall! But I don't have to because I'm getting old! This mid engine Corvette is everything that Zora would have hoped it to be and then some. We must applaud all of the hard work from engineering to marketing and the bean counters at General Motors for producing such an awesome car! No other manufacturer worldwide has been able to do what General Motors has done in bringing to market the most fabulous mid engine sports car of its time. We all applaud you!
Corvette Mike V8tro."
Check out our great financing options.  
Happy Throttling!
Apex • Exit • Accelerate!!
CM V8tro
68 Mile Torch Red and Jet Black Interior C8.
It is in new condition and ready for a new home.
Z51 Performance Package
Magnetic Ride Control
Full Factory Warranty and more.
Trades maybe?
 Financing yes!!!
Thrill rides no!!!
---
Corvette From The Inside
Signed by Author
Dave McLellan
Corvette Chief Engineer 1975-1992
Price: $25!
Other books and artwork available.
Real Kelsey Hayes Knock offs and Bolt-Ons for sale.
Tires, repro wheels, and caps.
Call for pricing.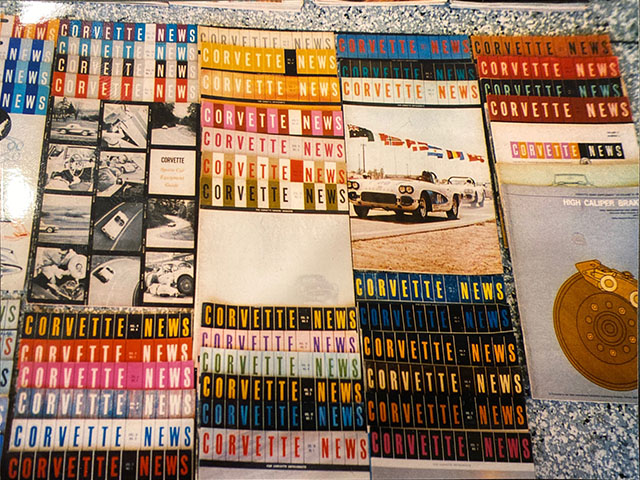 Complete Corvette News Collection from Volume 1 Issue 1. Starting in 1957.
Priced at $3,250
We have many duplicate issues so, if you are missing one, or a few, from your personal collection, we have individual issues starting at $20 each based on availability and rarity of the volume.
Discounted Parts Table Items
Pictures Available Upon Request.
1956-1962 Corvette Hardtops – Priced from $4,888.
1963-1967 Corvette Hardtops – Priced from $2,000.
1968-1975 Used convertible top assembly. Good condition.
1969 L88 Holley 4bbl carburetor – Completely rebuilt (by Jerry Luck) and ready to install. 3955205 R4296 932. Price: $4,500 $3,500.
---
Auctions
More Coming Soon


More Coming Soon

Cars on eBay at Auction Pricing
1955 Polo White V8 Roadster
1957 Polo White Fuel Injected Corvette Convertible
1962 Ford Thunderbird M-Code Landau Hardtop
1965 Rally Red Corvette Convertible. CBS and NBC TV Car.
1967 Marina Blue Corvette L71 Coupe, Frame Off Restored
1976 Black Pontiac Trans Am in a rare color combination
---
Comic of the Week