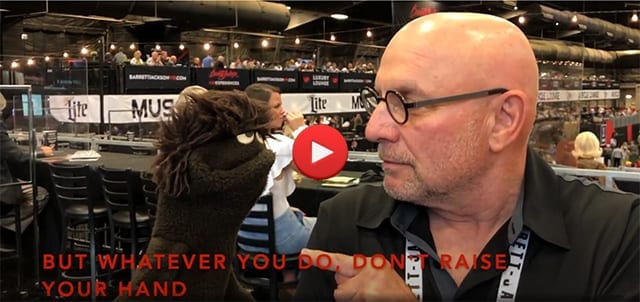 Corvette Mike & Max @ Barrett-Jackson
April 8, 2021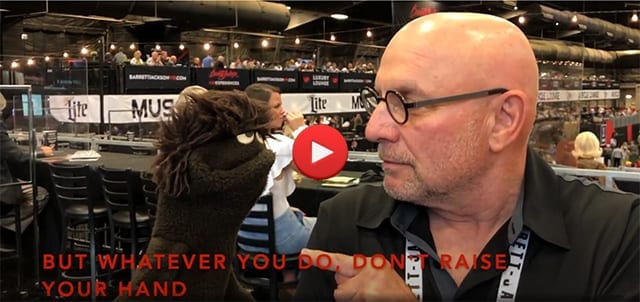 Max, Corvette Mike, & the Barrett-Jackson Car Auction – Car Collector Video – Max the Cranky Puppet.
Max proposes a partnership with Corvette Mike (the Leader of the Pack) and accidentally buys a $425K Corvette at the Barrett-Jackson Car Auction in Scottsdale, 2021.
Win a 60th Anniversary Cunningham C8 Corvette
This limited Edition C8 Corvette is a modern-day tribute to the Briggs Cunningham 1960 Corvette that became the first Corvette ever to win its class at the 24 Hours of Le Mans. This special edition will feature nearly 600-hp from Lingenfelter Performance Engineering along with other unique features. In order to bring home this limited-edition 60th Anniversary Cunningham C8 Corvette, all you have to do is to make a donation to the Chip Miller Amyloidosis Foundation. Thundering Thursday readers can get 30% BONUS ENTRIES on ticket orders of $25 or more. more.
Click Here to get your 30% Bonus Entries today!
Owner's Corner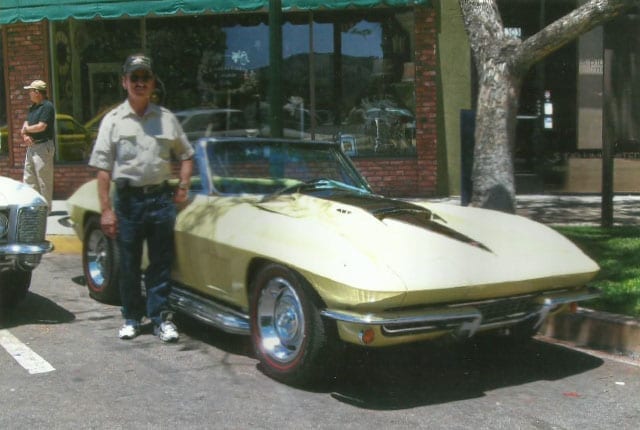 Richard P. still enjoying the '67 Mike got for him in 2007
The 1967 was Corvette # 4 I bought from Mike indirectly through another dealer, the other 3 Vettes I got were a '82, '72, and a '71. I still have them all except Mike sold the '71 for me back in '99.
My '67 is a 427/390 with factory air, 4 speed and with 12,300 miles since new. Not knowing the selling dealer, I called Mike to see if he knew him, and Mike vouched for him as they used to teach Corvette classes together. Still, I was cautious and asked Mike to go in the deal with me as my "insurance policy" that it would indeed be correct as advertised. Mike did, and it was shipped to your store in Anaheim. A real survivor with all original factory components.
Chad brought it up to speed as it had been in storage for 25 years as part of a car collection. It has 25K miles now and still drives like new. I've won some trophies with it at cars shows and did some parades too. Brian Wilson, Beach Boy, did a photo shoot in it as he had bought a new one, same color back in '67. It was to be featured on the cover of his new "Come Back" album.
Of the 3 Vettes I have, it's my favorite, but my factory original '72 red/blk Conv, 454 a/c is a close second.
Rich P.
Want to be our next Corvette Owner highlighted?
Send Troy@CorvetteMike.Com an email.
We are looking for C2's
1967 Maroon or red 327 convertible
Any year C2 Coupe with 327 and any Transmission
Also want low mile:
2015-2019 Z06 Coupe
2010-2019 Grand Sport Coupe
2019 ZR1 Coupe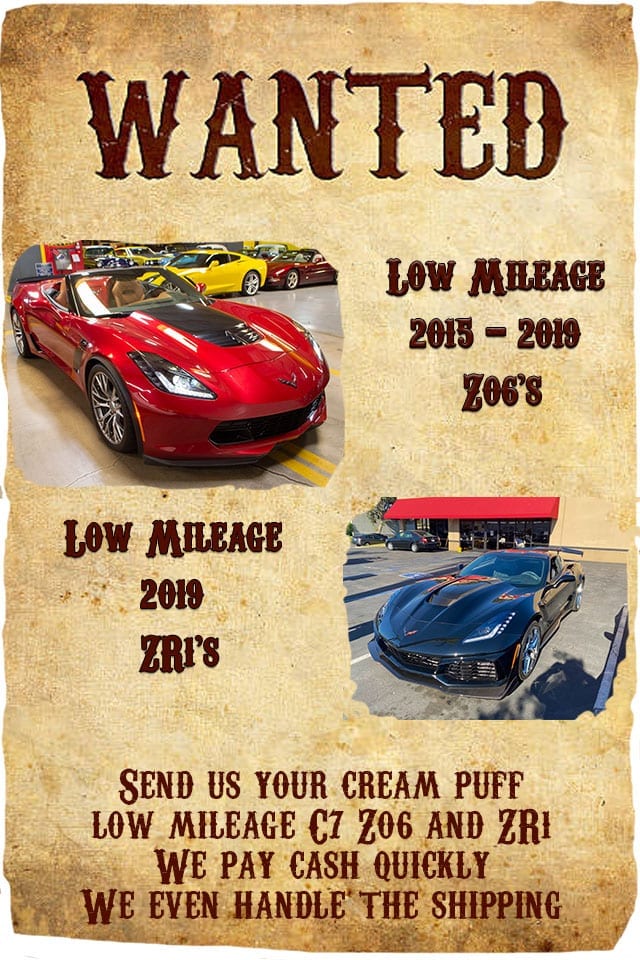 Coming Soon
1979 Shark
True time capsule with only 6k original miles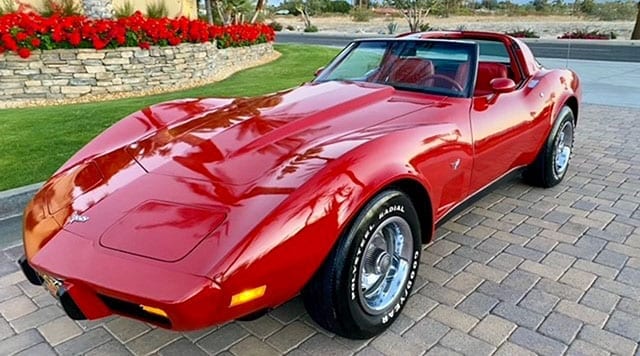 This is an absolutely original, 6k mile, award winning, highly documented, '79 Corvette!
Red w/Red interior, 350ci, 3-spd automatic transmission.
Likely 1 of 1 in this condition!
Coming soon special price: $34,990
---
Weekly Special
2020 C8 with 2LT, Z51, GT2 Seats
Only 67 Miles!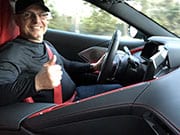 What Mike Likes about this Corvette:
"This extremely pleasing and sophisticated color combination of Torch Red with Natural Interior complements the lines of the car beautifully. Stop by and have a close look at this Chevrolet marvel of engineering. No other car on the market comes close to delivering a knockout punch like the C8 Corvette. Car and Driver so named it for a reason. And let's stop saying, for the price, for a moment and recognize that maybe all the other so-called exotics are grossly overpriced.  I'll bet their makers are scratching their heads wondering how sales will be moving forward.  As you all know, the C8's are a hot ticket and very hard to come by. This one is sitting in our showroom and ready or immediate delivery. So, don't miss your opportunity to put this one in your garage today!"
Corvette Mike V8tro / CM V8tro
Check out our great financing options.  
Happy Throttling!
Apex • Exit • Accelerate!!
Trades maybe?
 Financing yes!!!
Thrill rides no!!!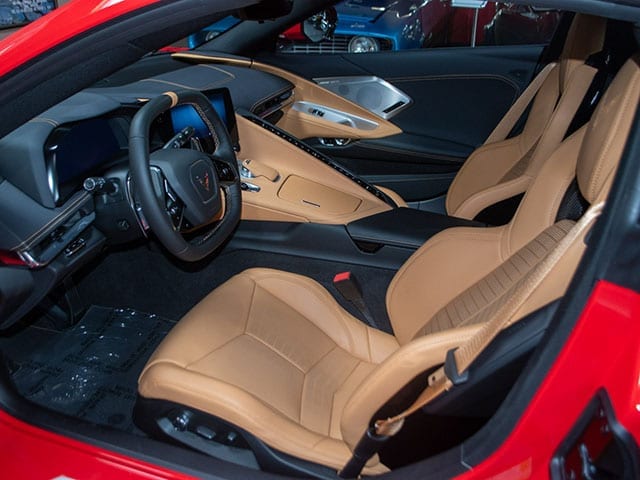 So, we are proud to offer this beautiful '20 Torch Red Z51 Coupe for sale.  It's virtually new (but previously registered) with only 67 miles on the odometer!  It's optioned with the aforementioned Z51 Pkg., 2LT Equipment Group, GT2 Bucket Seats, Carbon Flash painted aluminum wheels, Bright Red painted brake calipers, Tan Seat belts and Battery Protection Package.
Torch Red w/Natural interior, 376/495hp, 8-spd. Paddle-Shift automatic.
 It's ready for immediate delivery.  Don't miss your opportunity!
Would you like to see your prime collector car example featured for sale here? Click Here to send an email. We buy and consign.
Corvette From The Inside
Signed by Author
Dave McLellan
Corvette Chief Engineer 1975-1992
Price: $25!
Other books and artwork available.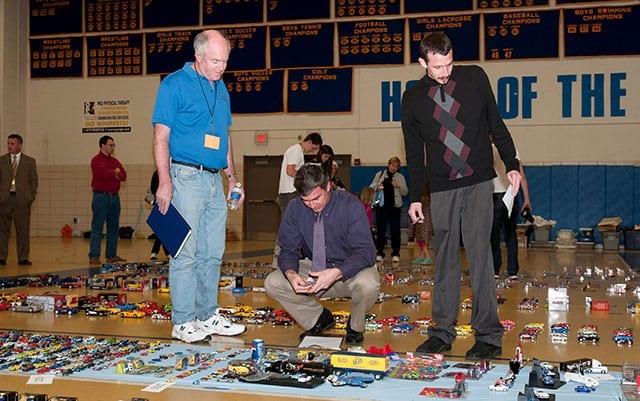 Guinness World Record for of Chevrolet Memorabilia
Being sold by blind auction. Click here to submit your bid.
There are so many items in the Corvette-themed collection that he changed the way Guinness World Records classifies car collecting. Anyone can go on a giant shopping spree and buy a bunch of cars, Mallon said, but accumulating over 2,000 unique examples would take years. Eventually Guinness created a new category for "Corvette items," and in 2012, Charles was awarded the world record.
Click here to submit your bid.
Discounted Parts Table Items
Pictures Available Upon Request.
1963-1967 Corvette Hardtops – Priced from $2,000.
1968-1975 Used convertible top assembly. Good condition.
1969 L88 Holley 4bbl carburetor – Completely rebuilt (by Jerry Luck) and ready to install. 3955205 R4296 932. Price: $4,500 $3,500.
---
Auctions

24k-Mile 2009 Porsche 911 Carrera S
No Reserve: 31k-Mile 2004 Porsche Cayenne Turbo
Modified 1932 Ford Roadster
More Coming Soon

More Coming Soon

More Coming Soon

Cars on eBay at Auction Pricing
1962 Roman Red Corvette Convertible
1965 Rally Red Corvette Convertible L78 396/425hp, 4-speed
1967 Silver Pearl Corvette L71 Convertible
1969 Fathom Green L71 427/435HP Coupe
2005 Machine Silver 6-Speed Coupe
2018 Audi Q7 Quattro Prestige SUV. Loaded with only 36k miles!
---
Comic of the Week