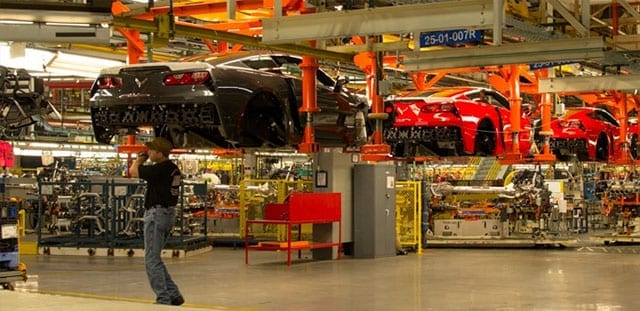 As of March 25, GM Stopped taking New C8 Orders
April 3, 2021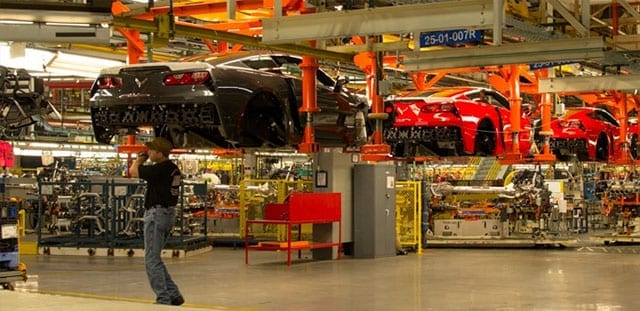 General Motors is no longer accepting new orders from dealerships for the 2021 Corvette, the automaker announced this week.
With demand for the C8 Corvette through-the-roof and the automaker experiencing several production stoppages this year, Chevy has been forced to close the order books for the 2021 model year. It will open for new orders for the 2022 C8 in early July.
The 2021 C8 started production on December 11th, 2020, so the early closing of the orders and switching over to the new 2022 will make 2021 model another limited production year.
We still don't know what all the changes will be for the 2022 C8, but if the rumor mill is accurate, there will be at least one new model..
Win a 60th Anniversary Cunningham C8 Corvette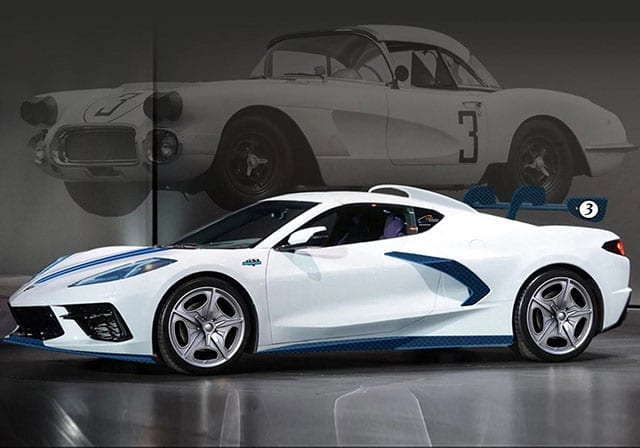 This limited Edition C8 Corvette is a modern-day tribute to the Briggs Cunningham 1960 Corvette that became the first Corvette ever to win its class at the 24 Hours of Le Mans. This special edition will feature nearly 600-hp from Lingenfelter Performance Engineering along with other unique features. In order to bring home this limited-edition 60th Anniversary Cunningham C8 Corvette, all you have to do is to make a donation to the Chip Miller Amyloidosis Foundation. Thundering Thursday readers can get 30% BONUS ENTRIES on ticket orders of $25 or more.
Click Here to get your 30% Bonus Entries today!
---
Owner's Corner
My day was great!  My '67 arrived and it is spectacular. Stunning. Thanks Marine.
David M.
Want to be our next Corvette Owner highlighted?
Send Troy@CorvetteMike.Com an email.
---
We are looking for C2's
1967 Maroon or red 327 convertible
Any year C2 Coupe with 327 and any Transmission
Also want low mile:
2015-2019 Z06 Coupe
2010-2019 Grand Sport Coupe
2019 ZR1 Coupe
---
Coming Soon
2008 SHELBY GT500 KR FASTBACK
'King of the Road' Mustang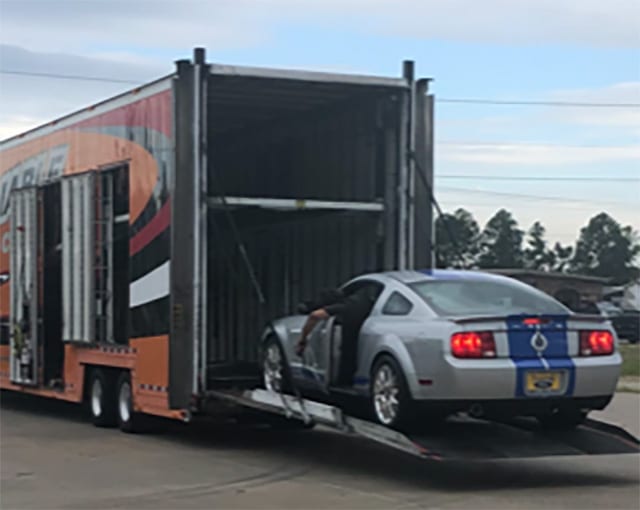 This phenomenal car features a 540hp 5.4 Liter supercharged V8, 6 speed transmission, short throw shifter, 3.73:1 rear axle ratio and Shelby-designed 'GT500KR' 20″ wheels. Exterior design draws inspiration from the classic Shelby KR Mustangs and features unique carbon composite hood, wheel centers and special 40th Anniversary badging and unique striping.
Coming soon special price: $69,990
---
Weekly Special
1980 MERCEDES BENZ 450 SL
The finest example we've ever seen!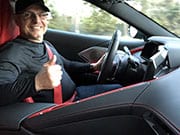 What Mike Likes about this Mercedes Benz:
"Turn back the hands of time to circa June 1978! Picture yourself in Southern California as a young green naïve salesman selling Toyota's for the first time.
Fresh out of the Marines and determined to make my mark! Selling Toyota's was easy when you believe in what you're selling, and the product was so widely sought after.
It was there that I first laid my eyes on the most beautiful cocoa brown metallic 450SL I've ever seen.
The GM of the store was a handsome devil in his three-piece suit and carrying his attaché. This was probably his new demo that the store owner bought for him. Oh my!!  What a car! Glistening in the warm Southern California sunshine. Imagine driving this sleek Java sleigh around town. I would dream of owning such a car.
Well, a few years back I had the opportunity to do just that. Found nestled in a collection of rare Mercedes in Los Angeles was just the car. Sporting a mere 20,000 original miles.
I immediately made mention that at any time the owner might part with it to let me know. It wasn't long after that that the phone rang, and the car was on its way to my garage! I've enjoyed owning this car for a number of years now and have kept it in literally as perfect condition as possible. Everything works down to the clock and even the air conditioning blows ice cold. It's a car to enjoy for those Sunday cruises or to just sit static in your garage to admire while having a cocktail or coffee in the morning!!
Who might it's next caretaker be? "
Corvette Mike V8tro / CM V8tro
Check out our great financing options.  
Happy Throttling!
Apex • Exit • Accelerate!!
Trades maybe?
 Financing yes!!!
Thrill rides no!!!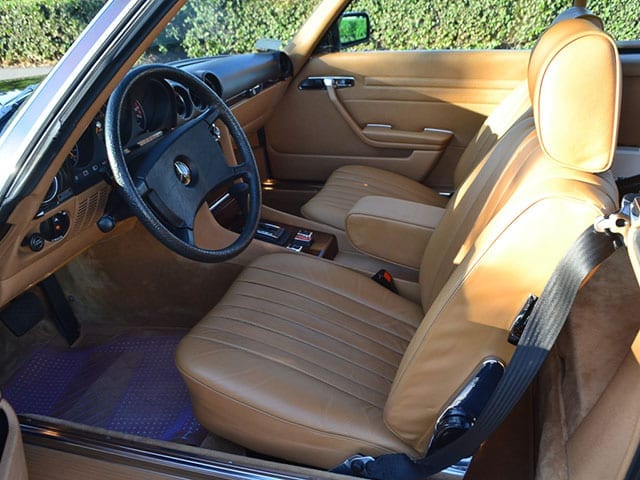 21,328 miles from new.
Rare Manganese Brown Metallic & original Palomino Leather interior in Concours condition
Quite possibly the nicest (1973-1980) W107 450SL on the planet!
Two owner car from Colorado from new until 2010.
Second owner acquired the vehicle from the widow of the original owner.
Both owners were close friends and business associates and both owners were extremely fond of this garage queen.
Cosmetically you will be extremely hard pressed to find a nicer example.
Mechanically the vehicle runs and drives smooth and strong with all amenities functioning 100%.
Ice cold AC with working original Becker Europa AM/FM stereo and original Hirschman antenna.
Original soft-top is like new and looks like it was never used.
Hard-top is also like new.
Would you like to see your prime collector car example featured for sale here? Click Here to send an email. We buy and consign.
Corvette From The Inside
Signed by Author
Dave McLellan
Corvette Chief Engineer 1975-1992
Price: $25!
Other books and artwork available.
Guinness World Record for of Chevrolet Memorabilia
Being sold by blind auction. Click here to submit your bid.
There are so many items in the Corvette-themed collection that he changed the way Guinness World Records classifies car collecting. Anyone can go on a giant shopping spree and buy a bunch of cars, Mallon said, but accumulating over 2,000 unique examples would take years. Eventually Guinness created a new category for "Corvette items," and in 2012, Charles was awarded the world record.
Click here to submit your bid.
Discounted Parts Table Items
Pictures Available Upon Request.
1956-1962 Corvette Hardtops – Priced from $4,888.
1963-1967 Corvette Hardtops – Priced from $2,000.
1968-1975 Used convertible top assembly. Good condition.
1969 L88 Holley 4bbl carburetor – Completely rebuilt (by Jerry Luck) and ready to install. 3955205 R4296 932. Price: $4,500 $3,500.
---
Auctions
More Coming Soon


More Coming Soon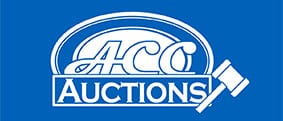 More Coming Soon


More Coming Soon
Cars on eBay at Auction Pricing
1962 Ford Thunderbird M-Code
1962 Roman Red Corvette Convertible
1965 Rally Red Corvette Convertible L78 396/425hp, 4-speed
1967 Silver Pearl Corvette L71 Convertible
1998 Sebring Silver Metallic Corvette Coupe
2017 Corvette Grand Sport Collector Edition Convertible 3LT
2018 Audi Q7 Quattro Prestige SUV. Loaded with only 36k miles!
2021 Black Corvette 3LT, Z51, Front Lift, Mag Ride Coupe

---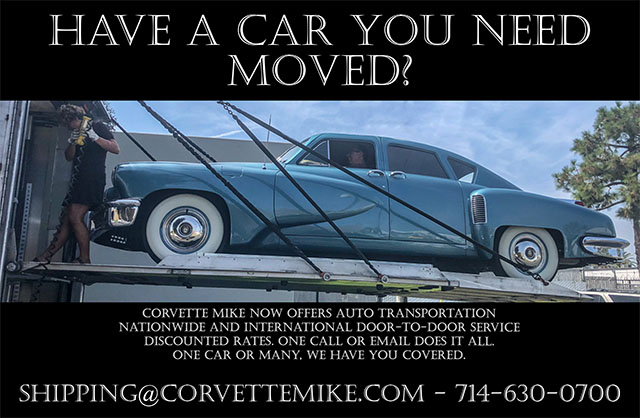 Comic of the Week