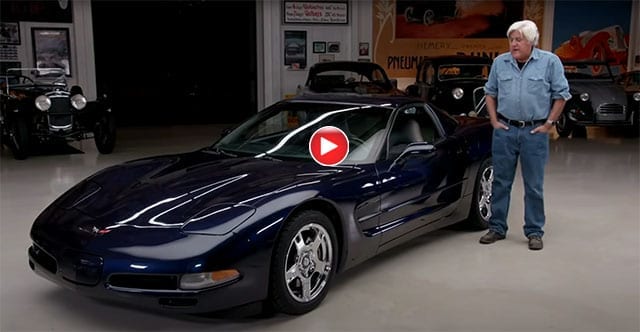 Jay Leno talks about his 1999 Corvette
April 23, 2021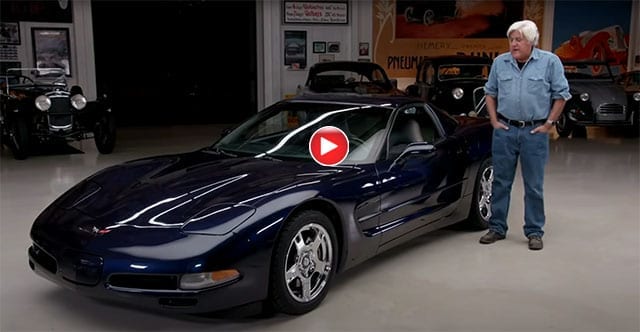 Corvette Mike did some mods on this 1999 for Jay
Jay Leno shares the backstory and talks about why he loves his 1999 Corvette in the latest episode of Jay Leno's Garage. For between $15k and $20k, you can pick up one the best performance bargains of the century!
Win Two Corvettes
Thundering Thursday Readers Get 50% Bonus ENTRIES
Enter to Win a 600-hp C8 Corvette and a 1961 Corvette Restomod
The 2021 Corvette Dream Giveaway is underway and it's your chance to win a 2021 Corvette Z51 Coupe and a LS3-powered 1961 Corvette Restomod, along with a check for $43,000 to pay the taxes.  The loaded 3LT C8 Corvette will have 600-horsepower thanks to Lingenfelter Performance Engineering. Finished in Silver Flare with Red interior, it has an MSRP greater than $93,000. The '61 restomod is also finished in Silver and Red and it features 525 horsepower and a 6-speed manual transmission. Your contributions help fuel a variety of children and veterans charities and you'll receive 50% More Entries with donations of $25 or more!
Click Here to get your Entry Bonus today!
---
Owner's Corner
Carl has been a Corvette owner for over 60 Years
I have been a corvette owner for 60 years. I bought my first one when I was 18 0r 19 years old, it was a 1962 fulie, fawn beige. I have also owned 1981, 1989, 2002, 2014, and currently own a 2019 Stingray convertible, yellow with black trim. The only one that I am missing is a C2. In a couple of years I plan to get a new C8!
 Carl R.
Want to be our next Corvette Owner highlighted?
Send Troy@CorvetteMike.Com an email.
---
We are looking for C2's
1967 Maroon or red 327 convertible
Any year C2 Coupe with 327 and any Transmission
Also want low mile:
2015-2019 Z06 Coupe
2010-2019 Grand Sport Coupe
2019 ZR1 Coupe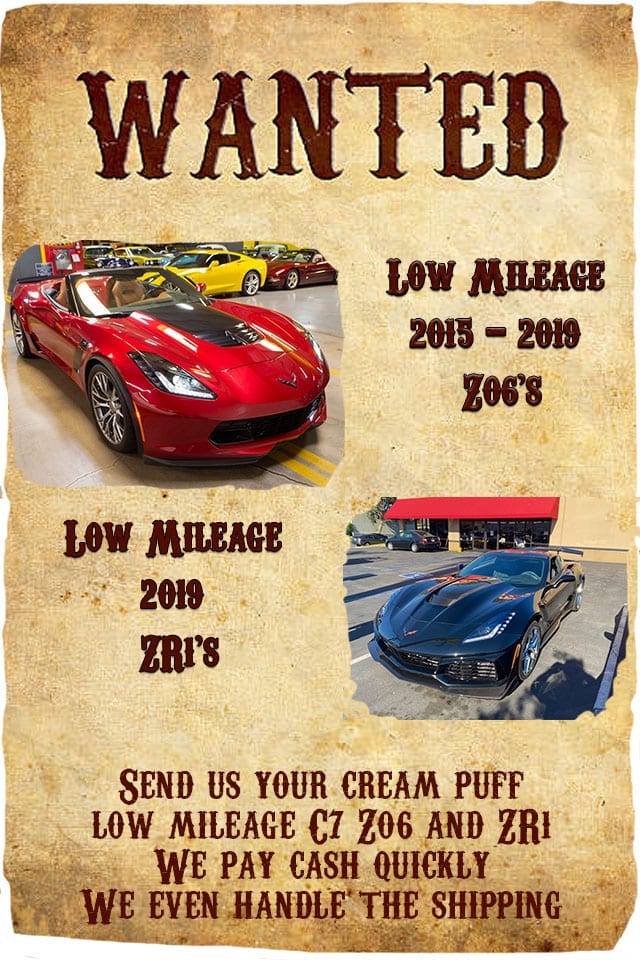 ---
Coming Soon
2002 interior Convertible
Only 19k miles!
This beautiful Torch Red with light Oak interior, low mile C5, is coming to us from a local owner who installed drilled brake rotors w/Red painted calipers, Borla exhaust, Goodyear run-flat tires, as well as over $4k in tune-up/a-c service in '19!  She's all ready for spring cruising!!
Coming soon special price: $26,900
---
Weekly Special
2008 Indianapolis 500 Pace Car
Factory REPLICA
2,039 True miles!
What Mike Likes about this Corvette:
"The excitement that builds around the Indianapolis 500 every year during Memorial Day weekend creates an adrenaline pumping feeling in most race car fans throughout the world. We are excited to offer this 2008 factory produced replica of the Indy 500 Pace Car one of only 234 coupes made with the Z4Z option code.
This remarkable example only has 2,000 original miles on it and came from a very good collector client of ours.
Share the excitement of next month's race by cruising around in this very limited-edition Pace Car.
The first time the Corvette paced the race in Indianapolis was in 1978 that was the year that I bought my first Corvette and the bug bit me hard. Hard enough to create a company that was sort of, A Dream, Corvette Mike.
The Pace Car than was silver and black two tone and sold for tens of thousands of dollars over sticker price for the first time in Corvette history. Keep in mind it was also the 25th Anniversary of the Corvette Rolling off the assembly line in Flint Michigan in June 1953.
It's time to celebrate the upcoming Indianapolis 500 where fans will be able to enjoy the race live once again and you can cruise around Memorial Day weekend in your hometown with a big smile on your face with a burger and hotdog on the console with the Pepsi in your hand!
God bless America!"
Corvette Mike V8tro / CM V8tro
Check out our great financing options.  
Happy Throttling!
Apex • Exit • Accelerate!!
Trades maybe?
 Financing yes!!!
Thrill rides no!!!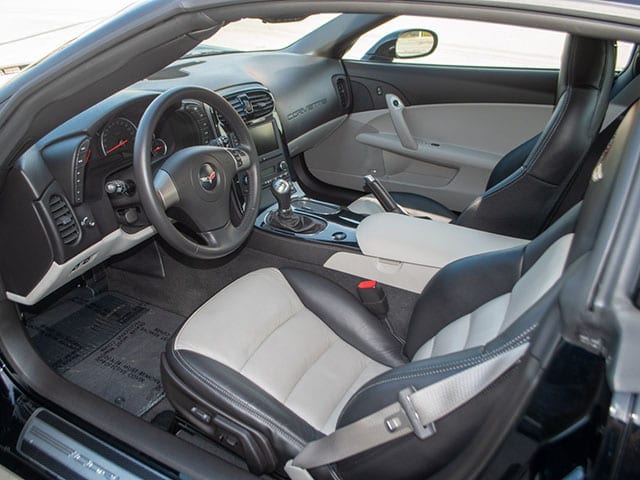 This Pace Car Factory Replica (#399 of 500) is as nice of an example as you will see! It's just about "in the wrapper" with only 2k miles on the odometer! It came out of a private collection of a good client of ours. He took meticulous care of it and always did the recommended services on the car.
Black w/graphics w/Titanium Gray interior, 376/436hp, 6-spd. manual transaxle!
---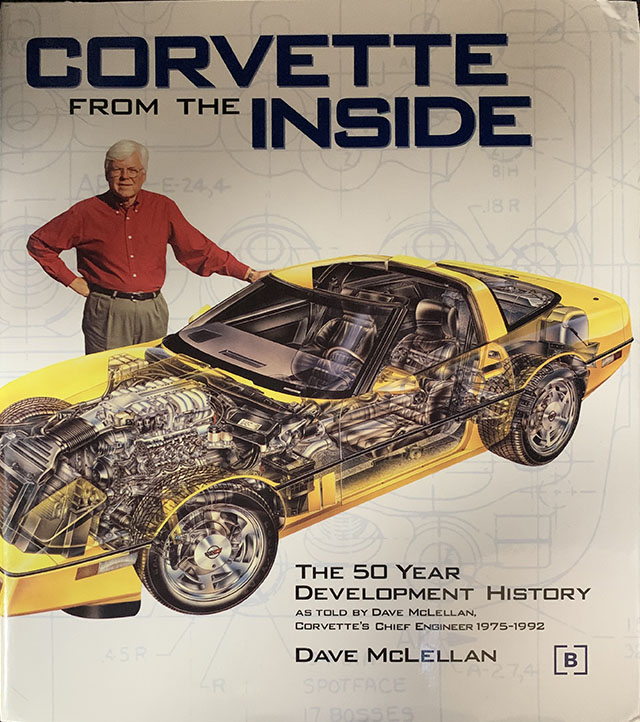 Corvette From The Inside
Signed by Author
Dave McLellan
Corvette Chief Engineer 1975-1992
Price: $25!
Other books and artwork available.
Guinness World Record for of Chevrolet Memorabilia
Being sold by blind auction. Click here to submit your bid.
There are so many items in the Corvette-themed collection that he changed the way Guinness World Records classifies car collecting. Anyone can go on a giant shopping spree and buy a bunch of cars, Mallon said, but accumulating over 2,000 unique examples would take years. Eventually Guinness created a new category for "Corvette items," and in 2012, Charles was awarded the world record.
Click here to submit your bid.
Discounted Parts Table Items
Pictures Available Upon Request.
1956-1962 Corvette Hardtops – Priced from $4,888.
1963-1967 Corvette Hardtops – Priced from $2,000.
1968-1975 Used convertible top assembly. Good condition.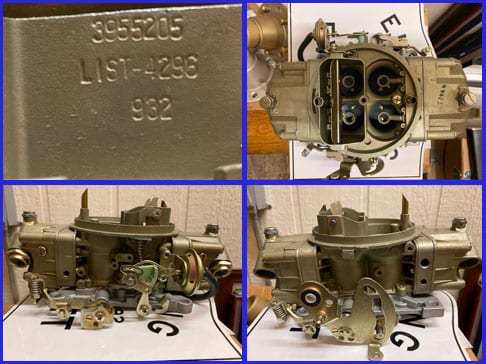 1969 L88 Holley 4bbl carburetor – Completely rebuilt (by Jerry Luck) and ready to install. 3955205 R4296 932. Price: $4,500 $3,500.
---
Auctions

1980 Mercedes-Benz 450SL
1958 Jaguar XK150 3.4 DOHC
21k Mile 1980 Mercedes-Benz 450SL

More Coming Soon

More Coming Soon


More Coming Soon


Cars on eBay at Auction Pricing
1962 Roman Red Corvette Convertible
1965 Rally Red Corvette Convertible L78 396/425hp, 4-speed
1967 Silver Pearl Corvette L71 Convertible
1969 Fathom Green L71 427/435HP Coupe
2005 Machine Silver 6-Speed Coupe

---
Comic of the Week