Corvette Museum $12 million expansion
May 2, 2021
Architect's rendering of planned Two-Story, 30,000-square-foot, addition to the National Corvette Museum
Opened in 1994, as an educational tribute to America's sports car, the National Corvette Museum in Bowling Green, Kentucky has outgrown its 115,000-square-foot building.
With more than 80 Corvettes from every era since 1953 on rotating display, one-of-a-kind concept vehicles rarely if ever before seen by the public, automotive memorabilia, informative films, educational exhibits, historical displays, a library and archives, Derek E. Moore, director of collections at the museum, says that "This expansion will give the museum the opportunity to tell more of Corvette's stories than ever before. When the museum opened, we were only in the fourth generation of Corvette and since then we have seen another four generations of America's Sports Car. This is our opportunity to ensure that the Museum stays on pace with such a beloved automobile that makes history every day."
The plan calls for the added space to house specialty exhibit spaces with rotating displays, a lifetime members lounge, an open theater space, a kid's zone education center, a member's lounge on the rooftop, and a sensory calming room for guests with unique needs.
WIN THE LOST CORVETTES!
THUNDERING THURSDAY SUBSCRIBERS GET DOUBLE ENTRIES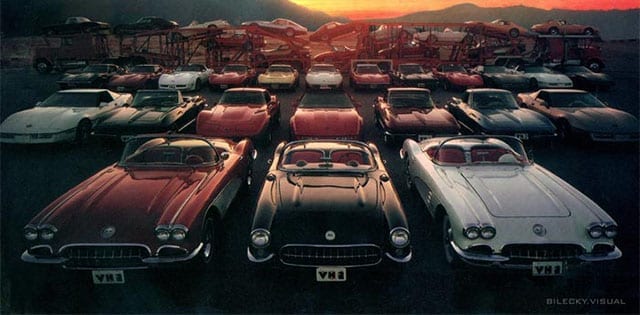 Enter By May 3rd To WIN The Lost Corvettes
The Lost Corvette Sweepstakes is offering the incredible 36-car VH1/Peter Max Corvette collection with proceeds to benefit the National Guard Educational Foundation, a 501(c)(3) organization. The collection features a Corvette from every year between 1953-1987. So far, 16 Corvettes have been won and six more Corvettes will be given away in May.  Tickets for the Lost Corvettes start at $3 each with DOUBLE ENTRIES beginning at $25 and up. Corvette Heroes even pays the winner's taxes!
Click Here to get your Double Entries today!
---
Owner's Corner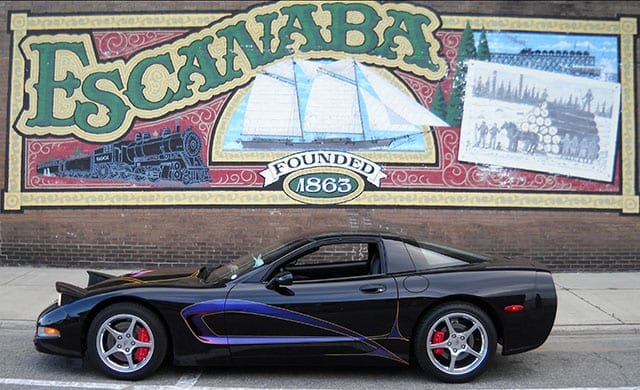 Dan's 1998 in his hometown of Escanaba, Michigan
Dan has been a Corvette owner since 2008. His first corvette was a 1981, which he purchased in November of 2007. 2008 was the first year that he attended Vettefest at Mid-America Motor-works in Effingham IL. Now he goes every year to see his friend Mike and Laurie Yager, and also to see and meet new Corvette friends. He first saw this 1998 in 2015 at a car show and told the owner that he would buy it when they wanted to sell it. He was so happy when it became available to purchase. The paint scheme on the hood and sides are a Dupont paint called "Chromalussion", it changes color depending on the angle it is viewed!!!
Dan S.
Want to be our next Corvette Owner highlighted?
Send Troy@CorvetteMike.Com an email.
---
We are looking for C2's
1967 Maroon or Red 327 convertible
Any year C2 Coupe with 327 and any Transmission
Also want low mile:
2015-2019 Z06 Coupe
2010-2019 Grand Sport Coupe
2019 ZR1 Coupe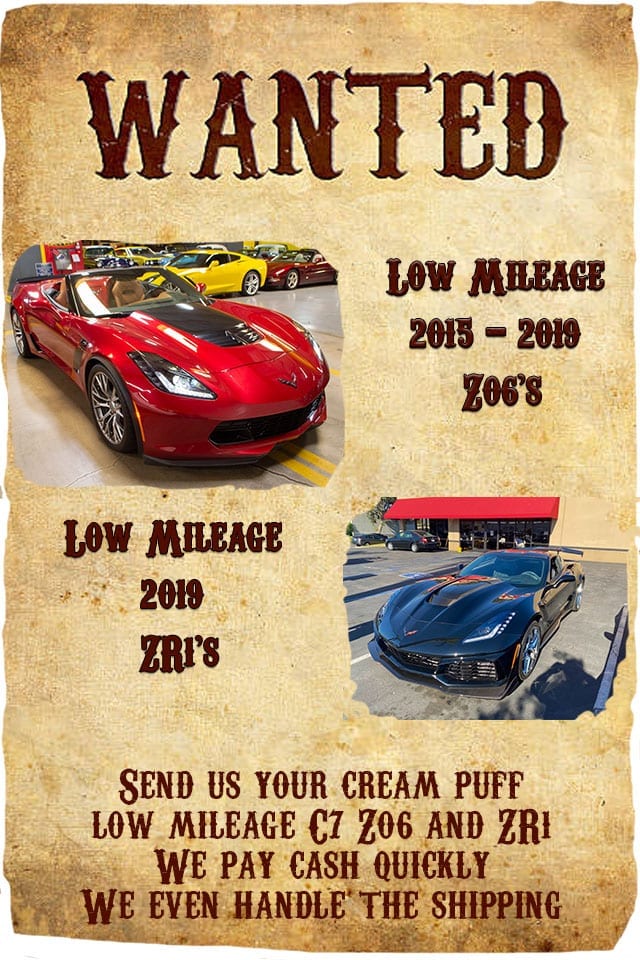 ---
Coming Soon
1967 Factory Side Exhaust
Nabor Brothers restoration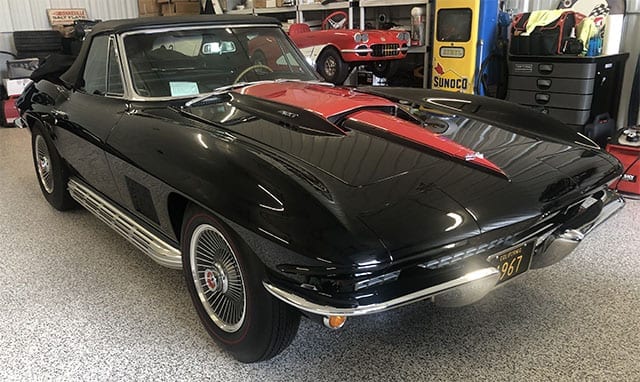 Build Date 9/16/1966, Bloomington Gold, Original Tank Sticker, Convertible Top Only,
Rare Shoulder Harness, Factory Side Exhaust!
Pricing Coming Soon
---
Coming Soon
2021 C8 3LT, Z51 Convertible
High Wing, Front Lift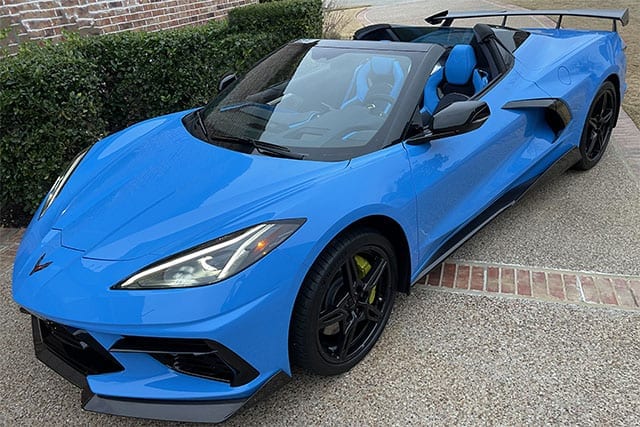 Options include:
Z51 Performance Package with Magnetic Ride
All four wheels powder coated with no silver rim
The entire car and the windows have all been ceramic coated
Rear wing, custom not available from factory
Front intakes have the extra mesh installed
Rear white taillights tinted
Front and side carbon
Yellow Brake Calipers
Front Lift
And More!
Special Coming Soon Price: $127,888!
---
Weekly Special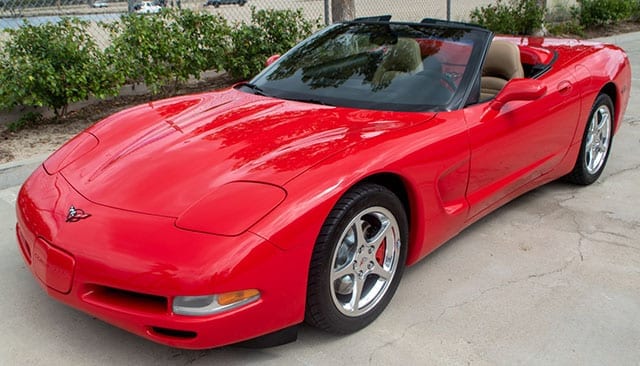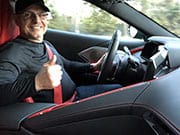 What Mike Likes about this Corvette:
"This striking and impressive C5 convertible finished in brilliant red with light tan interior has been the number one color combination of all Ferraris built post Vietnam era war! And deservingly so as it shows off the lines and makes this two seater sports car a thrill to drive!
This car came to us locally from a good friend and client for well over 30 years! It has been babied cared for and recently had nearly $5,000 spent on upgrades and servicing. And did I happen to mention that it only has 19,000 original miles! With some brake and rotor enhancements and all of the necessary preferred equipment packages to make this not only fun to drive and enjoy but a great investment as we cruise down Corvette Avenue of the future!"
Corvette Mike V8tro / CM V8tro
Check out our great financing options.  
Happy Throttling!
Apex • Exit • Accelerate!!
Trades maybe?
 Financing yes!!!
Thrill rides no!!!
This stunning Torch Red example came to us from a local Southern California owner, and was her weekend fun-mobile, not a daily driver. Because of this, the car has managed to accumulate only 19k miles on the odometer! The car is in absolutely beautiful condition throughout with the interior looking hardly used and the paint as shiny as it was when it left the Bowling Green plant!
Options include, 1SC Preferred Equipment Group, which in addition to giving you 6-way powered Sport bucket seats, electronic Dual-Zone climate control, fog lamps, memory Pkg., twilight sentinel, and electrochromic mirrors, you also got Head-up display, and power-telescopic steering column.
---
Would you like to see your prime collector car example featured for sale here?
Click Here to send an email.
We buy and consign.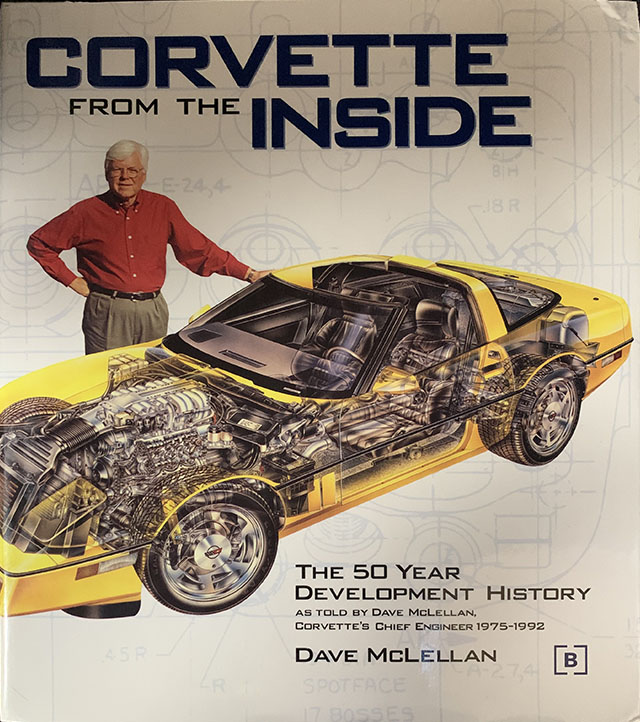 Corvette From The Inside
Signed by Author
Dave McLellan
Corvette Chief Engineer 1975-1992
Price: $25!
Other books and artwork available.
Guinness World Record for of Chevrolet Memorabilia
Being sold by blind auction. Click here to submit your bid.
There are so many items in the Corvette-themed collection that he changed the way Guinness World Records classifies car collecting. Anyone can go on a giant shopping spree and buy a bunch of cars, Mallon said, but accumulating over 2,000 unique examples would take years. Eventually Guinness created a new category for "Corvette items," and in 2012, Charles was awarded the world record.
Click here to submit your bid.
Discounted Parts Table Items
Pictures Available Upon Request.
1956-1962 Corvette Hardtops – Priced from $4,888.
1963-1967 Corvette Hardtops – Priced from $2,000.
1968-1975 Used convertible top assembly. Good condition.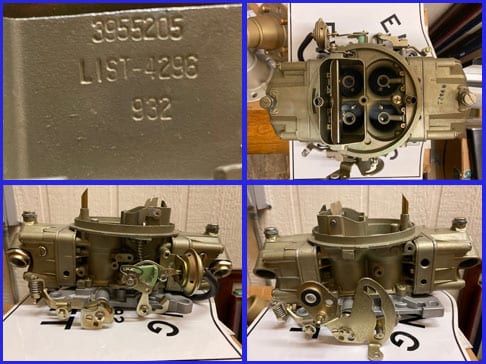 1969 L88 Holley 4bbl carburetor – Completely rebuilt (by Jerry Luck) and ready to install. 3955205 R4296 932. Price: $4,500 $3,500.
---
Auction

2006 Aston Martin V8 Vantage Coupe 6-Speed

More Coming Soon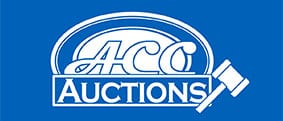 More Coming Soon


More Coming Soon

Cars on eBay at Auction Pricing
1962 Roman Red Corvette Convertible
1965 Rally Red Corvette Convertible L78 396/425hp, 4-speed
1967 Silver Pearl Corvette L71 Convertible
1969 Fathom Green L71 427/435HP Coupe
2005 Machine Silver 6-Speed Coupe

---
Comic of the Week