18th time Corvette has Paced Indy 500
May 13, 2021
Photo provided by IMS
For the 18th time in race history, Chevrolet Corvette will serve as the Pace Car for the Indianapolis 500. Chevrolet and Corvette have led the starting field more than any other manufacturer and model. The 2021 race marks the 32nd time for Chevrolet since it first paced back in 1948, and the 18th time since the first Corvette paced the race back in 1978.
This time, and not since 2008, it will be a convertible Corvette that will lead the 33-car field. "The Chevrolet team is privileged every time we're invited to pace the Indianapolis 500," said Steve Majoros, Vice President of Chevrolet Marketing. "We are confident the track-capable Corvette Stingray Convertible will catch every race fan's eye as it leads the pack toward the Yard of Bricks. From the color scheme, to the special race weekend decals and how the safety lighting is skillfully integrated into the nacelles of the hard-top convertible Corvette's revolutionary appearance, we're putting Chevrolet's best on display for the fans."
The Arctic White C8 will feature Sky Cool Gray and Strike Yellow upholstery, exclusive stripe package and unique Stingray decals. Strobe lights in the headlights, front louvers and taillights have been added for its pacing duties and increases visibility during its Pace Car duties.
---
YOU CAN WIN A
2021 Z51 3LT Convertible
or
1967 427/390hp Convertible
Double Your Entries with Promo Code CM
Thundering Thursday subscribers receive double entries with code CM
The Ronald McDonald House of Central Valley is offering you the opportunity to win a 2021 Corvette Convertible or a 1967 427/390hp Roadster as grand prizes in their 2021 fundraising campaign.
Your donation helps families stay at the Ronald McDonald House at no charge while their children receive medical care. The 2021 Convertible is loaded with the Z51 Performance Package and the 3LT Trim Package, and is outfitted in Arctic White with Black Nacelles and a Black Roof. The '67 Sting Ray has a matching numbers 427/390 with a Muncie 4-speed manual transmission and correct 3.55 posi rearend. It's painted Red with a Black interior, and is optioned with side exhaust, power steering,
power brakes and the auxiliary hardtop.
Thundering Thursday readers get Double Entries with Promo Code CM Only.
Click below to get your tickets today:
1967 427/390hp Convertible
2021 Z51 3LT Convertible
Make sure to use Promo Code CM!
---
Owner's Corner

We are looking for Low Mileage Cars
1991-1992 Cadillac 4 door big sedan. Front engine rear drive
Fleetwood Brogham Elegance Sedan
Any year C2 Coupe with 327 and any Transmission
2015-2019 Z06 Coupe
2010-2019 Grand Sport Coupe
2019 ZR1 Coupe
---
Coming Soon
2016 3LZ, Z06, Z07
With  only 2,660 miles!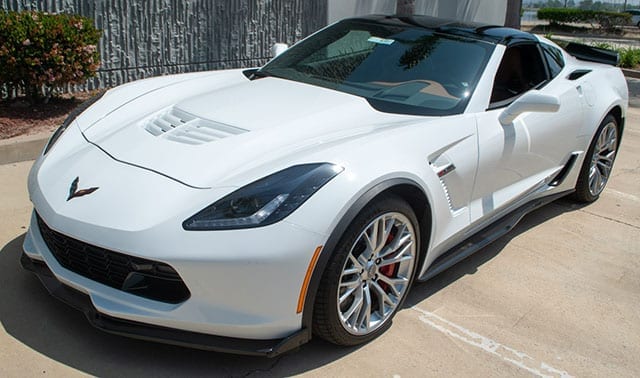 The owner of this '16 Z06 checked a lot of boxes when he ordered it brand new. 3LZ Equipment Group . . . check. Competition Sports seats . . . check. Both Transparent and Painted roof panels . . . check. Z07 Performance Pkg. . . check. He also had all of the vents custom painted Arctic White to match the rest of the car for that monochromatic look. It's a local California car and the condition is outstanding throughout, having traveled only 2600 miles since new!
---
Weekly Special #1
1967 Factory Side Exhaust
Nabor Brothers restoration
Built on 9/16/66, this early example has been completely and correctly frame-off restored is a Bloomington Gold Award winner and is optioned with the very rare factory side exhaust, shoulder harnesses and is documented with the original Tank Sticker!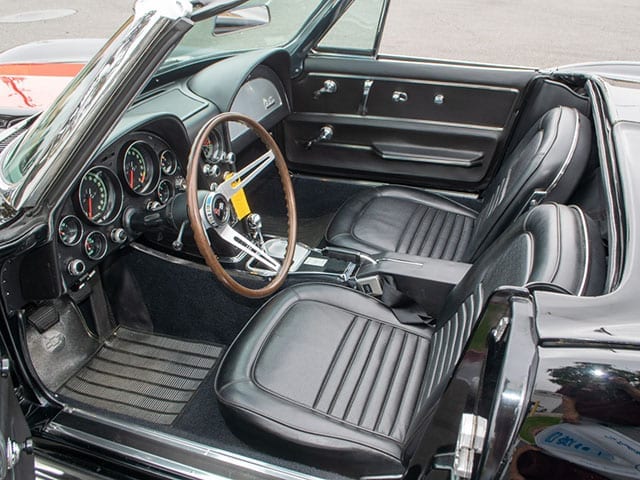 The '67 L71 427/435hp Convertible is still considered the "King of the Hill" by most Corvette aficionados.  But within this category, there is still a standout.  And that would be a '67 L71 Convertible  . . . in Tuxedo Black! Black was always the rarest color, but in this configuration, it's REALY RARE!! Not to mention extremely desirable and very collectible!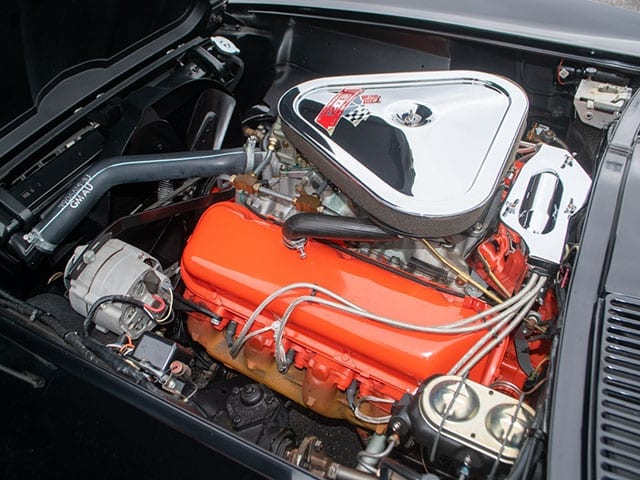 Tuxedo Black w/Black interior, #'s Matching 427/435hp, 4-spd. manual transmission.
---
Weekly Special #2
2008 FACTORY INDY PACE CAR
With Only 2K miles!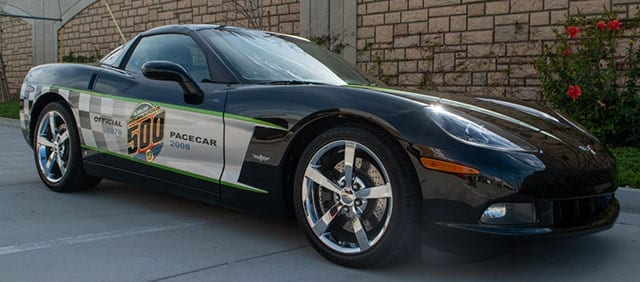 What Mike Likes about this Corvette:
"The excitement that builds around the Indianapolis 500 every year during Memorial Day weekend creates an adrenaline pumping feeling in most race car fans throughout the world. We are excited to offer this 2008 factory produced replica of the Indy 500 Pace Car one of only 234 coupes made with the Z4Z option code.
This remarkable example only has 2,000 original miles on it and came from a very good collector client of ours.
Share the excitement of next month's race by cruising around in this very limited-edition Pace Car.
The first time the Corvette paced the race in Indianapolis was in 1978 that was the year that I bought my first Corvette and the bug bit me hard. Hard enough to create a company that was sort of, A Dream, Corvette Mike.
The Pace Car than was silver and black two tone and sold for tens of thousands of dollars over sticker price for the first time in Corvette history. Keep in mind it was also the 25th Anniversary of the Corvette Rolling off the assembly line in Flint Michigan in June 1953.
It's time to celebrate the upcoming Indianapolis 500 where fans will be able to enjoy the race live once again and you can cruise around Memorial Day weekend in your hometown with a big smile on your face with a burger and hotdog on the console with the Pepsi in your hand!
God bless America!"
Corvette Mike V8tro / CM V8tro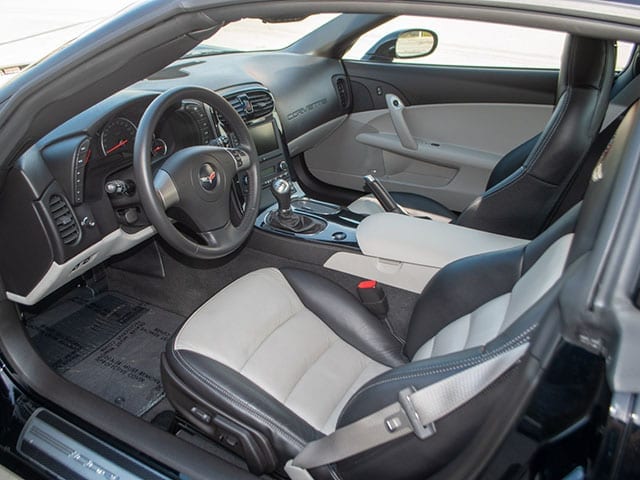 Signed by Pace Car driver Emerson Fittipaldi.
For 2008, Corvette was also chosen as Official Pace Car for the Indy 500. To commemorate this event, 234 Pace Car Replica Coupes and 266 Pace Car Replica Convertibles were produced. The pace car came with a Black exterior and Two-Tone Titanium Gray interior., Official Pace Car graphics, Forged Chrome Wheels, Dual Mode Exhaust, Z51 Performance Handling Package, Indy 500 seat embroidery, Cloisonne fender badges, ZO6 style spoiler and inside console armrest signed by Pace Car driver Emerson Fittipaldi.
This Pace Car Replica (#399 of 500) is as nice of an example as you will see! It's just about "in the wrapper" with only 2k miles on the odometer! It came out of a private collection of a good client of ours. He took meticulous care of it and always did the recommended services on the car. This isn't your "average" Corvette!
---

Would you like to see your prime collector car example featured for sale here?
Click Here to send an email.
We buy and consign.
Corvette From The Inside
Signed by Author
Dave McLellan
Corvette Chief Engineer 1975-1992
Price: $25!
Other books and artwork available.
Guinness World Record for of Chevrolet Memorabilia
Being sold by blind auction. Click here to submit your bid.
There are so many items in the Corvette-themed collection that he changed the way Guinness World Records classifies car collecting. Anyone can go on a giant shopping spree and buy a bunch of cars, Mallon said, but accumulating over 2,000 unique examples would take years. Eventually Guinness created a new category for "Corvette items," and in 2012, Charles was awarded the world record.
Click here to submit your bid.
Discounted Parts Table Items
Pictures Available Upon Request.
1956-1962 Corvette Hardtops – Priced from $4,888.
1963-1967 Corvette Hardtops – Priced from $2,000.
1968-1975 Used convertible top assembly. Good condition.
1969 L88 Holley 4bbl carburetor – Completely rebuilt (by Jerry Luck) and ready to install. 3955205 R4296 932. Price: $4,500 $3,500.
---
Auctions
More Coming Soon 
More Coming Soon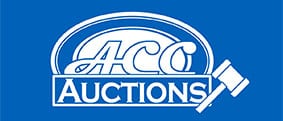 More Coming Soon
More Coming Soon

Cars on eBay at Auction Pricing
1958 Imperial Maroon Jaguar XK150 Drophead
1969 Fathom Green L71 427/435HP Coupe
1973 Classic White LS5 Convertible
1978 L82 Indy Pace Car with 921 Miles
2002 Torch Red w/Lt. Oak interior Convertible
2004 LeMans Blue Commemorative Edition ZO6
2006 Black Hummer H2 Sema Show Truck
---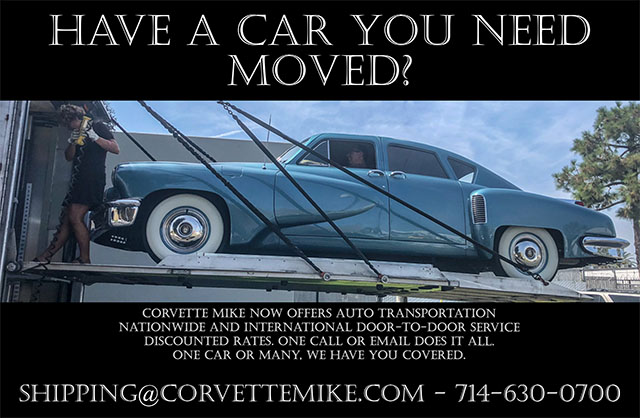 Comic of the Week