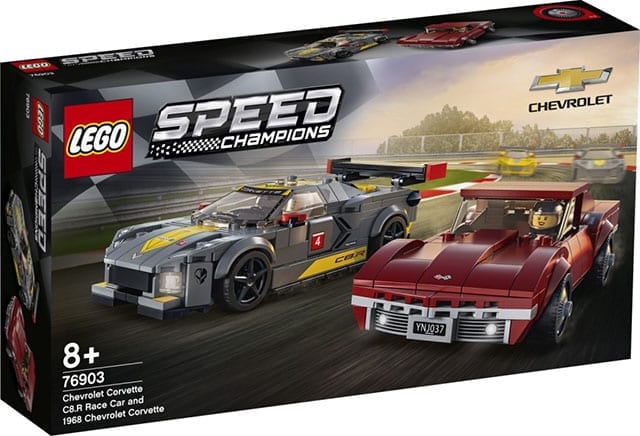 Lego Corvette Speed Champions C8.R & C3 Set
May 9, 2021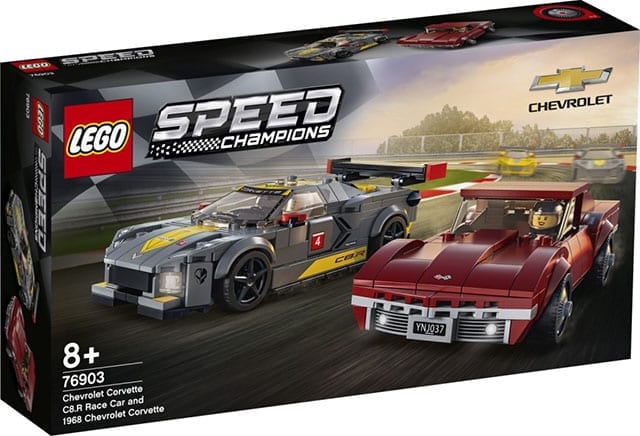 Lego has announced a new Corvette Speed Champions set that includes a Corvette Racing C8.R and a 1968 C3 Corvette. While neither Corvette is totally representative of the vehicle on which they are based, the C8.R is close enough, while the C3 needs a bit more imagination to figure out what it is. The hood emblem on the C3 helps to identify the model, while the design and stickers included with the C8.R, make it very easy to identify.
The set comes with 512 pieces and will allow the purchaser to build both cars. The reported MSRP is $48.
---
YOU CAN WIN THE IMRRC'S
2021 CORVETTE Z51 CONVERTIBLE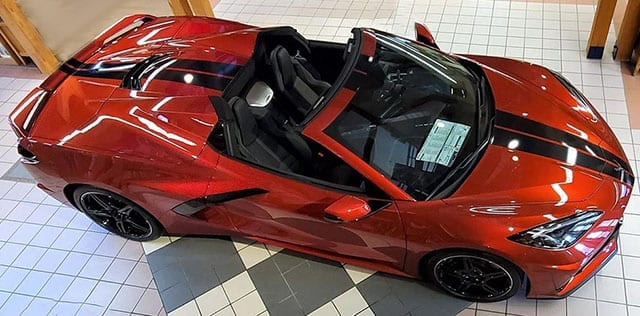 Thundering Thursday subscribers receive 25% more entries 
Based in Watkins Glen, New York, the International Motor Racing Research Center is a charitable organization that collects, shares, and preserves the history of motorsports. To help support that mission, they are offering an opportunity to win a new 2021 Corvette Convertible in beautiful Red Mist Metallic. The IMRRC received their giveaway Stingray back in March and it's now on display inside the center. The Grand Prize not only includes this fabulous Red Mist Stingray, the winner will also get a two-day Ron Fellows Performance Driving School and two 2022 memberships to the Jack Daniels Club at Watkins Glen International Raceway to watch IMSA, NASCAR, and other racing series at the historic track. Thundering Thursday subscribers receive 25% more entries so donate today!
Click Here to get your 25% more Entries!
---
Owner's Corner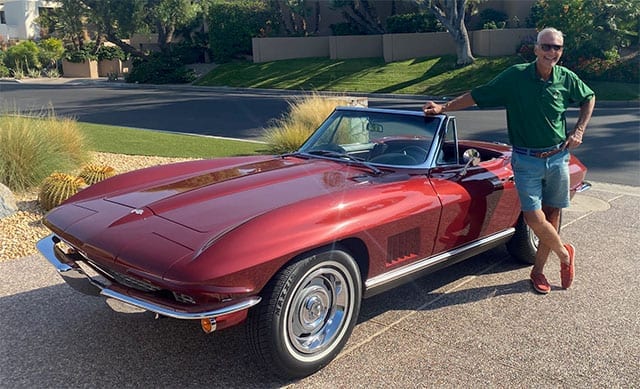 Mitch B. and his 1967 Vette
The man and the dream Vette. Some people just want it but I want and need it. It is part of my soul.
I just got back from a cruise in my Vette; Greatest most fun car I have driven in my life. If I die tonight I will have lived a dream I have had since I was a teenager when I saw my first 67 Vette and made a promise to myself that I would own that car before I died. Thanks to Corvette Mike, and working my butt off since then, the dream became a reality. I want to be buried in that car one day….it's that great!!!
Mitch B.
Want to be our next Corvette Owner highlighted?
Send Troy@CorvetteMike.Com an email.
---
We are looking for C2's
Any year C2 Coupe with 327 and any Transmission
Also want low mile:
2015-2019 Z06 Coupe
2010-2019 Grand Sport Coupe
2019 ZR1 Coupe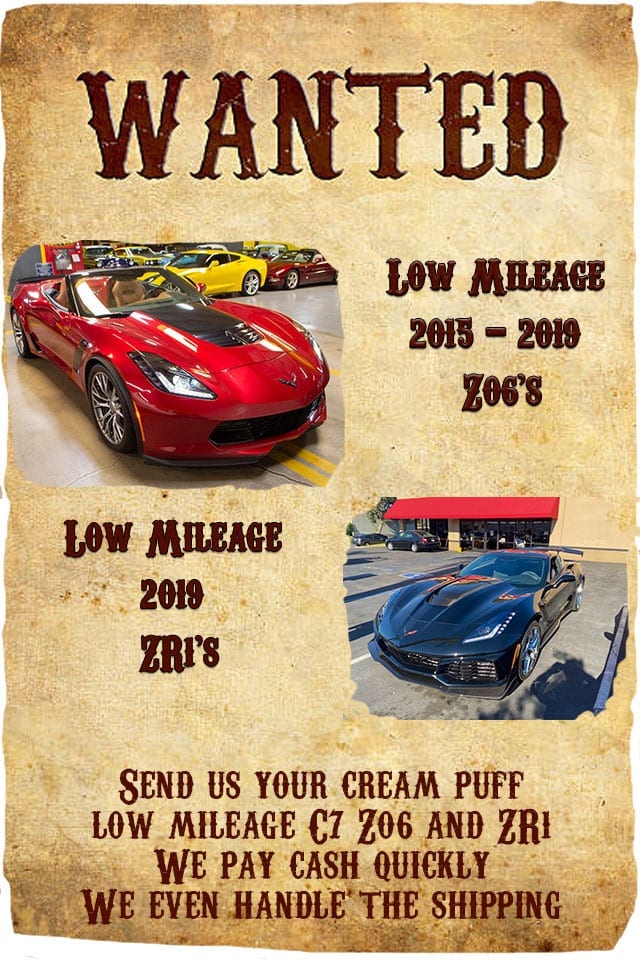 ---
Coming Soon
1993 40TH ANNIVERSARY ZR-1
With only 561 miles!
Ruby Red w/Ruby Red interior.
It's just about perfect with only 561 original miles on the odometer! It still smells new inside! The optional clear roof panel is still wrapped in its protective film and all books and manuals are present. Don't miss your opportunity to be its next caretaker!
Price to sell at: $59,900!
---
Weekly Special
1965 327/365hp, 4-speed
Original "time capsule" Corvette!
Benchmark, Bowtie, Triple Diamond
And Duntov certified!

What Mike Likes about this Corvette:
"This 1965 red 327/365 hp Convertible was sold new at Emrich Chevrolet in Manchester Pennsylvania.  It's official production date was March 12, 1965.
For the man who has everything but does not have everything this is the solution to your dilemma!
During 2015 and 2016 this particular 1965 Corvette won a Regional NCRS top-flight award scoring 98.5 percentage along with a Performance Verification and a National top-flight award achieving the Duntov Mark of Excellence Award.
No easy feat! However that's just the beginning! In 2016 it also achieved a Bloomington Gold, a Triple Diamond Award, a Concours Gold, a Bloomington Benchmark, and a Bowtie Award from the NCRS organization.
So, you asked the question what does Mike like about this 1965 Corvette?
Mikey likes everything!"
Corvette Mike V8tro / CM V8tro
Check out our great financing options.  
Happy Throttling!
Apex • Exit • Accelerate!!
Trades maybe?
 Financing yes!!!
Thrill rides no!!!
This '65 is one of the most original examples we've ever had in stock! It's original down to the tires! Not only is this '65 beautiful to look at, it's also a pleasure to drive.
And it's won just about every major award in the Corvette hobby, including multiple N.C.R.S. Top Flights, Performance Verification, and the prestigious Triple Diamond Award!
There's something about an all-original Corvette that restored examples just can't compete with. Cars like this can't easily be found and certainly can't be duplicated! Optioned with both soft and hard tops.
---
Would you like to see your prime collector car example featured for sale here?
Click Here to send an email.
We buy and consign.
Corvette From The Inside
Signed by Author
Dave McLellan
Corvette Chief Engineer 1975-1992
Price: $25!
Other books and artwork available.
Guinness World Record for of Chevrolet Memorabilia
Being sold by blind auction. Click here to submit your bid.
There are so many items in the Corvette-themed collection that he changed the way Guinness World Records classifies car collecting. Anyone can go on a giant shopping spree and buy a bunch of cars, Mallon said, but accumulating over 2,000 unique examples would take years. Eventually Guinness created a new category for "Corvette items," and in 2012, Charles was awarded the world record.
Click here to submit your bid.
Discounted Parts Table Items
Pictures Available Upon Request.
1956-1962 Corvette Hardtops – Priced from $4,888.
1963-1967 Corvette Hardtops – Priced from $2,000.
1968-1975 Used convertible top assembly. Good condition.
1969 L88 Holley 4bbl carburetor – Completely rebuilt (by Jerry Luck) and ready to install. 3955205 R4296 932. Price: $4,500 $3,500.
---
Auctions
More Coming Soon

More Coming Soon

More Coming Soon

More Coming Soon

Cars on eBay at Auction Pricing
1958 Imperial Maroon Jaguar XK150 Drophead
1962 Roman Red Corvette Convertible
1965 Rally Red Corvette Convertible 425hp 4-Speed
1967 Marlboro Maroon w/Black interior, L71 427/435hp, 4-speed
1969 Fathom Green L71 427/435HP Coupe
1978 L82 Indy Pace Car with 921 Miles

---
Comic of the Week