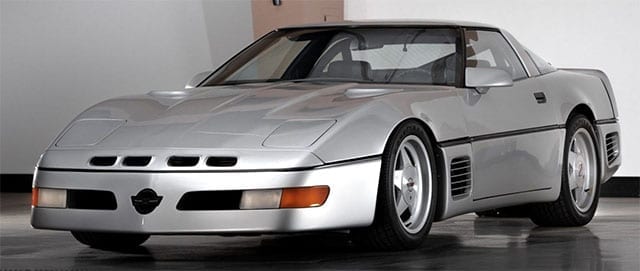 1988 254.76mph Corvette For Sale
May 21, 2021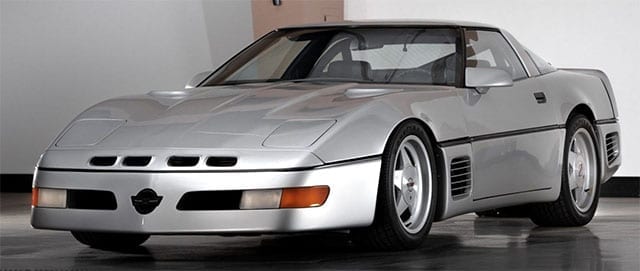 Record-Breaking '88 Callaway Corvette 'Project Sledgehammer'
Record-Breaking '88 Callaway Corvette 'Project Sledgehammer' Is up for Auction.
Reeves Callaway's company partnered with General Motors in 1986 to produce a TwinTurbo version of the Corvette. GM assigned the project RPO B2K and Callaway cars were sold by Chevrolet dealers worldwide. 510 cars were hand built by Callaway Cars in Connecticut. It was important for the Corvette to establish top speed bragging rights when car magazines of the day used top speed shoot-outs as a way of awarding the title of Fastest in the Land.
Callaway embarked on Project Sledgehammer to win each of those events every year. Callaway engineers emphasized normal every-day drivability in a car that could attain 250 miles an hour. Most of the contestants were thinly disguised race cars. Not the Callaway Sledgehammer.
To prove it could be done, in October 1988, the Callaway Sledgehammer left on a round trip from Callaway headquarters in Connecticut to the Transportation Research Center's 7.5-mile oval track in Ohio. Not in a trailer, mind you, but under its own power!  At the end of a week-long test and a few development steps, test driver John Lingenfelter set an official speed of 254.76 mph! To put this in perspective, it took nearly twenty years for the Bugatti Veyron to achieve 257 mph in 2010.
If you want the fastest Corvette known, it is now up for auction on Bring a Trailer.
Click Here to see the auction.
You can also watch a great history video by click Here.
---
YOU CAN WIN A
Win a 600-HP Cunningham 60th Anniversary C8
Thundering Thursday subscribers receive 30% Bonus Entries
The 60th Anniversary Cunningham C8 Corvette will officially debut alongside the original Le Mans-winning 1960 Corvette on Thursday at the Amelia Island Concours d' Elegance in northeast Florida. Sixty years in the making, the new Cunningham Corvette will be hand-built with just 60 examples set to be created. No. 33 has been earmarked for the Chip Miller Amyloidosis Foundation for their annual fundraiser with the car slated to be given away on October 1st. The new Cunningham 60th Anniversary Corvette is a modern-day marvel with the 495-hp LT2 engine featuring an upgrade to 600-horsepower by the equally-legendary Lingenfelter Performance Engineering. In order to bring home this limited-edition 60th Anniversary Cunningham C8 Corvette, all you have to do is make a donation to the Chip Miller Amyloidosis Foundation. Thundering Thursday readers can get 30% BONUS ENTRIES on ticket orders of $25 or more.
Click Here to get your Entries Today!
---
Owner's Corner
Gary and Linda h's 1953 Corvette
Gary and Linda bought their 1953 Corvette as a basket case in 1971. After years/decades of work turned it into a NCRS Duntov Award recipient and a multiple class winner in numerous concours. Including the Palos Verdes, Dana Point, Hillsborough, La Jolla and Las Vegas Concours de Elegance.
Gary and Linda H.
Want to be our next Corvette Owner highlighted?
Send Troy@CorvetteMike.Com an email.
---
We are looking for Low Mileage Cars
Looking for 1991 or 1992 Fleetwood Brougham
1991-1992 Cadillac 4 door big sedan. Front engine rear drive
Cadillac Fleetwood Brougham d'Elegance
Any year C2 Coupe with 327 and any Transmission
2015-2019 Z06 Coupe
2010-2019 Grand Sport Coupe
2019 ZR1 Coupe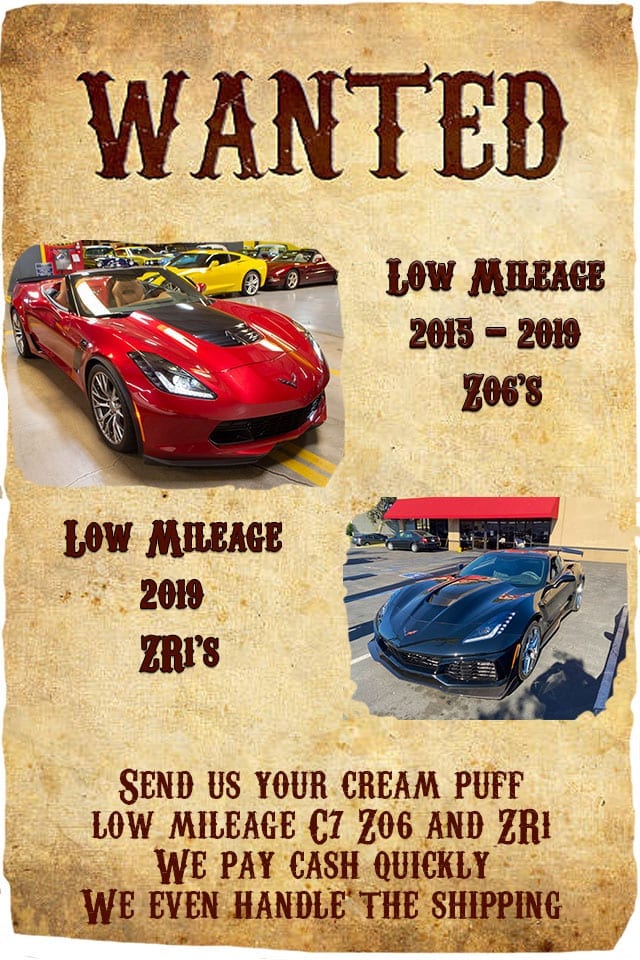 ---
Coming Soon
2019 ZR-1 White
With just 3,595 miles!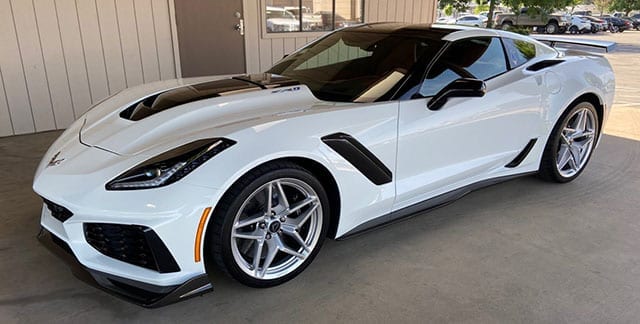 Arctic White w/Spice Red interior, 6.2L/755hp, Supercharged V8
8-Speed Paddle-Shift automatic transaxle
This ZR-1 is loaded with options, including:
3ZR Premium Equipment Group
Carbon wheel center caps
Chrome badge Package
Cargo shade w/Crossed Flag logo
Carbon Flash rear license plate holder
Carbon Flash painted outside mirrors
Battery Protection Package
C7 ZR-1's are white-hot right now!
Grab this one before someone else does!
Price to sell at: $169,900!
---
Weekly Special #1
2016 3LZ, Z06, Z07
With  only 2,660 miles!
What Mike Likes about this Corvette:
"This 2016 Z06 belonged to the consummate car collector and Corvette aficionado from Anaheim California. He would constantly bug me for a performance vehicle with an automatic transmission, but what he wanted did not exist. It took years but Chevrolet, and Corvette specifically, was finally able to design the ultimate performance vehicle transferring maximum amounts of horsepower through the gearbox of an automatic transmission! We were finally able to order a Z06 with the Z07 package with the automatic transmission, so I immediately set my buddy up with our good friends from MacMulkin Chevrolet to order this ultimate Z06 rocket ship! Now, five years later, he has decided to let his babied, pampered, and garage kept slingshot of a performance vehicle like none other on the streets of America go to another loving home. Barely broken in with ultra-low mileage you can be the recipient, and the second owner, of this amazing vehicle cared for like no other with options that only a very select few have left the factory with.
Are you ready for the ultimate ride of your life?"
Corvette Mike V8tro / CM V8tro
Check out our great financing options.  
Happy Throttling!
Apex • Exit • Accelerate!!
Trades maybe?
 Financing yes!!!
Thrill rides no!!!
The owner of this '16 Z06 checked a lot of boxes when he ordered it brand new. 3LZ Equipment Group, Competition Sports Seats, Transparent and Painted Roof Panels, Z07 Performance Package, and more.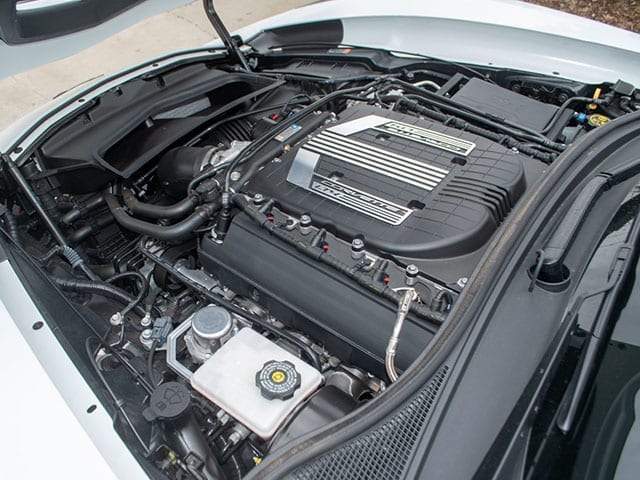 He also had all of the vents custom painted Arctic White to match the rest of the car for that monochromatic look.  It's a local CA. car and the condition is outstanding throughout, having traveled only 2600 miles since new!
---
Weekly Special #2
1969 L71 427/435
frame off restored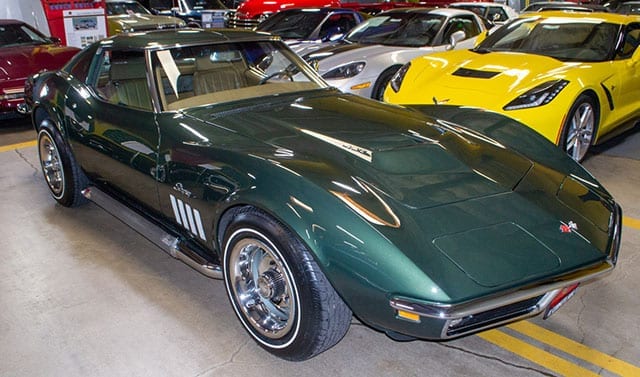 What Mike Likes about this Corvette:
"The '69 Sharks were great cars! The growing pains of '68 were pretty much all gone by then. But what I liked most was a very rare, one year only option, designated N14. This was the side mounted exhaust system. It consisted of 2 long insulated mufflers surrounded by chrome finned covers and was only available in '69. To me, this was one of the coolest options ever offered on a Corvette. Add to it the L71, 427/435hp big block (like the car featured here) and you had an almost unbeatable combination of power and style!
And it sounds MEAN!!"
Corvette Mike V8tro / CM V8tro
Check out our great financing options.  
Happy Throttling!
Apex • Exit • Accelerate!!
Trades maybe?
 Financing yes!!!
Thrill rides no!!!
The beautiful and very correct Fathom Green example presented here is one of those that left St. Louis with the N14 exhaust.  It's also equipped with the L71 427/435hp big block, M21 close ratio 4-spd., K66 Transistorized Ignition, tinted glass, power brakes, headlight washers and more.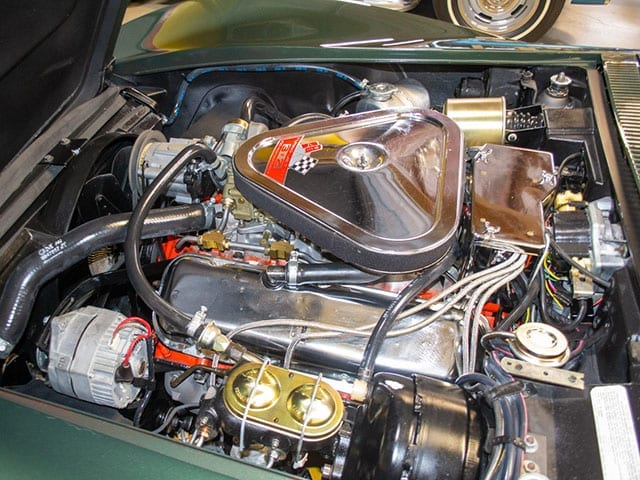 The car has undergone an extensive, frame off restoration and it is believed that the factory drivetrain is still in place (as evidenced in a report by C3 guru Mark Donnally).  The car has received an N.C.R.S. Top Flight Award and factory docs include an N.C.R.S. validated Tank Sticker, Owner's Kit and keys.
Would you like to see your prime collector car example featured for sale here?
Click Here to send an email.
We buy and consign.
Corvette From The Inside
Signed by Author
Dave McLellan
Corvette Chief Engineer 1975-1992
Price: $25!
Other books and artwork available.
---
Discounted Parts Table Items
Pictures Available Upon Request.
1956-1962 Corvette Hardtops – Priced from $4,888.
1963-1967 Corvette Hardtops – Priced from $2,000.
1968-1975 Used convertible top assembly. Good condition.
1969 L88 Holley 4bbl carburetor – Completely rebuilt (by Jerry Luck) and ready to install. 3955205 R4296 932. Price: $4,500 $3,500.
---
Auctions

More Coming Soon

More Coming Soon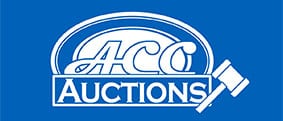 More Coming Soon


More Coming Soon

Cars on eBay at Auction Pricing
1958 Imperial Maroon Jaguar XK150 Drophead
1969 Fathom Green L71 427/435HP Coupe
1973 Classic White LS5 Convertible
1978 L82 Indy Pace Car with 921 Miles
2002 Torch Red w/Lt. Oak interior Convertible
2004 LeMans Blue Commemorative Edition ZO6
2006 Black Hummer H2 Sema Show Truck
---
Comic of the Week