Z06 Reportedly Delayed
July 4, 2021
WE'RE BUYING DREAM CARS!
Friends, as you all know, we don't fuss with the auctions or shuffle cars from other dealers. Our cars come from you. So, if you are thinning out your collection, let us know. 
Click here to send me an email about your car.
---
C8 Z06 May Be Delayed Again
Image courtesy of gmauthority.com
As popular as the current C8 has been, there are a lot of people on the side lines with deposits waiting for the Z06 variant. Unfortunately, these customers will have to wait another year, as GM Authority is reporting the hotter Z06 has been delayed. According to their sources, the car was originally set to arrive in the second half of the 2022 model year, but it has been pushed back to the 2023 model year.
The delay is expected to have a chain reaction and push the hybrid, the ZR1, and Zora versions out by at least a year or more.
---
Ford Evaluating C8 Corvette
It is being reported that Ford Motor Company has bought a C8 Corvette coupe with Z51 for benchmarking purposes, according to Ford Authority.
What Ford is going to do with the data they gather from examining the C8 is not obvious at this time. For now, Ford's only mid-engined car is the limited production $500,000 GT (base price), not really a car most Ford buyers would drive every day.
Ford does offer at least two far more obtainable C8 competitors: the Mach 1 and Shelby GT500. Their performance and pricing are similar to the base C8, the GT500 is more powerful though. Ford may also be thinking of making a totally new Mid-Engine car. Only time will tell what Ford is up to.
---
Win This 600-HP 60th Anniversary Cunningham C8!
Sixty years in the making, the new 60th Anniversary Cunningham C8 Corvette pays homage to the 1960 Corvette that became the first to win its class at the 24 Hours of Le Mans. Just 60 hand-built examples are set to be created with the No. 33 earmarked for the Chip Miller Amyloidosis Foundation for their annual fundraiser with the car slated to be given away on October 1st. The new 60th Anniversary Cunningham Corvette is a modern-day marvel with the 495-hp LT2 engine upgraded to 600-horsepower by the equally-legendary Lingenfelter Performance Engineering. In order to bring home this limited-edition 60th Anniversary Cunningham C8 Corvette, all you have to do is to make a donation to the Chip Miller Amyloidosis Foundation.
Thundering Thursday readers can get
30% BONUS ENTRIES on ticket orders of $25 or more.
Click Here to get your tickets today!
---
Corvette Mike Concierge Service
Want help buying a car at an upcoming auction?
Corvette Mike is available, Just Click Here to email him.
---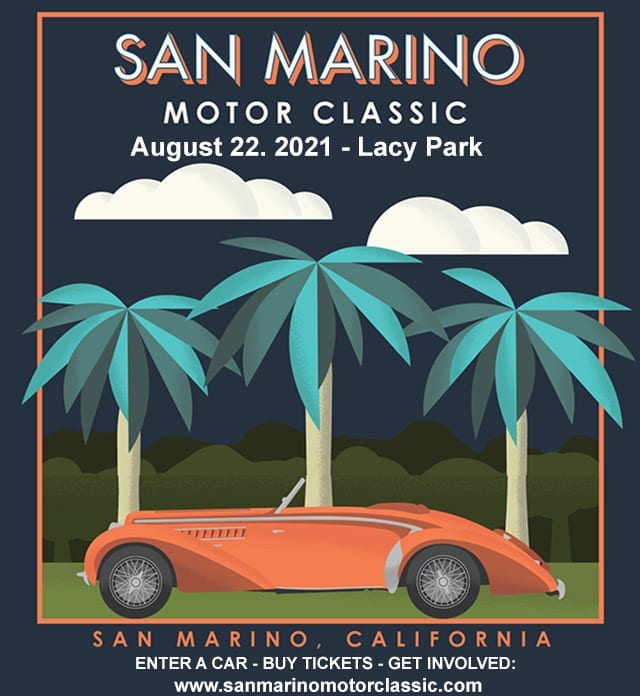 This year's show will highlight 1953-1973 Corvettes.
---
Owners' Corner
Ciao's 1963
I bought my 1963 Spilt Window Coupe back in May30, 1968.  Hard to believe I've owner her so long. But true. People don't know me, they know my car! I'm just along for the ride* Ha! 
Ciao.
Want to be our next Corvette Owner highlighted?
Send Troy@CorvetteMike.Com an email.
---
We are looking for Low Mileage Cars
Any year C2 Coupe with 327 and any Transmission
2015-2019 Z06 Coupe
2010-2019 Grand Sport Coupe
2019 ZR1 Coupe
---
Coming Soon
2021 C8 2LT Z51 Convertible
Only 4 miles on the Odometer!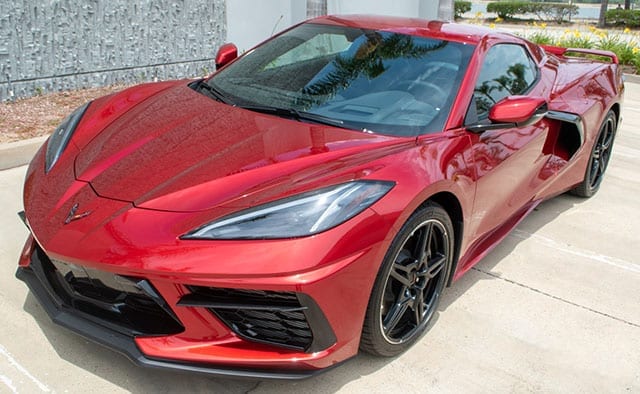 Red Mist, Jet Black Interior, 2LT, Z51, GT2 Seats, and so much more!
---
Weekly Special
1967 L68 Convertible
rare '67 with factory air conditioning!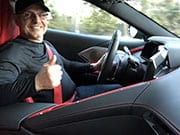 What Mike Likes about this Corvette:

"We have all heard the rumors regarding the 1967 production of the Chevrolet Corvette!
The year that shouldn't have been!
What would have happened if 1966 was the last true Stingray Corvette production year Would we have had the iconic three deuces, AKA Tri-power carburetor configuration? 427/400 or 427/435?
So many factors lead up to what makes a Corvette or any other car for that matter collectible? 
We all know the one most important ingredient in collectability; it's typically the last year it was offered during factory production!
When you add it all up, the 1967 427/400 L68 Corvette has all the key components to make it one of the most collectible of the 1967 Corvettes.
What are they:
Rarest of the 427 production engines. Excluding the 20 L88's. Only 2101 produced.
Only Tri-power engine offered in the 1963-1967 era.
Last year of the era.
Only hydraulic camshaft 427 converted at the factory from a 390 hp version to a 400 Hp.
Only Tri-power engine offered with factory air conditioning.
The combination of factory air conditioning and the 427/400 Tri-power engine makes it the second rarest offered in 1967 of approximately 200 Corvettes ever built.
Take all these factors and the great styling for the 1967 Corvette add to it the 427 stinger hood and you have all the ingredients for
WHAT MIKE LIKES!  
Side bonus; in one of my most favorite color combinations.
Let's go for a ride!!  "
Corvette Mike V8tro / CM V8tro
Check out our great financing options.  
Happy Throttling!
Apex • Exit • Accelerate!!
Trades maybe?
 Financing yes!!!
Thrill rides no!!!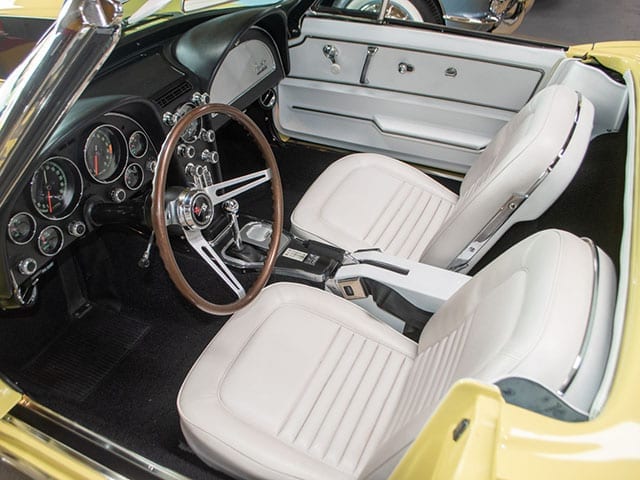 The car has been completely frame-off restored and comes with a huge binder full of info, including; owner history, photos, restoration receipts and more. It's also an N.C.R.S. Top Flight Award winner!
This is an original West Coast car sold out of Madison's Chevrolet in Scottsdale, AZ.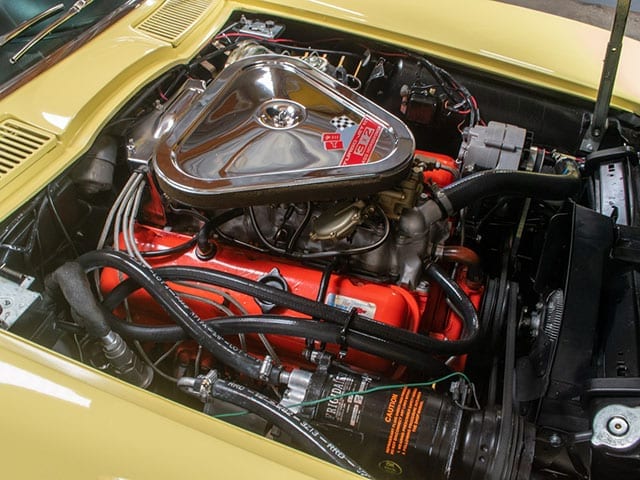 Equipped with a matching #'s L68 427/400hp big block with power brakes, power steering, power windows, telescopic steering column, am/fm radio, and highly coveted factory air conditioning that actually blows cold!
Would you like to see your prime collector car example featured for sale here?
Click Here to send an email.
We buy and consign.
---
DISCOUNTED PARTS TABLE ITEMS
Pictures Available Upon Request.
1956-1962 Corvette Hardtops – Priced from $4,888.
1963-1967 Corvette Hardtops – Priced from $2,000.
1968-1975 Used convertible top assembly. Good condition.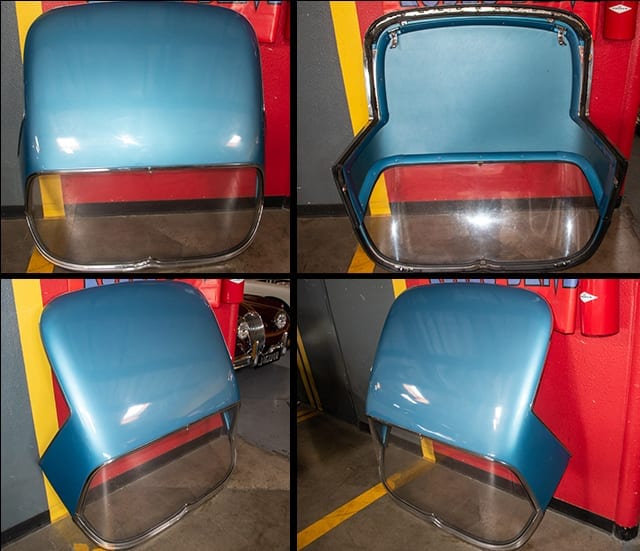 Fully restored 1963 through 1967 factory hardtop restored by Nabers Brothers back years ago and has been in the crate ever since. This was restored specifically for 1966 Nassau blue 427 convertible. Very hard to duplicate and very expensive to restore. On sale this week for $5,000!'
---
Auctions
25-Mile 2019 Chevrolet Corvette ZR1 Coupe
More Coming Soon
More Coming Soon

Cars on eBay at Auction Pricing
1958 Imperial Maroon Jaguar XK150 Drophead
1965 Rally Red 396 Convertible
1969 Fathom Green L71 427/435HP Coupe
1969 Matador Red COPO Chevelle Hardtop
2003 Pewter Hummer With Super Low Miles
2008 Black Factory Indy 500 Pace Car
2016 Chevrolet Corvette Z06 3LZ
---
Comic of the Week