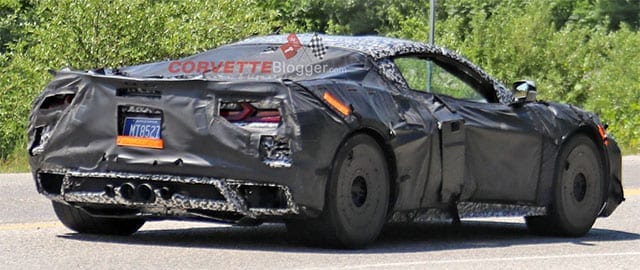 We Know About The 2023 C8 Z06
July 18, 2021
We Know About The 2023 C8 Z06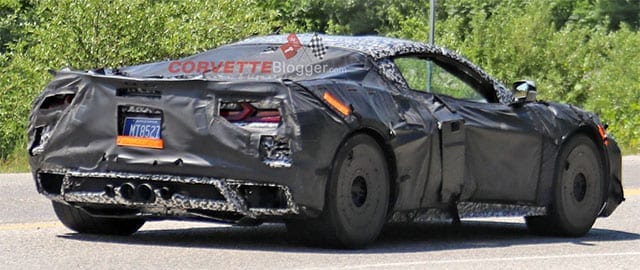 Image courtesy of Corvette Blogger
More and more rumors keep coming out about the C8 Z06, so I would like to do a roundup on what we know at this time. GM has not done any type of announcement to date, so nothing is in stone yet.
Power: a 5.5-liter naturally aspirated V-8 providing power to the rear wheels. The motor is derived from the same motor that powers the Corvette Racing C8.R, and winning on the racetrack. The motor will have the LT6 moniker and features dual overhead camshafts and flat-plane crankshaft allowing a red-line of around 9000 rpm! It is expected to produce 617hp. All this power will be mated to an upgraded version of the C8's eight-speed Tremec dual-clutch automatic, which is expected to provide even faster gear changes.
Track-Focused Enhancements: In keeping with the Z06 tradition, the Z06 will have track tuned tweaks to improve performance even further. Wider bodywork will cover the massive Michelin Pilot Sport Cup 2R 345/25 ZR 21 in the rear and 275/30 ZR 20 up front. There may even be a carbon fiber wheel option to reduce rotating mass. An upgraded active aerodynamic package will help push down on these tires for even more traction. Also expect multiple wing and splitter packages and standard Magnetic Ride Control suspension system.
It will probably have a base price of around $85,000, but as always buyers will have plenty of options to increase the level of performance and comfort.
When will it be available: Expect the Z06 to debut next year just ahead of a 2023 model year.
---
Win a Red Mist 2021 Corvette Convertible
and Racing Prize Package!
The International Motor Racing Research Center (IMRRC) is a charitable organization in Watkins Glen, NY. that collects, shares, and preserves the history of motorsports. To help support that mission, they are offering an opportunity to win a new 2021 Corvette Convertible in beautiful Red Mist Metallic. The winner of the Corvette will also receive a racing prize package with a complimentary overnight stay when you take delivery, plus two 2022 memberships to the Jack Daniels Club at Watkins Glen race track to watch IMSA, NASCAR, and other races, plus a two-day Corvette Owners School course at the Ron Fellows Performance Driving School at Spring Mountain.
Thundering Thursday readers get 25% MORE ENTRIES on donations of $25 or more.
Get your tickets today by Clicking Here!
---
Corvette Mike Concierge Service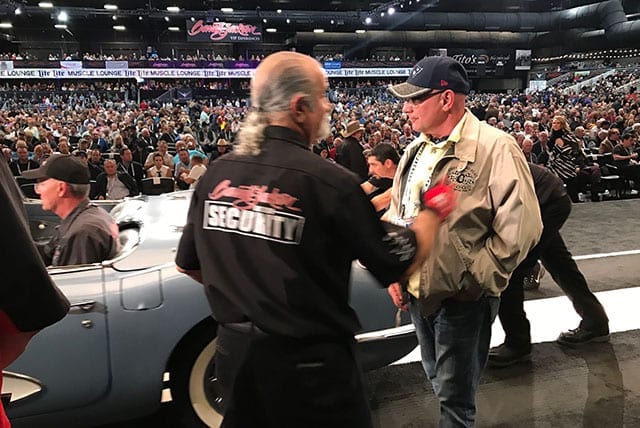 Want help buying a car at an upcoming auction?
Corvette Mike is available, Just Click Here to email him.
---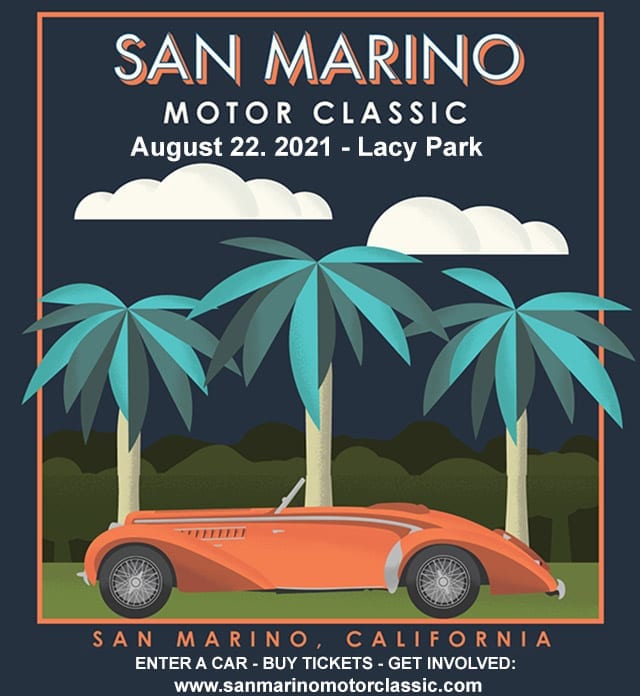 This year's show will highlight 1953-1973 Corvettes.
---
Want to be our next Corvette Owner highlighted?
Send a picture of your car and a short story to Troy@CorvetteMike.Com.
---
We are looking for Low Mileage Cars
Any year C2 Coupe with 327 and any Transmission
2015-2019 Z06 Coupe
2010-2019 Grand Sport Coupe
2019 ZR1 Coupe
---
Coming Soon
2021 3LT, Z51 & Front Lift
Only 2k Miles!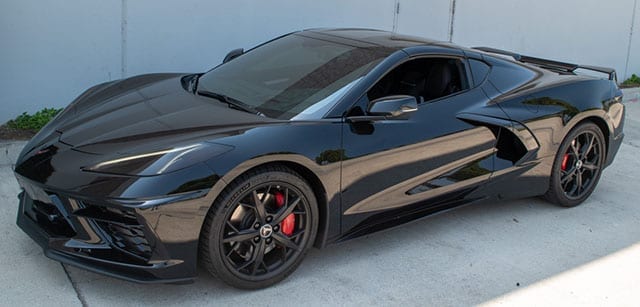 This awesome '21 3LT, Z51 Coupe only has 2k miles on the odometer and is available for immediate delivery! It's got the great equipment we all want, including the front lift.
---
Weekly Special
1967 L71 427/435
NCRS validated tank sticker
frame-off restored & the rarest color!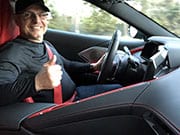 What Mike Likes about this Corvette:

"The pinnacle of Corvette Collectables always includes a 1967 435 coupe or convertible. When we speak about rarity in numbers, we differentiate the bragging rights by adding options and seeking rare colors. Factory side pipes are one of those rare options.  Black is one of those rare colors!
I can't even imagine how many 1965 through 1967 Corvettes have had side pipes added over the 55 plus years since they left the factory. Adding side pipes does not mean that they belong on the car or came that way from the factory. Having documentation like the owner's warranty booklet; protecto plate will not certify that a Corvette left the factory with any particular options including side pipes.
Starting in 1967, the Corvette order copy was born and first appeared on the left side of the top of the gas tank as the chassis cruised down the assembly line.
This was a game changer and for the first time a Corvette could be documented with all of its original components and options and was somewhat preserved by the body covering the document.
It is this document that can prove whether or not a 1965 through 1967 Corvette stingray actually came with factory side pipes.
This example today we are showcasing is one of those rare examples of a factory side pipe and factory shoulder harness triple black convertible that's basically rarer than hens teeth. Judged at Bloomington Gold and receiving top honors we present here today this amazing example. Please stop by the show room to see it in person.
This Nabers Brothers restoration done for a client in Texas back many years ago has survived the test of time!
We now offer it for sale out of another collection of a good client in the western United States.  Text, email or call us with any questions you may have on this outstanding example!
Hail to holy grail!"
Corvette Mike V8tro / CM V8tro
Check out our great financing options.  
Happy Throttling!
Apex • Exit • Accelerate!!
Trades – maybe?
 Financing – yes!!!
Thrill rides – no!!!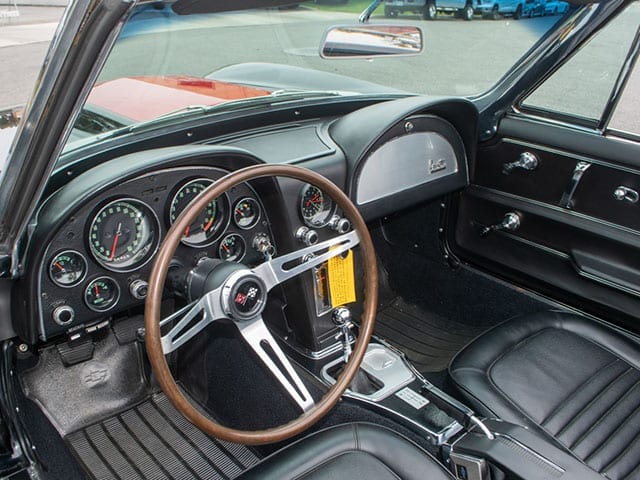 Built on 9/16/66, this early, matching #'s engine example has been completely and correctly frame-off restored, is a Bloomington Gold Award winner, and is optioned with the very rare factory side exhaust, shoulder harnesses, and is documented with the original Tank Sticker!
Tuxedo Black w/Black interior, 427/435hp, 4-spd. manual transmission.
The '67 L71 427/435hp Convertible is still considered the "King of the Hill" by most Corvette aficionados.  But within this category, this is a standout. A '67 L71 Convertible in Tuxedo Black! Black was always the rarest color, but in this configuration, it's REALY RARE!!
Summer Special Price: $375,000 $335,000!
---
Would you like to see your prime collector car example featured for sale here?
Click Here to send an email.
We buy and consign.
---
DISCOUNTED PARTS TABLE ITEMS
Pictures Available Upon Request.
1956-1962 Corvette Hardtops – Priced from $4,888.
1963-1967 Corvette Hardtops – Priced from $2,000.
1968-1975 Used convertible top assembly. Good condition.
Fully restored 1963 through 1967 factory hardtop restored by Nabers Brothers back years ago and has been in the crate ever since. This was restored specifically for 1966 Nassau blue 427 convertible. Very hard to duplicate and very expensive to restore. On sale this week for $5,000!
---
Auctions

1965 Chevrolet Corvette Convertible L76 327/365 4-Speed
3,600-Mile 2019 Chevrolet Corvette ZR1 Coupe
More Coming Soon
More Coming Soon

More Coming Soon
Cars on eBay at Auction Pricing
1958 Imperial Maroon Jaguar XK150 Drophead
1958 Signet Red Convertible
1969 Fathom Green L71 427/435HP Coupe
2003 Pewter Hummer With Super Low Miles
2021 Red Mist Metallic Corvette Convertible
---
Comic of the Week