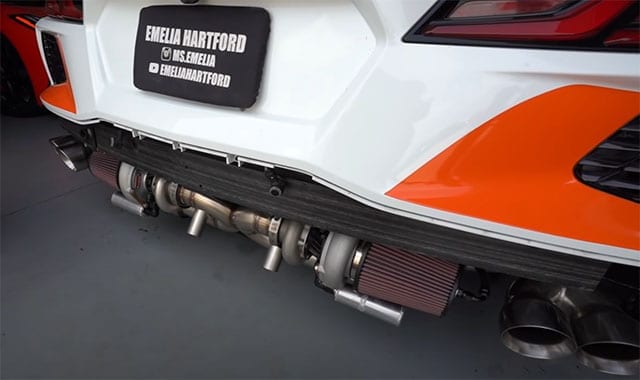 Tadge Juechter Says No C8 Aftermarket Tune For You
July 11, 2021
WE'RE BUYING DREAM CARS!
Friends, as you all know, we don't fuss with the auctions or shuffle cars from other dealers. Our cars come from you. So, if you are thinning out your collection, let us know. 
Click here to send me an email about your car.
---
Corvette Executive Chief Engineer, Tadge Juechter, Says GM will not allow aftermarket tuners access to the C8 onboard computers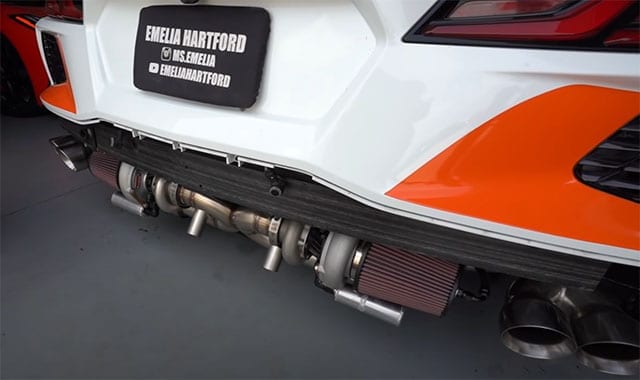 Image courtesy of Emelia Hartford
Corvette has always been a car aftermarket tuners love to extract more horsepower out of, but the C8 is making this much harder. When the C8 specs were announced stating that it would have the General Motors' Global B architecture as the backbone electronic package, aftermarket tuners knew there would be issues modifying the car. The reason for this is that the Global B architecture system lets the computers control almost every part of the car. This means if somebody could hack into the car, they could start, stop the engine, apply brakes or more gas, and even apply turning force to the steering wheel on some cars.
Since the computers could control so much of the cars operation, GM has locked this system down as much as they could and are not so keen to open it up to 3rd party tuners. According to Juechter in an interview with MC&T, "The aftermarket crew is very talented and resourceful, and have been for years. So our business model doesn't really cater to the aftermarket, we have to do all the things internally between Corvette just like any other General Motors product. Our desire is to make the car as hack proof as possible to protect our customers."
Some tuners have been able to install turbos on the C8, but only with relatively small amounts of boost. To get the most out of the turbos, tuners have been forced to install a separate computer to manage the motor, a process called piggybacking. This process adds a lot of complexity and issues that are normally not good for
everyday drivability.
Juecther did note that due to their long-standing relationship with GM, Callaway will get a little assistance from the automaker with the C8 Corvette situation. This has to do with the customer and warranty data that Callaway supplies GM with from their buyers, but we've yet to hear any specifics from either company.
---
Double COPO on Bring A Trailer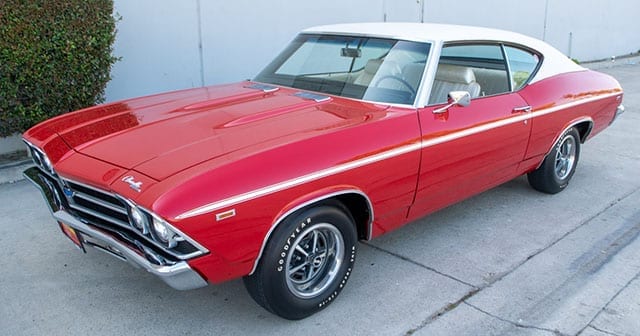 This 1969 Chevrolet Chevelle Malibu is one of approximately 323 COPO Chevelle examples produced for the model year and was refurbished under previous ownership. The car is finished in Matador Red with a white vinyl roof over a white interior, and power comes from a 427ci L72 V8 paired with a four-speed manual transmission.
Click here to see it, and/or bid.
---
Choose The Corvette of Your Dreams
Get Double Entries with Promo Code CM!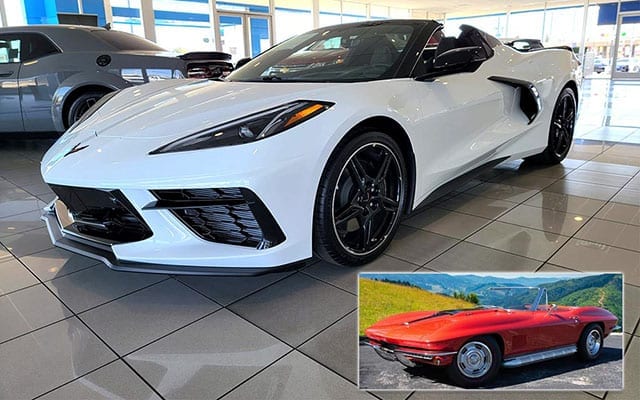 The Ronald McDonald House of Central Valley is offering you the opportunity to win a 2021 Corvette Convertible or a 1967 427 Roadster as grand prizes in their 2021 fundraising campaign. Your donation helps families stay at the Ronald McDonald House at no charge while their children receive medical care. The 2021 Convertible is loaded with the Z51 Performance Package and the 3LT Trim Package, and is outfitted in Arctic White with Black Nacelles and a Black Roof.  The '67 Sting Ray has a matching numbers 427/390 with a Muncie 4-speed manual transmission and correct 3.55 posi rearend. It's painted Rally Red with a Black interior, and is optioned with side exhaust, power steering, power brakes, and the auxiliary hardtop.
Thundering Thursday readers can get
DOUBLE BONUS ENTRIES with Promo Code CM.
Click to pick your car:
2021 Corvette Convertible
1967 427 Roadster
---
Corvette Mike Concierge Service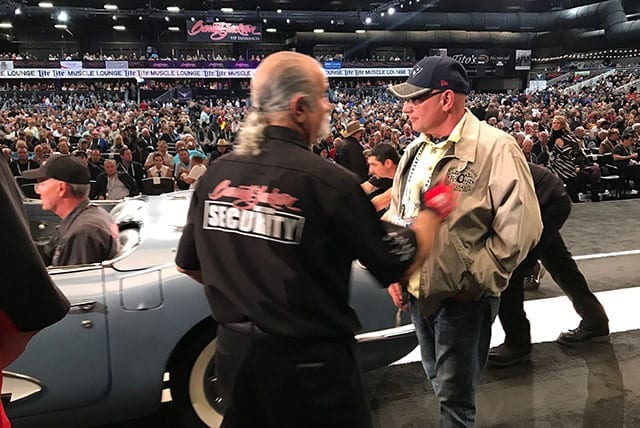 Want help buying a car at an upcoming auction?
Corvette Mike is available, Just Click Here to email him.
---
This year's show will highlight 1953-1973 Corvettes.
---
Owners' Corner
Wayne F.'s Top Flight 1958 Big Brake Fuelie
I was talking to my friend, Dana, and he told me about this 1958 Big Brake Fuelie first sold in Santa Barbara in early 1958 by Washburn Chevrolet to Peter Trenor Stanley. I purchased this car and proceeded to talk to Mr. Stanley about its history. He had several photographs of the car which showed him racing the car throughout southern and central California. I was also able to track down and talk to the 2nd and 3rd owners; I am the 4th owner. After my purchase, I completed a body off the frame restoration and have had it judged twice, top flighting it both times!
Wayne F.
Want to be our next Corvette Owner highlighted?
Send Troy@CorvetteMike.Com an email.
---
We are looking for Low Mileage Cars
Any year C2 Coupe with 327 and any Transmission
2015-2019 Z06 Coupe
2010-2019 Grand Sport Coupe
2019 ZR1 Coupe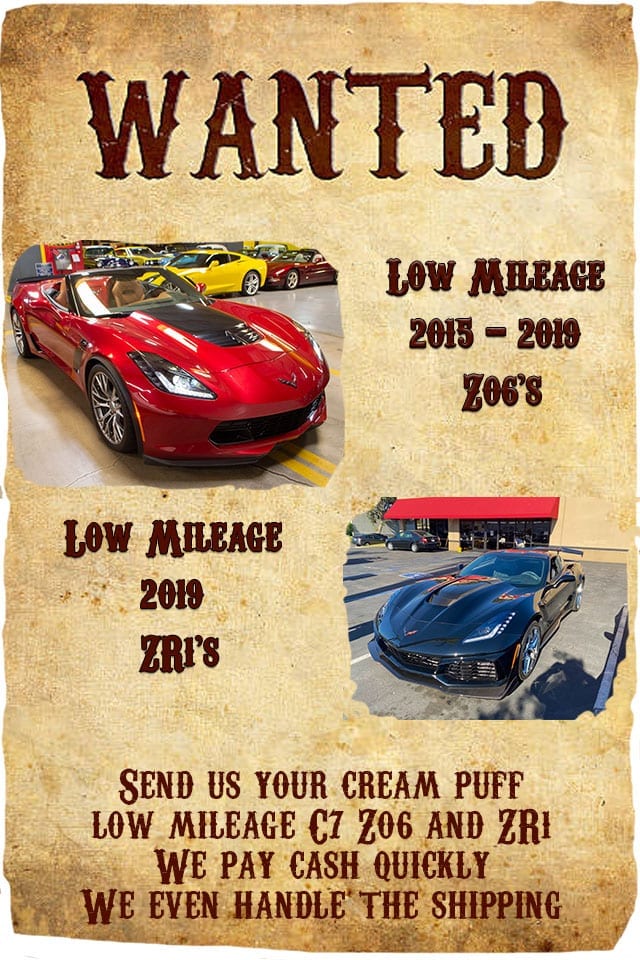 ---
Coming Soon
2014 Z51 Convertible
Only 29k Miles!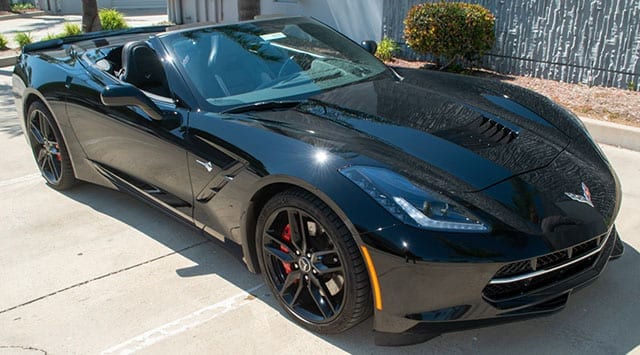 This very stealth-looking Convertible comes to us form a local client who bought it for his wife as a birthday gift!  She has moved onto a C8 and we were lucky enough to grab this loaded example! Options include 3LT, Z51, NAV, Aero Package, and more.
Specially priced at: $56,900
---
Weekly Special
2021 2LT, Z51, Convertible
Just arrived and Only 4 Miles!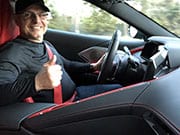 What Mike Likes about this Corvette:

"Other than loving everything about the new C8 mid-engine Corvette, there were some colors in 2020 that I didn't love. The electrifying Yellow being one of them.
This new Mist Red is just what the doctor ordered. It truly exemplifies the curves and contours of the body and adds a touch of class and sophistication to the lines, unlike its predecessor.
Now Mike really likes to be seen in this Euro inspired, mid-engine masterpiece!!
Voila!!!"
Corvette Mike V8tro / CM V8tro
Check out our great financing options.  
Happy Throttling!
Apex • Exit • Accelerate!!
Trades – maybe?
 Financing – yes!!!
Thrill rides – no!!!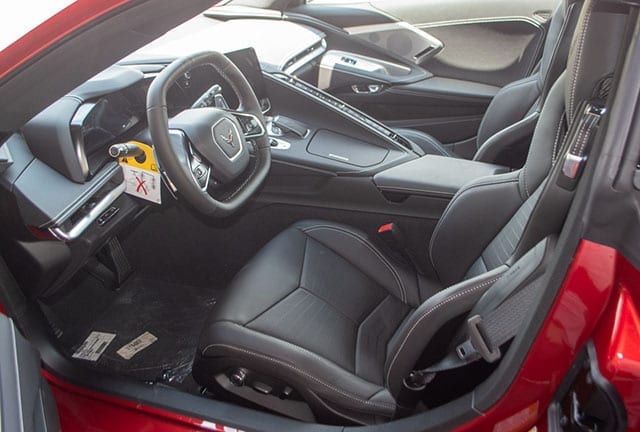 Red Mist Metallic w/Jet Black interior, 376/495hp, and 8-speed paddle-shift automatic!
Optioned with 2LT, Z51, Front Lift, NAV, Performance Rear Axle Ratio, GT2 Bucket seats, and more!

This has only 4 Miles on the Odometer. This is less than we have ever seen on any showroom floor!
Specially Priced at: $129,900
---
DISCOUNTED PARTS TABLE ITEMS
Pictures Available Upon Request.
1956-1962 Corvette Hardtops – Priced from $4,888.
1963-1967 Corvette Hardtops – Priced from $2,000.
1968-1975 Used convertible top assembly. Good condition.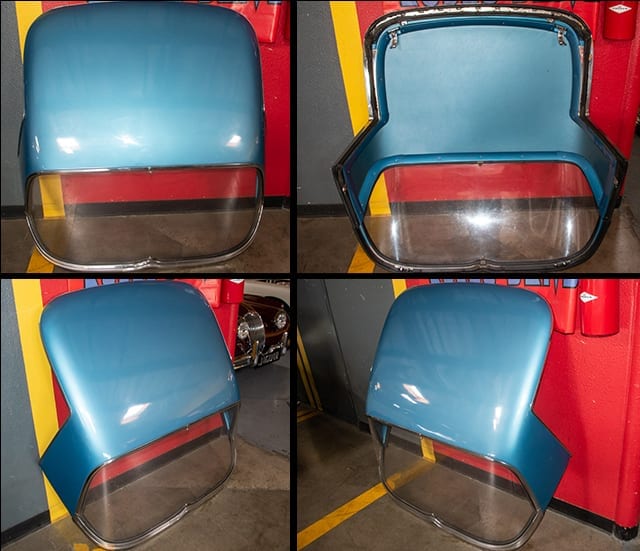 Fully restored 1963 through 1967 factory hardtop restored by Nabers Brothers back years ago and has been in the crate ever since. This was restored specifically for 1966 Nassau blue 427 convertible. Very hard to duplicate and very expensive to restore. On sale this week for $5,000!
---
Auctions

1969 Matador Red COPO Chevelle Hardtop

More Coming Soon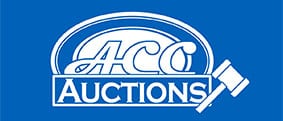 More Coming Soon

More Coming Soon
Cars on eBay at Auction Pricing
1958 Imperial Maroon Jaguar XK150 Drophead
1969 Fathom Green L71 427/435HP Coupe
2003 Pewter Hummer With Super Low Miles
2016 Chevrolet Corvette Z06 3LZ
2021 Red Mist Metallic Corvette Convertible
---
Comic of the Week