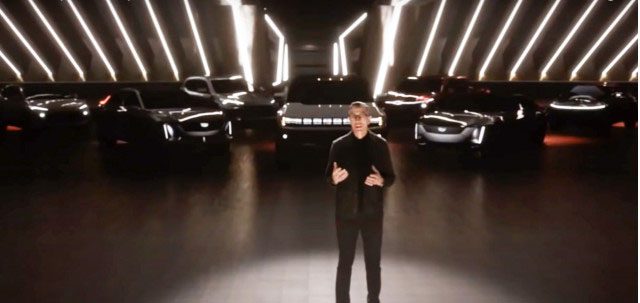 To EV Corvette or not to EV?
December 3, 2021
Chevy asking current C8 owners about EV's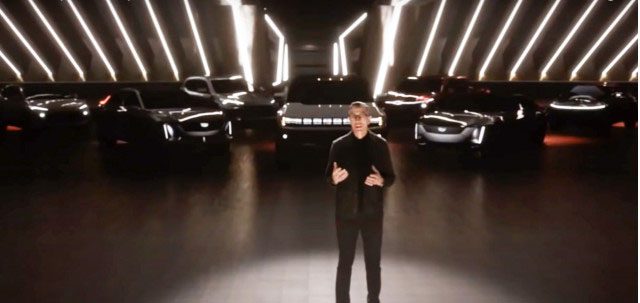 Picture courtesy of Chevrolet
General Motors has made it well known that they have prospects for an all-electric future. Their site even stated on their site that they will have 30 new EVs globally by 2025.
We assume some electrification plans for the Chevrolet Corvette are in the works, but we just don't know what they are. We have seen spy shots of what looks like a hybrid, maybe the 'E-Ray' trademarked back in 2015, but what form this will take is not known. Some have guessed it could be an all-wheel drive hybrid with a twin turbo'ed mid-mounted internal-combustion engine driving the rear wheels; the front wheels powered by a pair of electric motors. Another possible configuration could be for the ZR1 or even the rumored Zora.
It seems Chevrolet is trying to get an idea on what current C8 owners want to see next. Allegedly a survey is being sent to them asking about EV's and a 'electric sport vehicle. The survey didn't say that it was about a future Corvette. A post on MidEngineCorvetteForum claims it may be referring to the C9. Owners described receiving an email from Chevrolet polling them about several topics like over-the-air updates, whether they were looking to buy a new car in the next two years, or if they were interested in the aforementioned electric sports car.
Don't expect Chevy to release the results of this survey, as I am sure it is for internal use only.
---
Win One of Eight Classic Corvettes in
the Lost Corvettes Giveaway!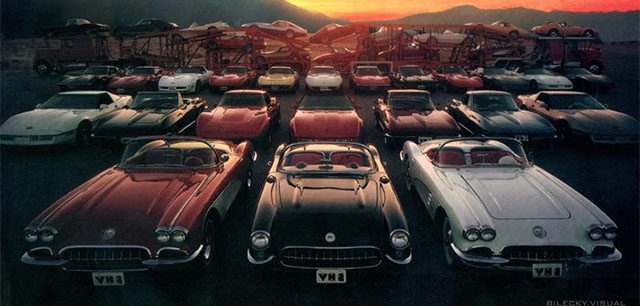 The Lost Corvettes is a collection of 36 sequential Corvette model years ranging from 1953 to 1989 that were given away to one lucky winner in a VH1 contest in 1989. Pop artist Peter Max bought the entire collection and stored it away in a New York City parking garage for decades. A group called the Corvette Heroes rescued the collection and has offered to give away each Corvette with the proceeds benefitting the National Guard Education Foundation.  January 10th is the final deadline to enter one of the eight remaining Corvettes: 1953, 1956, 1966, 1967, 1969, 1976, 1981, and 1985. Tickets for The Lost Corvettes start at $3 each with bonus ticket levels beginning at $25 and up.
Thundering Thursday readers receive Double Entries with ticket packages starting at $25!
---
Corvette Mike Concierge Service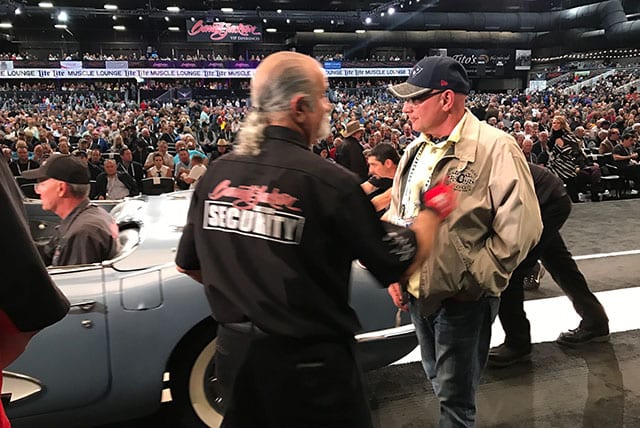 Want help buying a car at an upcoming auction?
Corvette Mike is available! Simply CLICK HERE to email him!
---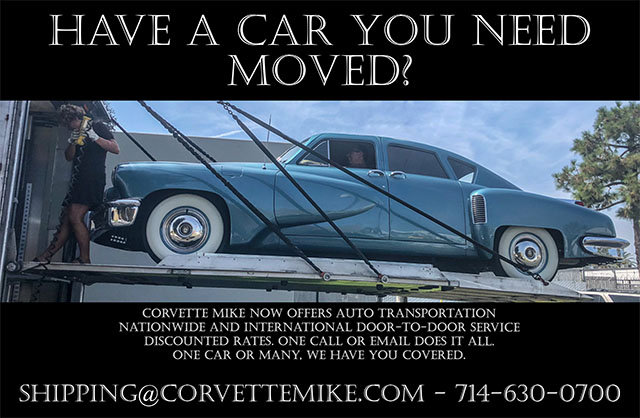 ---
Owners' Corner
Ed P. 1968 Corvette Convertible
I purchased my 1968 Corvette convertible in Riverside, California on September 11, 1968, while I was attending Cal Poly and serving in the Air National Guard at Ontario Airport. It spent five years in Southern California, thirty-three years in Alaska, it did fine in Fairbanks at -42 degrees. Now fifteen years in Missouri. In 2015 it received a new paint job of the factory international blue. The car is still at least 95% original with 128k miles driven. When I drive it I feel 29 years young. In fact, it is going to be sunny today so later, I am going for a ride. I refuse to grow up.
Ed P.
---
Coming Soon
Frame-on restoration. Factory AC!
Daytona Yellow w/Black interior.
The example presented here is not only equipped with the L46 engine, but it also has highly desirable air conditioning, as well as power brakes, power steering, power windows, posi-traction rear end, AM/FM stereo, and more!  It's been very nicely frame-on restored and is an excellent driver!
---
Immaculate throughout with only 11k miles!
Victory Red w/Ebony interior, 376/430hp, 6-speed paddle-shift automatic.
We love to get in Corvettes that were obviously meticulously cared for! And the '08 featured here is one of those cars. Locally owned by a gentleman who just took delivery of his C8. He reluctantly had to let go of this one because of space limitations. And we were lucky enough to grab it from him! The paint, interior and mechanicals are all in top-notch condition!
It's optioned with chrome wheels and Red painted brake calipers, paddle-shifted 6-speed automatic transaxle and a K&N intake and filter (not installed).
---
DISCOUNTED PARTS TABLE ITEMS
1966 Wheels, Tires and Hubcaps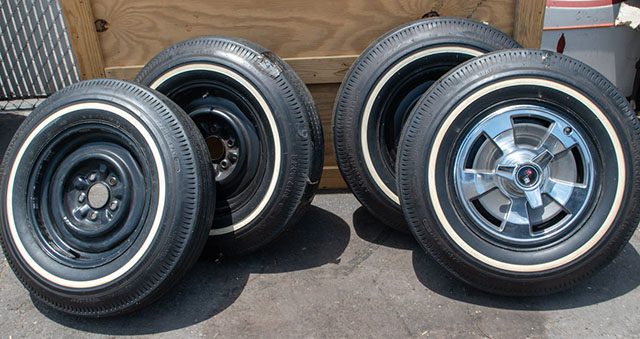 Call For Pricing
Pictures for the following Available Upon Request.
1961-1962 Corvette Hardtops – Priced from $4,888.
1963-1967 Corvette Hardtops – Priced from $2,000.
1968-1975 Used convertible top assembly in good condition. $Call
---
Auctions

1972 Pewter Silver Corvette Coupe 454
More Coming Soon
More Coming Soon
---
Comic of the Week