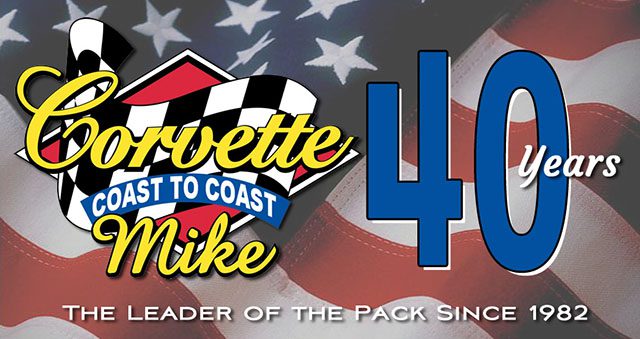 Corvette Racing wins at Sebring, Get BOP hit for Long Beach
April 8, 2022
Celebrating Corvette Mike's 40th Anniversary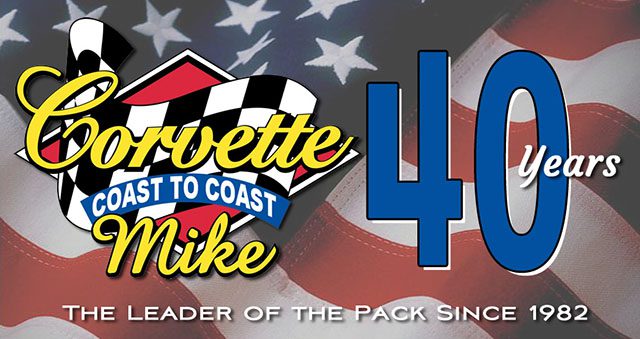 I am very proud to announce our 40th anniversary! On January 4th, 1982, Mike Vietro established Corvette Mike in Laguna Hills, CA. I want to take this occasion to thank each of you for being part of our success. I am very grateful to our customers who trusted us to provide high-quality automobiles, services, and products.
Mike Vietro and the Corvette Mike Team
---
Located In So. Cal. and going to Bloomington
and Need Transportation for your car?

Who needs to go?  Don't wait til the last minute to schedule
Transportation from the West Coast, So. Cal. to Bloomington Gold
Only 5 spots available – Enclosed – Fair pricing 
For more information and pricing, call or email Jeff:
714-630-0700
Jeff@CorvetteMike.Com
---
WE'RE BUYING 2023 Z06 Orders
And Other DREAM CARS!
Friends, as you all know, we don't fuss with auctions or shuffle cars from other dealers. Our cars come from you.
So, if you are thinning out your collection, let us know!
Click here to email us about your C8 Z06 order or other car(s).
---
Corvette Racing at Sebring: What a Win!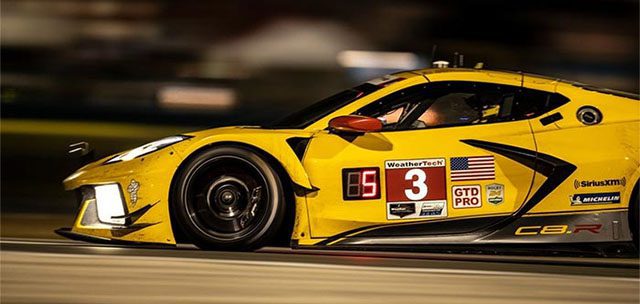 Courtesy of Richard Prince for Corvette Racing
Corvette Racing made it the twelfth victory in the Mobil 1 Twelve Hours of Sebring, the first victory in America's oldest sports car race for the mid-engine Chevrolet Corvette C8.R, and the first win since 2017 at Sebring.
Antonio Garcia, Jordan Taylor, and Nicky Catsburg teamed for the landmark win with the No. 3 Mobil 1/SiriusXM Corvette in the second round of the IMSA WeatherTech SportsCar Championship. The trio combined to lead 247 laps or 913.9 miles for Corvette Racing's first Sebring 12 Hours win since 2017 and 12th since 2002.
"Congratulations to Antonio Garcia, Jordan Taylor, Nicky Catsburg, and everyone on the No. 3 Corvette C8.R team," said Jim Campbell, Chevrolet U.S. vice president, Performance and Motorsports. "Winning in class for the 12th time at the 12 Hours of Sebring is the result of great driving, race strategy and execution of pit stops. The Corvette C8.R's 5.5-liter, flat-plane V-8 engine delivered the right combination of performance, reliability and efficiency throughout the race.
Corvette Racing's next event in the IMSA WeatherTech SportsCar Championship is April 8-9 at the Long Beach (Calif.) street circuit.
According to Keith Cornett at Corvette Blogger, IMSA's BoP stewards wouldn't let that runaway Sebring win by the C8.R go unchecked.
The IMSA Technical Bulletin assigns an additional 10 kg of weight and a 0.4 mm smaller air restrictor, as well as a decrease of 4-liters of fuel for Corvette Racing. Those changes are the equivalent of an 8.3 horsepower decrease for the C8.Rs from their previous set-up at Sebring. The total weight now in the C8.Rs ballast box is 50 kg as IMSA attempts to balance the car to others in the GTD-Pro class. The C8.R is racing with a waiver this year due to it not being a true GT3 car.
---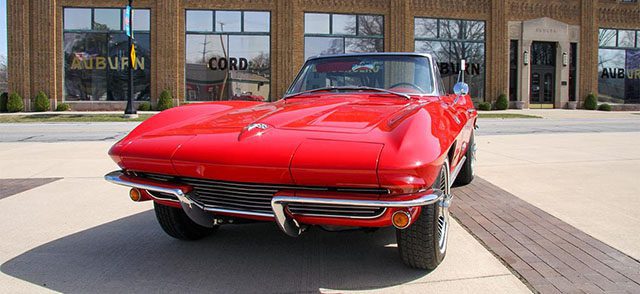 Auburn Cord Duesenberg Automobile Museum
The Auburn Cord Duesenberg Automobile Museum has just kicked off their annual fundraiser for 2022 and the grand prize will be this Riverside Red 1964 Corvette Sting Ray Convertible!  This 1964 Corvette is equipped with the optional L76 327/365 V8 mated to a four-speed manual transmission. The combination of the Red/Red with the gleaming wrap-around chrome bumpers and finned knock-off wheels is really a stunning look. The cockpit of the Sting Ray is just as bold with a bright red interior that includes the carpet, door panels, dash, and leather seats. This charitable fundraiser supports the non-profit Auburn Cord Duesenberg Automobile Museum in Auburn, Indiana.
Donate today and Thundering Thursday subscribers receive 30% BONUS ENTRIES on orders of $25 or more. The '64 Corvette will be given away on December 28th.
---
Dana Mecum and Corvette Mike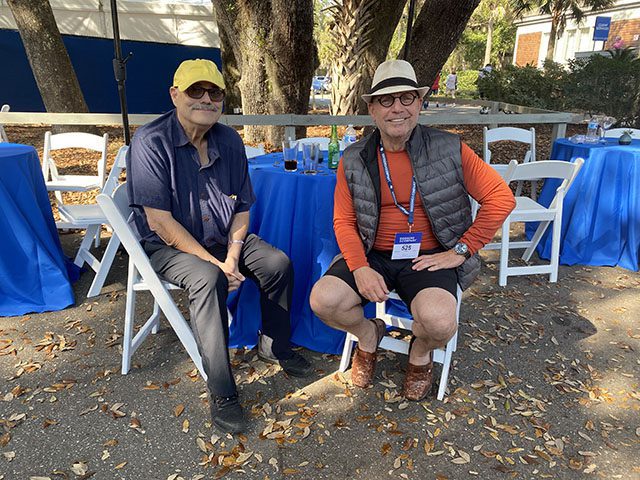 Dana Mecum and Corvette Mike meet in Amelia Island to discuss world politics and the auction business as we know it!
Want to talk with Mike about getting help buying a car at an upcoming auction?
Corvette Mike is available! Simply CLICK HERE to email him, or
email: CorvetteMike@CorvetteMike.Com
---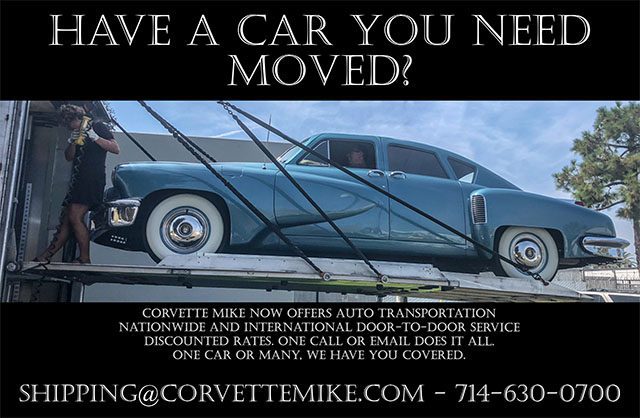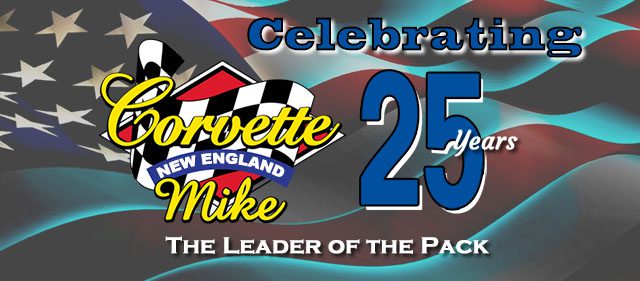 I am so excited to say we are celebrating our 25th Anniversary of Corvette Mike New England in beautiful Carver, MA. We originally opened in Plymouth, MA, "a Big Block from the Rock" along with the help of Mike Vietro in November 1997. We instantly became The Source of all things Corvette in our area. Here we are 25 years later bigger and better than ever. There's no time better than now to buy your Corvette or dream car!  Mike and Gail Grande and the CMNE Team.
---
Owners' Corner February $50 drawing
Winner Dennis W.
tell us your most memorable Corvette Story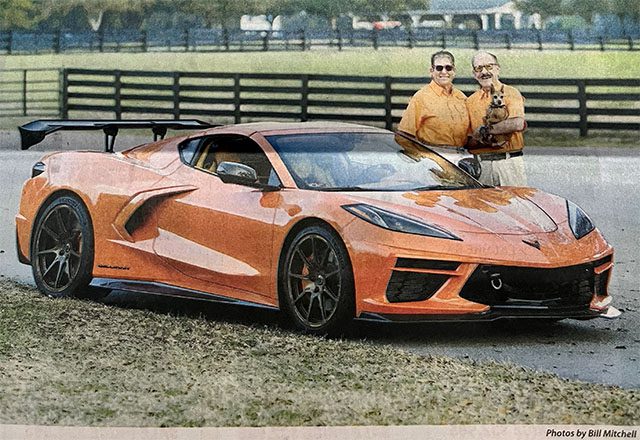 Rich & Paige's Callaway C8
I have known Reeves Callaway for a long time and was thrilled when I was offered to buy the first Callaway C8 offered for sale. Rich and I were very grateful when Reeves asked us if we would be interested in introducing the "launch edition Callaway C8" to the public. As we had a history of building Street Rods, and showing them off, we knew all the right shows to bring our new C8 to let the public see what Callaway was doing.
This C8 has new carbon fiber components, tires and wheels that save 26 pounds of unsprung weight! The next Callaway modification will be to supercharge the motor.
Rich & Paige U.
---
New Stock
1961 fuel injected, 4-speed 
Awesome, frame-off restored fuelie
97.5 NCRS TOP Flight
prestigious Corvette/Chevy Expo Presidents Award!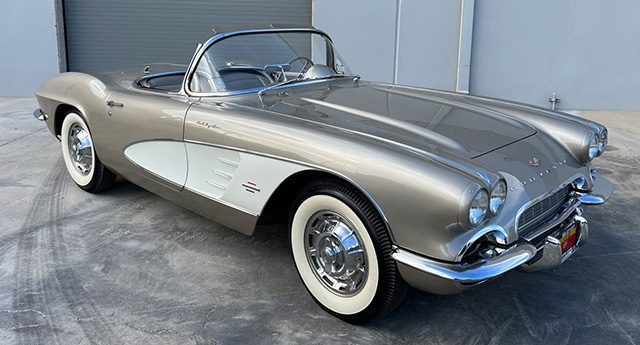 Fawn Beige w/Fawn interior, 283/315hp fuel injected, 4-speed
This '61 has undergone an extensive nut and bolt frame-off restoration and features the "top of the line" 283ci engine with fuel injection and 315hp, backed up by a 4-spd. manual transmission. The most powerful engine option offered that year.
NCRS Top Flight with a 97.5 score
Recipient of the prestigious Corvette/Chevy Expo Presidents Award!
---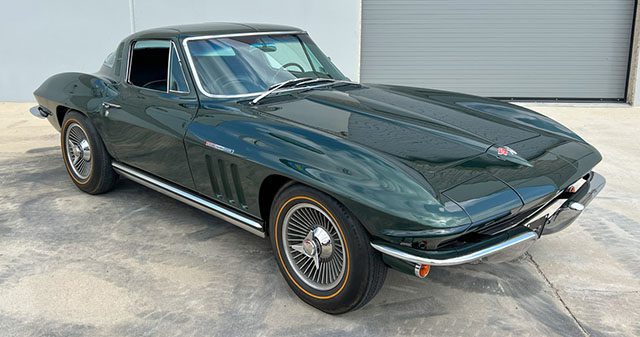 Glen Green w/Black interior, 327/375hp F.I., 4-Speed
This Glen Green '65 Coupe is in a word; SPECTACULAR!  From its near flawless exterior finish to its ultra-clean interior to its matching #'s fuel injected 327ci small block, the car is a rolling piece of automotive sculpture!
The car has been meticulously restored and is a fantastic running and driving Corvette!  It's also optioned with knock off wheels wrapped in bias ply gold line tires.
It's won multiple N.C.R.S. Top Flight Awards, as well as the prestigious Corvette/Chey Expo Presidents Award.
---
Auctions

1962 Chevrolet Corvette Fuelie 4-Speed
More Coming Soon

More Coming Soon
More Coming Soon

More Coming Soon
---
Comic of the Week