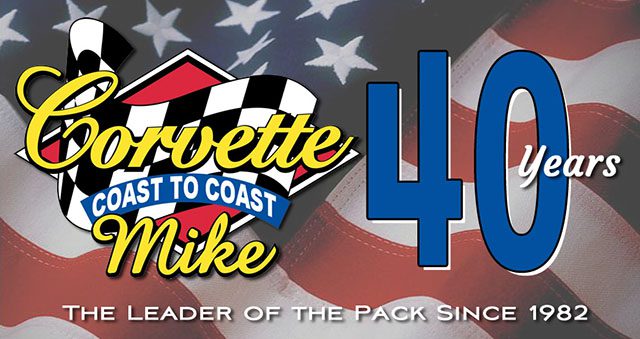 2023 C8 Corvette gets a price increase
March 25, 2022
Celebrating Corvette Mike's 40th Anniversary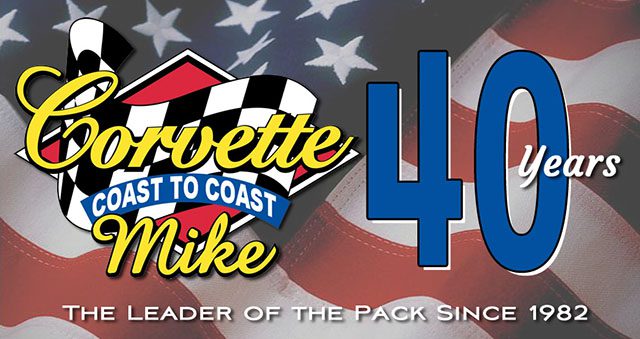 I am very proud to announce our 40th anniversary! On January 4th, 1982, Mike Vietro established Corvette Mike in Laguna Hills, CA. I want to take this occasion to thank each of you for being part of our success. I am very grateful to our customers who trusted us to provide high-quality automobiles, services, and products.
Mike Vietro and the Corvette Mike Team
---
Located In So. Cal. and going to Bloomington
and Need Transportation for your car?

Who needs to go?  Don't wait til the last minute to schedule
Transportation from the West Coast, So. Cal. to Bloomington Gold
5 spots available
Enclosed 
Fair pricing 
Call or email Jeff for more information and pricing:
714-630-0700
Jeff@CorvetteMike.Com
---
WE'RE BUYING 2023 Z06 Orders
And Other DREAM CARS!
Friends, as you all know, we don't fuss with auctions or shuffle cars from other dealers. Our cars come from you.
So, if you are thinning out your collection, let us know!
Click here to email us about your C8 Z06 order or other car(s).
---
2023 C8 Corvette gets a price increase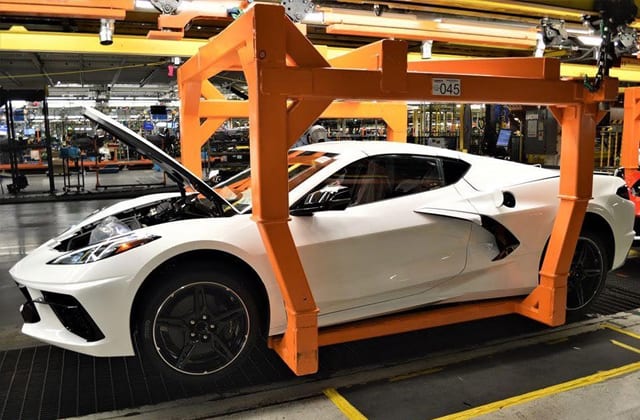 Courtesy of Corvette GM Authority
The 2023 base model C8 will start at $61,900 plus a $1,295 destination fee compared to the 2022 C8 which started at $60,900 plus a $1,295 destination fee. Pricing for the Z06 has not yet been revealed.
"We often use the start of a new model year to make sure vehicles are priced appropriately," said Trevor Thompkins, Corvette spokesman.
New options for 2023 include a 70th Anniversary Edition, Black Exhaust Tips, Stealth Aluminum Interior, and a new Adrenaline Red Dipped Interior color (only available on a 3LT).
---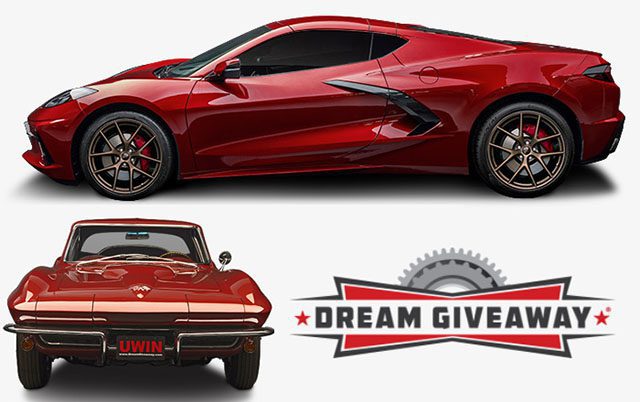 The 2022 Corvette Dream Giveaway will award one lucky winner a brand new 2022 Corvette Stingray Z51 Coupe and a legendary 1965 Corvette Sting Ray Sport Coupe powered by the one-year 396/425 V8, plus $40,000 cash to pay the winner's taxes! The C8 Corvette is loaded with the 3LT equipment group, Z51 Performance Package, Mag Ride, Front Lift, and GT2 seats. The Midyear is optioned with a matching numbers 396 V8 and is equipped with power steering, power brakes, transistorized ignition, knock-offs and more.
Enter now as Thundering Thursday subscribers will receive Double Bonus entries with your donations supporting a number of children and veteran's charities.
---
Dana Mecum and Corvette Mike
Dana Mecum and Corvette Mike meet in Amelia Island to discuss world politics and the auction business as we know it today!
Want to talk with Mike about getting help buying a car at an upcoming auction?
Corvette Mike is available! Simply CLICK HERE to email him, or
email: CorvetteMike@CorvetteMike.Com
---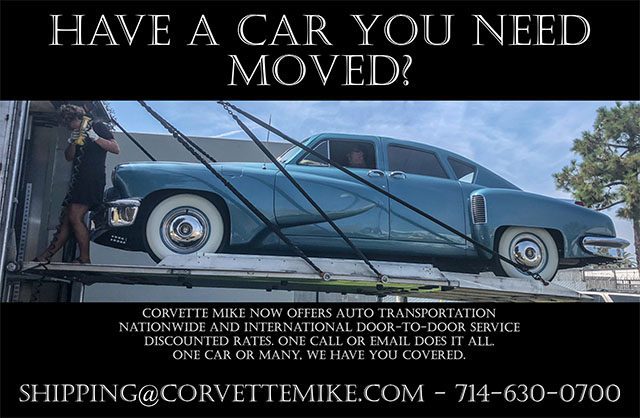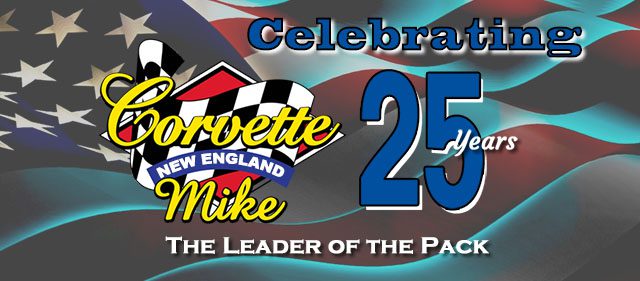 I am so excited to say we are celebrating our 25th Anniversary of Corvette Mike New England in beautiful Carver MA. Originally we open in Plymouth MA, "a Big Block from the Rock" along with the help of Mike Vietro in November 1997. We instantly became The Source of all things Corvette in our area. Here we are 25 years later bigger and better than ever. There's no time better than now to buy your Corvette or dream car!  Mike and Gail Grande and the CMNE Team.
---
Owners' Corner February $50 drawing
Winner Dennis W.
tell us your most memorable Corvette Story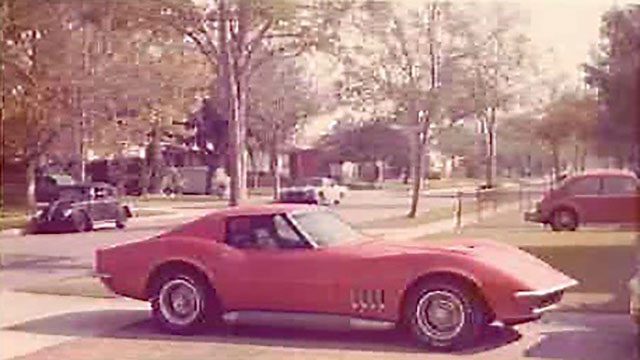 Rusty's 1969 Automatic L36
I have owned Corvettes continually to the present – 52 years!
Upon graduating from medical school in 1969, I purchased my first car: a 1969 Monza Red Corvette Stingray at Baher Chevrolet in Northridge, CA. ($5927.50). This was a unique car because it had the RPO L36 427cu, 390 hp engine paired to the Turbo Hydra-Matic Automatic Transmission (80% of Corvettes that year had a manual transmission). The car did not come with the factory side exhaust option (a one-year-only option) but I added the side exhausts after acquiring the car. I sold the car in 1974 and have never seen an identical car for sale.
Rusty
---
New Stock
Brought to you by "EV•Mike"
2022 Hummer EV
Very Rare Launch Edition!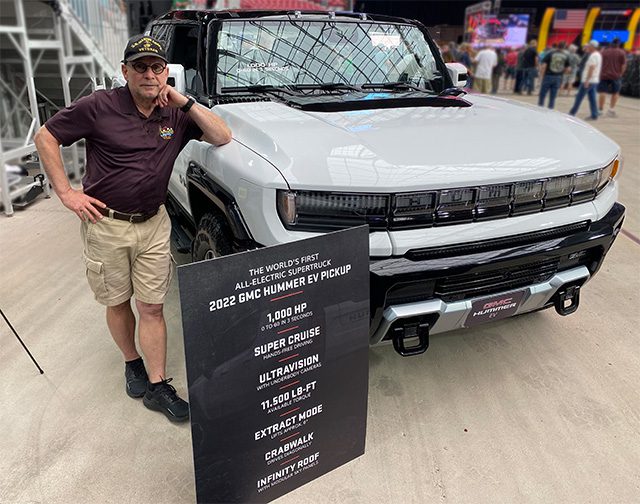 White w/Black & Oyster interior. Three motors, 1000hp. The Hummer EV Supertruck has arrived, and Corvette Mike has it!! AVAILABLE FOR IMMEDIATE DELIVERY!
As the first of GM's next-gen EVs, the HUMMER EV will fundamentally alter conventional off-road and truck paradigms," said Ken Morris, GM vice president, Autonomous and Electric Vehicle Programs. "It will also debut new technology, including our all-new Ultium batteries, Ultium Drive units and the industry's first wireless battery management system.
---
IMSA GTLM Championship
C8.R Edition Convertible
Number 593 of 1,000 Total Production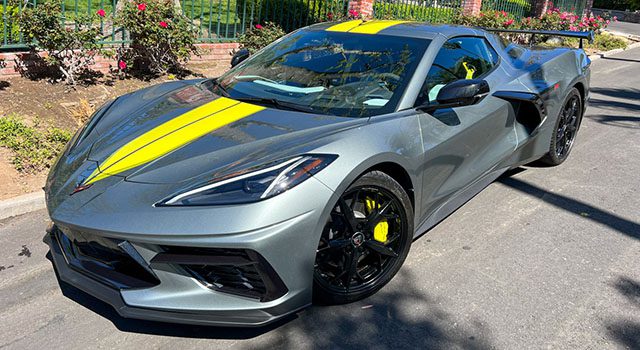 Hypersonic Gray w/Strike Yellow and Sky Cool Gray interior
The 2022 Corvette Stingray IMSA GTLM Championship Edition is based on the 3LT trim with Z51 Performance Package. Each car includes Corvette Racing-themed graphics packages. Accelerate Yellow No. 3 editions feature gray graphics and Hypersonic Gray No. 4 editions feature yellow accents.
---
Auctions


1967 Chevrolet Corvette Convertible 427/400 4-Speed
More Coming Soon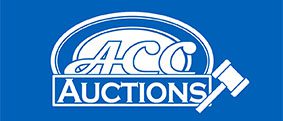 More Coming Soon


More Coming Soon

---
Comic of the Week