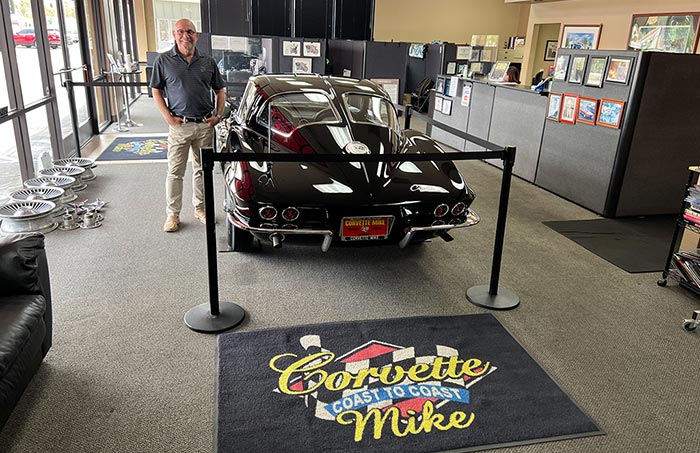 The One that Got Away: Corvette Mike Remembers 'Life Altering' First Corvette
May 13, 2022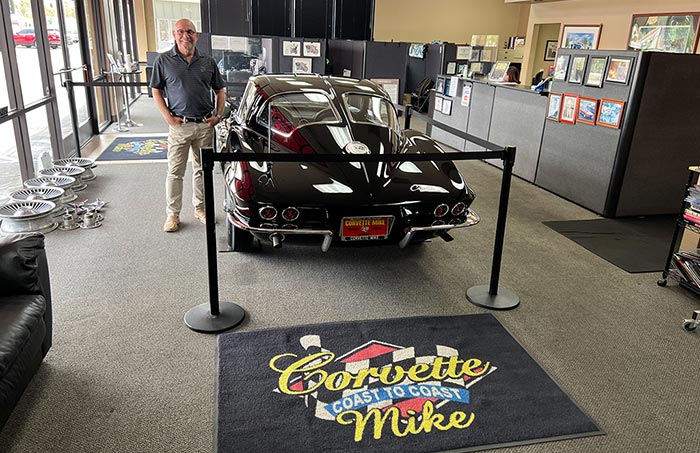 Mike Vietro was a tough kid who emerged from the hardscrabble streets of Everett, an enclave of north Boston. He pumped gas at that formative age when many young Americans become transfixed by cars and the speed and freedom they embody. Mike became transfixed by Corvettes back then and his passion has only grown since. He has built a full life around the brand, becoming an industry trailblazer along the way as the owner of Corvette Mike, headquartered in Anaheim, California, prime car country.
Today, Corvette Mike continues to thrive as one of the top Corvette classics dealerships in the country, specializing in the sales and service of America's premier sports car. In 40-plus years of operation, Corvette Mike and his staff have bought and sold more than 12,000 cars, some 90% of them Corvettes. His shop also sells supports other GM cars from the 50s through recent models.
I had the opportunity to speak with Mike the other day, and as I'm always interested in a good Corvette story, I asked Mike about his very first Corvette. As you would imagine, Mike Vietro did not disappoint.
Mike takes us back to the summer of 1978. He was out of the Marine Corps by then, an ex-Sergeant selling Toyotas to Southern Californians while attending college on the GI Bill. "Toyotas were the hot family car back then, leading the Japanese industry takeover. I've always been ambitious, so quickly, I was making so much money selling cars I thought, 'I'm going to buy my first Corvette.'" As he took the wheel behind his first Corvette, Mike was on the job at the Toyota dealership for a mere three weeks before he made the purchase. At $313 per month, he needed a second job just to make his car payments.
I asked Mike if that first Corvette was financed through GMAC. He said he was turned down by them as well as by the Marine Credit Union, which reminded him he wasn't in the Marines anymore. So much for once a Marine, always a Marine. However, Mike adds, "I was able to get a loan through a referral from my sister at Chino Valley Bank in Chino, California. They were having what was known at the time as a loan sale, whatever that is." After filling out the loan application just before the 4th of July, he got a surprising phone call of loan approval on July 6th, 1978.
And that first Corvette? It was a 1978 model with the L48 motor and an automatic transmission purchased from Harry Mann Chevrolet. Mike judges the experience "life altering." He adds "I knew I had to deal with a car like that and that I had to deal in the business daily. I figured I could always go back to college and finish the degree, but then the 10-year GI Bill deadline passed so I knew I had to make the most of my obsession."
Those early years weren't easy for Mike as he had little capital, banking on motivation, long hours and unalloyed passion. He received his dealer's license in January 1982 and opened up a store in Anaheim, CA. Mike says he can't remember how he afforded the lease on that location as was managing so many variables at that time. But he kept driving himself and his 1978 Corvette, making all 48 monthly payments ($313 is equivalent to $1,380 today).
Eager to burnish his own brand and meet people in the hobby, Mike's showroom at that time was filled with many trophies he'd won from car shows all over Southern California. He would park his 25th Anniversary 1978 Corvette on the showroom floor, as a temptation to customers, nothing more. But one day a guy came in and said he wanted to buy the '78. Mike told him it was not for sale, only to be met with an offer above MSRP. Mike relented and the guy drove off with Mike's first love. Mike took a 1979 Camaro in trade.
"I have never seen that '78 since," Mike says regretfully, but he is still on the hunt for it. "I just looked for it last week by running the VIN through my resources. Nothing showed up nationwide. I just wonder where this car is!" Mike provided us with the VIN to the 25th Anniversary 1978 Coupe, which is 1Z87L8S430776. If you know this car, I think I have a buyer for it!
Talking with Mike about the differences between buying Corvettes today versus back when he started, he claims a game changer was when VIN numbers were standardized in 1981. Today, services like CarFax can provide an instant update on any accident or other title-related information like odometer readings and change of ownership. That's key for his business as Mike and his team look to source original owner cars or preferably lower mileage Corvettes with a clear owner history.
Today's market is very strong so we asked Corvette Mike what were the hot models currently. He notes that any C8 Corvette is going to sell for more than MSRP, which is a given these days. Z06s are very sought after also. The C7s are selling briskly and in some cases, they can bring close to 90% of their original MSRP. And in the classics segment, '63 Corvette Split Window coupes are outselling the venerable market leader '67 427/435 L71 cars.
Many dealerships deploy hype and a hard-sell gab approach to make their numbers. Conversely, Corvette Mike and his team use deep knowledge, patience and customer awareness to maintain their edge in a specialty market that is enjoying some of its best years. Corvette Mike has set itself apart from the rest with its unmatched dedication to old-fashioned American service. Mike truly believes each client is a friend by sharing in the hobby of these cars. Anyone who has visited Corvette Mike in Anaheim, California knows customers are the priority. Any question they have or problem that needs to be solved will be handled with expertise and friendliness.
And lastly, in response to increasingly strict governmental mandates to lower toxic vehicle emissions, hybrid and then all electric cars will soon enough dominate new cars sales and eventually American roads, California's first of all 50 states. How does Corvette Mike, aka EV Mike, feel about the inevitable transition from internal combustion engine Corvettes to electric variants of the future? "I feel my philosophy with all things relevant to Corvettes both past and future have been cutting edge! I welcome first of all the Corvette hybrid which we know is quickly approaching us around the next bend and the full electric version is inevitable and no one can stop it. Either embrace it and follow the Leader (of the Pack), or get the bejeesus out of the way!"
To see all the Corvettes offered for sale by Corvette Mike, visit them online at CorvetteMike.com or call (714) 630-0700. If you have a low-mileage or rare Corvette that you are ready to part with, reach out to Corvette Mike and let them know what you got!