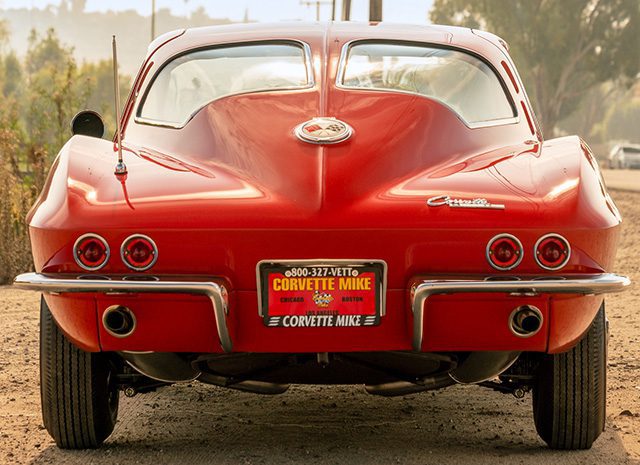 C8 Corvette's ECM Now Tunable
May 20, 2022
Wanted and Will Pay a Pirate's Ransom for the Right Car
Must be a 1963 Red Split Window Coupe
340 HP or better with or without Awards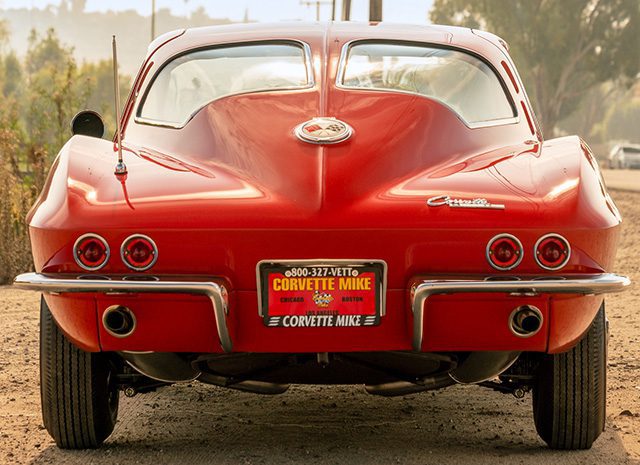 Got a really really nice 1963 SWC in Red?
We are looking for one and will pay top dollar in cash.
714-630-0700
CorvetteMike@CorvetteMike.Com
---
Time is running out!
located in so cal and going to bloomington?
If Yes to Both, WE CAN HELP?
Who needs to go? Don't wait til the last minute to schedule!
Transportation from the West Coast, SoCal to Bloomington Gold!
Enclosed trailer and fair pricing
5 spots remaining 
Call or email Jeff for more information and pricing:
714-630-0700
Jeff@CorvetteMike.Com
---
WE'RE BUYING 2023 Z06 Orders
And Other DREAM CARS!
Friends, as you all know, we don't fuss with auctions or shuffle cars from other dealers. Our cars come from you.
So, if you are thinning out your collection let us know!
Click here to email us about your C8 Z06 order or other cars.
---
C8 Corvette's ECM Now Tunable!

Courtesy Corvette Blogger
As soon as the C8 Corvette was available, tuners wanted to modify the LS2 to get even more performance. The problem was that GM encrypted Engine Control Module (ECM) and would not allow access to modify it. Well, Trifecta Performance, a Washington-based performance shop, claims to have cracked the code.
This is both good and bad news for a few reasons. GM used their new Global B electrical system for data processing. This system added the benefit of being able to receive over-the-air software updates from General Motors. Protecting the vehicle from cyberattacks is one of the major reasons for advanced encryption. Now that this system has been breached, it may make GM's new vehicles susceptible to malicious attacks.
The good news is that responsible tuners can now tune the car for more performance after adding turbochargers or superchargers. According to Trifecta Performance, Chevrolet did such a good job with the factory tune, there is no performance to be gained by tuning tweaks to the stock tune.
You can read more about this by clicking Here.
---
Subscribe to our Thundering Thursday newsletter to
receive updates on new arrivals and featured cars!

---
Win a 2022 Corvette IMSA GTLM Champion Edition C8.R Conv. & Racing Prize Package!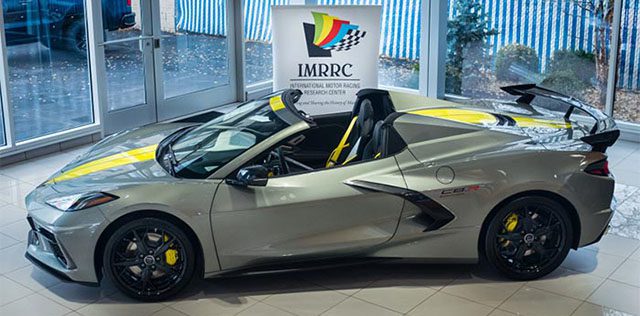 The International Motor Racing Research Center (IMRRC) at Watkins Glen is a 501(c)(3) charitable organization that collects, shares, and preserves the history of motorsports. Their 2022 annual fundraiser is offering a 2022 Corvette IMSA GTLM Championship C8.R Edition Convertible as the Grand Prize! The C8.R Edition Convertible features the Hypersonic Gray exterior with Yellow racing stripes and it comes with the Z51 Performance Package! When you make a donation to the IMRRC you are automatically entered to win the car, plus season race tickets at Watkins Glen and the two-day Corvette Owner's School at Ron Fellows Performance Driving School at Spring Mountain. The winner will be announced this December
---
Thundering Thursday readers will receive 30% bonus entries
with orders starting at $25 by clicking Here.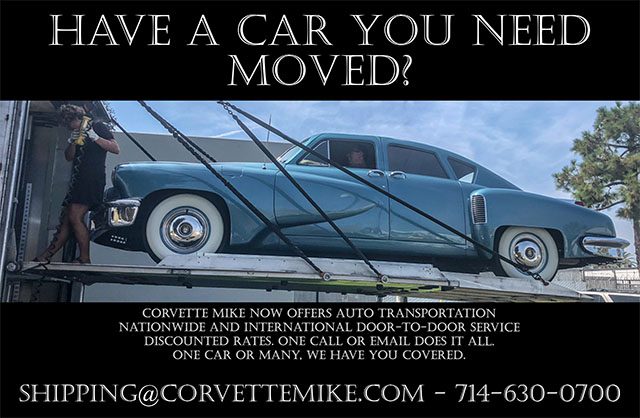 ---
Want to share your story
in our Corvette Owners' Corner
And get a chance to win $50 Or a
limited-edition Corvette Mike Keychain?
Send a short story and picture of your car to Troy@CorvetteMike.Com.
Owners' Corner April $50 drawing
Winner Steve S.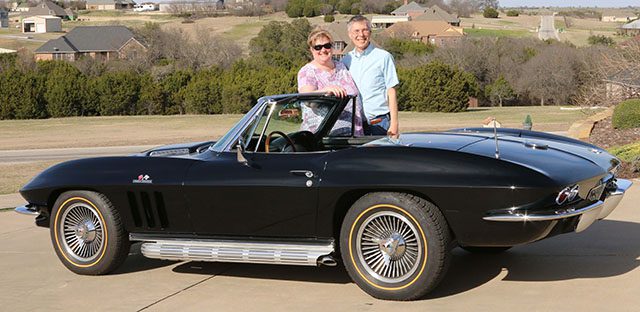 Scott and Lisa with Rumblee
Corvette fever is prevalent. But it was Corvette delirium for me. I've wanted a 427 C2 Corvette since I was about 8 years old. Fast forward almost 50 years to 2016. My wife, Lisa, told me to "pick one out" for my 56th birthday. With all that time to consider the prospect of owning a vintage Corvette, I had a pretty good idea of what I wanted. It had to be a black 427 convertible without power robbers like ac and power steering. Also, why add the weight and complexity of power brakes? It also had to have side exhausts and knock-off wheels just to enhance the all show and all go persona.
So the search for my Vette was on. A short but intense internet search turned up just what I was looking for. When we arrived to look the car over, Rumblee sat in the showroom and was simply stunning. Rumblee wasn't fully restored but I told myself that as long as he ran well then that would be enough. I went on to tell myself I would only repair what broke and not try to restore it.
It's bad when you believe your own lies. Fortunately, Lisa saw the restoration coming. She also wanted to discuss the deal before finalizing. "What's there to discuss??" was my retort. After a brief negotiation the deal was made. Lisa and I celebrated our 30th wedding anniversary this February. Rumblee awaits spring and a lot of countryside driving, maybe even an NCRS judging event.
Scott H.
We buy used cars!
2021 Corvettes wanted!
Top money paid for the right cars.
Submit Your Car today!Cream puff inventory needed!
Lemons need not apply.
---
New Stock
1988 Mercedes-Benz 560SL
Pristine, one owner SL

Signal Red w/Beige interior, 5.6L/3227hp V8, 4-spd. automatic.
We found this pristine example in our own backyard!  It's a one owner, So. CA. SL that has been babied since new!  Unfortunately, the 90-year-old previous owner was not able to drive her any longer due to age and some health issues.  So, he very reluctantly decided it was time to let her go.
We were lucky enough to snap her up!
---
1967 L68 Rolling Chassis
Completely restored and ready for a body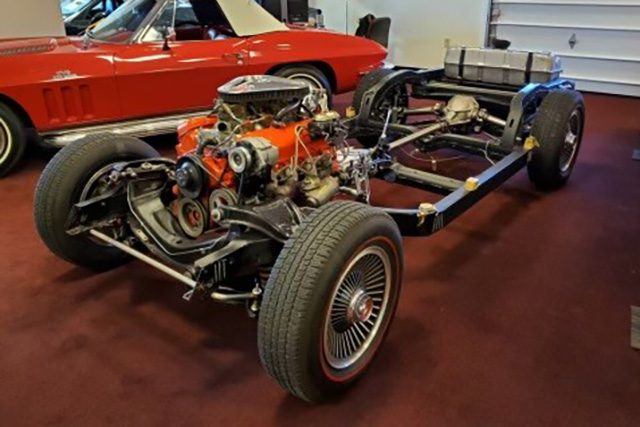 L68 427/400hp, 4-spd. manual transmission
For those of you in the market for a "project", this item is a fantastic starting point!  Maybe you already have a body looking for a frame?  Maybe you're interested in a great conversation piece for your "Man (or woman) Cave or shop?  Regardless, this chassis has been restored and is ready for a body and interior to be placed gently on top of it!  The V.I.N. on the block and transmission match and Bolt-On style aluminum wheels wrapped in Firestone red line radial tires are also part of the package!
Would you like to see your prime collector car example featured Here for sale?
Click Here to send an email.
We buy and consign.
---
Auctions




43k-Mile 2013 Mercedes-Benz SL550
More Coming Soon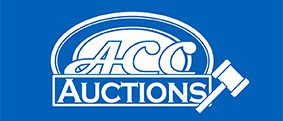 More Coming Soon

Comic of the Week
some random thoughts
I did not climb to the top of the food chain to eat carrots.
I thought talk was cheap until I saw our attorney bill.
Inside me there's a thin person struggling to get out, but I can usually sedate him with four or five cupcakes.