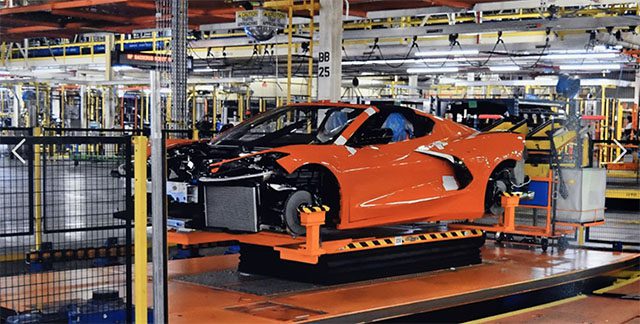 Plant Tours Are Set To Resume
September 8, 2022
Plant tours are resuming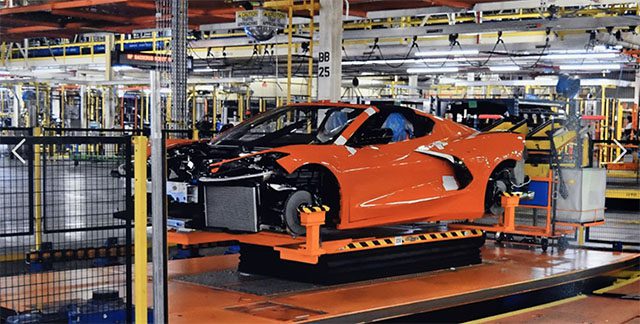 During the opening of the National Corvette Museum's 28th Annual Anniversary Celebration, Corvette Assembly Plant Director Kai Spande gave us the news that we have been waiting too long to hear: Plant tours are resuming!
Tours go on sale to the public on Tuesday, November 1, 2022. National Corvette Museum members qualify for early booking access, beginning on Tuesday, October 25, 2022. Tour schedule will take place at the time of purchase with public tours expected to resume before the end of the year.
Kai mentioned that if you participated in an R8C Museum Delivery when plant tours were closed, you will receive a complimentary make-up tour. As Kai said, "We owe you one!" When asked about the new R8C participant's ability to walk the Corvette assembly line and watch their Corvette get built, Kai relayed that those details are not yet determined.
If you are lucky enough to be able to order a Z06, the Build Your Own Engine program for the LT6 starts in the 2nd Quarter of 2023. He says that will be a bit different this time. Participants will stay at one location, and the parts to build the engine will be brought directly to them.
Individuals must be ages 13 and up to participate in a plant tour. Bags, cameras, and open-toe shoes are not permitted inside the building.
To schedule a tour, Click Here.
---
2023 C8 Z06
Easy to sell – Just Click Here!
Maximize Your Experience
Choose the Corvette Mike way to sell
We Make Selling
Painless • Profitable • Private
No one will know you sold it except your bank balance $
Get on board!!
Sell while they're Red Hot!!
Click Here to let us know about your 2023 Z06
or email us at:
Troy@CorvetteMike.Com
---
The International Motor Racing Research Center (IMRRC) at Watkins Glen is a 501(c)(3) charitable organization that collects, shares, and preserves the history of motorsports. Their 2022 annual fundraiser is offering a 2022 Corvette IMSA GTLM Championship C8.R Edition Convertible as the Grand Prize! The C8.R Edition Convertible features the Hypersonic Gray exterior with Yellow racing stripes and it comes with the Z51 Performance Package! When you make a donation to the IMRRC you are automatically entered to win the car, plus season race tickets at Watkins Glen and the two-day Corvette Owner's School at Ron Fellows Performance Driving School at Spring Mountain.
Thundering Thursday subscribers can get 25% BONUS ENTRIES with donations of $25 or more. The winner will be announced this December.
---
Want to share your story in our
Corvette Owners' Corner and get a
chance to win
a limited-edition Corvette Mike hat?
Owners' Corner July Limited-Edition Hat Drawing
Winner: Dennis M.
---
This Weeks Owners' Corner
Ever since I could remember I wanted a Corvette. In 1981 I realized my dream. It was February and a somewhat mild Alberta winter. I had looked at the Orange 76 4 speed coupe at Western Corvette and then got my friend Harry to take a second look. Neither of us knew much about Vettes other than we both wanted one. Harry gave his approval and the next day, a mild sunny day, I flew from Edmonton to Calgary to finalize the deal. It took about an hour or so to get the paperwork done and then off to Edmonton. Everything was going well, the car ran fine until about Wetaskwin where I encountered an unforecast Blizzard!  At a sweeping curve in the highway I noticed a truck in the middle of the field. Odd I thought until I realized I was on black ice. The coupes rear end was coming around to meet the front! I carefully slowed while shifting and regained control. Very carefully I drove the next 45 miles home where I made it safe and sound with my new baby.
That was the last light of day my new purchase saw until May!
It was my first of nine Corvettes and I loved them all.
Roy W.
---
Specials
1969 427-435 L89
C.C.A.S. Certified Original Engine
Correct Transmission and Differential
Daytona Yellow with Black Leather Interior
Partial tank sticker (shows Aluminum Cylinder Heads)
NCRS shippers doc  (Daniels Chev.  Marina DelRay, CA)
Protecto-O-Plate  (all correct to the car)
Real trim tag
Body off restoration, beautiful paint, no evidence of any prior damage.
Car runs & drives very well. No known issues. Prior fanatical owner had car for over 20 years in a small collection in New York, perfect care and service.
Labor Day Special Price: $169,900
---
This absolutely beautiful example has been driven only 57k miles since new! It was very well cared for, as evidenced by a clean Carfax showing regular service history over its lifetime. It's cosmetically stunning and mechanically sound! It is a phenomenal driving car! It's surefooted and solid as a boulder at speed – and it's a lot of fun!  These XJR's don't come up for sale very often. Don't miss your opportunity!
---
If you have a 2019 ZR1, We have Cash!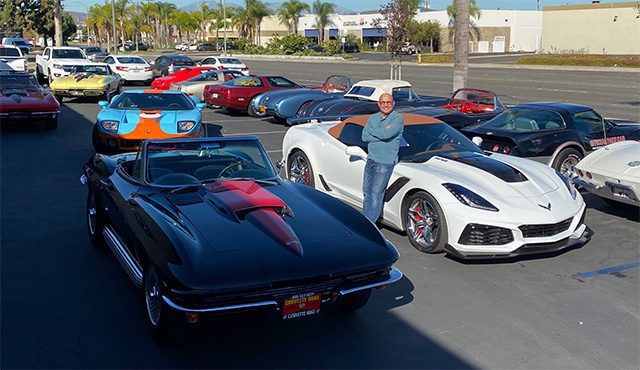 We are looking for 2019 ZR1's.
If you have one you want to sell, let us know as we have cash!
Email me to talk about any cars you want to sell: Troy@CorvetteMike.Com!
---
Would you like to see your prime collector car example featured Here for sale?
Click Here to send an email.
We buy and consign.
---
Auctions
1957 Dual-Ghia Convertible
No Reserve: Chevrolet Corvette C2 Removable Hardtop

More Coming Soon
More Coming Soon
---
Comic of the Week
some random thoughts
Don't let schooling interfere with your education.
Age is just a number. It's totally irrelevant unless, of course, you happen to be a bottle of wine.
I have learned from my mistakes, and I am sure I can repeat them exactly.